5 best Minecraft seeds for survival islands
Survival mode might not be the most popular genre in Minecraft, but it has a dedicated following of its own. Survival gameplay can be simple, yet so much fun. With Minecraft, players have the option of playing either a simple survival mode or a hardcore survival mode, which is of course way more challenging.
Survival Island is a recurring theme in the Minecraft gameplay. Most of the gamers have a Castaway fantasy, where they wake up as the lone survivor on an island and must do whatever it takes to survive.
If you're looking for your own Robinson Crusoe fantasy, then you should try some of the following Minecraft seeds.
5 best Minecraft seeds for survival islands
1) Jungle Island
Jungle Island is a great seed for Minecraft players who want a wholesome survival experience. The seed generates a world where you spawn on a medium-sized island with a stunning jungle.
You'll have plenty of trees to help you build your shelter and a cave or two to explore and gather resources. The island itself is so beautiful that building can be made even more fun.
Seed Code: 05020703
2) Starting Big
This Minecraft seed is perfect for players who want the complete survival experience, but without the extreme challenges. The seed helps you spawn on an island very close to an ice biome.
More than that, if you swim to the mainland, you'll find a village, a ravine, and a lot of good loot to get your hands on!
Seed Code: -222843114633453212
3) Survival Islands with an Ocean Monument
This particular seed drops you on a couple of islands that are the perfect setting for your new survivalist adventure. Next to one of the islands, you'll spot a submerged ocean monument right off the coast.
Do be careful as you traverse the monument, and make sure that you get your hands on some good loot to get you started.
Seed Code: -9191030541317174164
4) Small Island
This Minecraft seed is perfect for survival enthusiasts who like challenges when it comes to island survival. You spawn on an island, which is pretty small, having only a few trees and one cave to explore.
The challenge of survival will be tough, given the scarcity of resources. Challenge yourself and see how long you can survive without leaving the island.
Seed Code: 5892019018549367076
5) Islands and Shipwrecks
What's more realistic than an island survival challenge with multiple shipwrecks dotting the coastline? That's exactly what you get with this Minecraft seed.
Also Read
You spawn on a couple of islands, which have around five or six different shipwrecks in and around the area.
Seed Code: -5313077666817127470
Sours: https://www.sportskeeda.com/esports/5-best-minecraft-seeds-survival-islands
This is a seed for some nice tropical islands, and as an added bonus, a stronghold on the biggest island.
There's multiple islands, some more barren than others, and a sea stretching as far as the eye can see. So if you're a landlubber, this might be a bit too much for you, but for pirates and other sea-worthy adventures, you've found the perfect seed to establish your city or base.
There's plenty of tropical trees to climb or harvest, but be wary, as there is no mainland in sight.
Seed: 64951768
World Type: Default.
Spawn:
X: -280 Y: 64 Z: -14
This seed was last tested and working with Minecraft version 1.6.2.
Awesome screenshots from the tropical islands seed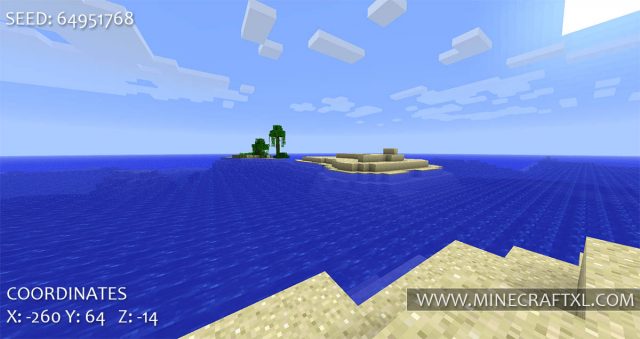 All in all, a pretty nice seed, and it's where you spawn, making it that much easier to reach.
If you find any good locations in this seed, please leave a comment below so other can enjoy too.
Related Articles
Share
Did you like this post? Share it with your friends!
Share on Facebook!
Categories Minecraft SeedsTags Minecraft 1.6.2, Minecraft 1.6.2 SeedsSours: https://www.minecraftxl.com/tropical-islands-seed/
5 best Minecraft island seeds for 1.16
Minecraft islands are patches of land surrounded by water, and lots of players enjoy creating survival worlds on islands to challenge themselves.
Using a seed that generates an island far from normal land is a perfect way for Minecraft players to challenge themselves. On a deserted island, they must strategize ways to not run out of resources. This could be through mining, farming, fishing, and more.
With such limited room, players also need to be careful when building their base to ensure they do not take up too much space. If anyone is up to the challenge, here are some of the favored Minecraft island seeds for version 1.16.
---
Five most suitable Minecraft 1.16 island seeds
#5 - -83226092
This lonely village seed has quite a lot of potential. Luckily, players do not have to make a big trek to reach the island; they will spawn right on it. Even though the island is relatively small, there are tons of resources to be found. Multiple small caves are located around the island, all filled with coal and iron.
Inside the village, a chest can be found that is full of food. There are also tons of beds and a blast furnace. Not to forget all of the useful trades villagers have to offer.
As for mobs, this island has quite a lot. With a beehive settled in one of the trees, honey can easily be found. The village also has a cattle and horse farm.
---
#4 - -8728062685661305102
This elaborate island-system seed is both beautiful and plentiful.
This Minecraft seed consists of many small islands surrounded by a warm ocean biome. Each island is small but mighty, each fit with tons of resources. Many ravines can be found near the spawn of this seed, some on land and some underwater. Some players may even stumble upon an abandoned mineshaft.
With each island being within swimming distance from each other, players could build beautiful bridges connecting them. Between the islands, players will find lots of underwater coral reefs. One island even has a shipwreck with a chest full of emeralds, iron, and lapis.
---
#3 - 1059970813767211991
This icy Minecraft seed is quite the opposite of the last one. Players will spawn in a matrix of islands with tons of icebergs and ice spikes sticking out of the ocean.
A shipwreck can be found on a nearby island, with a chest on board containing a lot of iron, emeralds, lapis, and a bottle 'o enchanting.
Many different caves and ravines are scattered across the islands, many of which have their own biomes. Players can find islands that have a birch forest, mushroom forest, mountains, and more.
---
#2 - -6852036065400761728
This island seed makes for a challenging Minecraft survival experience. The islands on these seeds are small and quite far apart.
With only a few trees on each island, it will take longer to get resources than it usually would, but that's what a challenge is all about. Players need not worry, though. A typical land is not too far away if they need some extra help.
---
#1 - 6950385622658651799
Who doesn't love spawning right next to a very rare biome?
In this Minecraft seed, players will spawn on a small island that is only a few blocks away from a large mushroom island. While the mushroom island does not give great resources, such as wood, it is pretty cool to spawn right near. On the bright side, players will spawn on a much smaller island with a few trees, so this seed can still be used as a survival island.
A large savanna biome island can be found nearby, with a plentiful village right in the middle.
Also Read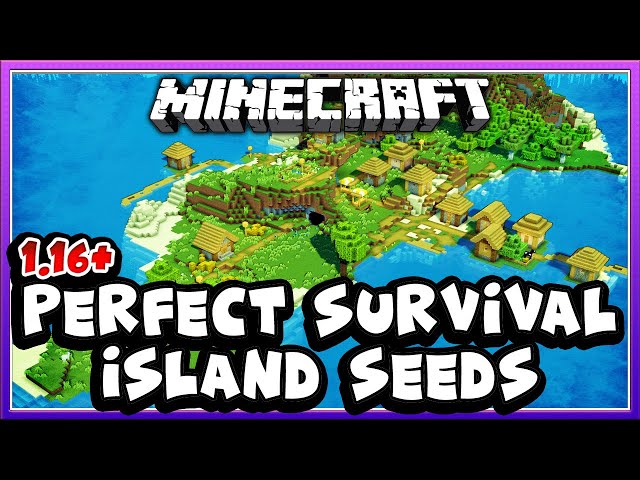 (Disclaimer: This list reflects the personal views of the writer, and it is an individual's choice to select one or the other according to his/her preference)
Sours: https://www.sportskeeda.com/minecraft/5-best-minecraft-island-seeds-1-16
TOP 25 ISLAND SEEDS For Minecraft Bedrock Edition! (PE, Xbox, Playstation, Switch \u0026 Windows 10)
The best Minecraft seeds for Minecraft 1.17
Looking for the best Minecraft seeds to start a new adventure? Whether you're looking for a remote survival island, a quaint village, or some of the rare biomes, we've got some excellent seeds to spawn into. Whatever your purpose, the seeds listed here should have you covered. With the upcoming release of Minecraft 1.18, there's a lot to be excited about if you're thinking of returning to Mojang's blocky sandbox.
We've searched the Minecraft community and listed our favourite Minecraft seeds below. They've been split up into different categories too—survival, village, and biome seeds—so finding your ideal world should be nice and easy. There's also a handy section at the bottom for Minecraft Bedrock Edition seeds.
So what are you waiting for? Here are the best Minecraft seeds, as well as a quick explainer on how to use them.
How to use Minecraft seeds
Simply put, Minecraft seeds are a string of numbers that dictate an exact Minecraft world for you to load into. Before creating a new world, you can punch these numbers in to conjure up the particular place you want to explore, and creators share these codes online. You'll find a field to enter your chosen seed in the "More World Options" menu when creating a new world. Using a seed will get you exactly the same world generation as someone else who's used it.
The only thing you need to keep in mind is to make sure you're running the correct version of Minecraft. Otherwise, your seed has a chance of not spawning exactly what you want, or being just slightly different.
Thankfully, it's pretty painless to run legacy versions of Minecraft. All you need to do is open the launcher, click on "Launch Options" then "Add New." From here you can name it, and below that is a drop-down box with all the previous editions. Just click on the one you need, head back to the "News" section, and load up the version you need. Now, an in-depth look at the best Minecraft seeds.
Minecraft 1.18 seeds
Minecraft is completely shaking up its world generation when the second half of the Caves & Cliffs update arrives this year. Caves are getting deeper and mountains are getting taller. Right now, Mojang is testing out some very early versions of update 1.18 in what it's calling "experimental snapshots" before it starts releasing the usual pre-update snapshot builds.
Things are still in such a state of change that Mojang is tweaking how worlds generate just about every week in a new experimental snapshot build. That means we don't have a list of the best 1.18 Minecraft seeds for you yet, but the good news is that just about every 1.18 seed is super interesting. You can load into a random world on creative mode and pretty quickly find a huge ravine to dive into or a super amplified mountain to fly around.
Minecraft survival seeds
Minimalist Survival Island
Seed: 3366408241916580461 | Version 1.17
This pared-down setting might well inspire some soul-searching. Essential supplies are entirely nonexistent. Where will you find your first block of wood when the horizon is full of ocean in every direction? Be careful which way you choose to swim. There's an ocean monument out there, but will you see it before the Guardians see you? This survival seed was originally logged for version 1.7 but we've included the 1.17 view for you here. Still super minimal as far as Minecraft seeds for survivors go!
Source: Minecraftseeds.co
Castaway double shipwreck
Seed: 7777777777988733304 | Version 1.16
This double shipwreck island Minecraft seed is ripe for a castaway survival story. You'll spawn in at the center of this small island, as if you've awoken from wrecking your ship on its shores. You aren't the first though. There's another shipwreck here too. Where might the unlucky survivors who came before you have gone? Through the now ruined nether portal nearby perhaps?
Source: /r/Minecraftseeds
12-Eye End Portal Seed
Seed: 4776164391216949839 | Version 1.17
Minecraft seeds in which your world's End Portal generates with all 12 Eyes Of Ender already assembled and activated are extremely rare. You won't just stumble upon one by chance, most likely. Here's one you can load up to use for your own survival adventures. When you're ready to hit the fortress, head to coordinates X: 1146, Y: 63, Z: -637. Right beneath you is the room adjacent to a fortress's activated End Portal. Before you rush off to the dragon though, you'll probably want to hit up the nearby desert and jungle villages for supplies.
Source: MinecraftSeedsEveryday
Mansion In The Heartwood
Seed: 110918009997 | Version 1.17
Nothing beats charging headfirst into a mansion with the intention of besting every Illager (not to be confused with Villager) that moves. But finding a mansion in survival is no easy feat. It'll take hours of scouring every forest hoping that one day you'll come face-to-face with that foreboding wooden structure. This mansion is helpfully right at spawn, and it's located inside an eerily heart-shaped forest surrounded by badlands. If the mansion isn't challenge enough, there's a pillager outpost at the other edge of the forest. Good luck!
Source: /r/minecraftseeds
Minecraft village seeds
Ocean Temple Island Village
Seed: 6039186344010446208 | Version 1.16
This island village seed looks like something that crawled right out of The Legend Of Zelda: The Wind Waker. You'll spawn right in the middle of this idyllic little island village surrounded by ocean with several watchtowers and houses. It even has a small cave below the village where you can begin your mining operation. Lurking just outside the edge of town, beyond the wooden docks, is an ocean temple. This one would definitely pair well with the Wind Waker-themed option on our best Minecraft texture packs list.
Source: Minecraft Seeds
The Township
Seed: 2083747154327962073 | Version 1.16.1
If you're looking for a Minecraft shipwreck to explore, it doesn't get easier than this conveniently unwrecked ship that appears to be docked in a village. It's right by spawn too, so you'll be able to immediately load up and start digging through the treasure on this helpfully abandoned and not-so-sunken ship. Hey, it might even make a nice home if you decide to move into town. As a note, the placement of the ship isn't as perfect if you generate this seed in 1.17, but you can certainly create your world in 1.16.1 initially and then play it in 1.17 after!
Source: /r/Minecraftseeds
Four villages at spawn
Seed: -4379469131957062683 | Version 1.17
These four villages may or may not all live in harmony, but you can find out yourself right after you begin a world with this Minecraft seed. You'll spawn in on a cliff just to the west of the Taiga village. Three other village types: the Tundra, Savannah, and Desert are all nearby as well. You can almost spot them all if you squint in the screenshot above. Flip to the second image to spot them by their torches burning at sunset.
Source: /r/Minecraftseeds
Double Village Islands
Seed: 5329177101860618450 | Version 1.16
Island villages are always a neat find, but how about two islands, each with their own village? Better yet, they're connected across the water. Even better, one of them is a zombie village. This seed sure seems ripe for a story.
Source: /r/Minecraftseeds
Minecraft biome seeds
Big Bamboo Jungle
Seed: -6007508716048973791 | Version 1.17
This seed plants you right next to a huge bamboo forest for you to explore if you haven't come close to Minecraft's panda mobs yet. You'll find the edge of the forest not far from spawn. If you venture around the outer edges of the bamboo forest you'll also find a small village in the plains and a witch hut over in the nearby swamp.
Source: Minecraft Seeds
Ice-olation island
Seed: -452616212506859587| Version 1.17
Okay. So. Iceberg biomes are cool. Not only do they carry this weird foreboding feeling, but they're great to build a home in. Who doesn't want to live in an ice castle? What makes this seed so special is, like many seeds, you spawn on two tiny islands. Only with this seed, turn in any direction and all you see is ice spikes. You'd better think fast, because surviving this seed isn't going to be easy. Try to make friends with the polar bears on the floe next door, perhaps.
Source: Minecraft Village Seeds
Beautiful Badlands
Seed: 83539627 | Version 1.17
If you're looking for a big, beautiful badlands biome, you've found it. You're in for more of a challenge than that though, so don't get too comfortable. You'll spawn right at the base of these colorful mesas, right beside the opening to an abandoned mineshaft. Explore the nearby ravine and you'll find even more mineshafts, chests with treasure, and some spawners too. This seed gives you a great head start and a challenge to boot.
Source: Minecraft Seed HQ
Giant mushroom donut
Seed: -6316420307748711466 | Version 1.17
If you want to chow down on one of Minecraft's rarest biomes, this enormous donut-shaped Mushroom island is the treat you're looking for. You'll spawn right on this massive island full of Mooshroom cows and towering fungi. If you head towards its center, you'll even find some underwater ruins beneath the surface.
Source: /r/Minecraftseeds
Minecraft novelty seeds
The Minecraft title screen
Seed: 2151901553968352745 | Beta 1.7.3
After years of trying to find it, a group of determined Redditors finally found the Minecraft seed that will take you to the title screen's location. It's a historic moment in Minecraft's history and if you've always wanted to actually explore the blurry landscape behind the game's iconic text, now you can.
Source: [email protected]
Minecraft Bedrock seeds and Pocket Edition seeds
Now that Mojang have unified all the non-Java versions together as the Bedrock version, these Minecraft seeds will all work on your Pocket Edition Minecraft, Windows 10 version, and console versions as well.
Stronghold spawn seed
Seed: -160471485 | Version 1.17
If you want to make a mad dash for the end, this is a great seed to do it on. You'll spawn right beside a zombie village, beneath which is an end portal at coordinates (899, 47, 38). Before you head down there, you might want to go gear up by visiting the nearby savannah village just across the small bay from where you spawn.
Source: MinecraftSeedsEveryday
Blacksmith island
Seed: 542630838 | Version 1.17
If you're looking for a nice island to wake up on, you can't do much better than this tidy village with three blacksmiths. That's a lot of gear to swipe right off the bat. Not only that, but this is actually a popular speedrunning seed. Your first target can be the abandoned zombie village on the adjacent island. The island you spawn on has a Stronghold and end portal beneath it. If you take a swim, you'll quickly spot several places where you can just dive right into the stronghold without mining a single block.
Source: /r/Minecraftseeds
Biome Melting Pot
Seed: 2111844826 | Version 1.17
This Bedrock edition seed doesn't dump you right where you want to be, but trust us it's totally worth teleporting to. After you spawn, use the /tp command to send yourself to the coordinates (-185, 64, 117). You'll find yourself right at the edge of a mushroom biome looking across a very small ocean at a badlands biome, a jungle, some mountains, a tundra, and even some ice spikes. It's quite a lot of rare, desirable biomes all tucked into one area—perfect for anyone looking to sample just a little bit of almost everything Minecraft has to offer. If you head into the ice spikes, you'll find a tundra village not too far away too.
Source: /r/Minecraftseeds
Arctic Survival Island
Seed: 1669737730 | Version 1.17
If you really liked the look of that isolated arctic survival island seed for Java, here's one for Bedrock edition too! You'll spawn on this medium-sized island surrounded entirely by a frozen ocean and icebergs. There's more than enough trees and space on this one island to keep you busy, especially with several underwater shipwrecks and ocean ruins nearby. Once you've conquered all that, there are a few dark forests to find on further shores. You're rather far from civilization though, so don't expect to find a village unless you take a very, very long boat ride.
Source: /r/Minecraftseeds
Sours: https://www.pcgamer.com/best-minecraft-seeds/
Seed tropical island minecraft
We're looking at some great Minecraft Island Seeds for you to try in your next world! These are for both Bedrock and Java, so you'll be able to find something you like on any platform. Who hasn't envisioned what it would be like to live secluded away on an island? Well, you can make that vision a Minecraft reality by using one of these seeds and building yourself a nice island villa!
The Shortlist
Best Java Island Seeds

Bamboo Island: 6622662217031624373
The Mushroom Island Portal: -3908250054731677001
Life and Death: 328211190642393298
Shipwreck Cove: 7777777777988733304
King Turtle's Ocean Mushroom Quest: -641665237699763711

Best Bedrock Island Seeds

Frozen Mushroom Island: -2109507520
Gulla Gulla Island: 339777425
The Fortress of Solitude: 1669737730
The Texan Secession: 24517192
Quadument Mansion: 73771637
See Minecraft Toys & Collectibles on Amazon
Java Seeds
Bamboo Island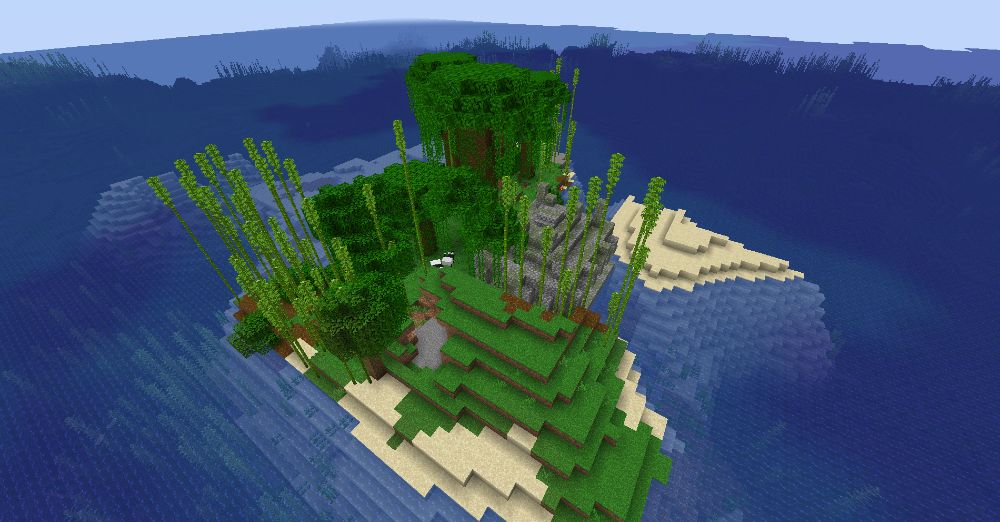 Seed: 6622662217031624373
This is a unique seed that starts you off on a small bamboo island, complete with a Jungle Temple and a pair of Pandas! This island seed is perfect for players who love Pandas, a somewhat rare mob in the game. You don't start off completely dry, though. There are plenty of trees for getting logs, the Temple provides some decent material, and the Pandas provide company.
Key Locations

Jungle Temple #1: 25 55
Jungle Temple #2: 615 75
Jungle Temple #3: 675 -215
Stronghold: 1524 212
Ocean Monument: -280 -230
The Mushroom Island Portal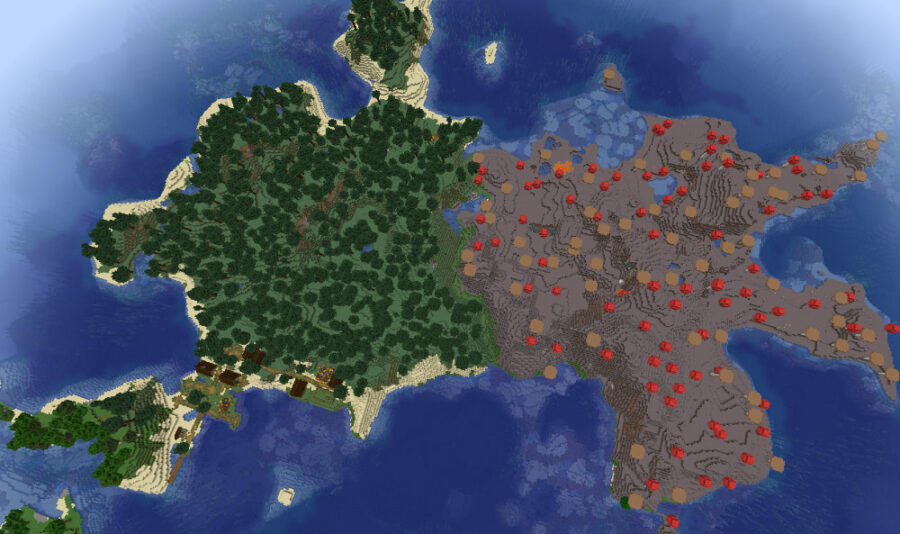 On this map, you don't start on the island being featured, but it's not far off from the world's spawn point. The massive island is half Birch Forest with a village and half Mooshroom Island. However, as rare as that is, what's more fascinating is that directly below the village is a completed 12 Eye Portal inside a Stronghold. If you're looking for a killer seed that will get you to the Enderdragon fast, this one is perfect for you.
Key Locations

Stronghold Stairway: -2124 -732
Mineshaft: -2150 -600
Ocean Monument: -2460 -800
Zombie Spawner: -1989 -514
Taiga Village: -2200 -775
Life and Death
Image Via: Pro Game Guides | Discovered By: BigBrain5Head | Seed: 328211190642393298 | Platform: Java
In this map, you spawn in a zombie village in a large ocean that branches into a normal village on the other side of the island. Your goal? Protect the villagers at all costs! Scavenge for supplies from the dead zone when you can, but don't bring any of the zombies back. This is a one-of-a-kind seed and an exceptional way to start a new Minecraft Survival world!
Key Locations

Zombie Village: Spawn
Living Village: 5 70 10
Ocean Monument: 220 50 635
Shipwreck #1: 390 50 -85
Shipwreck #2: -230 50 -80
Shipwreck Cove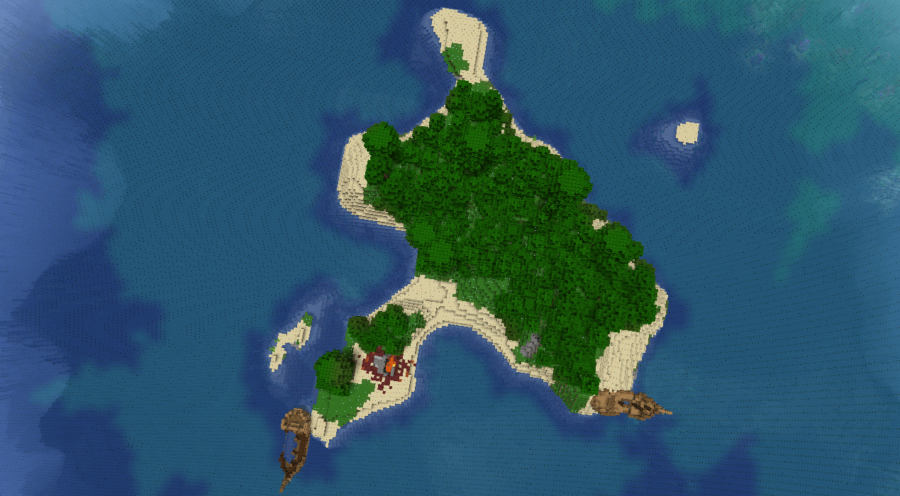 Image via: Pro Game Guides | Discovered By: Plebiain | Seed: 7777777777988733304 | Platform: Java
On Shipwreck Cove, you spawn on a shipwreck, stranded to an island, far from civilization. However, there is another Shipwreck here, which means you might not be alone. Well, in Single Player, you know you're alone. Use your imagination! Make up a story, or just enjoy the peace and solitude of Shipwreck Cove!
Key Locations

Shipwreck #1: 70 70 25
Shipwreck #2: 40 70 -90
Mineshaft: -55 40 170
Taiga Village: -1212 90 -432
Stronghold: -1212 40 -636
King Turtle's Ocean Mushroom Quest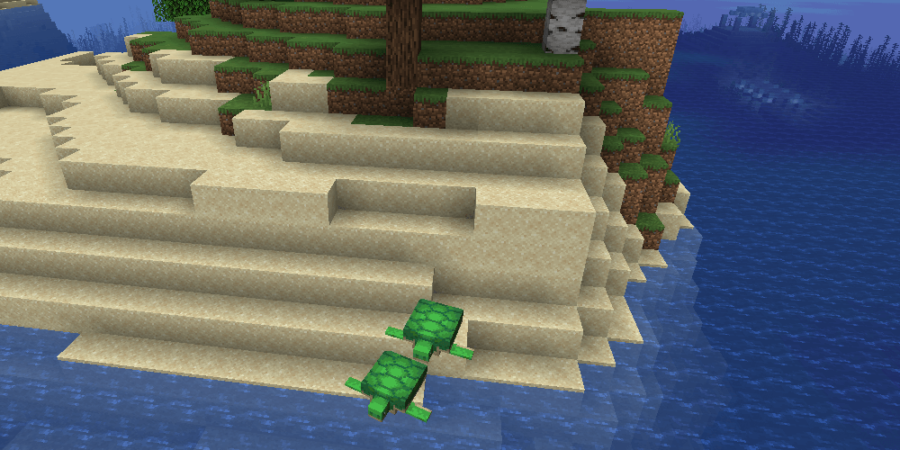 Image via: Pro Game Guides | Discovered By: GeographyMapper | Seed: -641665237699763711 | Platform: Java
So, we'll be blunt. We gave this the name it has because the Turtles spawned and fit so well with our screenshot of the island, we had to include them. Still, this island seed is anything but ordinary! You start off on an island with ample supply of wood, and must survive through the Mining Fatigue of three Ocean Monuments nearby! Not only that, but this spawn lands you only a few hundred blocks away from a decently-sized Mushroom Island!
Key Locations

Ocean Monument #1: -345 40 -130
Ocean Monument #2: -245 40 190
Ocean Monument #3: 50 40 220
Mushroom Island #1: 200 70 -200
Mushroom Island #2: -500 70 650
Bedrock Seeds
Frozen Mushroom Island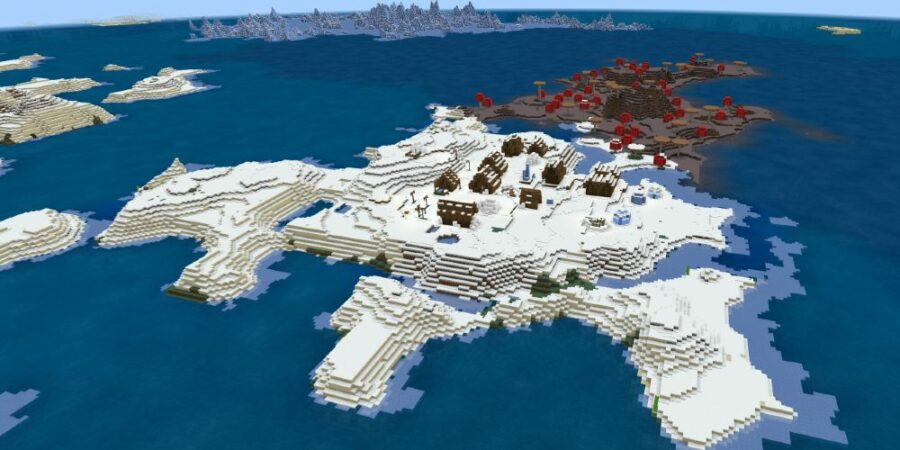 Seed: -2109507520
In this seed, you don't start at the featured island, but it's not too far away! And the coordinates are easy to remember: 0, 0! This is a unique island seed where the two biomes mushed together are Frozen Tundra and the all-too-rare Mushroom Biome. Be sure to pick up all the tree saplings you can as you journey here from spawn; you won't find any trees. Once you make it, nestle in to the warm village and build your empire from there!
Key Locations

Snowy Village #1: 250 240
Snowy Village #2: 220 -350
Mushroom Biome: 335 245
Stronghold: 596 -636
Ocean Monument: -855 230
Gulla Gulla Island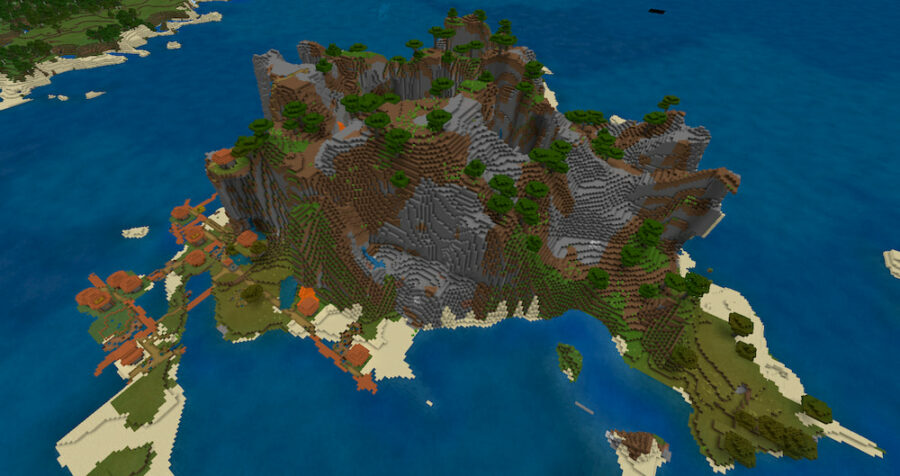 Savannah islands are one of the rarer types of islands in Minecraft, and this one has a beautiful one right at the coordinates 0 0. This is not only a great island seed, but a great Survival seed in general. This is a well-protected island with hollowed out mountains, plenty of lava sources and a Savanna Village at the very tip. This is an ideal paradise for new players who are still learning the ropes, or veteran players who are looking to start a world in the most peaceful way possible.
Key Starting Points

Village #1: 135 55
Village #2: 150 600
Village #3: 580 555
Spider Spawner: -25 -63
Zombie Spawner: 109 -37
The Fortress of Solitude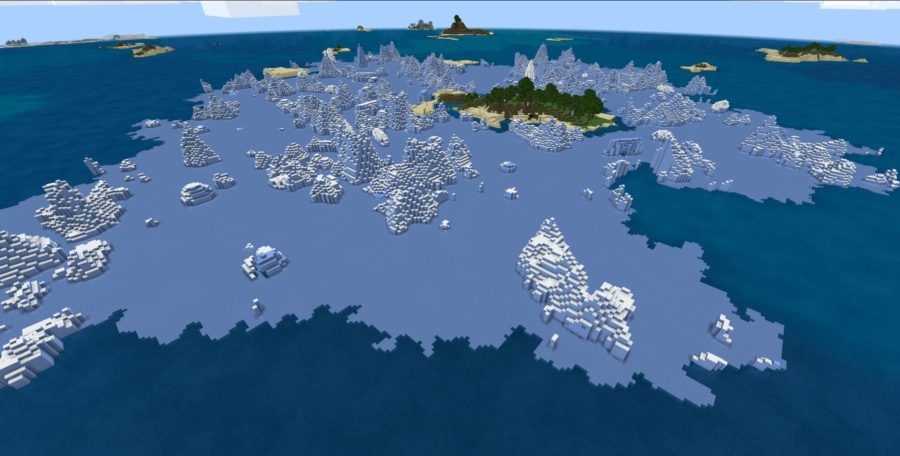 Image via: Pro Game Guides | Discovered By: mmm_tastey | Seed: 1669737730 | Platform: Bedrock
Be like the world-famous hero Superman and have your very own Fortress of Solitude! On this map, you spawn on an island that rests in the dead center of an Ice Spikes biome. This is the perfect place to build a frozen base. The question is, will you use your spawn area to become like The Man or Steel, or will you be more like the Ice King from Adventure Time?
Key Locations

Stronghold: 2350 40 -240
Mineshaft #1: 2415 35 0
Mineshaft #2: 2350 35 300
Shipwreck #1: 2440 65 185
Shipwreck #2: 2280 65 200
The Texan Secession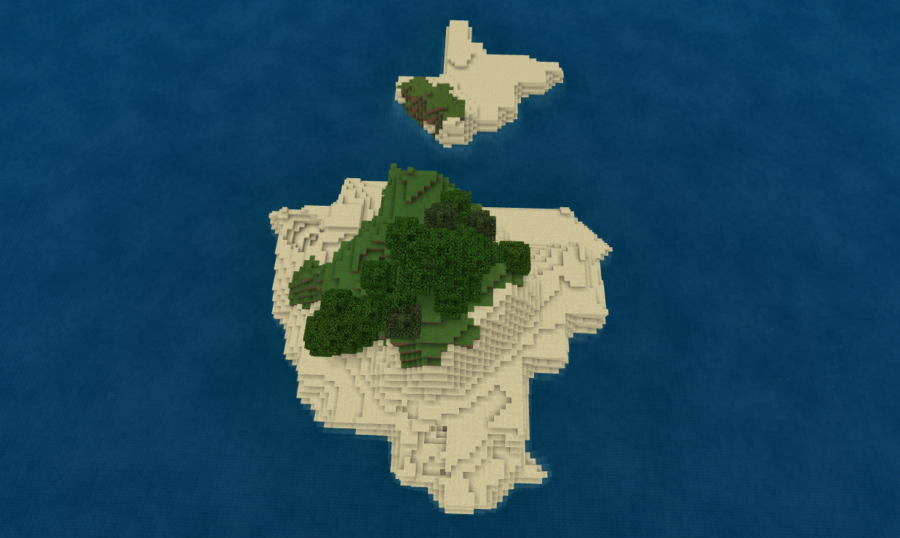 Image via: Pro Game Guides | Discovered By: Relative-Vacation751 | Seed: 24517192 | Platform: Bedrock
We thought they were joking, but it looks like Texas made good on their threat to secede from the Union! We're kidding, of course, but if you've ever wanted to feel like it actually happened, this map may be the one chance you get. As you can see in the image above, you start off next to a Texas-shaped island that seems to be separating itself from the larger patch of land. Do you want to play rebellious little Texas, or will you reclaim ownership of the state?
Key Locations

Mineshaft: 350 40 -150
Shipwreck #1: 25 70 75
Shipwreck #2: -120 70 40
Shipwreck #3: 200 70 40
Shipwreck #4: -135 70 185
Quadument Mansion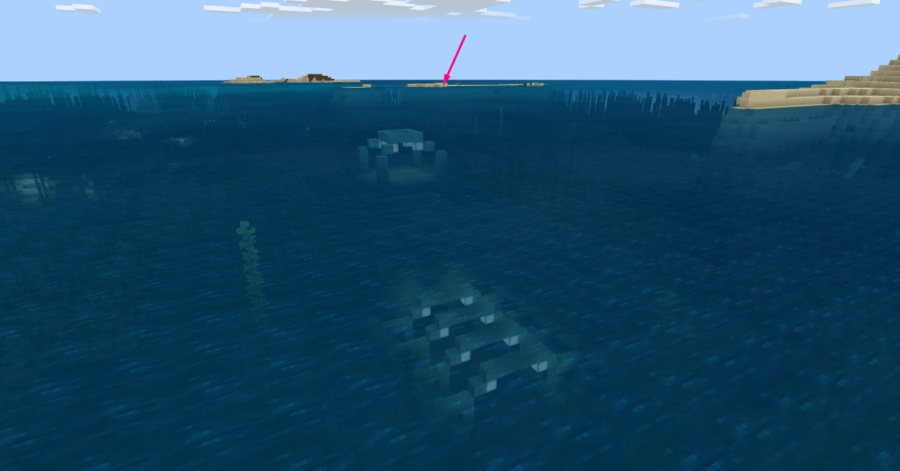 Image via: Pro Game Guides | Discovered By: Ghostgirly2 | Seed: 73771637 | Platform: Bedrock
You have a vast array of Ocean Monuments to choose from on this seed. Not one, two, or three, but four Ocean Monutes generate near your tiny spawn island, which is quite a supply of Sponges. If you are looking for the resources and gear to take on this sea-monster-ridden world, you can turn just a few hundred blocks away and hit the Woodland Mansion that generates just north of the spawn point! The arrow in the image above points to the world spawn.
Key Locations

Ocean Monument #1: 215 40 -250
Ocean Monument #2: 685 40 -170
Ocean Monument #3: 170 40 -115
Ocean Monument #4: 600 40 100
Woodland Mansion #2: 480 85 -1060
If you want to add some additional excitement to some of these seeds, then check out our Best Minecraft Mods post!
Follow us on Twitter and Facebook to get updates on your favorite games!
More Minecraft Seeds
Sours: https://progameguides.com/minecraft/minecraft-island-seeds/
*NEW* Tropical Island *SEED* Minecraft 1.16
Yes, very much - Was it like that before. - It was. and it was better - With whom. - With you, you fool - she strokes him - And you do not compare with anyone. - You've been fucking me since I was eighteen.
You will also like:
Alina shook her head. - Since you want to give your husband's money to us, then you need to pay for something. For example, call the girls here. For this money, you can call three first-class whores.
12
13
14
15
16