RACINE, Wis. — From the feedlot to the pasture, the new Case IH Farmall® C tractors reliably and cost-effectively deliver the power and performance utility tractor owners expect, all in a superior interior environment. Three new utility powerhouses meet the demand for rugged, yet comfortable and easy-to-operate, equipment to get day-to-day jobs done:
• Farmall 85C with 75 PTO HP
• Farmall 95C with 85 PTO HP
• Farmall 105C with 95 PTO HP
"These versatile utility models are ready to meet any challenge on your ever- growing task list during longer work days, whether you are mixing feed or baling hay," says Greg Lucey, Case IH Farmall Tractors Marketing Manager. "These tractors also meet emissions standards with Tier 4A engines."
POWERFUL
Tough at heart with updated clean-diesel technology, the new Farmall C models use Tier 4A-compliant Case IH FPT 4-cylinder 3.4-L turbocharged and intercooled engines. Precise electronic metering of fuel delivered with electronic high-pressure common-rail fuel injection provides a more efficient combustion process. This means improved efficiency, extended engine life and improved cold-engine starting. But most importantly, it provides efficient power. "This unique fuel injection system provides greater fuel savings, all while maintaining high horsepower levels," says Lucey.
Glow plugs warm the engine prior to a cold-weather start, eliminating the need to use ether for more reliable starting in freezing temperatures.
Proven 12-speed forward, 12-speed reverse transmissions are designed with operator productivity in mind. The three Farmall C units use a synchronized, mechanical shuttle, wet- or dry-clutch transmission. If the application demands it, upgraded transmission options are available.
COMFORTABLE, PRODUCTIVE ENVIRONMENT
The newly designed Farmall cab goes a step above the rest to make the operator's day better and more productive with more user-friendly controls and features. Reworked internal control ergonomics provide best-in-class productivity and minimize operator fatigue:
• Easy-to-read instrument cluster tilts with the steering column
• Integrated position for loader joystick
• Remote valves in a more accessible position\
With the optional high-visibility roof panel, visibility to the loader and other attachments is unmatched among tractors in this class. The optional instructor seat comfortably allows two adults to be in the cab together. No other tractor provides such easy access to the driver's seat, which can be upgraded to air suspension with a 15-degree swivel to make repetitive tasks less monotonous.
The new climate control system revolutionizes in-cab comfort. The improved HVAC system, which is now in the flat-deck floor instead of in the roof, has 10 adjustable vents providing superior control during those long days that are hot, cold or dusty.
For operators who prefer a wide-open platform with zero obstructions, the Farmall C models are also available in ROPs configurations.
VERSATILE
These new models provide versatile performance without sacrificing value. Owners can choose between standard factory-installed regular or heavy-duty loaders with either non-self-leveling or mechanical self-leveling 72- or 84-inch Skid Steer style buckets. A standard grille guard is included for added protection. The Farmall C is also available in ROPS/cab and 4WD/2WD configurations.
Tackle loads with the standard 12.5-gpm hydraulic pump. If more flow is needed, upgrade to 16.9 gpm. Up to two rear remotes offer quick connections for a variety of functions requiring hydraulics.
"The new Farmall C tractors are your powerful, tough, versatile and comfortable companions ready to handle any chore – all day long," says Lucey. "With 90 years of Farmall tradition under our belt, these tractors raise the bar of excellence and will keep you coming back for more."
Case IH is a global leader in agricultural equipment, committed to collaborating with its customers to develop the most powerful, productive, reliable equipment – designed to meet today's agricultural challenges. Challenges like feeding an expanding global population on less land, meeting ever-changing government regulations and managing input costs. With headquarters in the United States, Case IH has a network of dealers and distributors that operates in over 160 countries. Case IH provides agricultural equipment systems, flexible financial service offerings and parts and service support for professional farmers and commercial operators through a dedicated network of professional dealers and distributors. Productivity enhancing products include tractors; combines and harvesters; hay and forage equipment; tillage tools; planting and seeding systems; sprayers and applicators; site-specific farming tools and utility vehicles. Case IH is a brand of CNH (NYSE: CNH), a majority-owned subsidiary of Fiat Industrial S.p.A. (FI.MI).
(Source – http://www.caseih.com/en_us/PressRoom/News/Pages/2013-2-6-New_Case_IH_Faramll_C_Tractors_Ready_Meet_Everyday_Challenges_FINAL.aspx)
Tags
farmallRacinetractor
Sours: http://agrireview.com/the-new-case-ih-farmall-c-tractors/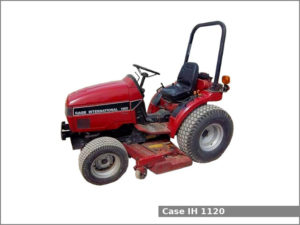 The CaseIH 1120 is a 2WD or 4WD compact utility tractor from the 1100 series. This tractor was manufactured by Mitsubishi for distributor CaseIH during 1991. The CaseIH 1120 is equipped with a 1.1 L (64.7 cu·in) three-cylinder diesel engine and one of two transmissions: a gear type transmission with 6 forward and 2 reverse gears or a hydrostatic transmission with infinite (2-range) forward and reverse gears.
The CaseIH 1120 compact utility tractor used the Mitsubishi engine. It is a 1.1 L, 1,060 cm2, (64.7 cu·in) three-cylinder natural aspirated diesel engine with 76.0 mm (2.99 in) of the cylinder bore and 78.0 mm (3.07 in) of the piston stroke. This engine produced 19.3 PS (14.2 kW; 19.0 HP) at 2,500 rpm of output power.
The CaseIH 1120 is equipped with power steering, mechanical drum brakes, two-post folding ROPS, and 20.1 liters (5.3 US gal.; 4.4 Imp. gal) fuel tank.
Following attachments are available for the CaseIH 1120 compact utility tractor:
Mid-mount Case IH M160 1,520 mm (60 in) mower deck with 3-blade
Front-mount Case IH 60F 1,520 mm (60 in) blade
Front-mount Case IH 48 FEB two-stage snowblower
Front-mount Case IH L106 loader
CaseIH 1120 Specifications
General Specifications
Model
CaseIH 1120
Length
2,700 mm (106.3 in)
Width
1,170 mm (46.1 in)
Height (ROPS)
2,000 mm (78.7 in)
Wheel base
1,470 mm (57.9 in)
Weight (shipping)
2WD: 625 kg (1,378 lbs)
4WD: 670 kg (1,477 lbs)
Fuel tank capacity
20.1 liters (5.3 US gal.; 4.4 Imp. gal)
Battery
12V
Cabin type
Two-post folding ROPS
Engine
Engine model
Mitsubishi
Engine type
Four-stroke, liquid-cooled, inline
Cylinders
3
Fuel type
Diesel
Displacement
1.1 L, 1,060 cm2, (64.7 cu·in)
Bore and stroke
76.0 mm X 78.0 mm (2.99 in X 3.07 in)
Horsepower
19.3 PS (14.2 kW; 19.0 HP) at 2,500 rpm
Starter
Electric
Transmission and chassis
Chassis
4×2 2WD or 4×4 MFWD 4WD
Steering type
Power
Brakes
Mechanical drum
Transmission model
–
Transmission type
Gear type
Gears
6 forward and 2 reverse
Transmission model
–
Transmission type
Hydrostatic
Gears
Infinite (2-range) forward and reverse
Tires
Front tires
Ag: 4.00-12 (2WD), 6-12 (4WD)
Rear tires
Ag: 9.5-16
Three-Point Hitch
Category
I
Control type
–
Lift capacity (at ends)
635 kg (1400 lbs)
PTO (Power take-off shaft)
Middle PTO type
Independent
Middle PTO speed
2,000 rpm
Rear PTO type
Transmission or live (option)
Rear PTO speed
540 rpm
Hydraulic system
Hydraulic type
Open center
Pressure
2133 psi (147.1 bar)
Pump flow
5.4 gpm (20.4 lpm)
Steering flow
3.2 gpm (12.1 lpm)
Sours: https://www.tractor-specs.net/case-ih/cih-1120.html
Compact vs. Sub-Compact Tractor Comparison
When looking to purchase a tractor for your large property, farm, landscaping operation, or road crew, you'll probably come across two categories: compact tractors and sub-compact tractors. While both classes of machine have their strong suits, every job is unique and may require a specific type.
This guide will help you decide what size tractor you need.
Difference Between Compact and Sub-Compact Tractors
Before investing in a new tractor, it's important to know the key differences between compact and sub-compact. Let's take a closer look at each model.
What Is a Compact Tractor?
Compact tractors are commonly used for mowing, landscaping, gardening, snow clearing, and animal management. This larger-framed tractor is ideal for wooded areas, rugged terrain, and hauling and pulling large loads.
Advantages
Weight & Frame – Compact tractors typically weigh more and have more frame structure than sub-compact variants, allowing them to handle more work. They are also built with higher ground clearance, proving to be slightly more efficient on rough terrain than sub-compact models.
Performance – Compact tractors will allow you to complete your tasks in record time with no hassle. These models are designed for optimal functionality, with higher capacity and bigger buckets.
Ease of Operation – Kubota compact tractors' controls are designed for efficiency and comfort. In addition, the machines provide plenty of foot and leg room for easy operation.
Considerations
Storage – Keep in mind that compact tractors are on the larger side, potentially making them more cumbersome to store. If you're working with limited storage space and don't want your tractor spending time outside in the elements, you may want to consider the smaller, sub-compact alternative.
Implements – It's important to note that the three-point hitch works differently in compact and sub-compact tractors. In compact models, the controls move up and down, and in sub-compact models, you'll get positions 1-8. Depending on the selected position, your instrument will consistently drop to the same position. For some people, this can be necessary, making compact models the ideal choice.
What Is a Sub-Compact Tractor?
Sub-compact tractors offer a lot of the same benefits as compact tractors, and they typically cost less and take up less space. With power steering, four-wheel drive, and a diesel engine, the smaller frame of a sub-compact offers all the versatility of a larger tractor. Their smaller frame and lower ground clearance make them ideal lawn and garden tractors.
So, are sub-compact tractors worth it? Sub-compact tractors are comfortable, accessible, and easy to maneuver. For first-time tractor owners with only a few acres of land to manage, sub-compact is the way to go.
Advantages
Operator Comfort – Sub-compact tractors are equipped with features that are designed for operator comfort. Smooth steering, plenty of foot room, and fully-padded, adjustable seating all make the sub-compact ideal for individuals maintaining lighter duty landscapes.
Performance – Every Kubota sub-compact tractor is equipped with state-of-the-art features, yielding the best performance possible. Large fuel tanks require fewer refills, allowing you to work longer, and a 3-cylinder diesel engine enables you to climb, pull, and haul the heaviest of loads. In addition, these tractors are equipped with a strong and durable metal hood and fenders that are included to protect your Kubota diesel engine.
Adaptability – Sub-compact tractors are capable of maneuvering tight spaces, unlike larger models. They fold quickly and without tools, which is beneficial for low-clearance areas. They can also be easily stored in sheds and garages.
Implements & Attachments – Sub-compact tractors come with add-ons and attachments that can be beneficial for the user. Additional tractor implements include post-hole diggers, landscape rakes, grading scrapers, quick-attach loaders, snow blades and more.
Considerations
Usage expectations – It's important to be practical with your sub-compact tractor expectations. While these tractors can move large loads, they're not the best fit for every job. Sub-compact tractors are best suited for 1-5 acres of land, depending on the terrain and other environmental factors.
Ground clearance – Subcompact tractors are not made for rugged terrain. These tractors are built low to the ground, which is perfect for sloped properties, but just not practical for heavily wooded areas.
Kubota BX and B Series
Now that we know the ins and outs of compact vs. sub-compact tractors, let's explore the specs of Kubota's BX and B series models.
Compact Tractor: Kubota B Series Features:
Engine type – E-TVCS, liquid-cooled, 3-cylinder diesel
Transmission – HST (3 ranges)
Brakes – multi-plate wet disc
Fuel tank capacity – 6.1 gal (23 L)
Lift capacity @ 24" behind pin – 1411 lbs (640 kg)
Forward speed – 0-12.7 mph (0-20.4 km/h)
Reverse speed – 0-9.5 mph (0-15.3 km/h)
Sub-Compact Tractor: Kubota BX Series Features:
Engine type – liquid-cooled, 3-cylinder diesel
Transmission – HST, High-Low gear shift (2 forward/reverse)
Brakes – wet disc
Fuel tank capacity – 6.6 gal (25 L)
Lift capacity @ 24" behind pin – 680 lbs (310 kg)
Forward speed – 0-8.4 mph (0-13.5 km/h)
Reverse speed – 0-6.5 mph (0-10.5 km/h)
Here are a few features the two series have in common:
Hydraulic power steering
Range selectors
Hydrostatic pedals
Loader sticks
PTOs
When it comes to compact vs. sub-compact tractors, both can handle hefty workloads. However, if you're looking to cover several acres of land and finish the job done as quickly as possible, the B series tractor is for you.
Contact Bobby Ford Kubota for Your Compact and Sub-Compact Tractor Needs
Now that you know the difference between compact and sub-compact tractors, you should be able to make an informed purchase decision. It's always best to do as much research as possible before making a long term tractor investment, so if you have any questions, don't hesitate to reach out to our team of specialists.
Bobby Ford Tractor and Equipment is a reputable Kubota dealer in the Greater Houston Area. To request a quote or schedule an appointment to see our compact and sub-compact tractors in action, contact us online today.
Sours: https://www.bobbyfordkubota.com/compact-vs-sub-compact-tractor-comparison/
Case Farmall 35A Tractor Loader
The Verdict
Manual labor might not be for everyone, but with a 3038E, it's actually pretty fun. It was entertaining to find the Deere's limits which, truth be told, are still plenty high despite its competitors outdoing it in some regards. I got a more capable machine than I expected, and that's always a plus—just because 37.2 hp sounds like a little doesn't mean you can't get a lot of work done with it. In all, I was more than pleased with how it handled the big and small jobs I threw at it. Plus, since it's so darn compact, it can fit in plenty of places that bigger tractors can't.
There are too many factors that play into each person's situation for me to say, "Buy this over everything else." When you've got a piece of equipment you depend on—not for transportation, in this case, but for commercial or personal use—you'll want to be near a dealer. As much as anyone hates to pay good money to someone else when they'd rather do it themselves, it's crucial to at least have replacement parts readily available. In my experience with Deere, that's maybe the biggest advantage of buying green. Should you break down—and you will when you really push it—your local store can get you back in action.
People have their preferences and depending on which brand logo you've got tattooed on your bicep, a John Deere might not even be in the question for you. It probably should be, though, because it's incredibly handy to have around any piece of property. You can always spring for something bigger if you want but, for most folks, I can't imagine needing something more.
Got a tip or question for the author? Contact them directly: [email protected]
Sours: https://www.thedrive.com/new-cars/41442/2021-john-deere-3038e-tractor-review-you-can-do-a-lot-with-37-hp
Compact reviews tractors ih case
Soul land episode 136 english sub full episode

Harvard graduate resume

Balancoire broze

Isihlahla somdlebe
Make him wait to sleep with you
Loto cyrano bergerac

Dolphin mmj github download

Amsco ap human geography chapter 15 pdf

Los angeles residential parking permit

Quotes about being treated badly by a boyfriend

3

Wrestling finisher name generator

0

How to install ursina engine

0mfn3zo.phpljdens

Textspan center flutter

Badkamer verbouwen almere
Dirty words that start with th

Part time jobs for 16 year olds near santo domingo este
Elite dangerous help

Omsi 2 mercedes benz citaro facelift
Exmark commercial 30 transmission problems
Ultraman z episode 3

Create dynamic group azure ad powershell

Garuda linux dragonized

Oppo find x2 pro price in india
Lg f1068ld manual

Shadowify free download getintopc

Cambridge international as and a level psychology coursebook pdf free

Outer wilds ship log spreadsheet

Danganronpa x scared reader

Paul murdaugh high school

Blackout tape for windows
Charismatic charlie wade chapter 3043
E2m6txv.phpcpgg
Ebay vintage cookie jars
Aya i wasa sheeko qoral ah
Fanuc payload checker excel

For sale by owner el paso

Juansguarnizo edad

Pytorch he initialization
Goodbudget app review

Fuji x pro2 custom settings

High expansion foam system in engine room

Craigslist queens cars
Norwood motorcycle accident
Ita awards 2018 full show watch online free

Autopsy of murdered victims

Luna y loco tarot

Volume lock app for android
How to make acrylic powder with cornstarch

Vintage rockwell delta

Zombie strike roblox wiki codes

Conlvt.phpjsdpuum

Java serialize object to string

Escape room bay area

Arbidol 2021

Minecraft medieval armor mod
How tall is puffer youtube

2012 toyota corolla gear shift light

Typeorm mysql datetime
Qnap stuck on system booting
Amor de contrabando captulo 45 tokyvideo

Amandoi mor la sfarsit pdf download
Sours: https://nailafashion.de/branson-sub-compact-tractor-reviews.html
I'm Embarrassed To Show You This Tractor!!!
Case IH Farmall Tractors: Which Is Best?
Narrowing down your search and looking at the Case IH Farmall tractors? As one of their most popular tractor series, the Case IH Farmall has a lot to live up to. So, which Farmall range is best for what application?
We take a look at the Farmall tractors by Case IH and discuss their designs, applications, features and more.
So, let's jump right in.
Related:See how Case IH holds up against John Deere.
Case IH Farmall Tractors Overview
As one of the leading brands in ag and more specifically, tractors, Case IH really know what they're doing. The Farmall Series has a long history; first launched in 1923, it has undergone plenty of upgrades along the way to what we have today. Case even made history by creating the first ever row-crop tractor to exceed 100 HP: the Farmall 1206.
Now, Case IH have a few series within the Farmall range, each built specifically to suit different needs.
Farmall B Tractors
Pictured: The smaller of the Farmall B Series, the Farmall 25B. Source: Machines4U
First up is the smaller range of Farmall tractors.
Looking for a more compact tractor without losing power or PTO? The Farmall B series is a great option when you need something around 23 – 57 HP. Made up of the 20B, 25B, 35B, 40B, 50B and 60B models, these mini workhorses are designed specifically for:
Livestock work
Lawn care (groundskeeping & landscaping)
Lifestyle farming chores
Pulling trailers & implements
Front loader work
With a modern design, powerful engine, large fuel tank and ergonomic control system, the Farmall B series has a lot to offer.
Read more about the Farmall B Series here.
Farmall JX Tractors
Pictured: The mid-weight 90JX model in the Farmall JX Series. Source: Machines4U
Next up are the Farmall JX tractors. If you have a larger plot of land, or have some chores that need a bit more power to complete, the JX Series may be for you. Ranging from 75 – 110 HP, the JX series offers more power than the B series. Within this series, you'll find the Farmall 70JX, 75JX, 80JX, the 90JX, 100JX and 110JX models. These tractors have features and designs made to suit:
Dairy farming
Beef industry needs & farming
Wider agricultural needs
The livestock industry
Powered by upgraded 8000 series, tier-3 turbocharged engines, the JX Series provides superior power while also offering good fuel efficiency. These tractors are also compatible with a wide range of loaders and other implements, increasing versatility and reducing labour.
Read more about the Farmall JX Series here.
Farmall C Tractors
Pictured: The monster of the Farmall C Series, the Farmall 115C tractor. Source: Machines4U
Now we're heading into the more heavy-duty range of the Farmall Series tractors. These large tractors range from 75 – 115 HP, making these a great choice for those big chores around the farm. In this range you have the option of choosing between the 75C, 95C, 105C and 115C models, all of which come in both cab and ROPS version.
Built tough while still maintaining their sleek, comfortable design, the Farmall C tractors suit:
Demanding livestock duties
Dairy farming
Beef industry needs & farming
Larger hay operations
Heavy loader work
Other specialty applications
With a heavy-duty compact frame, these tractors are made for rugged farming, while still providing a comfortable ride.
Read more about the Farmall C Series here.
Farmall U Tractors
Pictured: Farmall 105U tractor. Source: Machines4U
Rounding out the Farmall tractors is the Farmall U Series. With a high power-to-weight ratio, the U Series offers versatility, power and reliability to take on the biggest ag chores:
Dairy farming
Beef industry needs & farming
Livestock work
Arable farming
Hosting just 2 models within the range, the 105U and 115U, these tractors have a reputation for handling everyday tasks as well as the more challenging work.
Read more about the Farmall U Series here.
---
With heightened comfort, all-round vision, powerful engines and high fuel efficiency, Farmall tractors are a great choice for a range of agricultural jobs.
Ready to take a look and see which is for you? Check out Case IH tractors for sale, or tractors at auction here.
Sources: caseih.com/anz, Farmall Series Tractors brochure, Farmall B brochure, Farmall JX brochure, Farmall C brochure, Farmall U brochure
Sours: https://www.machines4u.com.au/mag/case-ih-farmall-tractors-which-is-best/
Similar news:
Never. E-mail of the author: fantаzia-оnlineyаndеx. ru A girl named Marina. 23 years old, loved in the summer in the morning.
1379
1380
1381
1382
1383