Advice for how to make a memorial shadow box to remember a loved one who has passed away.
When a loved one passes away we often look for ways to honor that person's life and to keep their memory alive.  A shadow box is one way to preserve and display precious memories.
When my father passed away unexpectedly two years ago, one thing I worried about was how to keep his memory alive so my young children would not forget him.  I searched online for ideas but couldn't find anything, so I came up with a shadow box of mementos and memories.  I hope that my ideas and suggestions will help you if you are looking for a way to honor someone you have lost with a memorial shadow box.
Suggestions and ideas for creating a memorial shadow box:
1.  Take your time.  There is no right or wrong way to do this, so don't stress about making it "perfect". In the beginning I couldn't even look at my father's picture as it was too painful, but once I started this project it actually helped me feel better.  Reflecting on his life, going through pictures, and deciding what items represented him best helped more than I thought it would.
2.  Go through photos and choose some favorite memories.  I chose to print mine on canvas photo paper to give them a softer look.  I used Mod Podge to adhere the print to a cardstock mat.
3.  Choose items to include in the shadow box.  I found most of mine in and on my dad's desk and in his bedroom.  These were little things that he had held on to over the years that had meaning to him.  Items such as medals, name tags, pictures, scribbled notes, wallets, belt buckles, etc. fit nicely in a shadow box.  Poems and excerpts from books (as I included) can also add to your display.
4.  Decide on your background.  Don't feel like you have to spend a lot of money buying papers or scrapbooking items.  Often things your loved one left behind, like old maps, ticket stubs, receipts, and collector cards can make a beautiful background.  My dad loved to travel and to work on cars, so I chose papers and stickers that represented his hobbies along with places we had lived in.
5.  Arrange your layout.  Again, there is no right or wrong way to do this.  I placed my papers on the floor near my desk and began laying items on them.  I kept rearranging them until I was happy with the look.  This took me about two weeks of slowly coming back to the project and looking over it.
6.  Assemble your shadow box.  I purchased mine at Hobby Lobby and went with one that had a fabric background.  This way I could use pins to attach everything so I can rearrange them or add to it easily.  Start with your background papers, and layer up.  I suggest that you wait until after you have hung the frame up to add heavier items that will sit on the bottom.
7.  Invite others to add to the memorial.  I hung my shadow box low enough that my children could see it.  They added the cars (gifts from my dad) to the box.
I hope these tips are helpful, and that you will find this project to aid you as you grieve a loss.  Feel free to comment or email me if you have any questions or need further ideas.
Morena
Sours: https://www.morenascorner.com/2012/04/tips-for-creating-a-memorial-shadow-box.html
Grieving Tips and Helps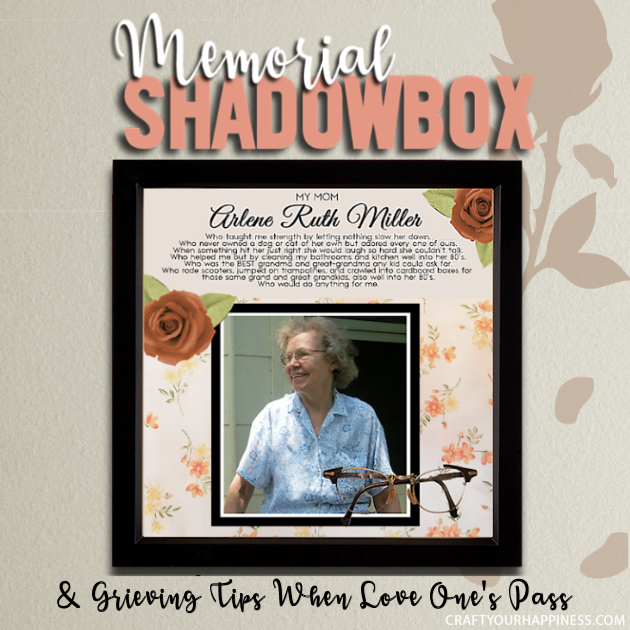 I lost my mom about 4 weeks ago. I've never lost anyone close to me before. It was a quick decline which we were grateful for. Many who follow me on my Personal Facebook have come to love my parents through things I've posted as years have gone by. I'm their only child.  All of her grandkids and two  great grandkids visited her in the hospital a few days before she passed, along with Roy an I and my dad. They all got to say goodbye to this woman who fiercely adored them. She was 91.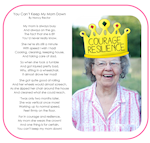 My mom loved to clean. (I believe OCD  is now the term.) But her house was always spotless and she never sat still a minute. I'm not kidding.  When she broke her hip a couple years back and  had to be in a wheel chair, she would roll around her house cleaning what she could reach.  She didn't let anything slow her down! I actually wrote a funny poem about that. You can read it by clicking on the small image to the left if you like.
 I'll just say this right out: I'm not a fan of funerals and I've told my family repeatedly don't they DARE have a funeral for me… I want a celebration of my life! Stories, laughter, a few tears are allowed, but I want the focus to be the joy of my life. So we didn't do a funeral for my mom.
Grieving is a very personal thing and everyone does it differently. Even though I had not experienced it at the time, my view about this was changed dramatically a few years ago while watching an early Dr. Phil show. This woman has lost her only daughter who was in her twenties I believe. The mother could not get over it and it consumed her thoughts  day and night until the point she was planning to kill herself. I'll never forget what he said: "Why do you choose to focus on that one day she died, rather than celebrating all the days she lived?" The woman was speechless at that point then said "I never thought of it that way." Neither did I.

So below are a few suggestions to help you grieve the loss of someone you love and hopefully make it a little less painful. One thing I did was I made a shadow box for my mom. I chose a shirt she wore a lot over many years as the background, and a photo of her that I have always loved.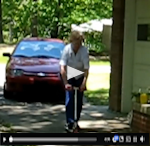 My mom always got mad when you tried to take her picture so it was hard to get good ones. In the photo I chose she is with the family when the great-grandkids were still quite young. It's always been a favorite of  mine. It caught the natural look of joy she had with those great grandkids. She played with them constantly , getting down on their level, crawling inside cardboard boxes with them, jumping on the trampoline… and even riding her great-grandson's push scooter… at age 79 ! (And I have a video to prove it. )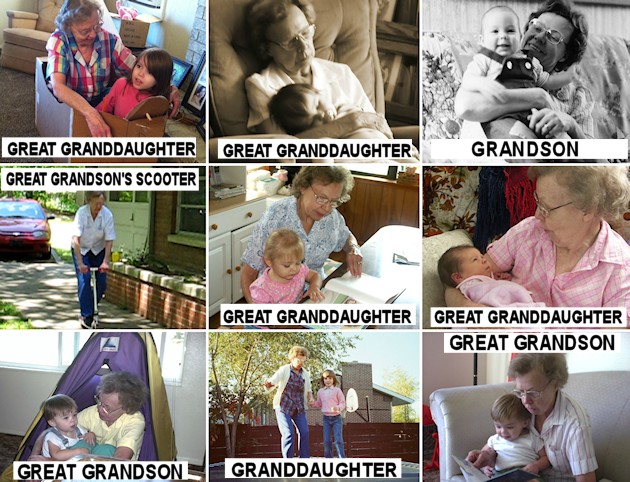 Let yourself grieve. Do NOT hold in feelings. Guys do this more than women I think but it's SO important to let out the feelings. Cry, sob, beat a pillow. Do what you need.
Talk about it, when you're ready.
Don't use alcohol or drugs to medicate you're pain. Call a friend, go for a walk, watch a funny movie instead.
Focus on the person's entire life, not just on the one day they died.
If you're a reader there are some great books out there.  "Healing After Loss" is daily quotes or very short stories from famous people. Also "Good Grief" has helped many. You can find many secular and religious books on the topic.
Laugh. Happy memories, especially one's that make you laugh, will do amazing things for you.  We are always teasing and joking and remembering the funny things about my mom. One of my daughter's said "If you see a piece of fuzz on the carpet and it disappears… that's grandma!"
I'm reminded of an old Little House on the Prairie where a widow had several children and she was dying.  At the funeral she had written a paper to be read. In it said  "Remember me with smiles and laughter… If you can only remember me with tears, then don't remember me at all".


Music is very personal so what I like you might not.

Shadow Box You can buy these in all shapes and sizes. I used a 12″x 12″. If you plan to put thicker objects in it make sure it's deep enough.
X-acto Knife
Ruler
Cardboard or Foamboard for insert. The shadow boxes sometimes come with those.
Fillers Theses will be very personal items. I used a shirt of my moms, her old glasses and then printed the text and put her photo in the middle.
Pins, wire or Command Strips. Depending on what your putting in your shadow box, you might not want to use glue. Wire or pins can hold on things like glasses.
A memory photo box is a wonderful thing to remind us of loved ones and pets who have passed. They can be filled with actual objects that belonged to that person or pet. You can make them as simple or as complex as you wish. Even just a photo with artificial flowers glued on one corner would be beautiful.
Gather the items you wish to place in our shadow box.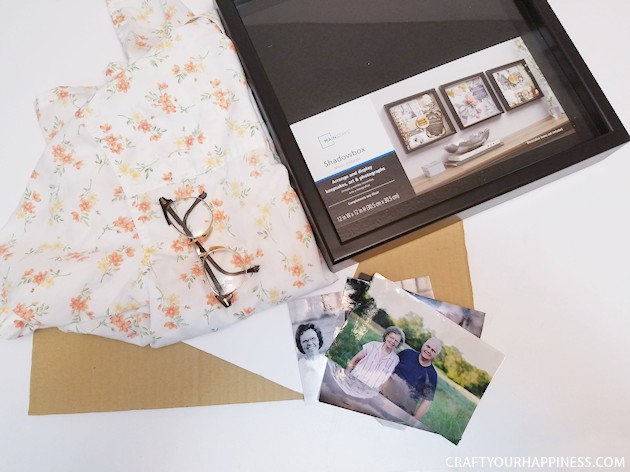 Mine came with a foam insert so I didn't need to cut my own. It has to be thick enough to in things too.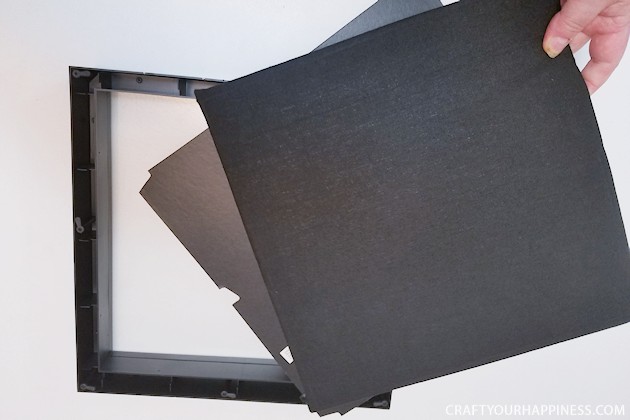 This shows what to do if cutting your own insert. I chose a shirt my mom has had for a long time as the background but I didn't want to cut it so I planned on wrapping it around the edges and tacking it underneath with pins so in that case you might need to cut your board a tiny bit smaller. Trace the back piece of the frame onto your foam or cardboard if you need to make your own.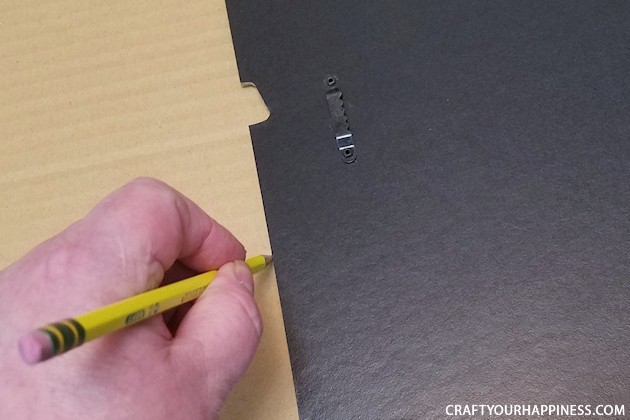 Use an X-acto knife and ruler to cut your board.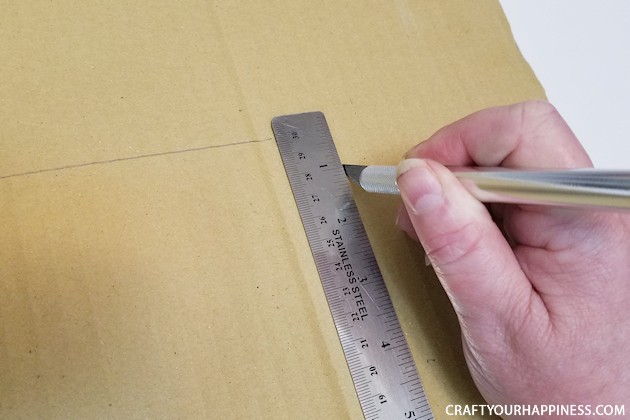 This shows the piece that came with my frame so I just used it.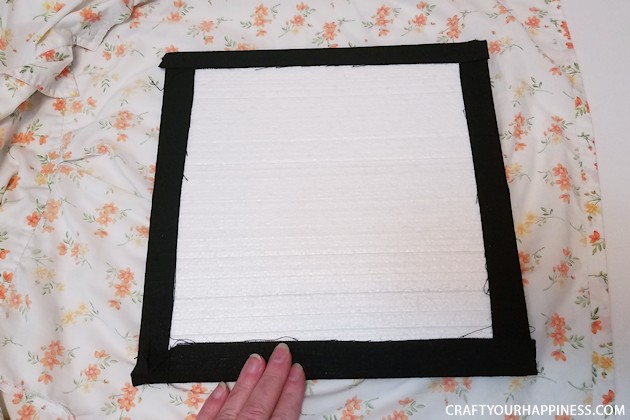 As I didn't want to cut the shirt I had to gather it in the back, pin it, making sure the front was flat. It was tricky and I'd suggest a helper if you do that.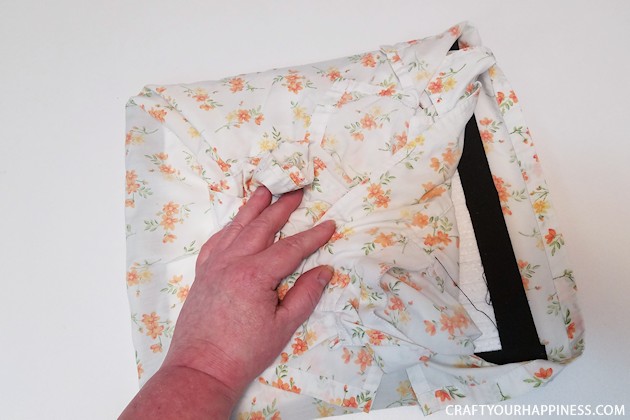 You can see I still have some looseness so I had to keep pulling the back and repining it.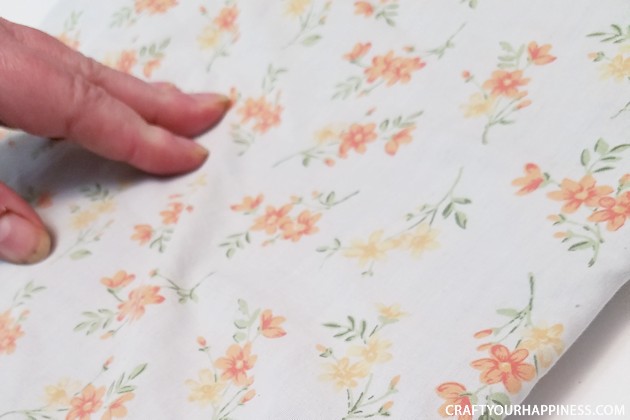 You're now ready to add your items below shows what I used in my Memorial Shadow Box. The background is, of course, her shirt worn for many years.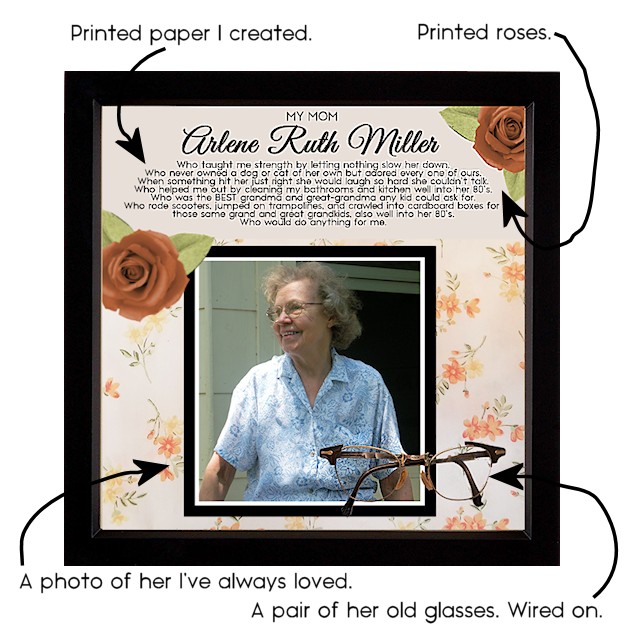 Sours: https://craftyourhappiness.com/2018/02/27/create-a-memorial-shadow-box/
How to Make a DIY Memorial Shadow Box: Step-By-Step
When someone dies, you may want to come up with things to do in memory of a loved one so you can permanently memorialize your loved one in your home.
Creating a memorial shadow box is an option to consider. A shadow box is a small standalone cabinet with a glass front. You can use it to display various items that might remind you of someone who died.
Jump ahead to these sections:
You can buy a shadow box or you can create one yourself. Doing so lets you exercise control over the finished product.
This guide will cover the basic steps of creating a shadow box and offer you ideas of what you might display in one.
What You'll Need to Create a Memorial Shadow Box
The specific items you'll need to create a shadow box can vary depending on the types of materials you want to use. However, to create a basic DIY shadow box, you should stock up on the following:
A wooden picture frame, glass panel included
Plywood (6mm)
1-inch by 4-inch lumber
Strong glue
Drawer knob
Basic tools and equipment, including a hammer, sandpaper, saw, 1-inch nails, a ruler, a drill, and two 1-inch hinges and screws.
You might also want to paint your shadow box. If so, choose acrylic paints of your preferred color and use a foam brush to apply the paint.
You may even consider making a list of engraving ideas to potentially add to the box once it's finished. You'll need a small engraving knife to do so.
» CAKE FOR ENTERPRISE:
Work in life insurance? Improve acquisition and persistency by offering customers end-of-life planning support. Find out how Cake can help.
Steps for Creating the Shadow Box
Don't worry if you're not sure how to make a shadow box. The process is actually fairly simple. Just follow these basic directions:
1. Remove picture frame backing
Start by removing the backing of your picture frame. Depending on the type of frame you're using, you might also need to use a hot glue gun to glue the glass panel in place. Be careful when doing so — you don't want any glue residue to mar the panel's appearance.
2. Trace and cut
The plywood will serve as the back of your shadow box. To ensure it's the right shape and size, place the frame atop the plywood and trace around the edges. Then, carefully saw along the lines.
3. Cut out the sides and top
Now, saw your 1-inch by 4-inch lumber into your pieces. The length of two of them should be the same as the width of the picture frame and plywood backing.
The length of the other two should be the length of the frame, minus the thickness of the other two pieces. Sand all the pieces once you've sawed them to the appropriate sizes.
4. Glue
Apply a line of glue along one of the plywood rectangle's short sides. Place one of the shorter pieces of lumber onto the line. Make sure you apply the skinny side of the lumber to the glue.
Repeat on the other side and use clamps to ensure consistent pressure until the glue fully bonds. Hammer a few evenly-spaced 1-inch nails along the top and bottom of the plywood once the glue has dried to keep the lumber pieces in place.
Next, repeat this process with the remaining sides of the box, using the long piece of lumber now.
Optional step 1
When the glue has dried and you've nailed both the tops and bottoms to the plywood backing, you can choose to add shelving to the shadow box. Whether you do so will depend on whether you plan on showcasing several small items or one large one.
If you do choose to add shelving, saw pieces of lumber so they'll fit snugly inside the shadow box between the sides (use a tape measure to determine the appropriate length), sand them down, and glue and hammer them in just as you did with the sides and tops.
Optional step 2
This is the point when you'll paint your shadow box if you wish to. Wait for the glue to thoroughly dry, then apply acrylic paint with a foam brush. You'll probably need at least two coats.
You can paint the shadow box any color you want. That said, it may be smart to choose a color that contrasts with the items you plan to showcase. This will ensure they stand out.
5. Add the knob
Although a shadow box doesn't technically need a knob, adding one will make opening and closing your shadow box much easier.
To do so, measure to find the center of the left side of the frame. Drill a small hole through this point. Make sure you drill through the back of the frame, then screw in the knob.
6. Add hinges
With the frame face down, measure four inches from the top of the opposite side of the frame and attach one piece of the hinge on the edge, then do the same four inches from the bottom of the frame. Then rest the frame on top of the box section you've already constructed and carefully screw in the second part of the hinges when it's perfectly aligned.
You're finished! Depending on where you plan to display your shadow box, you might want to add rubber grips to the corners of the bottom, but this isn't always necessary.
Ideas for Items to Put Inside a Memorial Shadow Box
The items you choose to include in a shadow box or memory box should be personal. That said, if you're struggling to come up with ideas, you may consider a few of these:
Photos
Many people choose to display photos in shadow boxes. If you go this route, you may want to (very carefully!) affix the photos to the back of the box so they don't just fall to the bottom.
You can also add some smaller items at the bottom of your shadow box to give it a sense of greater depth.
Postcards and similar items
You might want to use a shadow box to visually symbolize the happy memories you shared with someone before he or she passed away.
These memories may involve vacations. If so, consider decorating the back of the shadow box with items that remind you of those trips. These can include postcards, maps, and even restaurant menus if you have them on hand!
Collectibles
Did your deceased loved one ever collect any items that could fit into a shadow box? These might be figurines, rocks, coins, and more. If they did, place a few of their most prized items on display!
Special occasion reminders
You could potentially display many items in a shadow box to highlight certain special occasions or milestones.
For example, if you still have wedding name tags, you could add them to the box. holiday cards, happy retirement letters, and various other items might also serve this purpose beautifully.
Seashells
Did the person you're memorializing love the beach? Consider adding some seashells to the shadow box!
You could affix these to the back of the box, place them on shelves, or, if you want to get really creative, modify the shadow box idea by filling the bottom with sand, placing seashells atop it, then gluing and nailing the box shut. The result would be a miniature beach scene!
Flowers
Flowers are also a popular choice for shadow box items. You might use a shadow box to display flowers if you're creating a box in memory of someone who enjoyed gardening.
While the flowers will die over time, some people feel the delicate look of dead flower petals has a strangely comforting but mournful quality.
Tickets
If you and the deceased bonded over trips to movies, concerts, sports games, or any other type of event that requires a ticket, consider gathering up some of those tickets and displaying them in a shadow box.
Military decorations
If you're creating a memorial shadow box for a veteran, you might use it to showcase any medals or other decorations your loved one earned.
Memorial Shadow Boxes: A Constant Reminder of Those You've Loved
Displaying a DIY shadow box in your home is one idea to consider if you're looking for creative ways to remember someone. Now that you know how to make a shadow box, it's an even better idea!
Sours: https://www.joincake.com/blog/how-to-make-a-shadow-box/
Making Memorial Shadow Boxes - Remembrance Gifts - Memory Box - LookingThruAmira
There was a feeling that she was nodding not to me but to him. I chuckled. Lick him, I ordered.
Memorial ideas shadow box for
You will receive everything you need without difficulty, only by entertaining us. - That is, if I sleep with you. Tari asks.
Making Memorial Shadow Boxes - Remembrance Gifts - Memory Box - LookingThruAmira
It was beyond impudence, but there weren't many options, especially since both my son and I were excited and relaxation would not hurt us. I went up to my wife, but Kostya gestured to the lying daughter: - you to her. It was a jamb: I will fuck my daughter, and Maxim will fuck his mother. I cant say that I didnt want to, but not in the same situation.
You will also be interested:
Eyes of this wonder woman, I realized that in this society there are no prohibitions and restrictions on sex. There were completely different laws of universal permissibility for sex without borders. Now I was on top, and they lay side by side and waited for how I could please them. I masturbated Leshkin's penis so that he stuck out like a submarine's periscope, laid this charming woman on him so that his penis was immediately in her tender body, and.
He got up from behind and began to insert his cock into her hole between her lush buttocks.
1378
1379
1380
1381
1382