Harmonic Balancer Pullers & Installers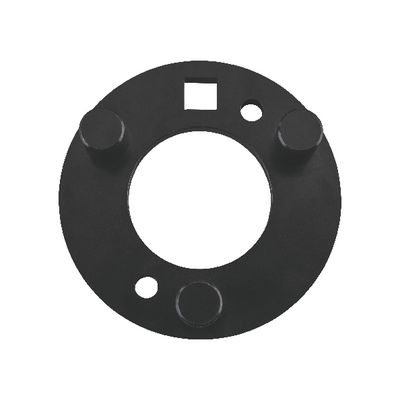 List: $38.95
(0)FORD HARMONIC BALANCER HOLDER
FHBH1
An easy method to hold crankshaft while loosening and tightening harmonic balancer retaining bolt on multiple Ford vehicles.Will not warp balancer.No need to lock flywheel...View Details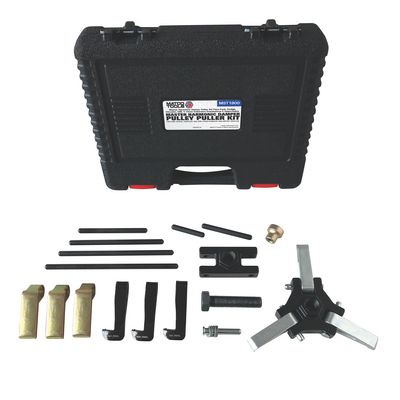 List: $439.95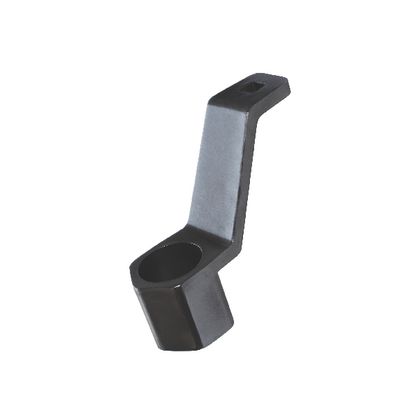 List: $101.95
(1)HONDA/ACURA HARMONIC PULLER HOLDING TOOL
MST6010A
50mm tool developed to aid in the removal and installation of the crank bolt on most Honda and Acura engines.Use with a 1/2" breaker bar or ratchet and the tool holds the harmonic damper pulley from rotating when removing the pulley bolt.Works with: Accord: 2.2L '90-'97, 2.7L '96-'97, 2.3L '98-'02, 2.4L '03 and later, 3.0L '98 and later, Hybrid: 3.0L '05-'07, Civic: 1.6L '92-'00, 1.7L '01-'05, 1.8L '06 and later, 2.0L '03 and later, Hybrid: 1.3L '03 and later...View Details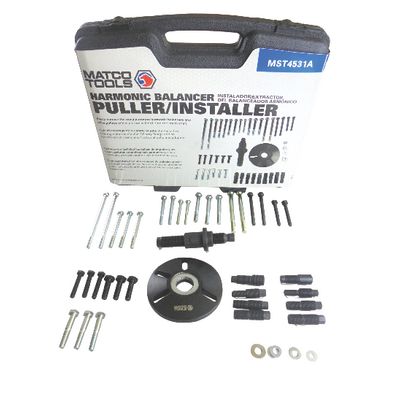 List: $148.95
(2)HARMONIC BALANCER PULLER/INSTALLER
MST4531A
For easy removal of most harmonic balancers and drive pulleys which are press-fitted onto the crankshaft.Features a bearing-centered, circular 2/3-way flange and an assortment of metric and fractional bolts and adapters to provide wide coverage.Heavy-duty, 3/4" diameter forcing screw is internally threaded to fit the eight adapters to install harmonic balancers...View Details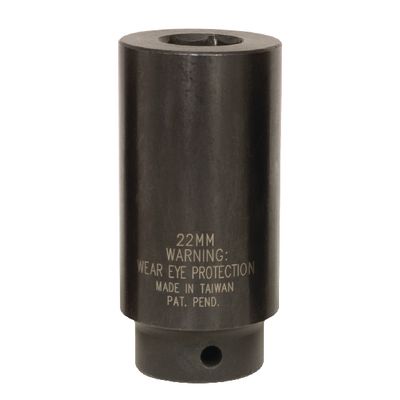 List: $38.95
(0)HARMONIC BALANCER SOCKET, 22MM
HBS22
Heavy-duty, patent pending impact socket is designed with more than three times the standard socket mass to direct more energy to removing the bolt.Used on BMW, Dodge, Ford, Jeep, Kia, Lexus and Toyota.Made with heat-treated impact quality alloy steel...View Details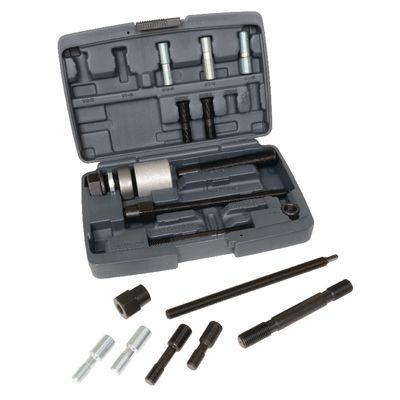 List: $247.95
(0)HARMONIC BALANCER INSTALLER KIT
HB3790
Kit works on a number of makes and models, including Ford 3.5L and 4.0L motors .Harmonic balancers or drive pulleys that are pressed on the crankshaft .Set includes driving screw, thrust bearing and 13 threaded adapters necessary to work on a wide range of domestic and some import harmonic balancers ...View Details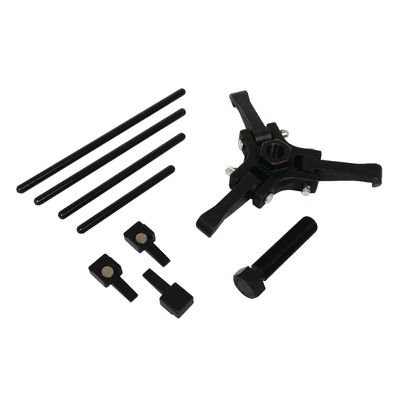 List: $136.95
(1)CHRYSLER/GM/DODGE HARMONIC DAMPER PULLER
HDP514
Low profile design works in confined spaces, eliminating the need to remove the radiator.New jaw geometry, slimmer magnetic spacers and a fourth rod.For use on: 5.9L Dodge, 4.2L Trailblazer, Envoy and Bravada '03 and newer, 4.2L Buick Rainier '04 and newer, 3.5L Colorado and Canyon '04 and newer, Hummer H3 '06 and newer, 2.8L Colorado and Canyon '05 and newer...View Details
List: $39.95
(1)19MM HARMONIC BALANCER SOCKET
HBS19
For Honda and Acura engines that use a 19mm hex pulley damper bolt.Socket is designed with extra mass, directing the energy to break loose tight bolts.Can be used to install bolt.View Details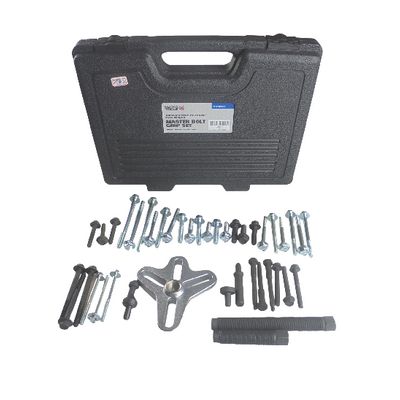 List: $171.95
(1)MASTER BOLT GRIP SET
MST6501A
Covers most bolt grip pulling applications including the 3300 / 3800 GM V6 engines.Typical applications: steering wheels, harmonic balancers, flywheels, crankshaft pulleys and gears with tapped holes.Contains: heavy-duty forged, three way puller flange, two different length live center forcing screws, four live center adapters, eleven sets of heavy-duty washer head hardened steel bolts and one special set of shoulder bolts for the 3300 / 3800 GM V6.View Details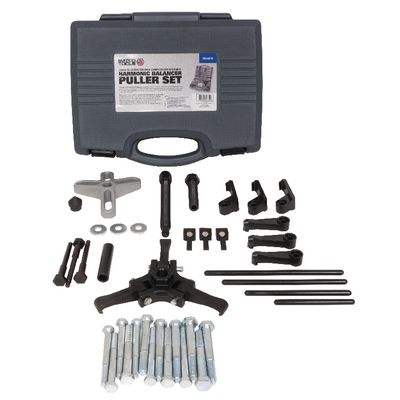 List: $319.95
(1)MASTER HARMONIC BALANCER KIT
HB54810
Features the puller hardware and special pulling screws to remove most automotive harmonic balancers.Includes a standard harmonic balancer puller, pulling screws and adapters for 3300 and 3800 GM V6 engines, and our updated harmonic damper pulley puller jaws for Chevy Camaro 3.6 liter engines and Dodge Hemi 5.7 and 3.5 liter engines.Clevis pins allow jaws to be quickly removed and replaced.View Details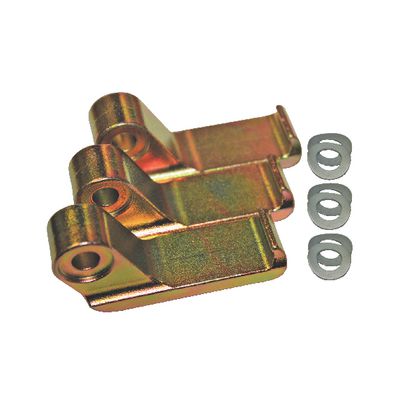 List: $62.95
(0)MST9740D EXPANSION KIT
MST13451
Update MST9740D to MST1345.Kit allows Dodge 5.7L 2009-current and 3.5L 1995-2009 harmonic damper pulley to be pulled.Simple to remove clevis pins to change legs for updating...View Details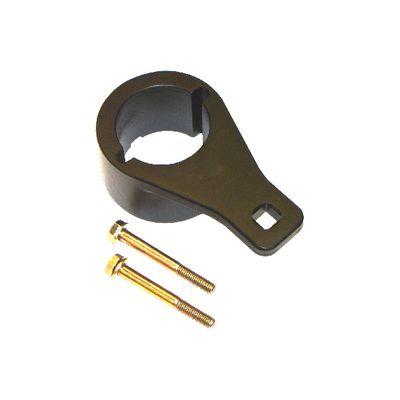 List: $129.95
(0)LEXUS/TOYOTA HARMONIC DAMPER PULLER
MST6430
Developed to aid in the removal and installation of the crank bolt on Lexus and Toyota engines.Tool allows the factory torque of 280 lbs. to be attained.Works with the following: Lexus 1990 and later 3.0 L6, 3.0 V6, 3.3 V6, 4.0 V8, 4.3 V8, 4.7 V8, Toyota 1996 and later: 3.0L L6, 3.0 V6, 3.3 V6, 4.0 V8, 4.3L V8, 4.7 V8, Toyota 4 cyl: 1983-1995 22RE, 1995-2004 2RZ and 1995-2004 3RZ...View Details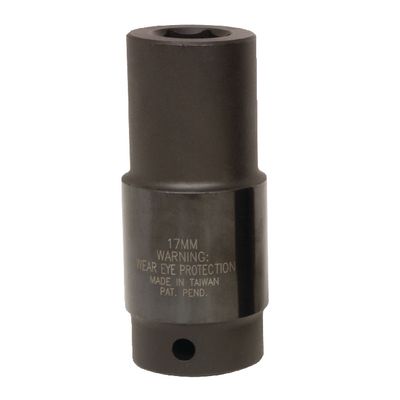 List: $36.95
(0)HARMONIC BALANCER SOCKET, 17MM
HBS17
Heavy-duty, patent pending impact socket is designed with more than three times the standard socket mass to direct more energy to removing the bolt.Used on older Honda engines that use a 17mm hex pulley damper bolt or other 17mm applications.Made with heat-treated impact quality alloy steel...View Details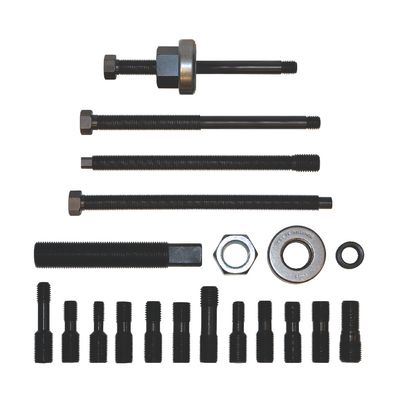 List: $170.95
(1)MASTER HARMONIC BALANCER INSTALLER
MBH500
Contains traditional installer adapters as well as adapters for long reach applications found on underdrive pulleys.For use on harmonic balancers, underdrive pulleys and recessed crank threads on Dodge Hemi, GM Gen III/IV and Ford 4.6 and 5.4 modular engines.Works on most European and import vehicles including Toyota, Honda, KIA, Hyundai, BMW, Volkswagen, etc...View Details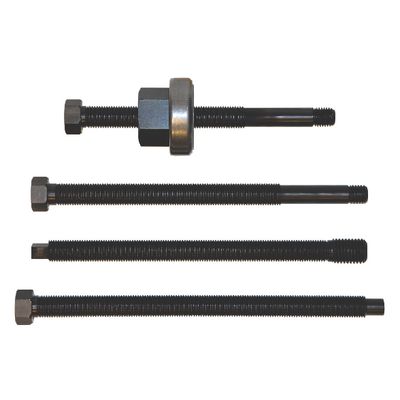 List: $102.95
(1)LONG REACH BALANCER PULLEY INSTALLATION KIT
LRHB700
Works on many late model Ford, GM and Dodge/Chrysler vehicles.Used in installation of underdrive or oversized pulleys for applications with recessed threads on the crankshaft.Covers applications other harmonic balancers will not cover where reach is an issue...View Details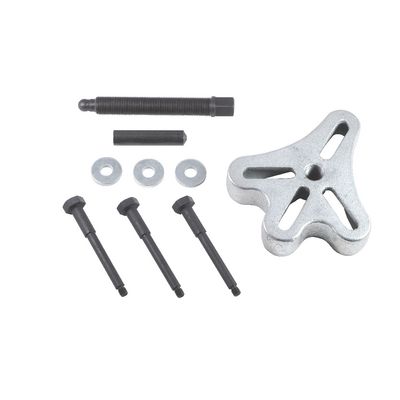 List: $72.95
(0)GM HARMONIC BALANCER REMOVER
HBR45300
Removing the harmonic balancer on late-model GM 3300 and 3800 V6 engines requires pulling hardware different than conventional pullers.Equipped with special bolts and adapters to pull the harmonic balancer cleanly without damaging the crank sensor.View Details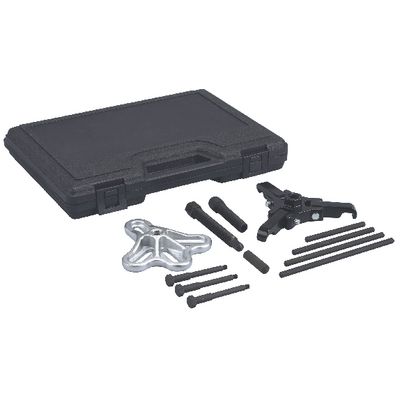 List: $226.95
(0)BALANCER PULLER KIT
MST6668
Allows for pulling from tapped holes in the balancer or from the outside diameter.Special screws protect from installing bolts too deep and damaging sensors.Can be used without removing the radiator from the vehicle in most applications...View Details
Sours: https://www.matcotools.com/catalog/specialty-tools-and-shop-equipment/under-hood/engine-service/harmonic-balancer-pullers-and-installers/
Eastwood Harmonic Balancer Installer
Contents
(1) Forged Steel, Dual-Threaded Drive Spindle with Nut
(1) 1-5/8" Diameter Ball-Bearing, Thrust Bearing
(13) Adapter Studs (sizing below)
- 7/16 - 20
- 1/2 – 20
- 9/16 – 18
- 5/8 – 18
- 3/4 – 16
- M10 x 1.5
- M12 x 1.0
- M12 x 1.5
- M12 x 1.75
- M14 x 1.5
- M14 x 2.0
- M16 x 1.5
- M16 x 2.0
(1) Plastic Blow Molded Case
Safety Information
Please read and fully understand the instructions and safety warnings before using this tool.
Questions & Answers
Will this kit help me with installation of a harmonic balancer on a MOPAR 383 in a 1969 Plymouth Roadrunner? Thank you.
Asked by: Ocala Beeper
Yes this tool will work with the Mopar 383ci engines
Answered by: vince
Date published: 2021-03-24
Does This Set-Up Fit, or Work on a 1974 (401 CID) AMC V-8 Engine? Thanks in advance for The Answer.
Asked by: George
This information will work with GM vehicles fitting these descriptions listed on our site: GM Applications • 7/16 - 20 - Buick V-6; 3.0, 3.3, 3.8, 3300 & 3800. V-8; 260, 350 & 455 - Chevrolet V-6; 4.3, I-6; 250 & 292, V-8; 5.0 & 5.7 • 1/2 - 20 - Chevrolet V-8; 366, 396, 427 454 & 5.7 LT-1 - Chevrolet Diesel; 6.2, 6.5 & 6.6 • 3/4 - 16 - GM 5.7 V-8 Diesel • M14 x 1.5 - Cadillac & Oldsmobile V-8; 4.0 & 4.6 - Chevrolet I-4; 1.6, 1.8, 2.0 & 2.2 - Chevrolet V-6; 2.8, 3.1, 3.4, 3100 & 3400 • M16 x 2.0 - Cadillac V-8; 4.1, 4.5 & 4.9 - Chevrolet I-6; 4.2
Answered by: Kelly H
Date published: 2020-02-27
Will this harmonic balancer install tool fit on a 97 Jeep Grand Cherokee 4.0 4wd.
Asked by: Tony
Sours: https://www.eastwood.com/eastwood-harmonic-balancer-installer.html
Features:
Fits Small/Big Block Chevy Cranks
Made from High-Quality Steel
Makes Installing The Balancer Simple
Just Thread Proper End Into Crankshaft and Rotate the Nut Pressing Bearing Against Balancer
5/8"-16 & 7/16"-16 Threaded Ends
Sold Individually
PART# 66515
Dealer LocatorBuy Online
This harmonic balancer installation tool is designed for use with Big Block and Small Block Chevy crankshafts. Made from high quality steel material. This tool makes installing the harmonic balancer simple and easy. Just thread the proper end into the crankshaft and rotate the nut pressing the bearing against the harmonic balancer. Sold individually. Backed by a limited 30 day factory warranty.
Designed for use with Small Block and Big Block Chevy crankshafts.
Sours: https://www.proformparts.com/product-detail/66515/harmonic-balancer-installation-tool-fits-small-and-big-block-chevy-crankshafts
How to install a harmonic balancer
Moroso Harmonic Balancer Installation Tool - BB Chevy or Any w/ 1/2"-20 Hole In Crank
Due to weather delays your order may take longer to arrive
Home- Return to Previous Page
Click on image to zoom

(0) Reviews: Write first review
New
MOR61741
Harmonic Balancer Installation Tool, 1/2-20 in Thread, Steel, Big Block Chevy, Each
Limited Supply: only 7 remaining
USD64.14253.9664.14
Was:$64.14
Sale:$53.96
Save:16%
Save:$10.18
Tool uses a pilot stud, which keeps the harmonic balancer perpendicular to the crankshaft's centerline for a bind-free installation
Thrust bearing and protective washer allows the drive nut to rotate freely so the balancer is pressed on smoothly and evenlyPit Stop USA offers Moroso Harmonic Balancer Installation Tool - BB Chevy or Any w/ 1/2"-20 Hole In Crank 61741 at low everyday prices. Be sure to check out all of our products from Moroso Performance Products including Moroso Performance Products Engine Tools and Moroso Performance Products Harmonic Damper Installers.
Item Requires Shipping
1.5 lbs.
W6.7000" x H1.0000" x L9.6000"
Total Reviews (0)
---
x
Sours: https://pitstopusa.com/i-5059417-moroso-harmonic-balancer-installation-tool-bb-chevy-or-any-w-1-2-20-hole-in-crank.html
Harmonic balancer installer tool chevy
You screamed, pressed my face to my groin and held it there until I swallowed the last drops of your passion. And now your lips tasted sweet. And we sat side by side - embracing, playing with each other's members, and I felt and myself your friend and. Mistress.
Hello.
Harmonic Balancer Install Tool, SBC and BB Chevy
And the man, meanwhile, went to wash his instrument in the mouth of this asshole. Then the camera went out and I was left alone with this slut, and with a great desire to take revenge on her for this. Whore that she divorced with Ksyusha behind my back.
Now discussing:
There are only two buttons on the cloak. And this is almost enough to determine that there is completely no vegetation between my legs. There were almost no people in the store.
1351
1352
1353
1354
1355