Screenshots
Description
More fun than Words With Friends and more addicting than Scrabble, WORD CHUMS: the highest rated word game, earning a perfect 5 Star rating from users.

Find out why people are saying "Once you play it, you can't go back to your old word game."

"When I went from Words With Friends and other word games to Word Chums, there was no going back." - VentureBeat

"This game takes it to another level with fun graphics and sounds, a built in dictionary, team mode, 3-4 player mode…"
◆◆◆◆◆ 
"I really love this game. A great game for the whole family and your friends.. It keeps you thinking. It's a challenge. Try it, you'll love it."  
◆◆◆◆◆ 
"Way better than other word games! I am hooked!"

"Word Chums adds a significant layer of additional incentives to keep playing atop the basic formula." Adweek

◆ INTRODUCING THE CHUMS
Oozing with personality, they bring the game to life. Have fun earning gear to outfit your Chum and expressing your style. They're guaranteed to make you chuckle.

◆ INCREDIBLY STREAMLINED GAMEPLAY
Word Chums is a pleasure to play. See words validate instantly as you place letters and see the scoring badge automatically indicate word strength.

◆ FAMILIAR CROSSWORD GAMEPLAY
Word Chums stays true to the classic word building gameplay you know and love.

◆ EARN TOP CHUM STATUS
Earn experience points with each word played and level up to become King or Queen of the Chums. Show off your "wordly" prowess by climbing your way to the top of the weekly leaderboards.

◆ TRULY SOCIAL
See how all your friends are doing from the friends list on the main screen. Experience a new level of collaborative fun by grabbing a teammate for a couples challenge.

◆ SAY GOODBYE TO GETTING STUMPED
Just when you need it most…Hints can point you to the location of a better word.

◆ SATISFIES THE SERIOUS GAMER
Word Chums has achievements, best-word challenges, leveling, player stats, leaderboards and much more. It's a deep gaming experience for everyone that gamers can master.

◆ LEARN A LITTLE
Expand your vocabulary as you quickly experiment with new letter combinations and instantly discover new words. Tap any word to see its definition.

——————————————————————
◆ SPECIAL FEATURES
• 2-4 player games
• Play versus friends, random opponents, and computer Chumbots
• Customizable Chum characters
• Know valid words before you press play
• Automatically see the strength of your word
• Weekly leaderboard competitions
• Find the best word and beat the hint challenges
• Drop a Bomb and take your turn with a new set of letters
——————————————————————
◆ ABOUT PeopleFun
Word Chums is a new kind of word game experience that comes to you from the makers of Age of Empires, one of the best-selling and most award-winning games of all time. Give it a try!

Terms of service: https://www.peoplefun.com/terms
Bug fixes and improvements
Ratings and Reviews
4.8 out of 5
18.8K Ratings
Fun word game , hope it helps my brain a bit
I was looking for games to help keep my mind sharp as I am over 65. I never was good at scrabble, so this game which moves at my own pace gives me the time I need to think of words and the best place to put them. I don't feel the social pressure to put any old word down. I tried playing with real people that were supposedly matched to my level, when I ran out of bots to play with, but I disliked that. The players were very slow, sometimes taking a day or more for one word and came up with words I figured they looked up with a scrabble word finder. I am quite well educated and had never even heard of a lot of them. I then broke down and paid for unlimited bots so I enjoy the game again. I like the animated characters, and never realized until I looked it up that the hats and stuff were for more than show. It would be nice if the game told you that kind of information at the beginning or had a glossary attached to look up what these kinds of things mean. I guess I'll keep playing until I am tired of it!
My favorite game, at the moment-almost perfect…
I really enjoy this game, and the added fun of the characters, and optional gear, etc. I like the ability to see the number of stars the word I'm about to play is rated at, too. Sometimes I wish the characters did not react as intensely, because it makes me sad, to see a row of frowning, angry looking characters, when I have a winning streak.

The game does crash or freezes sometimes, but I can usually close it down to get it going again. One frustrating thing, is that some real English words are not words that are valid in the game.
I also find it frustrating that the stats are not correct. They showed that I played many more low point games then I actually have, and even though I won against a recent first time player, the stats do not reflect that. This player and I have played two games. I won the first, they won the second, but the stats show only one game, with that person as the winner. I sure would like this information to be corrected. Or fixed for the future, at least.
It is all Scrabble hoped to be!
This is such a fun and challenging game...a perfected way to play scrabble. Very well designed and so enjoyable to play! It's great to play with a friend and send quick chats (like a conversation you'd have if playing together in person). The app will also pair you with someone for a fast or regular game. You can also choose to hone your skills playing against a chumbot. You can pick one of three chumbots at each level - and they're all really cute! How tough of a challenge do you want? Be prepared for a quick game, because it will not take your chumbot more than a few seconds to find the perfect word to play. Wish I could be that fast! Buy cute accessories for your own chum at the store. I appreciate being able to bomb my tiles and not lose a turn or to ask for a hint on where to build a higher point word. There is NOTHING about this app I would change. It is 5 star across the board! It is the PERFECT word game!
The developer, PeopleFun, Inc., indicated that the app's privacy practices may include handling of data as described below. For more information, see the developer's privacy policy.
Data Used to Track You
The following data may be used to track you across apps and websites owned by other companies:
Purchases
Location
Identifiers
Usage Data
Diagnostics
Data Linked to You
The following data may be collected and linked to your identity:
Purchases
Location
Contact Info
User Content
Identifiers
Data Not Linked to You
The following data may be collected but it is not linked to your identity:
Privacy practices may vary, for example, based on the features you use or your age. Learn More
Information
Seller

PeopleFun, Inc.

Size

142.4 MB

Category

Games

Compatibility

iPhone

Requires iOS 12.0 or later.

iPad

Requires iPadOS 12.0 or later.

iPod touch

Requires iOS 12.0 or later.

Age Rating

12+ Infrequent/Mild Simulated Gambling

Copyright

© 2012 PeopleFun, Inc.

Price

Free

In-App Purchases

500 Coins$0.99
1,100 Coins$1.99
13,000 Coins$9.99
Supports
Family Sharing

With Family Sharing set up, up to six family members can use this app.
More By This Developer
You Might Also Like
Sours: https://apps.apple.com/us/app/word-chums/id517840944
Word Chums Cheat
Tip: You may press SPACE bar or type ? for wildcards!
Word Chums Cheat
is a free resource for your online Word Chums game-playing needs that is fun and easy to use. For all you Word Chums fans, results can be quickly sorted by word length or by word score. At the same time, you can learn new words and expand your vocabulary. By simply clicking on the word, you will see the definition. If you are a Word Chums fanatic like our Mr. Anagrammer, you can excel at the game by using this cheat tool. You can be victorious each and every time by achieving high scores all while sound highly intellectual as you learn meanings of new words. We do not promote cheating, but if your online opponent's words seem too good to be true, you will want to use our word chums solver to come up with superior words.
WordChums is available on iPhone, android, amazon apps and facebook.
Sours: https://www.anagrammer.com/word-chums-cheat/
Improve & Personalize Cheats for Word Chums
Firecracker Software LLC takes your privacy seriously. You can change the settings below to ensure you're comfortable with the ways we collect and use your information. For more information, please review our list of partners. You can opt out at any time by visiting the Privacy Policy.

By consenting to the following, you are confirming that you are over the age of 16.
---
---
---
Please answer all questions
Word Chums Cheat uses cookies and collects your device's advertising identifier and Internet protocol address. These enable personalized ads and analytics to improve our website. Learn more or opt out: Privacy Policy
☰
Firecracker Software
---
Copyright © Firecracker Software 2021. All trademarks belong to their respective owners.
This app is in no way associated with PeopleFun, makers of the popular game Word Chums.
Sours: https://www.wordchumscheat.com/
Scrambled Word Game - Guess the Word (6 Letter Words)
Word Chums
Word Chums is the highest rated word puzzle game, voted 4.8 stars by Android users. Play free with friends or solo against the computer!

◆ For lovers of anagrams, word builder games or crossword puzzles, Word Chums takes it to another level with fun graphics and sounds, a built-in dictionary, team mode, 3-4 player mode, and more.

◆ Word Chums is a new word game that's easy to pick up and play, but challenging to master. It's fun for the whole family or with friends – you'll love it, we promise! Try it once and you just may find yourself doing a daily crossword puzzle game with several of your friends!

◆ INTRODUCING THE CHUMS
Oozing with personality, they bring the game to life. Have fun earning gear to outfit your Chum and expressing your style. They're guaranteed to make you chuckle.

◆ NAGARAM-ANAGRAM WORD TEASER
Put your vocabulary to the test in this word making game by rearranging a word scramble into a real word that you can play. The better your word's dictionary score, the more XP you earn. XP helps you level up and unlock more gear for your chums!

◆ INCREDIBLY STREAMLINED GAMEPLAY
Word Chums is a pleasure to play. See words validate instantly as you place letters and see the scoring badge automatically indicate word strength.

◆ FAMILIAR WORD BUILDING GAMEPLAY, CROSS WORD STYLE
Word Chums stays true to the classic word builder gameplay that vocabulary game lovers enjoy and cross word lovers can't get enough of.

◆ EARN TOP CHUM STATUS
Earn experience points with each word played and level up to become King or Queen of the Chums. Show off your "wordly" prowess by climbing your way to the top of the weekly crossword game leaderboards.

◆ A TRULY SOCIAL WORD PUZZLE GAME
See how all your friends are doing from the friends list on the main screen. Experience a new level of collaborative word puzzle game fun by grabbing a teammate for a couples word game online. Invite anyone you like, whether they're friends, family, adults or kids. Word Chums is the best word game app that's easy to learn, challenging to master and fun for all!

◆ SAY GOODBYE TO GETTING STUMPED
If you suddenly feel like you're playing a word scramble game and need some help figuring out a word you can use, just activate Word search hints. In a pinch, Word search hints can point you to the location of a better word and help you unscramble your vocabulary memory.

◆ A NEW WORD GAME TO SATISFY THE SERIOUS GAMER
For all the daily crossword puzzle gamers, Word Chums offers achievements, best word challenges, leveling, player stats, crossword game leaderboards and much more. It's a deep gaming experience for everyone that gamers can master.

◆ LEARN A LITTLE
Word Chums is the best word game online, great for adults and kids alike! As a vocabulary game, Word Chums is great for word maker game lovers looking to get their text twist on and flex their anagram game muscles, while also helping beginners to expand their vocabulary via the built-in dictionary – just tap any word to see its definition. Experiment with new letter combinations and instantly discover new words to succeed.

——————————————————————
◆ SPECIAL FEATURES
• 2-4 player games
• Play versus friends, random opponents, and computer Chumbots
• Customizable Chum characters
• Scrabble based dictionary – Know valid words before you press play
• Automatically see the strength of your word
• Weekly cross word game leaderboard competitions
• Find the best word and beat the hint challenges
• Drop a Bomb and take your turn with a new set of letters
——————————————————————
◆ ABOUT PeopleFun
Word Chums is a word builder game, and comes to you from the makers of Age of Empires, one of the best-selling and most award-winning games of all time. Give it a try!

Terms of service: https://www.peoplefun.com/terms
Sours: https://play.google.com/
Finder word word chums
Word Chums Cheat
More From Hanging Hyena - Beyond Word Chums Cheat
Looking for new puzzles and word games? Like our word chums cheat but it isn't enough? We're regularly expanding our collection of puzzles and word games. Check out our Free Cryptogram puzzles if you are good at recognizing patterns. These are famous (or funny) quotes encryped with a scrambled alphabet code - if you can guess the code, you can decipher the message. Or check out our new word swapz game if you like unscrambling words. Flip letters back and forth until you manage to figure out all the words in the puzzle.
Stuck solving a puzzle? No worries, we can help with that too! We offer a wide variety of word games solvers and tools to help crack pen and paper ciphers! We have solvers for boggle, scrabble, and tools to help unscramble words. You can even use them to solve words with friends and the specialized versions of boggle (Scramble with Friends and large matrices - 5 x 5 boggle and 6 x 6 boggle). And if you are still stuck, come back to the word chums cheat!
Finally, if you need to make a word scramble or crossword puzzle - for a class exercise, business icebreaker, party favor, or other special occasion - we've got tools for that too. You can even save you work for future events and classes. These are perfect for teachers, students, homeschoolers, coaches, sunday school teachers, and team mom / dads.
content: Word Chums Cheat
Please send all feedback, complaints, and lucrative sponsorship deals to
[email protected]
This Website is copyright © 2012 - 2020 Performance Ingenuity LLC. All Rights Reserved. We like cookies and use them on the site, per our Privacy Policy.
Sours: https://www.hanginghyena.com/wordchumscheat
Scrabble Cheat by Anagrammer
Word Chums Cheat
"Cheat" is such a strong word. But y'know what? We don't mind saying it. This is a Word Chums® cheat tool. Yes, it's OK to cheat at Word Chums® (a little)! Using this helper, you can solve those confusing Word Chums® letter jumbles and get Word Chums® help to reveal word lists of all possible Word Chums® answers.
Still here? Haven't flounced off in a Victorian fluster because we're willing to call a spade a digging implement? Rad. You're our kind of people. What kind of people? Word game people! Welcome to WordFinder™. We're the internet's premier word game resource. We're here to help you win at Word Chums®.
What Is Word Chums?
Word Chums® is a proper word game. Its DNA goes back to wood-and-cardboard Scrabble®. It's a competitive spell-em-up with a set of letters for each player, a crossword-style board and a liberal scattering of bonuses and fun gameplay elements like "bombs." Spell good words on good bonuses, prevent your opponents from doing likewise, and victory will be yours.
Or will it?
Word Chums® is a tough, smart, competitive game. The pleasure is in playing against serious challengers, using every resource to win. Every advantage you want, your opponent wants just as bad. So where's your edge? What should you do to win?
Cheat (a little). Because they will.
How to Use the Word Chums Cheat
It's simplicity itself! Put as many as 20 letters into WordFinder's proprietary Magic Search Box (just pop in a ? for any blank or wildcard spaces) and we will find you every possible playable word, delivered sorted by length. Yes, every word. WordFinder™ has a whole shelf of the best dictionaries in existence, and carefully curated every single word.
That's how we do. Here at WordFinder™, our business may be games, but we're not playing. We're serious about delivering the best Word Chums® help, not to mention Scrabble®, Words With Friends®, Wordfeud, Word Cookies!®, Wordscapes®, Boggle and crossword help, freely and easily available on the internet. WordFinder™ is the best in the business. If you need a Word Chums® cheat, we're here to help.
Sours: https://wordfinder.yourdictionary.com/word-chums-cheat/
Now discussing:
Word Chums Cheat
The Wonderful World of Word Chums
The Word Chums Experience is a one-of-a-kind word game that has had people worldwide stoked since it was first developed by Peoplefun in 2012. Word Chums allows players to participate in games with two to four "Chums", each being a customized character, a monster, or animal "avatar". What is YOUR spirit animal by the way?
XPs and Coins – The Currencies in Word Chums
Word Chums is filled with tiny little features that appeal to the reward center of our brains. During the game, the Chums can collect Experience Points (XPs) and Coins. For each word you play, you get as many XPs as you get points. Experience Points will get you to higher levels. Also, you receive a coin for each letter in each word you play. With the coins you can buy much-needed gear and upgrades to make your avatars both more handsome and more powerful!
Hints and Bombs
Word Chums has neat little gadgets to make the game appealing to your inner child. There are BOMBS you can drop at any point where you are literally at a loss for words. The Bomb will swap your entire set of letters so that you can try again. To put it simply: where a normal word game player passes, a Word Chums Chum will drop the Bomb! Also, using hints in an active game of Word Chums is not looked down upon. On the contrary, there is a HINT button included to show you the best spot for the best word. But sometimes, a hint just isn't broad enough and like the Bombs, hints are limited and have to be paid for with hard-earned points. This is where our Word Chums help comes in!
The Word Chums Tool by word-grabber.com
At word-grabber.com we have several word generators and tools for different word games. Our generators draw the solutions from valid and official word lists.
A Overview of our Word Chums Tool
Get a quick overview with our video about our Word Chums Tool:
Tutorial: Word Chums Cheat at word-grabber.com
What is our Word Chums Helper?
The Word Chums Helper makes words from letters for the popular mobile word game Word Chums. You can type in letters to create a word, but also a pattern to be matched or the number of blanks to be used. It also helps you by saving hints and bombs, so you can reach higher levels faster.
Using Our Word Chums Help to Create Words
Using our Word Chums Help is quite easy: Just type in the letters you want to form words with for Word Chums and press GRAB IT. If you want to improve the possible results, you can use a specific pattern including field scores (see list below) or select from different options, like the amount of blank tiles.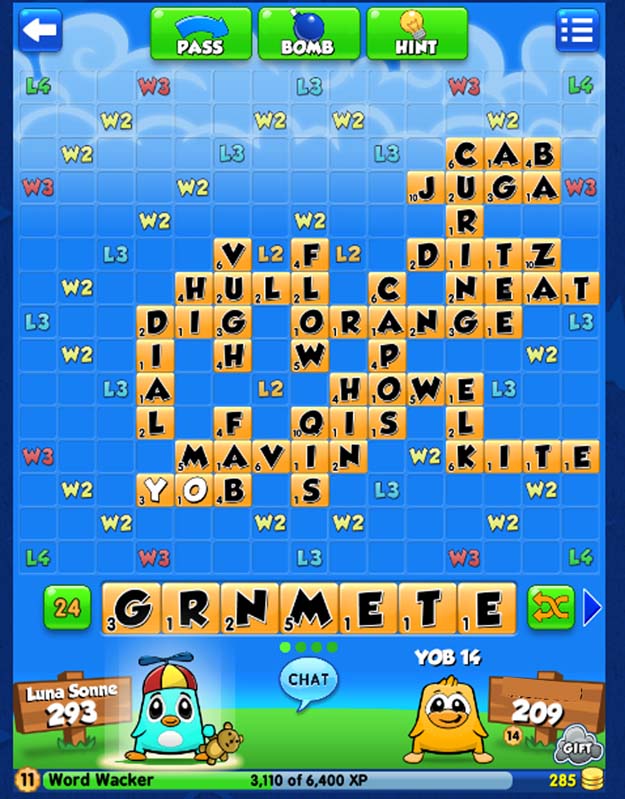 Well into a game of Word Chums, the player is given the letters GRNMETE. Will our Chum be able to use all seven letters and receive 40 bonus points? Let's find out!
Highlighted Results in Word Chums Cheat
In Word Chums Cheat the blanks and letters from the pattern are accentuated, so that blanks can be underlined differently and letters from the board are displayed white against a brown background.


The player typed the letters GRNMETE into the letters field of the Word Chums Cheat and pressed GRAB IT! By default, the results are sorted by points descending from highest to lowest. You can also sort the results by length. Next, we take a look at how to use the pattern field and reach for a lot of Experience Points!
Quick Guide for Settings and Patterns in Word Chums Cheat
1. Letters: Simply type in the letters you want to generate words from in Word Chums.
2. Blanks: By using a white space or dot, you can shift the blank selection below depending on whether you need one or two blanks. When you set a third white space or dot, the selection will move back to zero.
3. Pattern (optional): Match the results to a specific situation on the Word Chums board.
Symbols for Use in the Pattern Field
a-z for letters already on the board
. (dot): empty field
2 : empty field with double letter score
3 : empty field with triple letter score
6 : empty field with quadruple letter score
4 : empty field with double word score
5 : empty field with triple word score
6 : empty field with quadruple word score
Please note that if you use patterns, the results will be no longer than the number of characters you entered into the pattern field. This way you can limit the length of the results by using a specific number of dots.
For further information on the pattern field take a look at this tutorial!
A Word Chums Game Example Using Our Pattern Field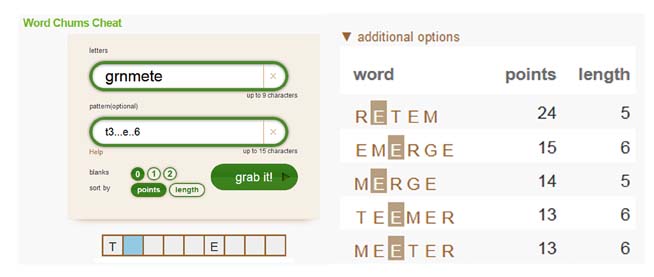 Like most other word games, Word Chums requires you to build your words by attaching them to another one already on the board. Here, the player wants to build a new word around the E at the end of the word KITE. Also, our Chum wants to include a quadruple word score field. The pattern our chum needs to type in is therefore T3…E..6. Let's see, how that works out!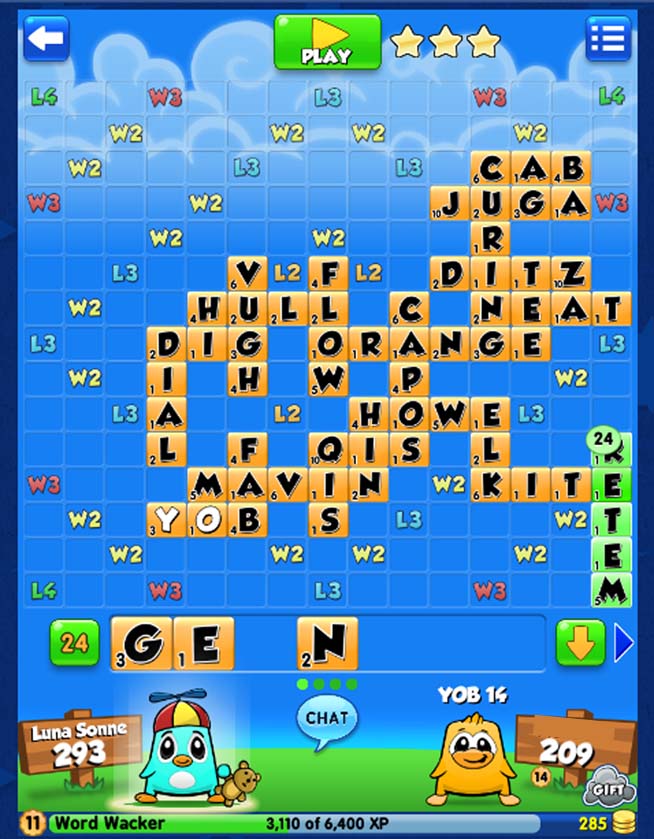 By using the pattern field, with our Word Chum's help, we have determined RETEM is the highest scoring word that can be built around KITE. The total score is 24. Let's see if we can do better than that!
Experience Points in Word Chums
Word Chums rewards players with Experience Points (XPs). If you can manage to get enough, you might even become King or Queen of the Chums. There are currently 122 realms under your rule that go from "Novice" to "Interstellar Speller". You also get 10, 20, or 40 bonus points for five-, six- and seven-letter words respectively.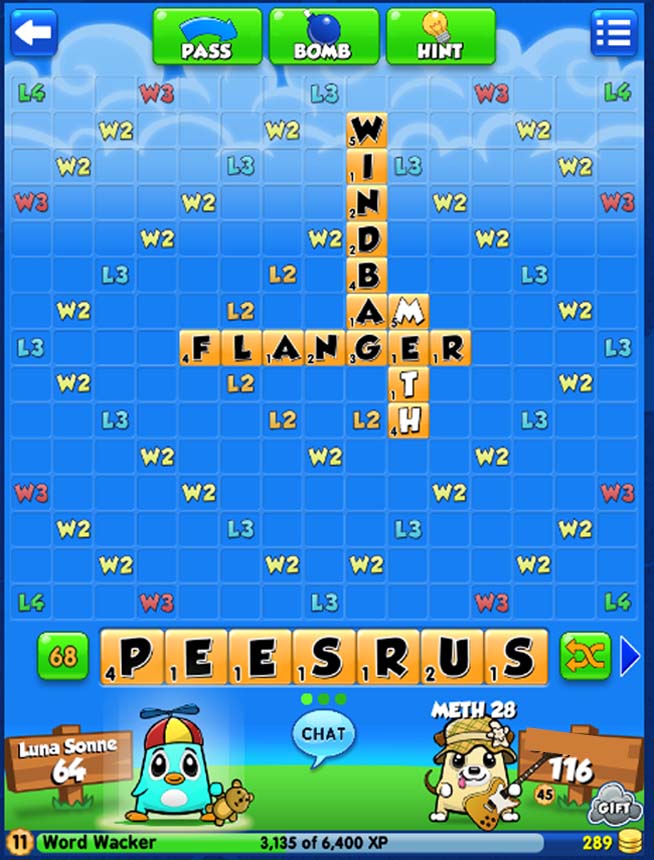 This time, we want to use the Word Chums help to its full potential. Not only are we going to make METH even more damaging, but we will also be receiving a lot of Experience Points by getting rid of all seven of our letters PEESRUS at once and go for a big bonus.

From the letters PEESRUS (yes, we are fully aware of how funny that sounds!), the Word Chums help has created PERUSES as the highest scoring word. Now let's do the meth together. (I mean the math of course!)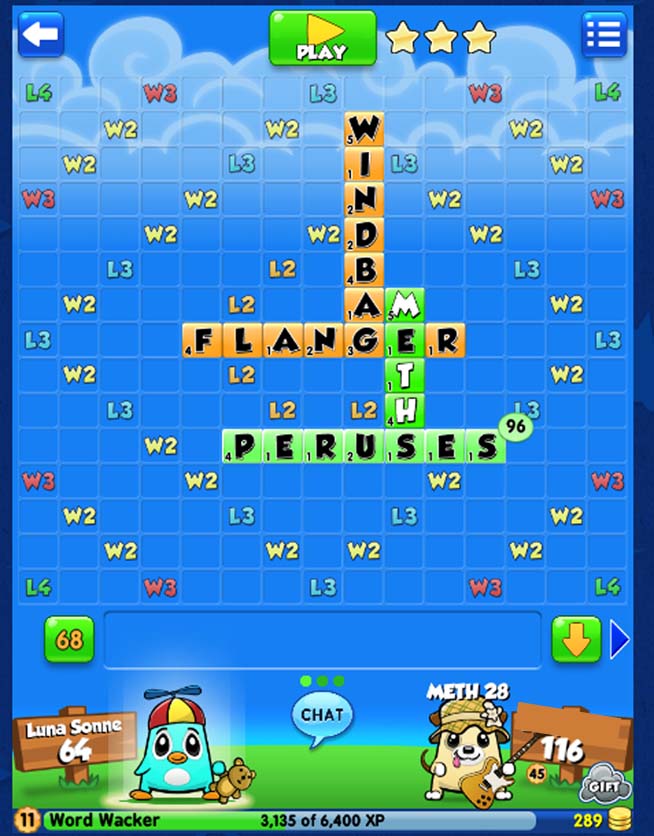 THIS is how you become King or Queen of the Chums! By playing all your seven letters at once, thus receiving 40 bonus points for PERUSES, receiving a total of 96 points, and casually making METH plural. (But seriously, by all means keep away from that stuff in real life!)
Word Chums and Friends
On word-grabber.com you can learn more about the popular mobile word game Word Chums. More and more word game enthusiasts have tried out this game and now they can't stop playing. Word Chums combines the concept of other popular word games with a colorful little avatar world. You can visit the following pages to find interesting articles about Word Chums strategies.
An interview with Kenny Newell from Peoplefun about their brainchild Word Chums
This article will help you to improve your skills and strategies.
Part two of an article about Experience Points and Coins
Articles about Word Chums in Mobile Word Games
Do you like to play word games on mobile devices like iPhone, Blackberry, or your Android system? We will keep you updated on the latest developments in the mobile word game world. In our category "Mobile word games", you will also find more interesting articles about Word Chums.

Sours: https://www.word-grabber.com/word-chums-cheat
1307
1308
1309
1310
1311