How to knit leg warmers
Legwarmers may seem like a blast from the past, but they're actually really practical. Whether you wear them with your skinny jeans or on top of pyjamas with flappy legs, they'll keep you warm when you need it most. A simple but striking combination of rib and cables, these will be a joy to knit, and just tricky enough to keep you thinking.
If you're not sure on what a purl stitch is, or need a refresher, check out our in-depth tutorial – How to Purl in knitting.
If you like this project, why not try your hand at some of our other winter warmer favourites? We love these gorgeous cable socks and these cosy knitted wrist warmers. And for more knitting projects and inspiration sign-up to our newsletter!
If you've knitted this project, don't forget to share it on Facebook or post them on Instagram, we love to see what you make!
To make these knitted leg warmers you will need:
King Cole, Riot Chunky
(70% acrylic, 30% wool, 100g/134m) 2 balls of Potash (663)
We used Potash, but if you have trouble finding it, try Hazelnut (3080)
A pair of 5mm needles
A pair of 6mm needles
Cable needle
Knitted leg warmers pattern
Tension
Yarn used knits as chunky to this tension: 14 sts and 20 rows to measure 10x10cm (4x4in) over st st using 6mm needles.
Abbreviations
pfb purl into front and back of next st
You'll find our standard knitting abbreviations in this pattern. This pattern is written in UK metrics but it's really easy to convert, just check out our yarn weight conversion chart and beginner's guide.
LEG WARMERS
Cast on 56 sts using 5mm needles. Next row Knit into back of sts to form a neat edge.
Next row *K2, P2; work from * to end.
Now continue working as above rib row until work measures 7cm with WS facing for next row.
Next row K1, kfb, K1, *P2, K2; rep from * to last 3 sts, P1, pfb, P1. [58 sts]
Change to 6mm needles and start cable pattern as follows:
Row 1 K4, *P2, K4, P2, K6; rep from * to last 12 sts, P2, K4, P2, K4.
Row 2 and every foll alt row Work each stitch as it appears on this side of the work – K the knit sts and P the purl sts.
Row 3 K4, *P2, C4F, P2, K6; rep from * to last 12 sts, P2, C4F, P2, K4.
Row 5 K4, *P2, K4, P2, K6; rep from * to last 12 sts, P2, K4, P2, K4.
Row 7 K4, *P2, C4F, P2, K6; rep from * to last 12 sts, P2, C4F, P2, K4.
Row 9 K4, *C4B, C4F, K6; rep from * to last 12 sts, C4B, C4F, K4.
Row 11 K2, *C4B, P4, C4F, K2; rep from * to last 14 sts, C4B, P4, C4F, K2.
Row 13 K2, *C4B, P4, C4F, K2; rep from * to last 14 sts, C4B, P4, C4F, K2.
Row 15 K4, *C4F, C4B, K6; rep from *
to last 12 sts, C4F, C4B, K4. Rep Rows 3–16 once more.
Change to 5mm needles.
Next row *K2, P2; repeat from * to last 2 sts, K2.
Continue until rib measures 7cm.
Cast off in rib.
TO MAKE UP
Sew in loose ends by weaving them into the WS of your cuff.
With RS facing, use mattress stitch to join side seams.
Download the knitted leg warmer pattern
Get a PDF version of this pattern here: Knitted leg warmer pattern
Authors
Holly is an artist and illustrator with fresh ideas and techniques. She has been working on Gathered, alongside our sister brands Science Focus and Papercraft inspirations magazine, for 3 years. She has worked as a designer for a diverse range of brands including the RSPB, Disney, Brother, Home Style magazine and Pilot. She is currently working with English Heritage on a two-year project called Homes Through History. As the regional editor of popular theatre website www.thereviewshub.com since 2013, she has a solid background in curating and developing content for the digital space.
Sours: https://www.gathered.how/knitting-and-crochet/knitting/how-to-knit-leg-warmers/
20 Loom Knitting that are Easy for Beginners
Knitting can seem intimidating and scary to someone who hasn't done it before. And while it just takes practice, if you're a beginner, you might feel more comfortable starting with another option. Here are 20 Loom Knitting Projects for Beginners.
Looms have made it easier than ever to make handmade gifts for the ones we love. Looms are widely sold online and in craft stores. They come in a variety of shapes and sizes, making it possible to create anything you could think up.

Because looms are so versatile, it can be hard to decide where to start. That's why we've compiled some of our favorite projects to make on a loom.
From pillows to accessories or just little knick-knacks, 20 Loom Knitting Projects for Beginners provides great gift ideas and will have you knitting in no time.
Beginner's Loom-Knit Cowl
In case you're still in search of a great last-minute idea, learn how to make this cute and simple loom-knit cowl. It's not crochet, you don't need knitting needles – you can get this look by using a loom knitter.
ViaHappy Hour Projects
Easy Loom Knit Headband
This is an easy and fairly quick loom project if you're looking to create a cute and useful accessory.
Via Darice
Loom Flower
These loom blooms are pretty, easy and super fun to make. This is an awesome project to make with kids and is perfect for stash busting too.
Via Fiber Flux
Knitting Loom T-Shirt Rug
The double knit creates a thick rug that you can really sink your toes into. It can also be used as a sitting mat or rolled up and used as a neck pillow.
Via Muslin and Merlot
Quick Loom Knitted Gift Pouch
This loom knitted gift pouch is super easy to make. This is the perfect size for a piece of jewelry or a gift card. You can make yours larger by increasing the knit rows in the pattern!
Via Knit Mama Knit
Slouchy Hat On A Round Loom
This slouchy hat style is super comfortable, warm and fantastic beginner's project. Knitting on a loom is easy even if you've never done it before and once you complete this slouchy hat you'll be hooked on loom knitting!
Via Instructables
Loom Knit Scarf for Beginners
Learn how to make a loom knit scarf with this simple step-by-step tutorial. All you need is some yarn and a loom kit to get started.
Via One Mamas Daily Drama
Easy Loom Scarf
This Easy Loom Scarf is perfect for everyone and if youloveto loom-knit here's how you can make your own beautiful creation without tons of headaches.
Via Slap Dash Mom
Loom Knit Leg Warmers
This is pretty easy, quick and super comfy. A 10-inch long loom is used in this pattern and the e-wrap is used to knit back and forth to create a flat panel of knit.
Via Recycled Craft
Loom Knit A Cap – E-Wrap Method
This loom knit hat is so very simple that chances are your very first attempt will be perfectly wearable. All you need is a large round loom and some bulky yarn.
ViaDream A Little Bigger
Loom Knit Rolling Waves Cowl
This pattern is easy to knit up and just like the constantly shifting waves of a wind-tossed sea, the loom knit rolling waves cowl is full of texture and movement.
Via Good Knit Kisses
Loom Knit a Hat with a Hem
This loom knit hat pattern is pretty easy and you don't have to know how to knit or crochet to accomplish this project. This would be really great to do with kids because anyone can do it.
Via Melaniekham
Alice Wrist Warmers
If you are new to loom knitting this pattern is perfect for you. They look good and will keep your hands toasty warm.
Via Milly and Tilly
Loom Knit Cowl
This pattern is a loom friendly that will work on any loom using even peg numbers and the urban style cowl features modern fair isle colorwork, a hemmed neckline for comfort and a flattering ribbed bottom border.
Via This Moment Is Good
Easy Loom Knit Flower Earrings
These cute loom knit flower earrings are really easy and don't need many tools. The pattern is written out longhand for someone who has never used a loom before.
Via Good Knit Kisses
Knitted Nesting Baskets
Make a set of nesting baskets to hold crafting tools, and so much more. Fun and easy with loom knitting!
Via Simplicity
Clover Oval Loom Sock
These socks pattern will keep your feet covered and warm. The socks may be a little too chunky to wear in shoes but they are absolutely perfect for wearing around the house as slippers.
Via The Chilly Dog
Loom Knit Coffee Sleeve
The knitting loom makes this project easy and perfect for gift giving. Choose any colors to personalize your coffee sleeve and start knitting today!
Via Consumer Crafts
Loom Knit Throw Pillow
Create a comfy throw pillow in the perfect colors for your decor with simple loom knitting. Easy project!
Via Simplicity
Infinity Scarf On A Loom
This infinity scarf is a quick and easy knitting project that you can do on a rectangular or round loom – whatever you have around!
Via Instructables
No matter which project you choose first, we are certain that these 20 Loom Knitting Projects for Beginners will impress you and your loved ones. You won't be able to stop creating once you see how easy the loom is to use. And who knows, maybe your friends will want to try it out as well!
30 Creative Knitting Projects for Kids to Knit
12 Pattern Ideas for Knitting for Charity
Sours: https://idealme.com/20-loom-knitting-that-are-easy-for-beginners/
Making Leg Warmers On A Knitting Loom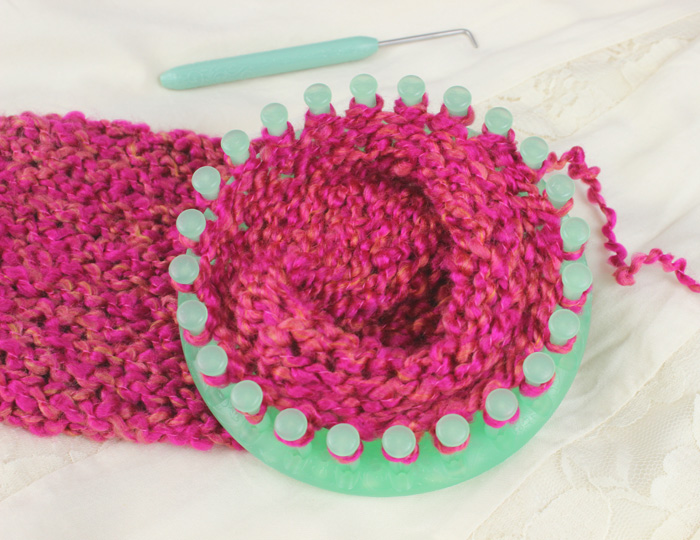 I've only used a knitting loom once, years ago, to make a hat. It came out way too big and made me lose interest in knitting looms. But recently I had the idea to try making some bulky leg warmers on a small one! So I picked up this 5 1/2″ loom from Hobby Lobby (my new favorite place!) and dug this ball of Homespun out from deep within my stash! I can't even remember how long ago I bought this! It was an impulse buy because I loved the color so much (Tulips).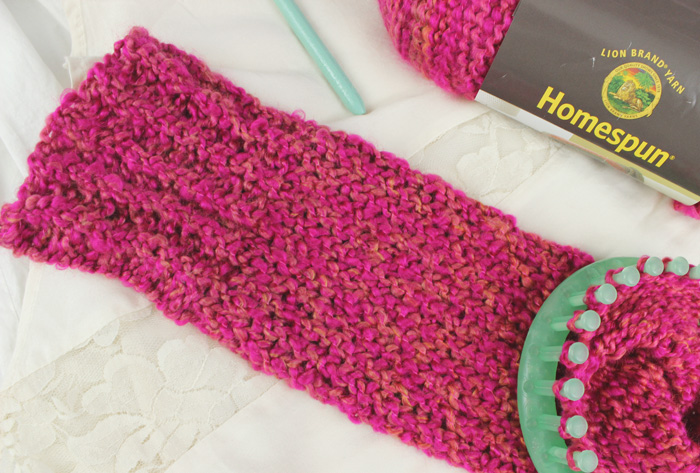 I learned how to purl on the loom (thank you, YouTube!!) and did a knit/purl ribbing for 15 rows and then just knit from then on. I'm not happy with how the ribbing came out. It just seems way too loose and sloppy. Which is actually another reason I don't particularly like knitting looms. It seems like they're intended for really big yarn. Even the knit part is too loose for my liking (you can't really tell until I have it on my leg) but isn't quite as bad as the ribbing.
I'll probably end up frogging these to at least redo them without the ribbing. But since it's not a color I really see myself wearing anyway, I'll probably send it back to my stash and look for something bulkier.
Do you use knitting looms? What type of yarn do you prefer to use with them? Are there any techniques to help your stitches seem tighter and less sloppy? I'd love to hear your thoughts on knitting looms and any advice you might have!
Filed Under: Crafty ShenanigansTagged With: Knitting, Leg Warmers, Loom
Sours: https://www.gleefulthings.com/blog/?p=8080
Easy Leg Warmers 💫 Magic Loop, Continental 💫 Beginner Friendly
My Knitting Circle T Shirt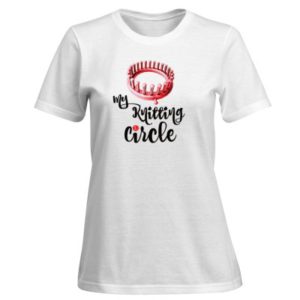 Knit Crate Membership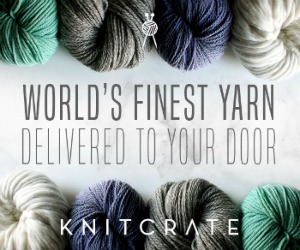 Search this Site
Featured Video
Polls: Because I Want You to Have What You Need

Loading ...
Search by Subject / Category
The Weekly WOW
Popular Posts
(64,505)
(60,676)
(26,186)
(24,821)
(20,497)
(20,305)
(18,121)
(16,514)
(15,142)
(15,124)
Sours: https://www.loomahat.com/tag/leg-warmers/
Warmers leg loom youtube knitting
Materials
1 Hank 100% Pure Alpaca 220 yards. That's plenty to do 1 set of leg warmers and matching hat or you can use any fingering or lace weight yarn.
Fine Gauge Newborn Sock 1/4″-30 pegs
Knitting Hook
Row Counter
Scissors
Crochet Hook
This pattern is made to go with the full video. There is a direct link at the bottom of the PDF.
The leg warmers in the photo were done on the 30 peg ¼ gauge loom BUT the pattern can directly convert to the 30 peg ½ adult sock loom for adult size leg warmers, you would want to use worsted weight #4 yarn instead. If you need any help converting this pattern to any loom please feel free to e-mail me.
Alpaca is the natural fiber harvested from an alpaca. While similar to sheep's wool, it is warmer, not prickly, and has no lanolin, which makes it hypoallergenic.Alpaca is naturally water-repellent and difficult to ignite.- source wikipedia
Video links
Full Video : https://youtu.be/aihuNqKI5UI
Cast on : https://youtu.be/kCU60_TbiTQ
Cuff : https://youtu.be/a6t_8nvh7pw
Body : https://youtu.be/IqnZv_oRTo4
Cast Off: https://youtu.be/jIRJfRlGWA4
e-mail : [email protected]
For more information, see: https://youtu.be/aihuNqKI5UI
Sours: https://www.ravelry.com/patterns/library/2-stitch-lt-leg-warmers
How to Loom Knit Leg Warmers (DIY Tutorial)
Introduction: Easy Knitted Leg Warmers, Wrist Warmers and Cap
In this instructable I'm going to show you how to make this set of matching accessories to keep you warm.
Step 1: The Things You Will Need:
Yarn, obviously, and knitting needles,the ones with the string in between.
I'm using wild wild wool from rico design in color number 015 and knitting needles with 8mm in diameter, I guess that's size 11 in the US.
Two skeins of yarn (200g) should be enough.
Step 2: Casting On
I'm starting with the cap, first I cast on five stitches.
I tried to show the process of casting on in the pictures, but if it's not clear enough, it's shown in this Video from watchknitting.
Step 3: The First Round
The first round is a bit tricky, you have to distribute the stitches as shown in the picture and then double all the stitches. You can do this as shown here or by working on the front and back part of a stitch. When you're done knitting the first two stitches you'll have to rearrange the stitches on the needles, and so on. When you finished the round use a little loop of yarn in a different color to mark the beginning of the round.
Step 4: Adding Rounds
In the continuing rounds you have to add five stitches each, do that regularly to achieve the flower like shape of the hat.
That means in the second round you double every second stitch in the third round every third and so on, the rest of the stitches are knitted withe the knit stitch, use markers to help you out.
I stopped at 23 rounds, you could make it bigger if you want.
Step 5: Decreasing Stitches
When you reached your desired size you have to start decreasing stitches, do that by just knitting two stitches together as one. Be sure to decrease fife stitches each round.
I found that, in order to fit an average head you should decrease stitches for about the number of rounds you increased minus 13, in my case 10 rounds.
Step 6: The Edge
Now just knit a few rounds for the edge without increasing or decreasing anything. I did six rounds with one purl stitch and one knit stitch alternating.
To finish the hat you have to cast off, be sure not to do it to firm.
Step 7: Cap Finished!
And here you have your cap finished, just hide the ends of the yarn in the fabric and it's ready to wear.
Be sure to subscribe to watchknittings youtube channel to watch her amazingly simple tutorials.
Step 8: The Leg Warmers
To make the leg warmers cast on 36 stitches and knit four rounds with 2 purl stitches and two knit stitches alternating. Then knit two rows beginning with one knit stitch and then alternating 2 purl stitches and two knit stitches, then two rows beginning with two knit stitch and then alternating 2 purl stitches and two knit stitches, continue this pattern until you have your desired length then knit four rounds with 2 purl stitches and two knit stitches alternating and cast off.
The pattern should look like this (o = purl stitch; x = knit stitch):
ooxxooxxooxxooxxooxx
ooxxooxxooxxooxxooxx
xooxxooxxooxxooxxoox
xooxxooxxooxxooxxoox
xxooxxooxxooxxooxxoo
xxooxxooxxooxxooxxoo
oxxooxxooxxooxxooxxo
oxxooxxooxxooxxooxxo
ooxxooxxooxxooxxooxx
ooxxooxxooxxooxxooxx
Step 9: The Wrist Warmers
The wrist warmers have the same pattern as the leg warmers, but for them you only cast on 24 stitches.
For the thumb hole you just flip your work over at the end of the sixth round, knit back one round, flip over again , knit back, flip over,knit back, flip over and then continue knitting like before.
Step 10: Happy Knitting!
I hope i managed to explain all steps comprehensible, if you have any questions, just ask, I'll do my verry best to answer.
Have fun!
Be the First to Share
Did you make this project? Share it with us!
Recommendations
Retro Tech Challenge

Back to School: Student Design Challenge

Made with Math Contest
Sours: https://www.instructables.com/Easy-knitted-leg-warmers-wrist-warmers-and-cap/
You will also be interested:
Leggy Layers: 15 DIY Leg Warmers and Boot Cuffs
It's already beginning to look a lot like winter here which means it's definitely time to dig all of my boots out of the closet. Sometimes, though, our boots just aren't enough. No matter how hard you try, some of that pesky winter chill always manages to sneak in. However, I now have a foolproof way to remedy this— knitted leg warmers and boot cuffs. That's right. When the cooler temperatures get to be a bit too much to bear, there's nothing better than adding another layer (especially if this new layer is knit with the bulkiest yarn you can find). After all, didn't our parents always tell us to bundle up? Well, now we can do so in style.
When I was younger, leg warmers were always my go-to accessories. After being in dance for years, they were just like a second skin. As I'd gotten older, though, it hadn't occurred to me to grab up a pair of those cozy accessories of my youth— until I learned how to knit. Boot Cuffs and leg warmers are the quick and easy knits that are off your needles almost as quickly as you cast them on, and that's what I love about them. Many of them also make the greatest stash busters. After all, there's nothing worse for a knitter than having an abundance of leftover yarn and nothing to knit.
So, this year, why not cast on yet another cozy knit to add to your growing winter wardrobe? Not only will you be warm come winter, but you'll also have great new decorative additions to top off your boots.
Wild and Free Boot Cuff Patterns
If you're not quite ready to commit to leg warmers, why not try out these amazing knitted boot cuff patterns? Quick and easy, these are the cozy winter knits it won't take you long to finish. Since many of these boot cuffs patterns only call for a little bit of yarn, they also make some of the best stash busters. So, cast on one of  these short and sweet knits today to have warm and fashionable boot cuffs for in time for the winter.
Hurricane Boot Cuffs
Two-Toned Boot Cuffs
Mulled Wine Boot Cuffs
Rustic Charm Boot Cuffs
Two Needle Boot Toppers
Basic Buttoned Boot Cuffs
Easy Knit Boot Cuffs
How to Knit Leg Warmers for the Winter
You don't have to be a ballerina to own a pair of leg warmers. This warm and cozy trend is slowly but surely making a comeback, and you don't want to be caught without a pair for yourself. These lovely little knits are sure to provide you with all of the warmth and comfort you need to get you through yet another cold winter.
Manresa
Honeycomb Leg Warmers
Little Wool Leg Warmers
Aspen Leg Warmers
Luxy Leg Warmers
Argyle Leg Warmers
Graduated Rib Leg Warmers
Easy Peasy Ballerina Leg Warmers
Do you prefer leg warmers or boot cuffs?
AllFreeKnitting is dedicated to the best free knitting patterns, tutorials, tips and articles on knitting. From easy knitted afghan patterns to complex lace knitting patterns, we find and deliver the best free knitting patterns from all over the web. Plus, we feature free product reviews and giveaways of all the latest and greatest products including yarn, knitting books, totes, and more. AllFreeKnitting is a wonderful online resource for knitters of all skill levels.
Latest posts by AllFreeKnitting (see all)
Filed Under: Knitting TutorialsTagged With: allfreeknitting, boot cuffs, free knitting patterns, legwarmers, Morgan Metcalf
Sours: https://www.stitchandunwind.com/diy-leg-warmers-and-boot-cuffs/
1283
1284
1285
1286
1287