How to Design a Built-In Cabinet Room Divider
If you long for an office area, extra privacy in a shared bedroom or if you simply wish your great room was more cozy, a built-in cabinet room divider could be the answer. A cabinet room divider is a more functional option than a solid wall — offering instant storage and display space, without having to add shelves or cupboards to a new interior wall. Another bonus is that a room divider does not have to be solid like a wall, allowing light to pass through and illuminate both sides of the divide, even if one side is lacking a source of natural light.
Draw a simple, scale plan of the room you wish to separate, using a piece of graph paper. Use 1 inch to represent 1 foot. Note immovable features such as doors and windows, any existing built-in furniture, light switches and electrical outlets.
Study your plan to ascertain if there are any obvious architectural features that dictate the position of the divider. If not, list the furniture you will require in both spaces on either side of the divider to determine how much space is required on either side. For example, if you wish to create a cozy reading nook off a large living room, you won't want to position the room divider in the center of the room, creating two equally-sized spaces. Ensure the position of the divider allows all doors to open fully and position it in such a way that each space has its own window, if possible.
Determine what items you intend to display or store on the room divider. For example, a dining room cabinet may require glass doors to keep glassware clean yet displayed. In a library, shelves will be required for books, but you may wish to incorporate a drinks cabinet as well.
Take careful measurements when you have decided on the positioning of the cabinet. Plan to use 2-by-4 boards for the frame, plywood boards to cover the frame and veneer sheets to cover the plywood. Alternatively, cover the frame with a solid wood such as oak.
Opt for a design and finish that complements the decor of the room. Ensure that the cabinet matches the existing decor, unless you are remodeling the entire room around the new cabinet divider. Don't take your cabinet all the way to the ceiling; leave a generous gap to allow light to travel through and maintain a feeling of light and space.
References
Tips
Remember to secure the cabinet to the floor — in the same way as an island cabinet — by attaching 2-by-4 blocks to the floor and screwing the cabinet to them.
Although oak is significantly more expensive, it's extremely long-lasting.
Writer Bio
Based in England, Tami Mason writes for Local.com and various other websites. Mason has worked as a proofreader and copy editor since 2007 and is a trained interior designer who also specializes in art history, art and crafts.
Sours: https://homeguides.sfgate.com/design-builtin-cabinet-room-divider-33776.html
25 Room Dividers with Shelves Improving Open Interior Design and Maximizing Small Spaces
Room dividers can be created with shelving units and tall cabinets. These modern furniture items provide additional storage, improve interior design, add interest to room decorating and maximize small spaces in elegant and functional style.
Room dividers with shelves are a smart way to redesign living spaces and separate working and living spaces or different functional zones. Simple and elegant, modern shelving units allow to add beautiful decorations to interiors and use storage spaces for creating attractive displays.
Lushome shares 25 attractive interior design ideas that incorporate tall shelving units and storage cabinets into room decor. These space saving furniture items are ideal for decorating small apartments or separating zones in large spaces.
Glass partition wall design ideas and room dividers separating modern bedrooms and bathrooms
Room dividers with shelves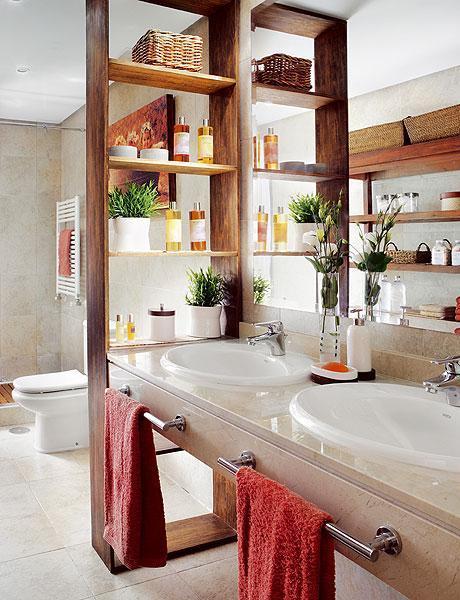 Tall room dividers with shelves create movable partition walls that transform interior design and offer a versatile solution for modern interior design of homes and offices.
Partition walls are expensive and stationary. Modern shelving units and storage cabinets are convenient, inexpensive and simple solutions for functional, flexible and modern interior design.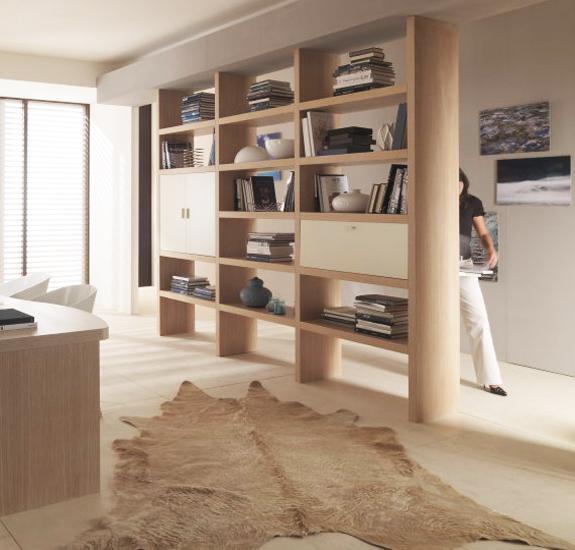 Tall room dividers made with portable storage cabinets and shelving units on casters allow to create multifunctional interior design and change the way living spaces look quickly and easily.
Room dividers and partition walls creating functional and modern interior design
Decorative room dividers recycling plastic pipes, modern interior design ideas
Stationary partition wall design ideas are suitable for creating new rooms. Open and light, multifunctional and modern interior design calls for movable furniture items that decorative screen for designing different functional area in one room.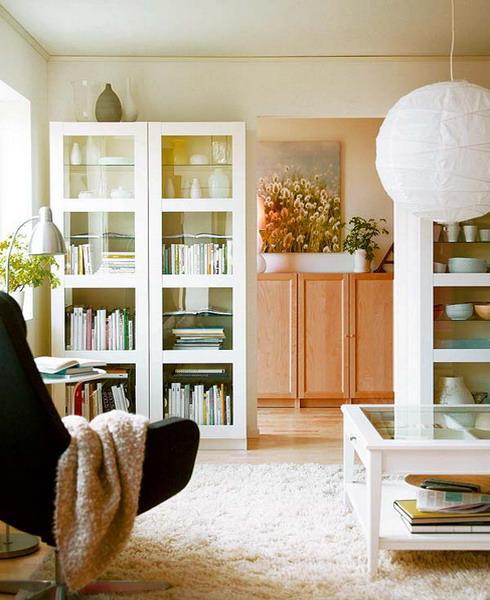 Room dividers with shelves are ideal for decorating small apartments, studio apartments, loft living spaces and rooms with open layout plan, separating bedroom and living room area, kitchen and dining zones or creating small home office designs in bedrooms and living rooms.
16 contemporary room dividers, stylish accents in modern interior design
Space saving apartment ideas, room dividers and interior design ideas for small spaces
Small spaces can benefit from shelving units also. Shelving units with open shelves can be placed between the hallway and living spaces, divide zones for two children sharing one bedroom or create a dressing room in a bedroom.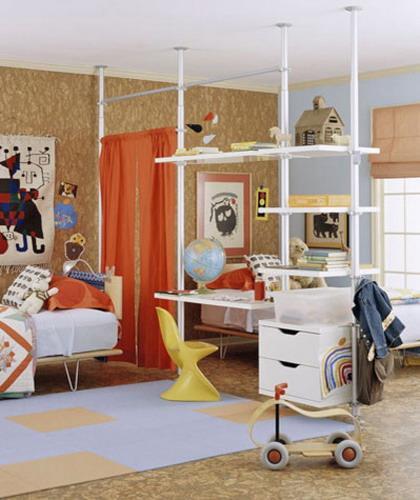 Furniture items with open shelves and casters are excellent space saving room dividers for small spaces. Modern shelving units are practical, stylish and very attractive storage ideas for bright, breezy and open interior design and room decorating.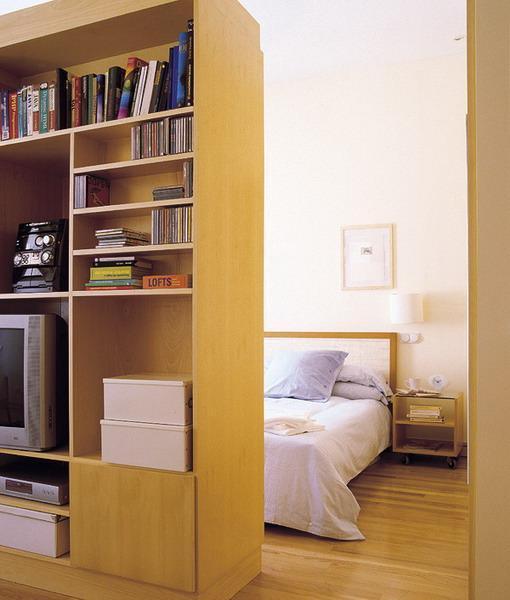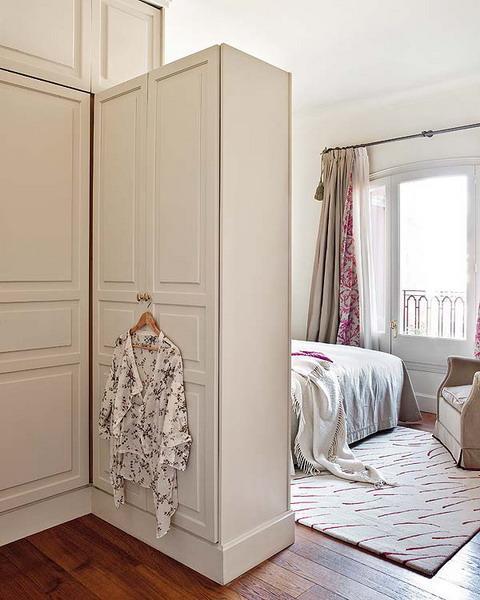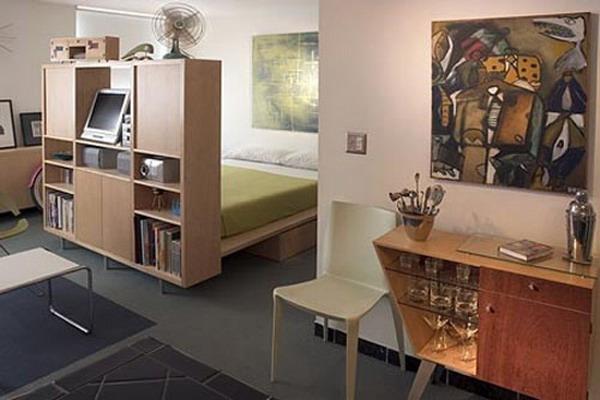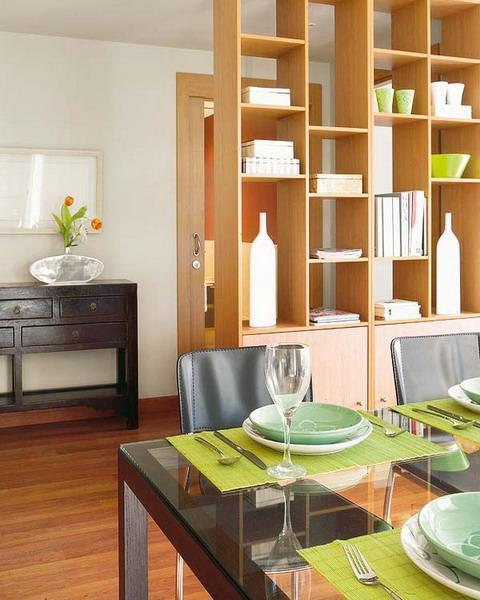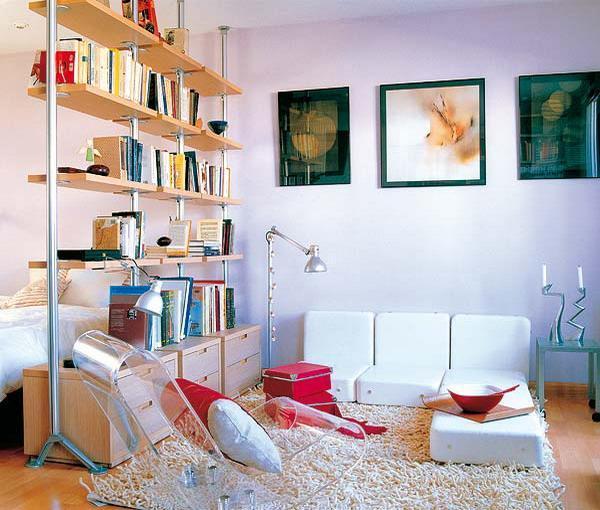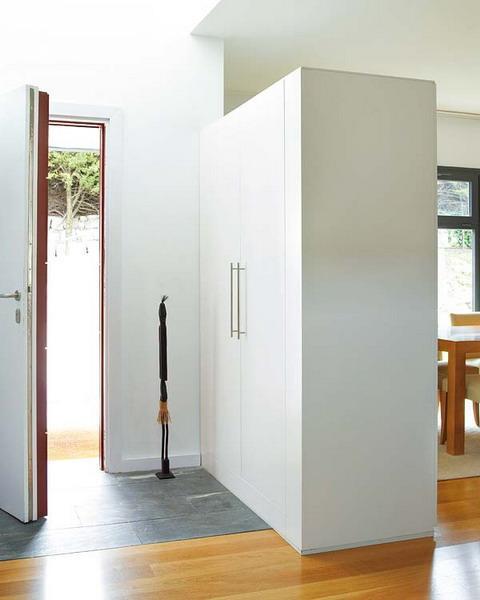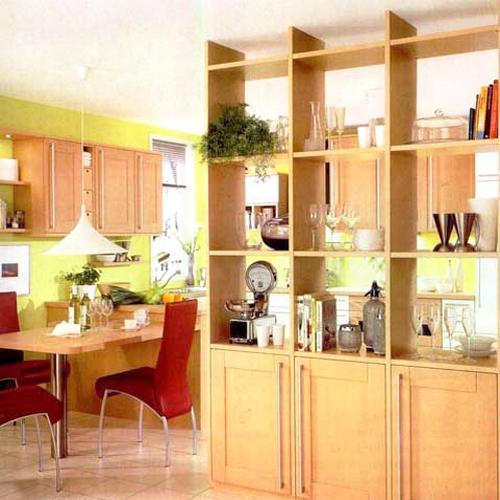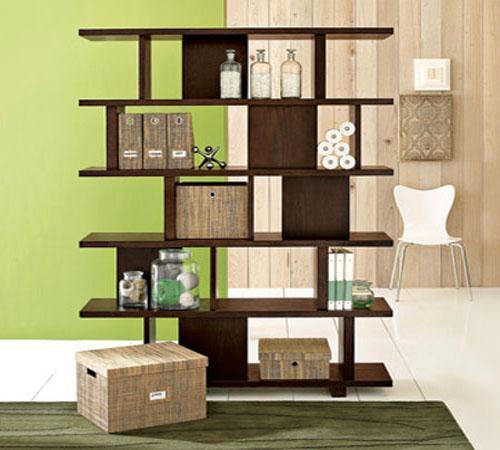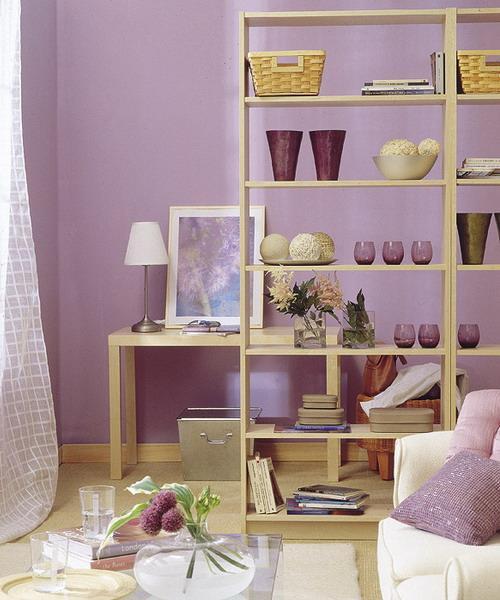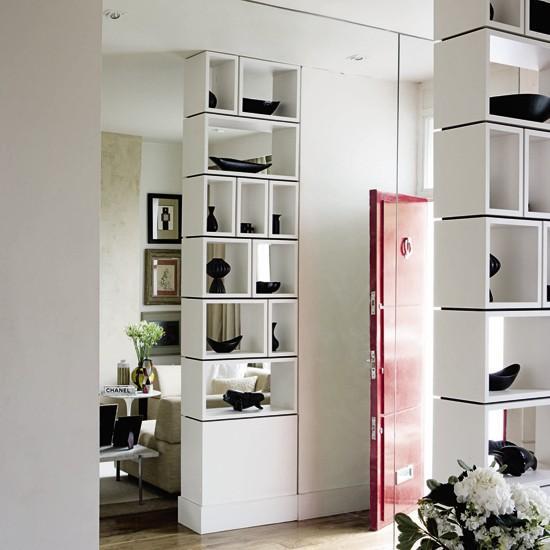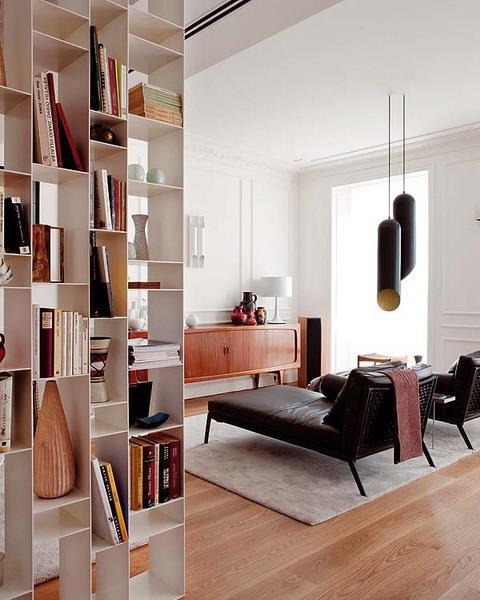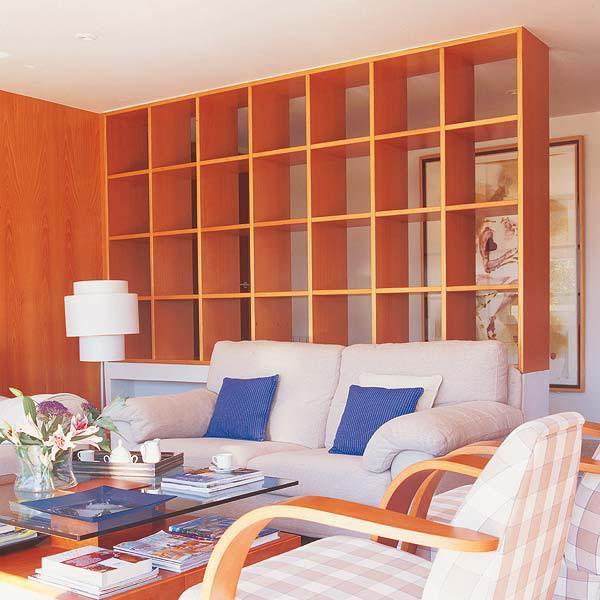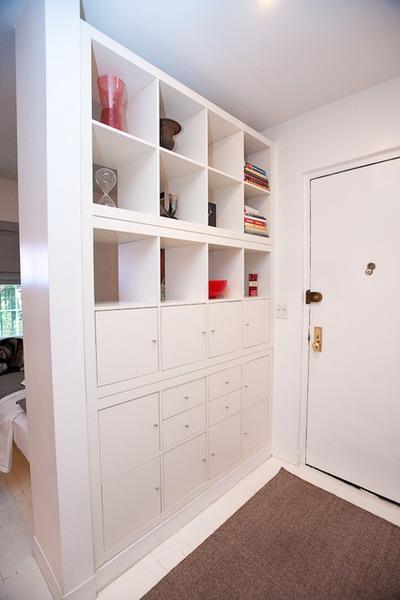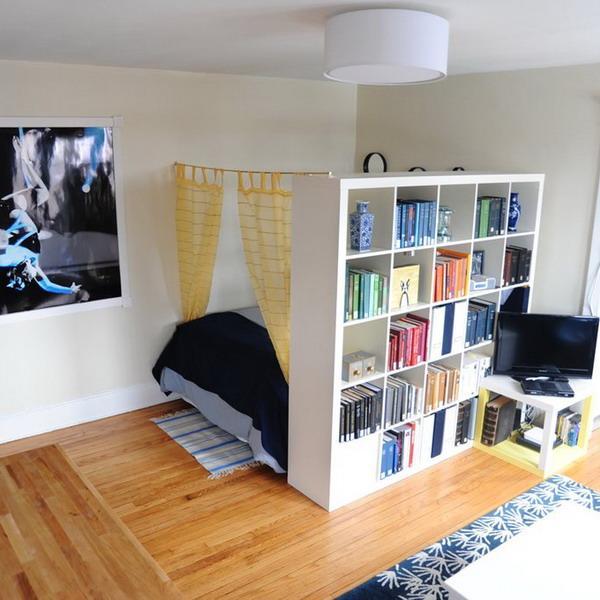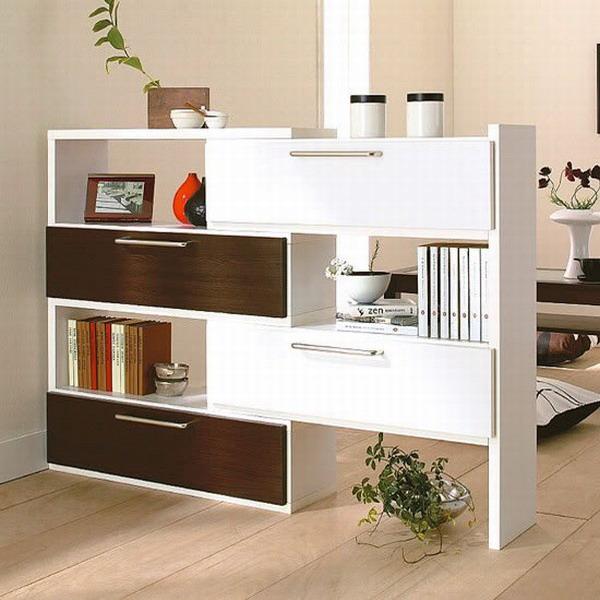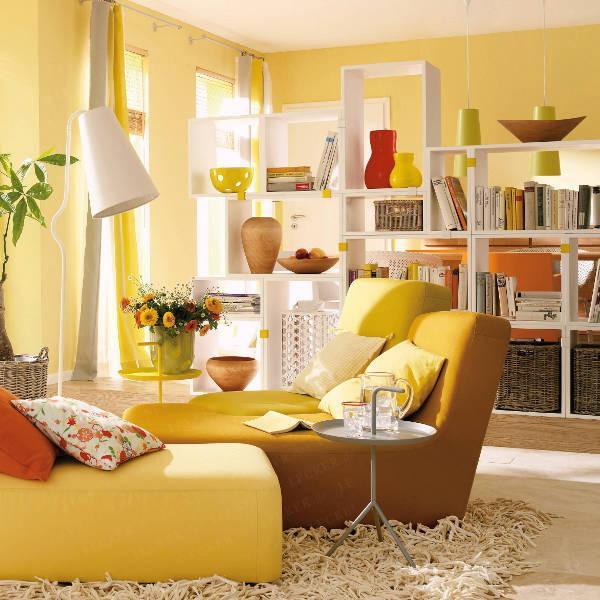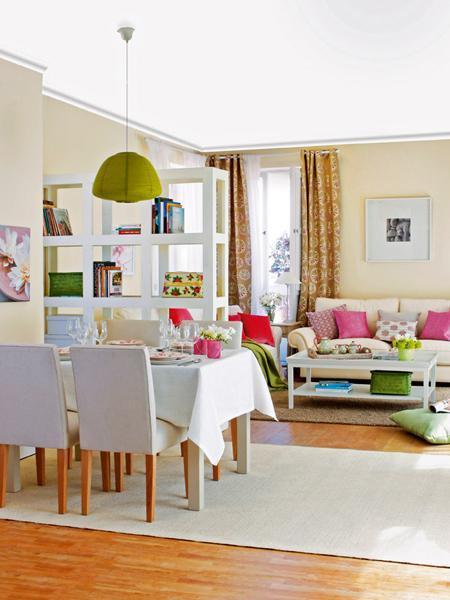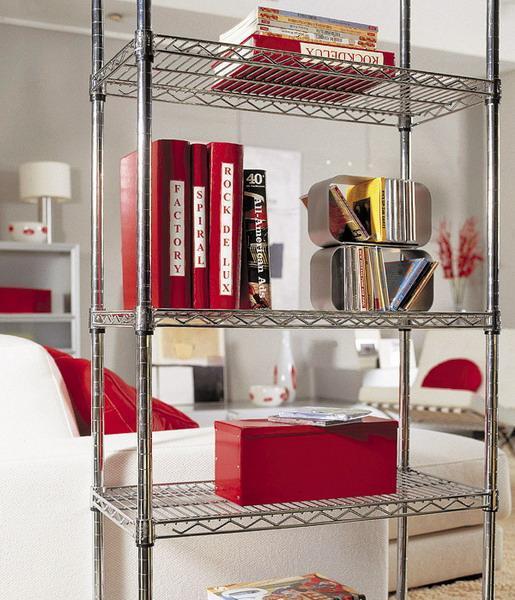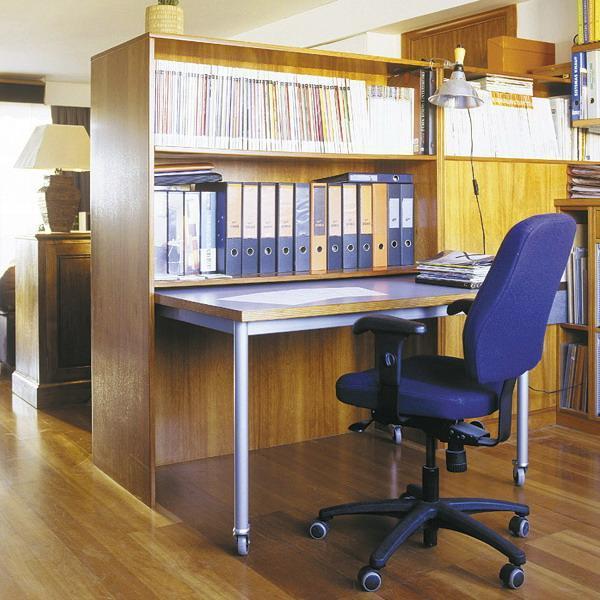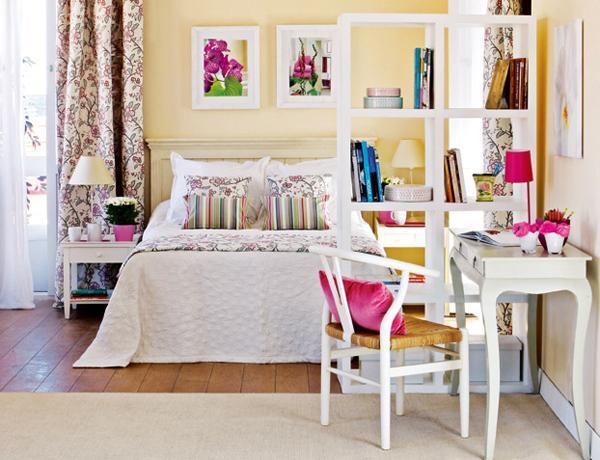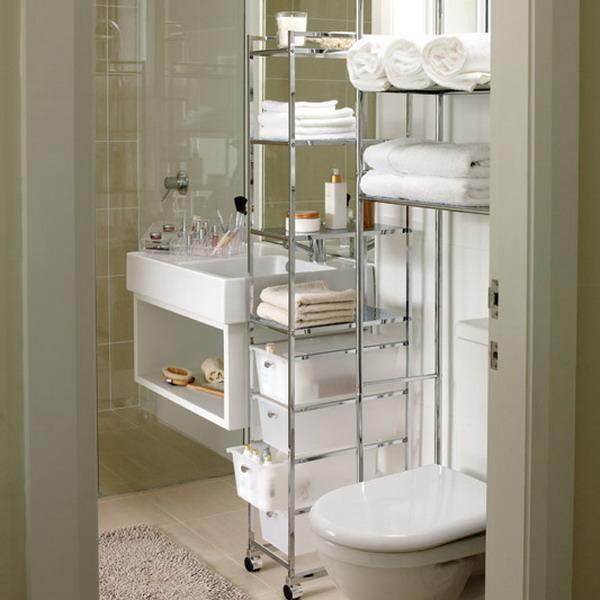 by Ena Russ
17.04.2014
Related articles and sponsored content
Sours: https://www.lushome.com/25-room-dividers-shelves-improving-open-interior-design-maximizing-maximizing-small-spaces/134727
How to Use Cabinets as Dividers?
Wondering how to divide an open plan house or compact space without cutting off light? Living room divider cabinet designs to the rescue!
Can cabinets act as a divider in a living room?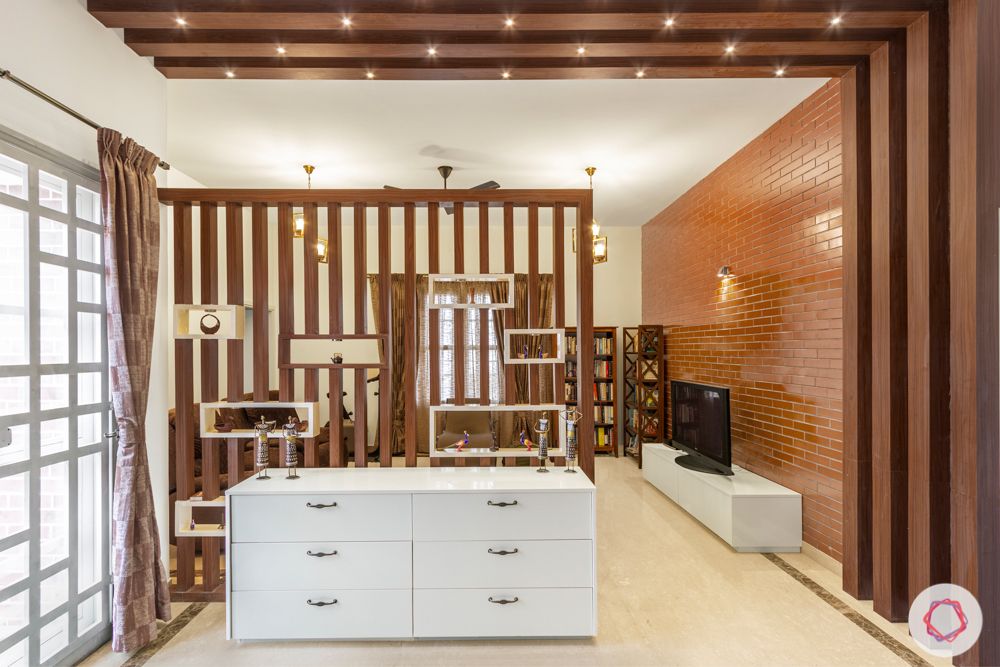 Cabinets make for great living room dividers as they use available space to practical ends. They're ideal for open plan houses and compact spaces where dedicated areas would be nice to have but storage is an important consideration. It also allows light to pass through without compromising on privacy or cosiness.
How to use cabinets as room dividers?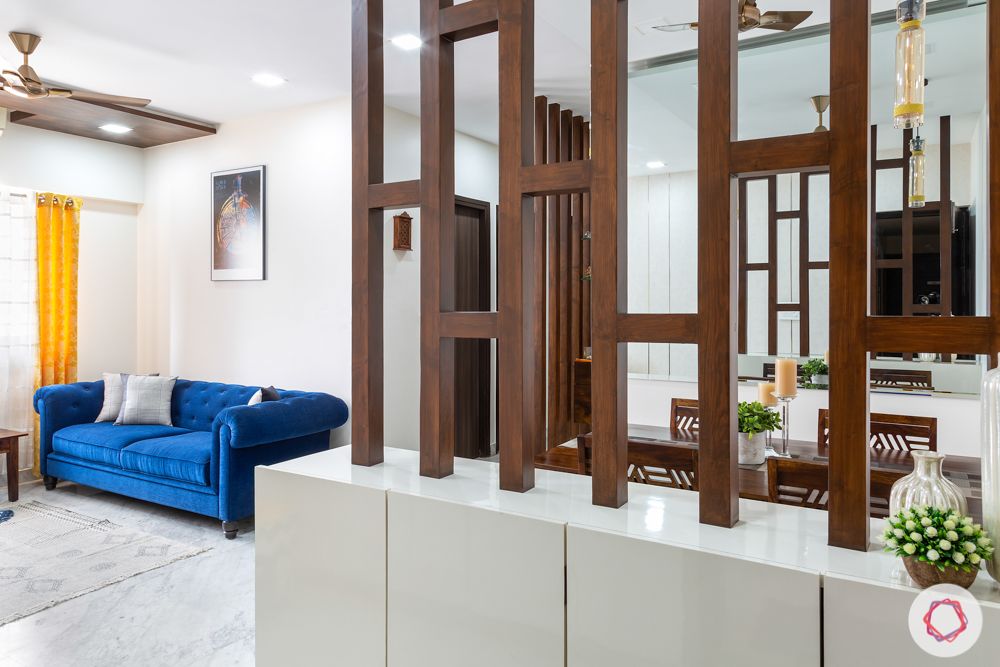 Many modern homes follow open plan designs where the living and dining rooms are merged into one large space. To create a task-oriented distinction between the two without the construction of an actual wall, living room divider cabinets can be used. They can be placed as is if they're long enough because they function as a fence of sorts. Long cabinets efficiently divide a space into two while also providing storage space. Cabinets with additional vertical details such as wooden pallets add dimension and grandeur, enough to forget that the basis of the divider was a humble cabinet!
Types of cabinets that can be used as dividers in living rooms:
Living Room Divider Cabinet Designs #1: Display Unit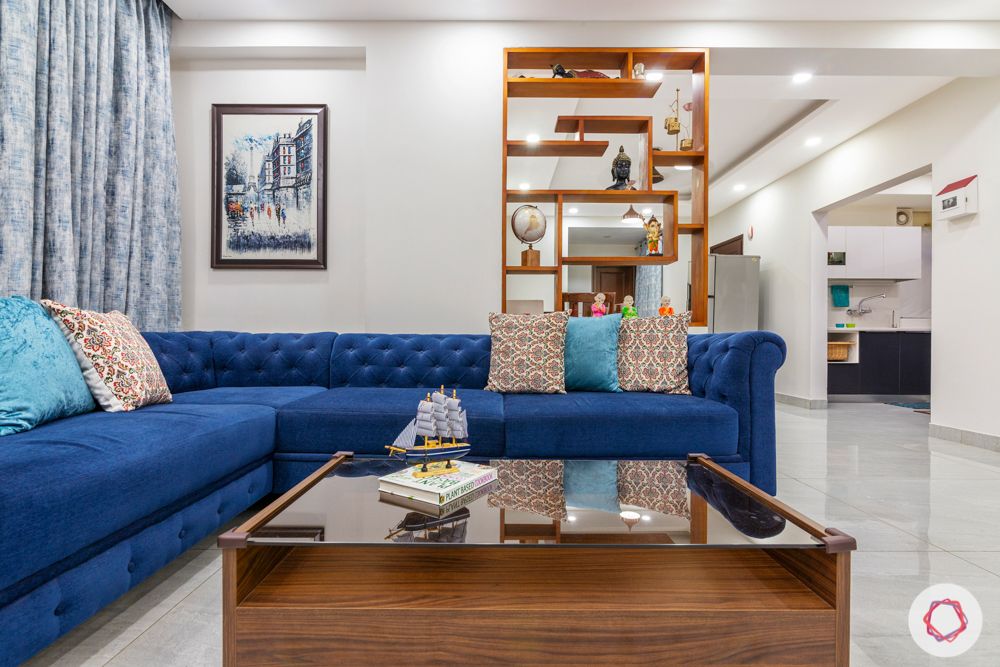 Open shelf cabinets are great living room dividers because they allow the flow of air and light between rooms without causing visual hindrance. These work especially well homeowners that don't necessarily need privacy between rooms but just separate spaces.
Living Room Divider Cabinet Designs #2: Bar Unit
Want to create a quirky bar area for when you have friends over but don't have the square footage? This divider successfully divides the room into two while eliminating the need for a separate bar cabinet or shelf. The open design allows the bar to be accessed from both sides, which is ideal to allow flow of people and talk between spaces.

Living Room Divider Cabinet Designs #3: TV Unit-cum-display unit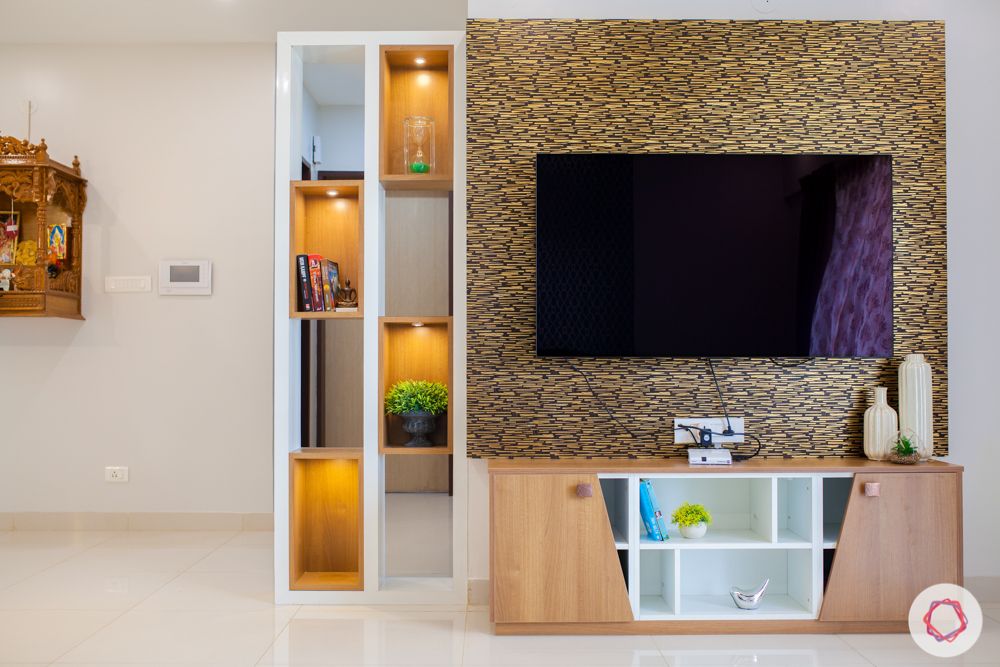 If your house doesn't have a dedicated wall to build a media console, living room divider cabinets will do the job. In this design, the wall-mounted TV is backed by an eye-catching stone pattern and flanked by a rectangular partition shelf that also extends the existing TV unit.
Living Room Divider Cabinet Designs #4: Wooden Cabinet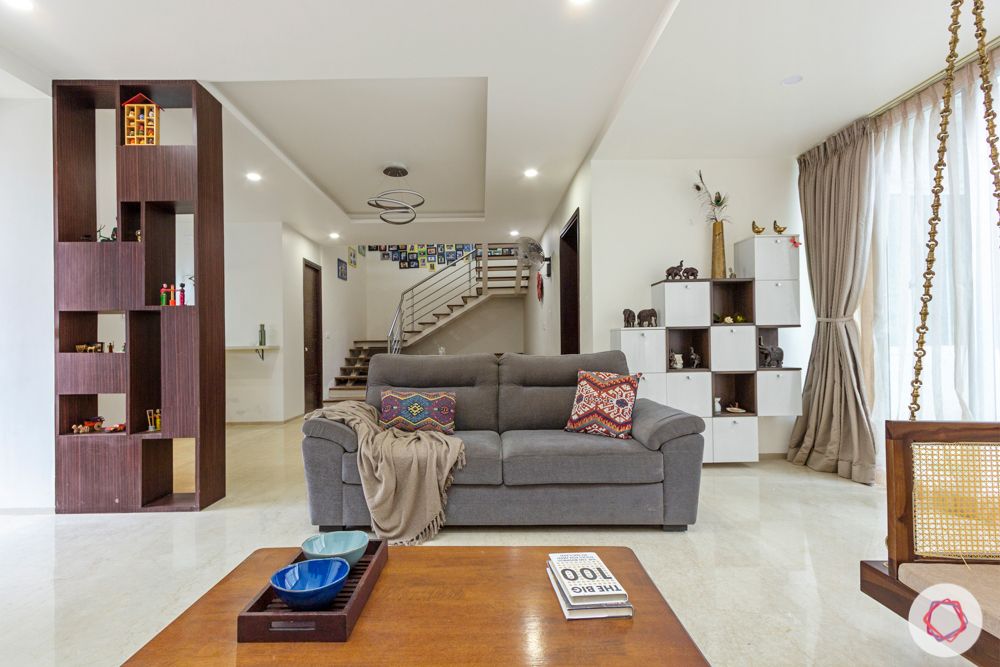 Create drama and dimension with peek-a-boo style divider cabinet designs. In this home, the brown cabinet features open shelves perched on filled-in blocks of wood. The open shelves are ideal for displaying trinkets while the closed blocks demarcate the space without blocking off light.
Living Room Divider Cabinet Designs #5: Stylish Storage Unit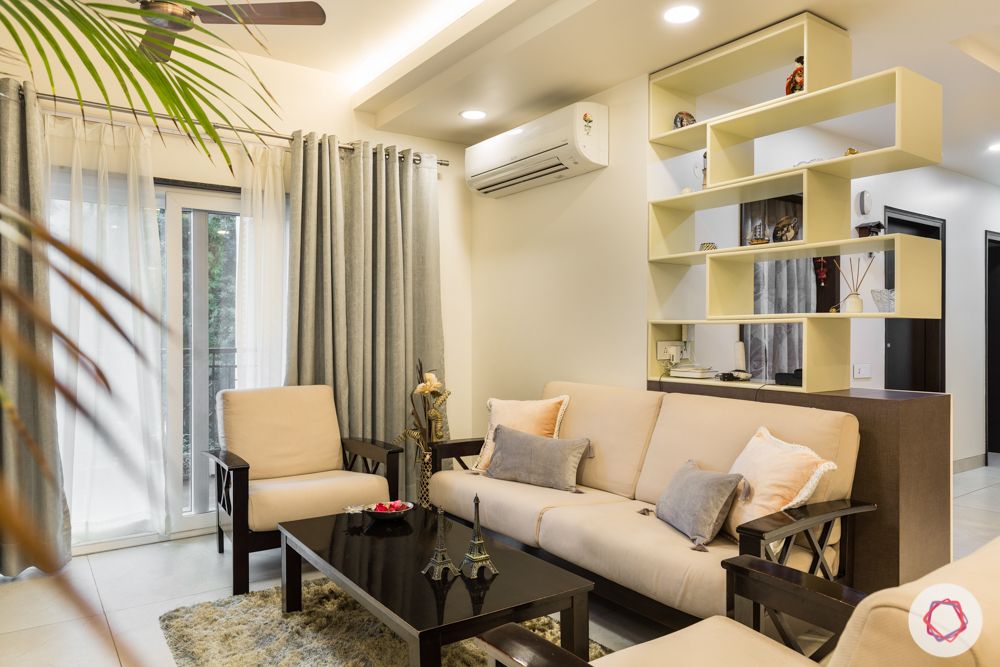 If your living room is extending out into another task-oriented space like a dining room, a good way to demarcate the two is to use a divider cabinet that pulls double duty as a display. In this home, the storage cabinet is accessible from the dining room, but the layered open shelves add interest on both sides of the house.
Living Room Divider Cabinet Designs #6: Bookshelf or Magazine Rack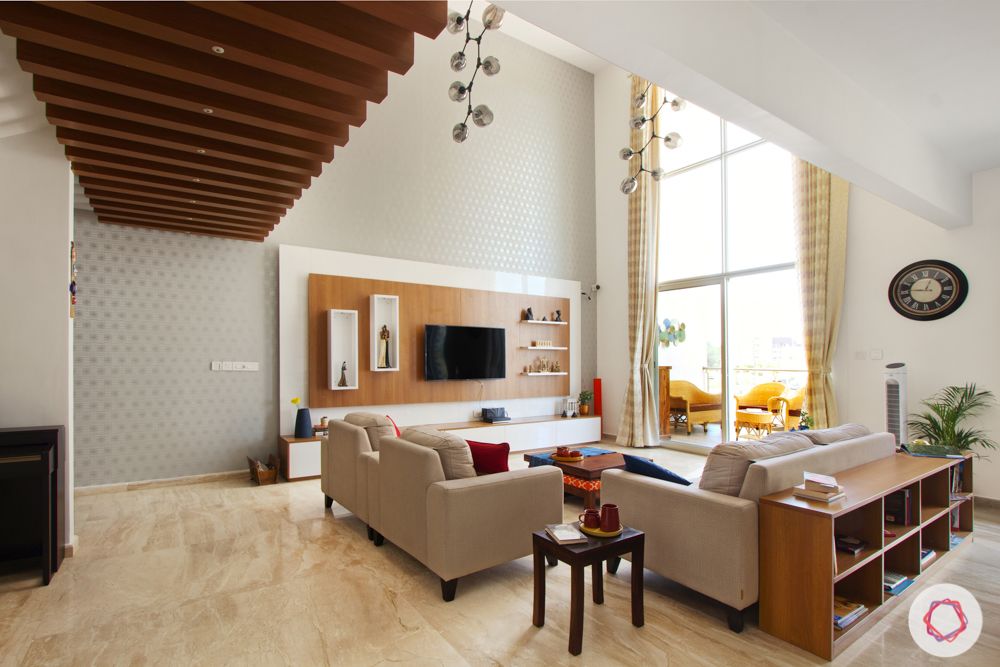 Use low bookshelves to add more storage to a living room without taking over an entire wall. This tactic is discreet in that it doesn't tower over the space but provides cubbyholes to store books or magazines.
Living room divider cabinet designs are fool-proof ways to split an open plan area into two and also bring in more storage and dimension into the space!
If this was interesting, you might like reading this too: Discover New Jali Partition Designs.
Send in your comments and suggestions.

Sours: https://www.livspace.com/in/magazine/decor-living-room-divider-cabinet-designs
40+ Beautiful Living room Buffet cabinet design ideas 2020 - Modern buffet cabinet designs
There comes a time when mere functionality does not do it anymore and you are looking for new ways to elevate the aesthetics of your living room. In the era of the open plan living new room divider ideas can change a space even more than other traditional accents like rugs, lighting fixtures, and pillows. Room dividers allow you to give the living space a quick makeover. But those who wish to delineate space in the living room without actually turning to walls need something more distinct.
A room divider is the ideal option, as it allows you to divide the living area from the kitchen, dining space or even home office without completely cutting off one room from the next.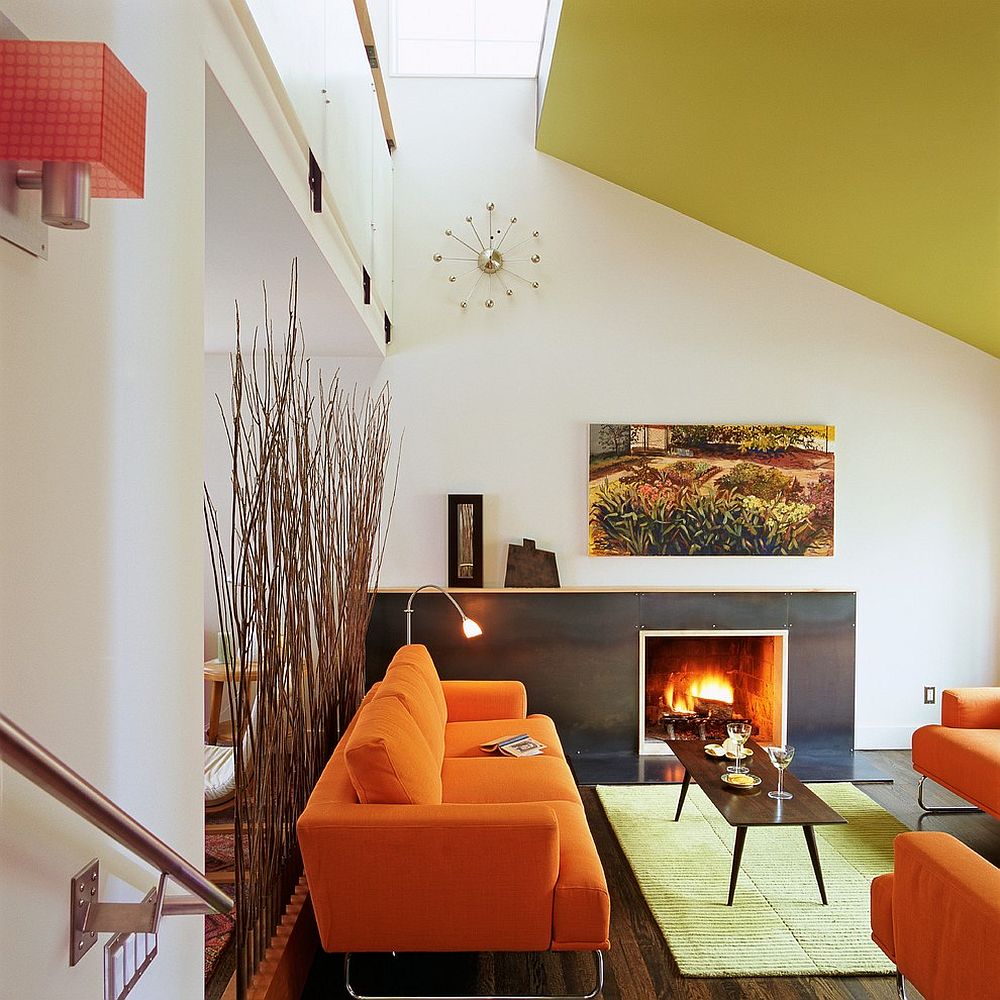 Smart home dividers deliver exactly what you need – free passage of light but clear boundaries between rooms. The best part of it all is that you have a wide array of room dividers to pick from that venture beyond just glass walls! From DIY room dividers to designer ones, today's roundup of 25 creative room dividers for the living room will force you to look at decorating your home in an entirely new light!
Room Divider Ideas For Storage and Display
Using the living room divider to add a wonderful display or even additional storage options is a great way to make the most of the available space in your small urban apartment or modest modern home. The idea here is to separate the living room from the kitchen or dining room next to it without disturbing the style of each of the rooms and allowing for an effortless transition between both spaces.
A combination of closed units for the base and open shelves at the top is a practical choice that allows for the unobstructed flow of light and a visual connection between the living area and the rooms next to it.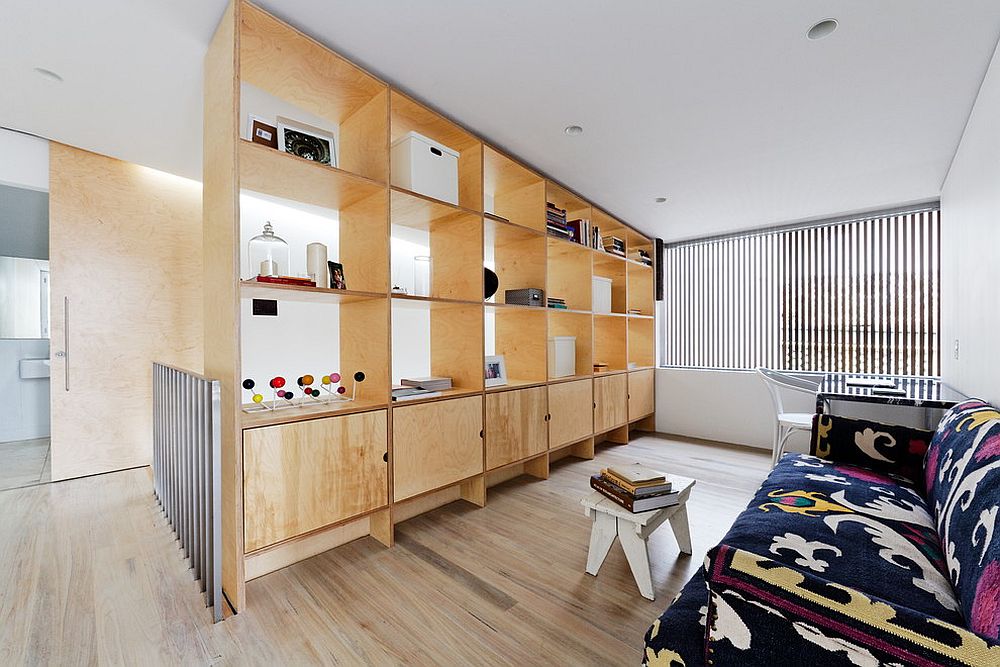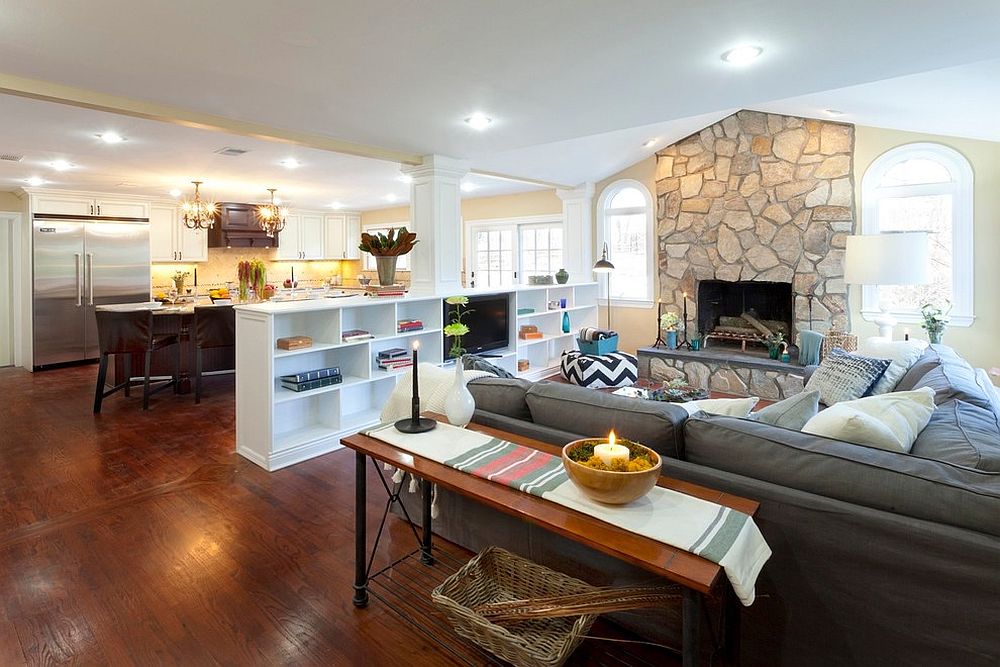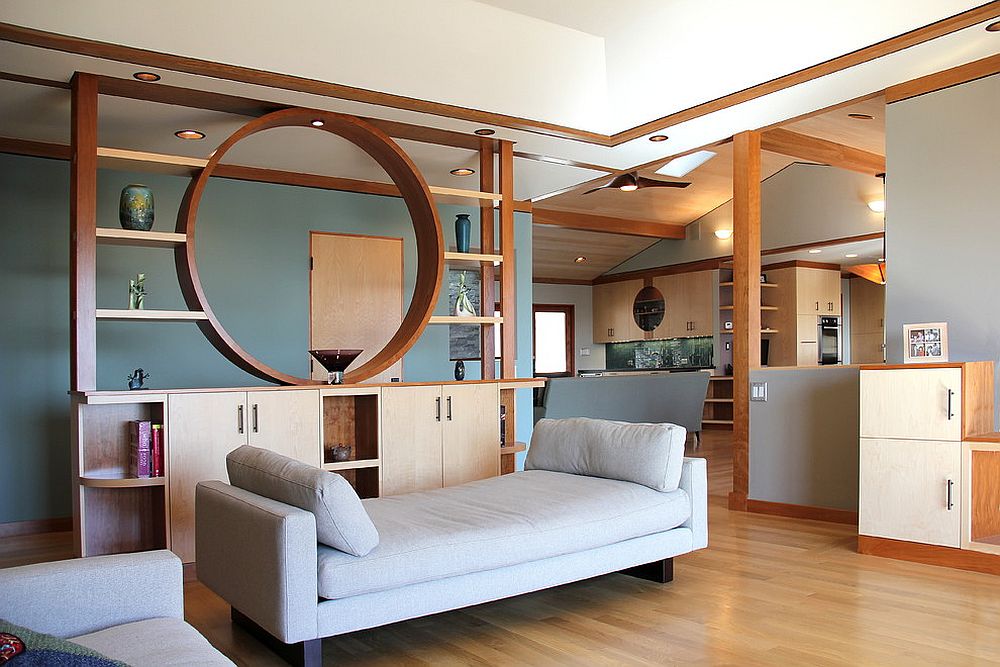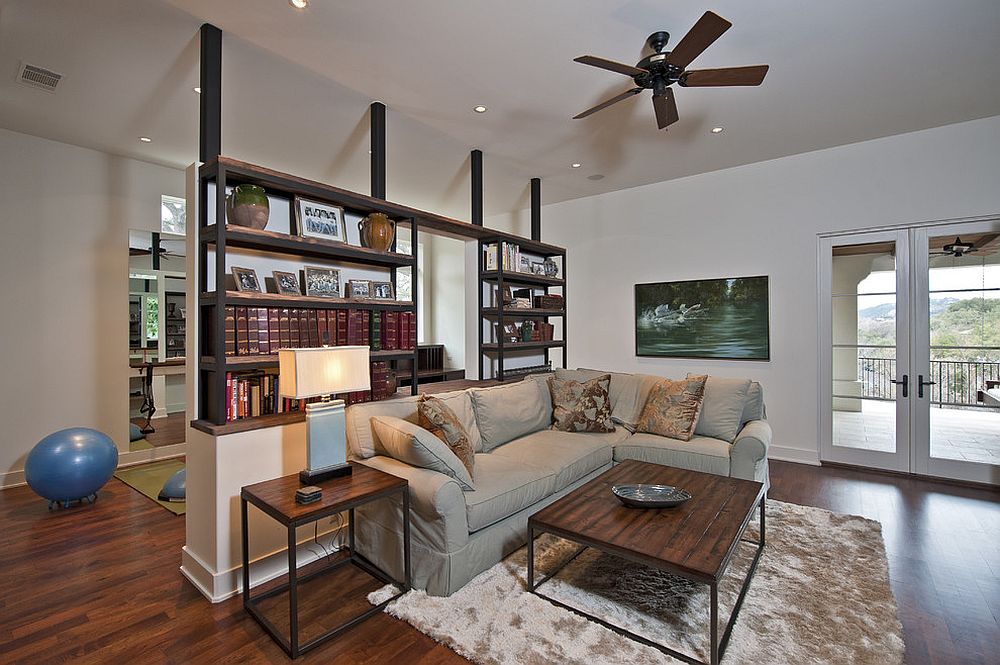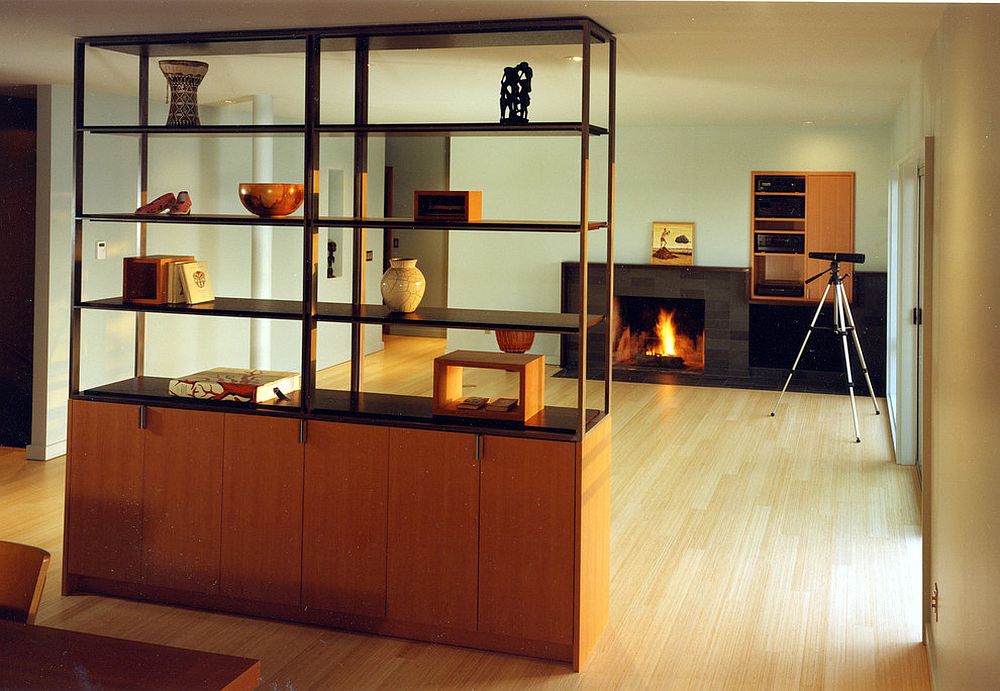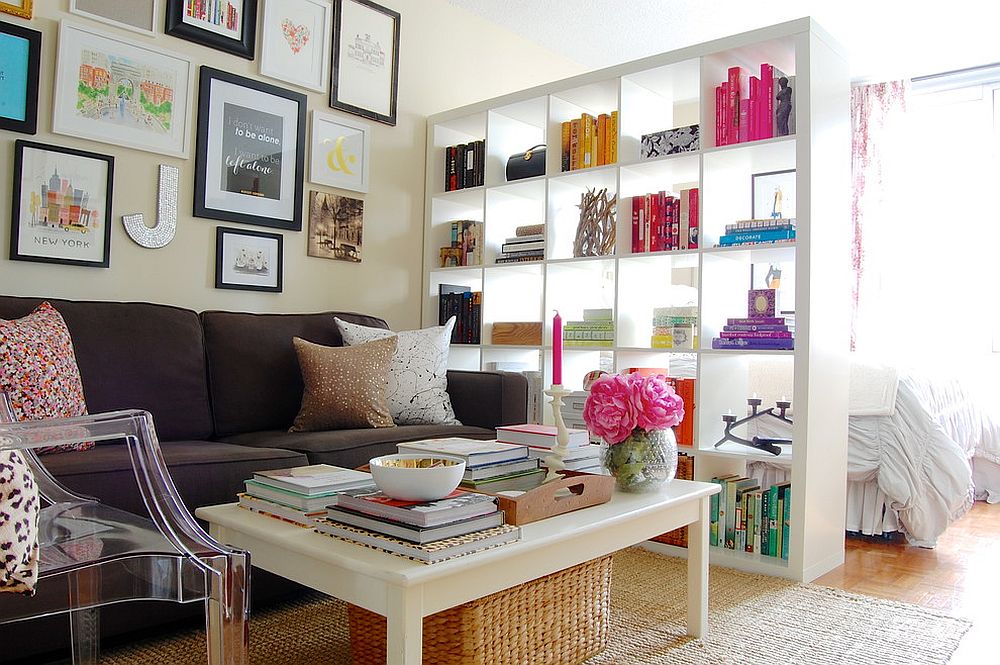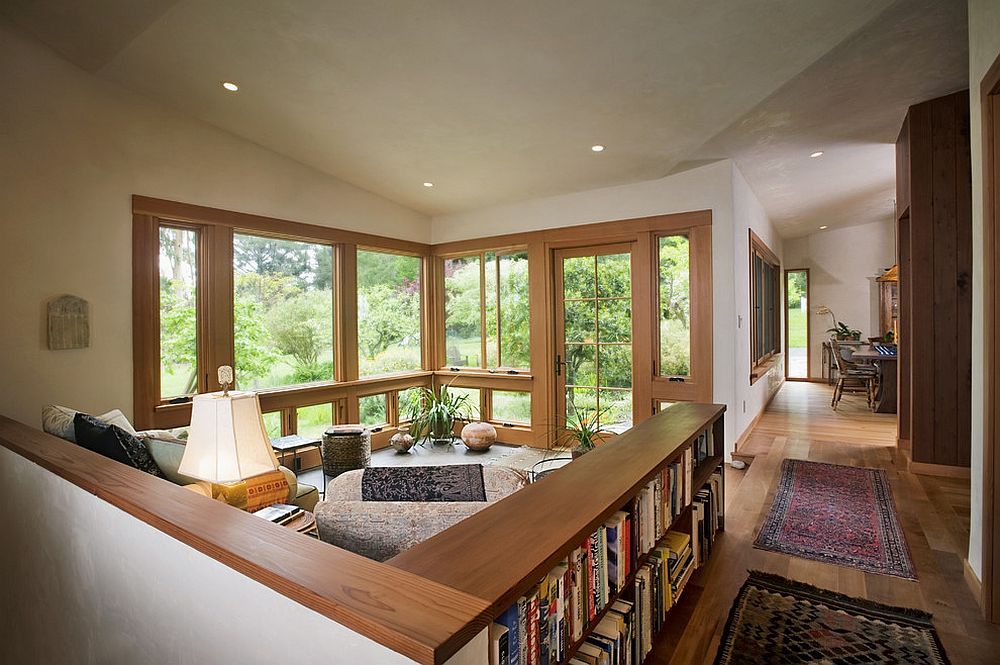 Room Divider Ideas That Bring Textural Beauty
Maybe all you want is a lovely room divider that just separates two spaces and multitasking is not really a priority. If that is the case, then think of adding another unique texture or finish to the living room with the help of this nifty divider.
Since most modern living rooms are covered in sleek, polished surfaces and a touch of metal, the glint of glass or even the warmth of wood is a welcome change. A simple and stylish screen or even a metal mesh works well in certain homes, and these ultra-sleek dividers also take up minimal foot space.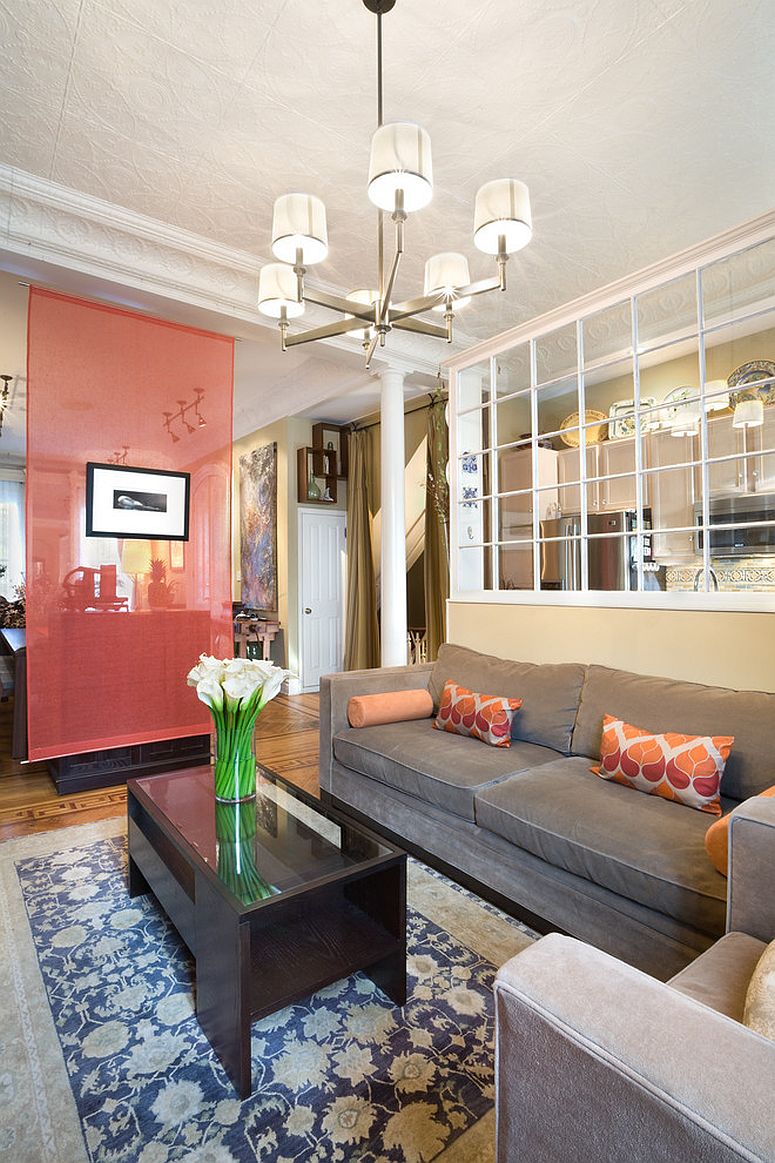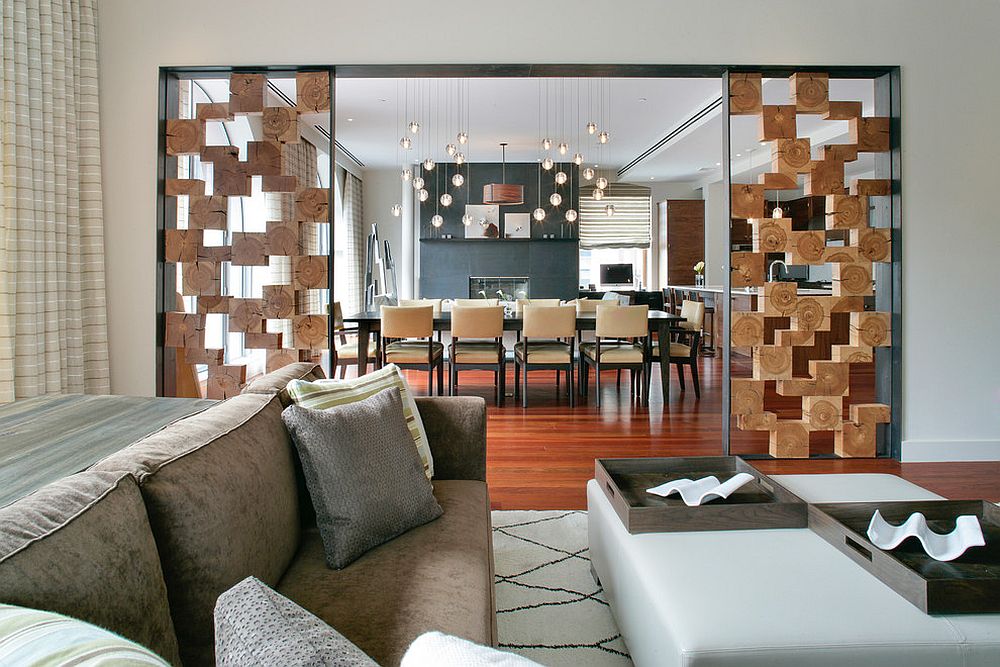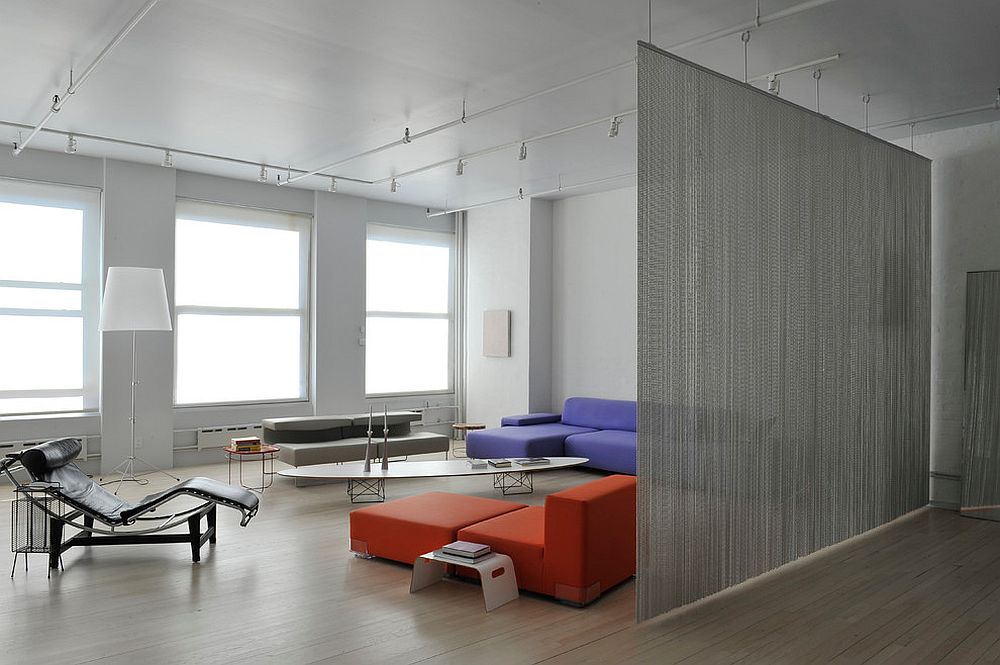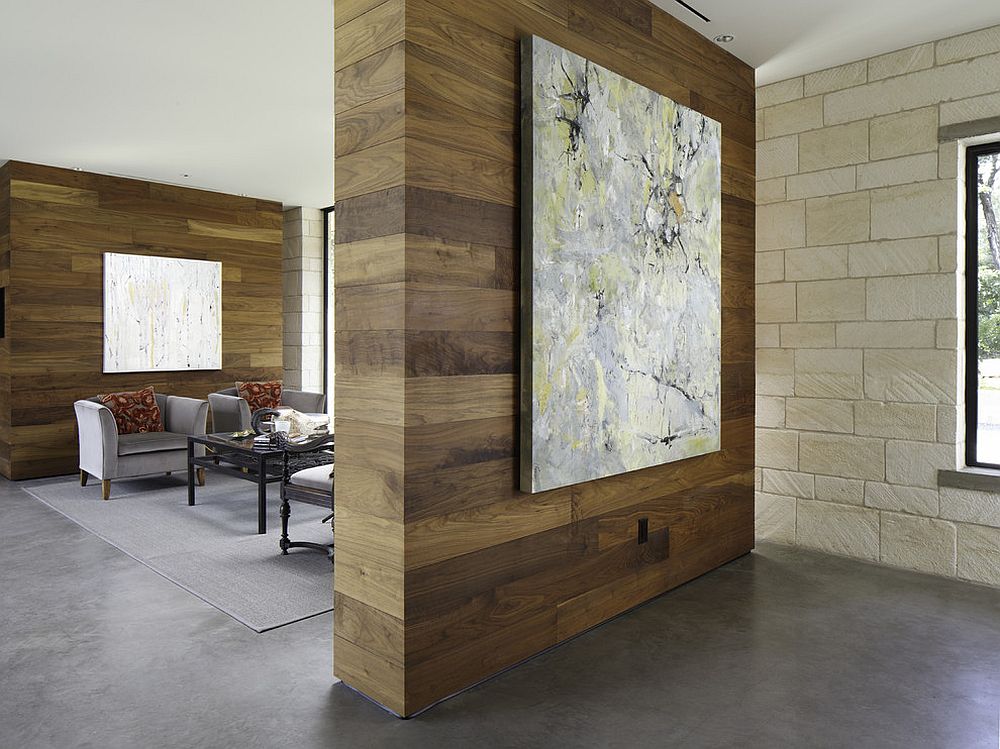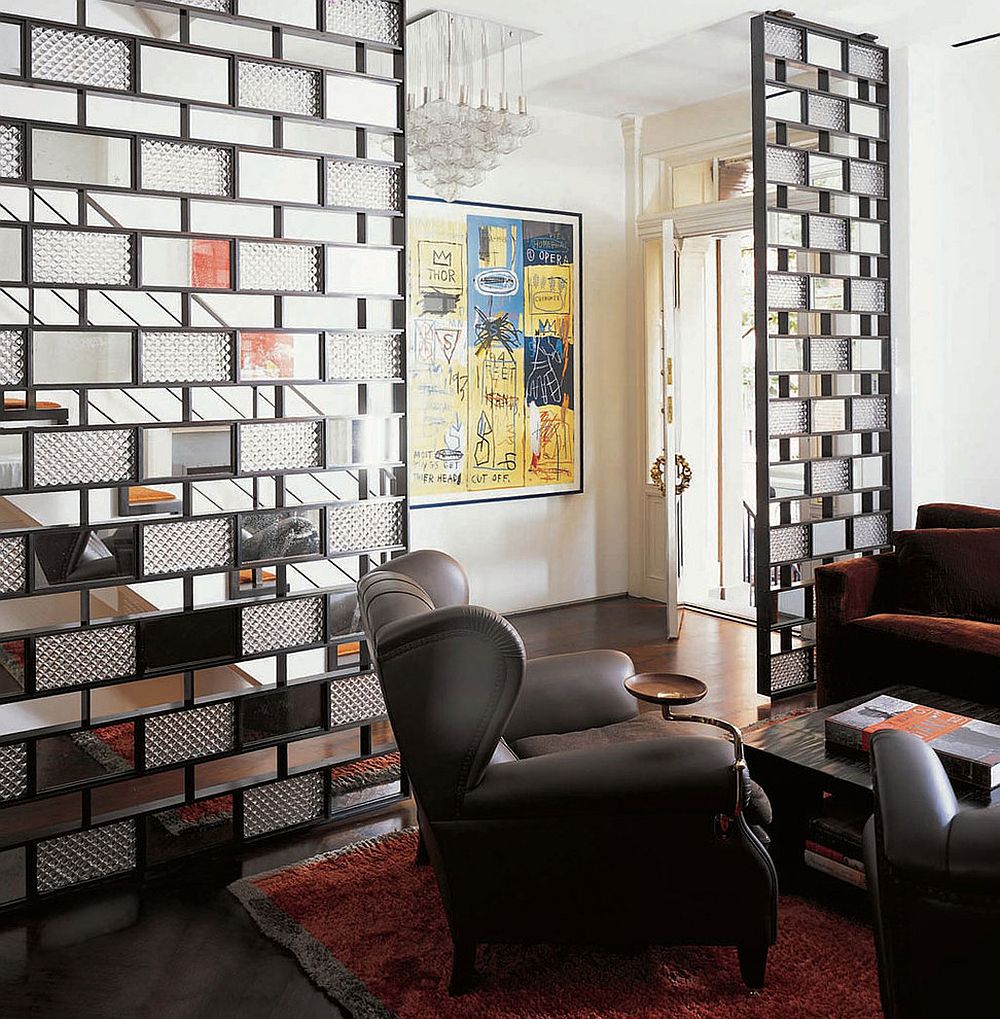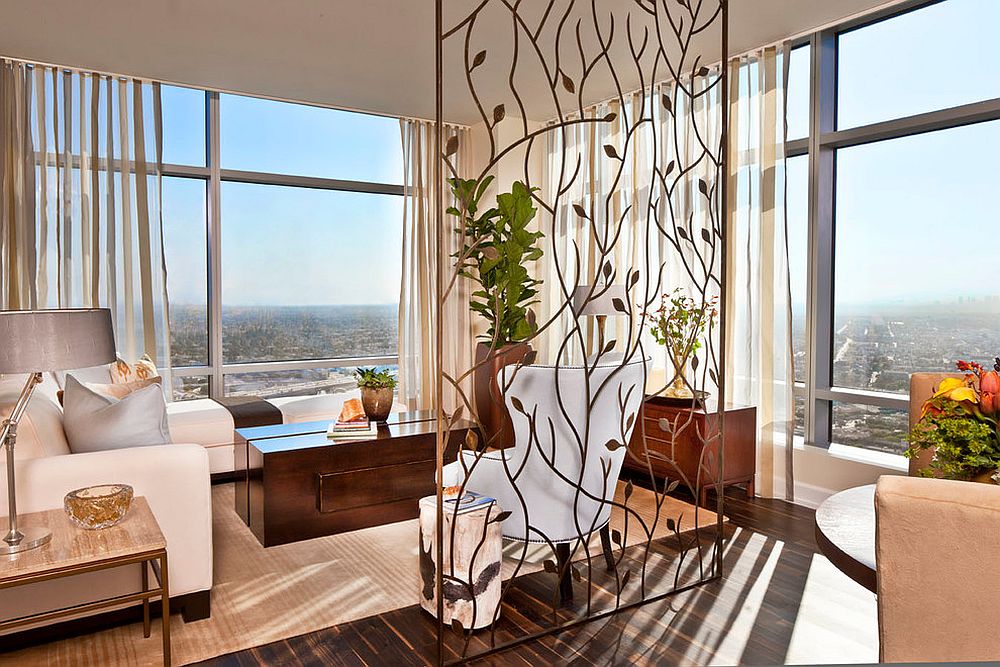 A World of Glass!
Adding a translucent glass wall or sliding and folding glass doors to create a partition between the living area and the bedroom in the small studio apartment is a trendy option. If you are veering towards glass walls, then it is best to add a layer of drapes that gives you more privacy when needed. Etched and chemically treated glass panes coupled with sleek metallic pipes give the living room an industrial touch, while colorful glass partitions and those with intricate patterns and designs enliven the room instantly.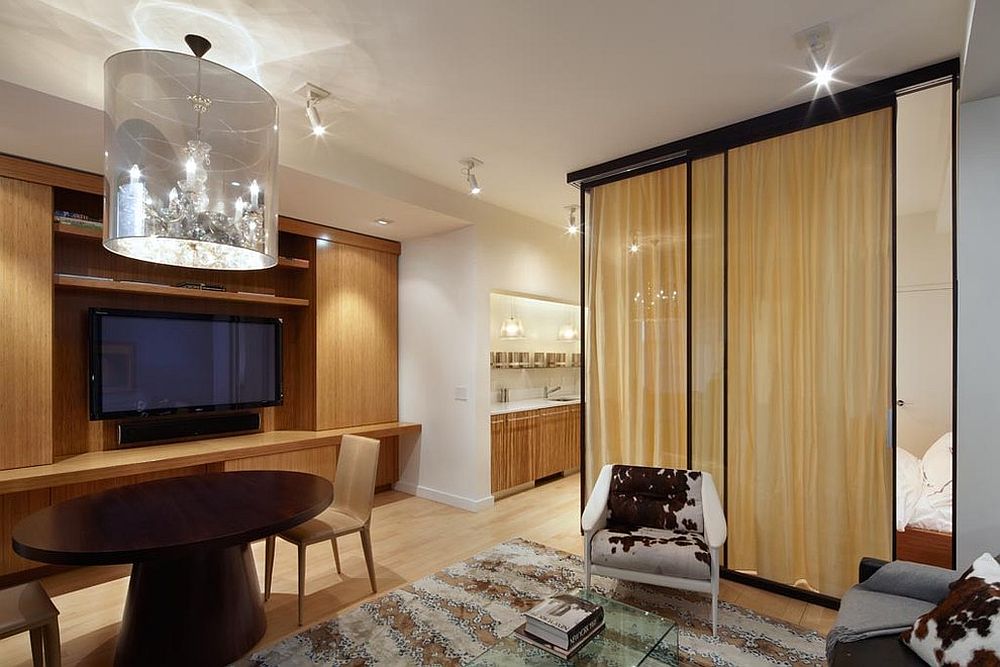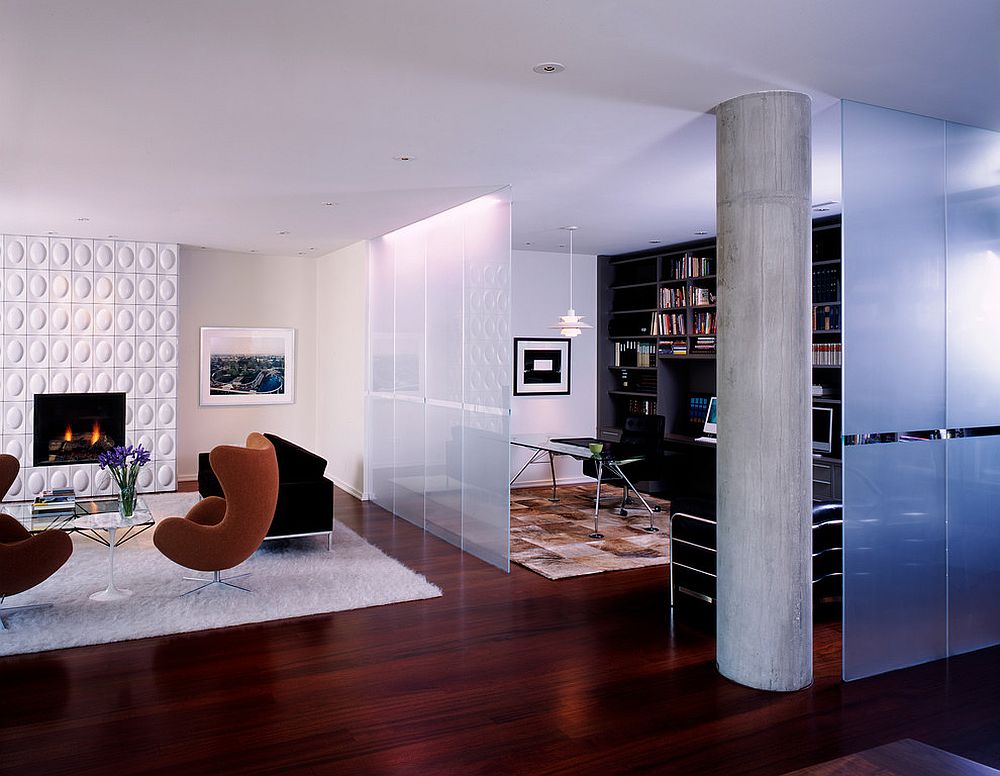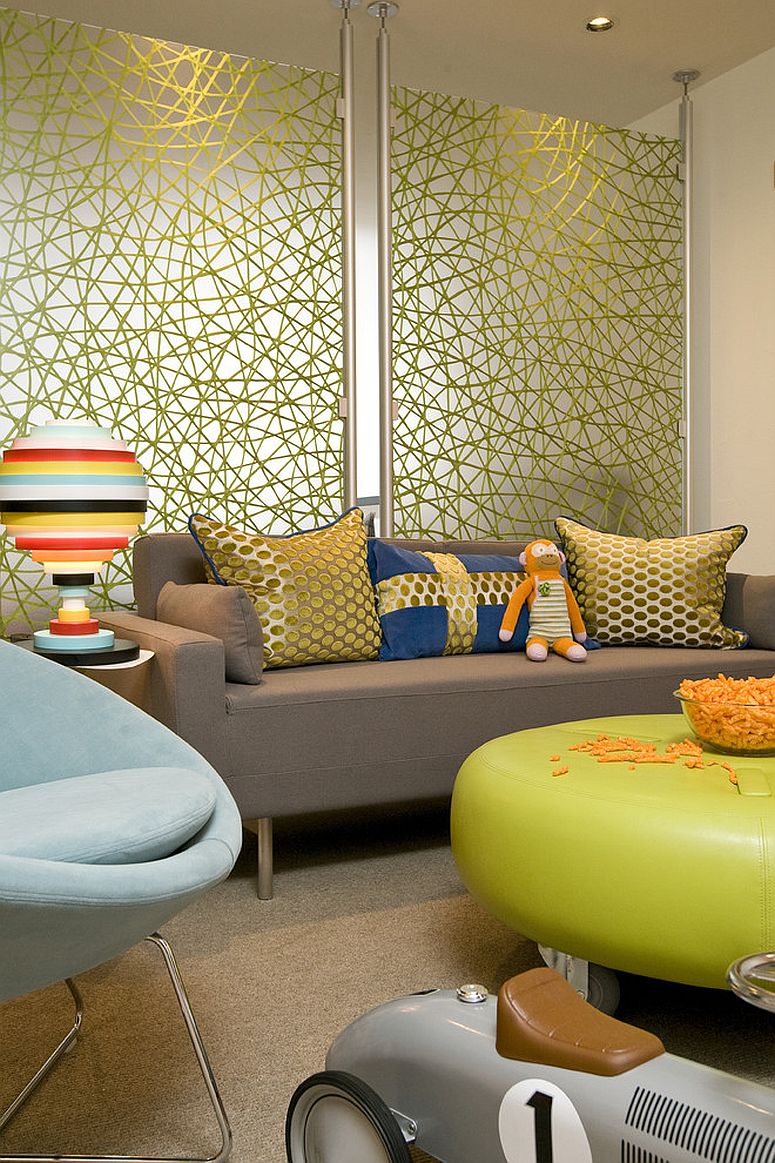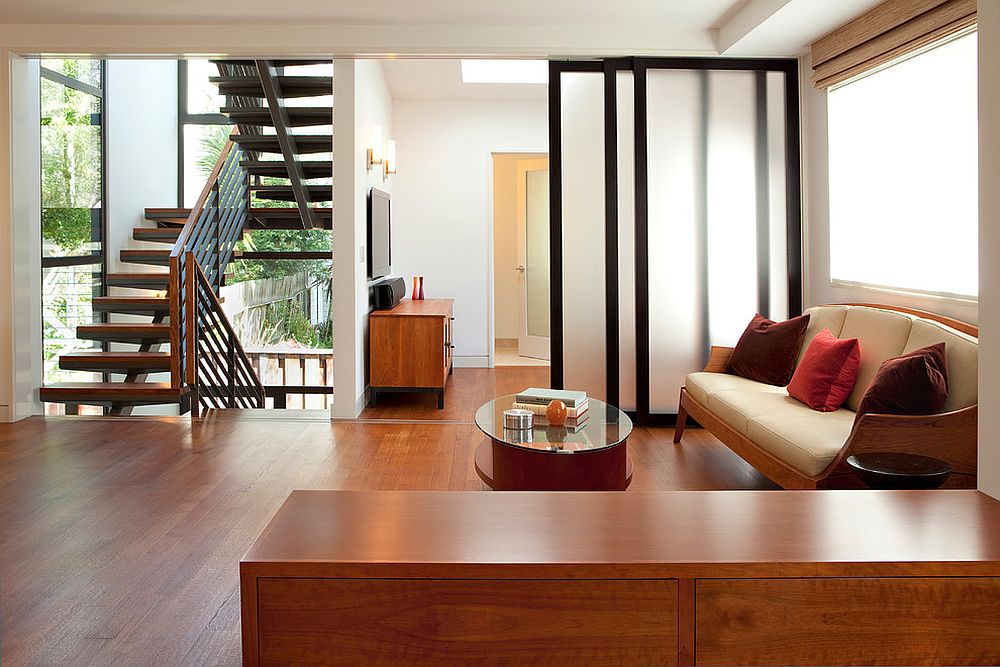 When All Other Room Divider Ideas Fail, Turn to Custom Solutions
What works for one might not for others, and your need for a room divider, both in terms of size and style, could be very different from what is currently available in stores. Do not shy away from custom solutions that deliver exactly what you need. Living room dividers in metal and glass can be created by your local artisan with ease, and often they are far less expensive than dividers in furniture shops. A simple television stand and entertainment unit, a lovely bookshelf or even a series of twigs that you could easily collect this fall –only your imagination limits the style and form of a room divider!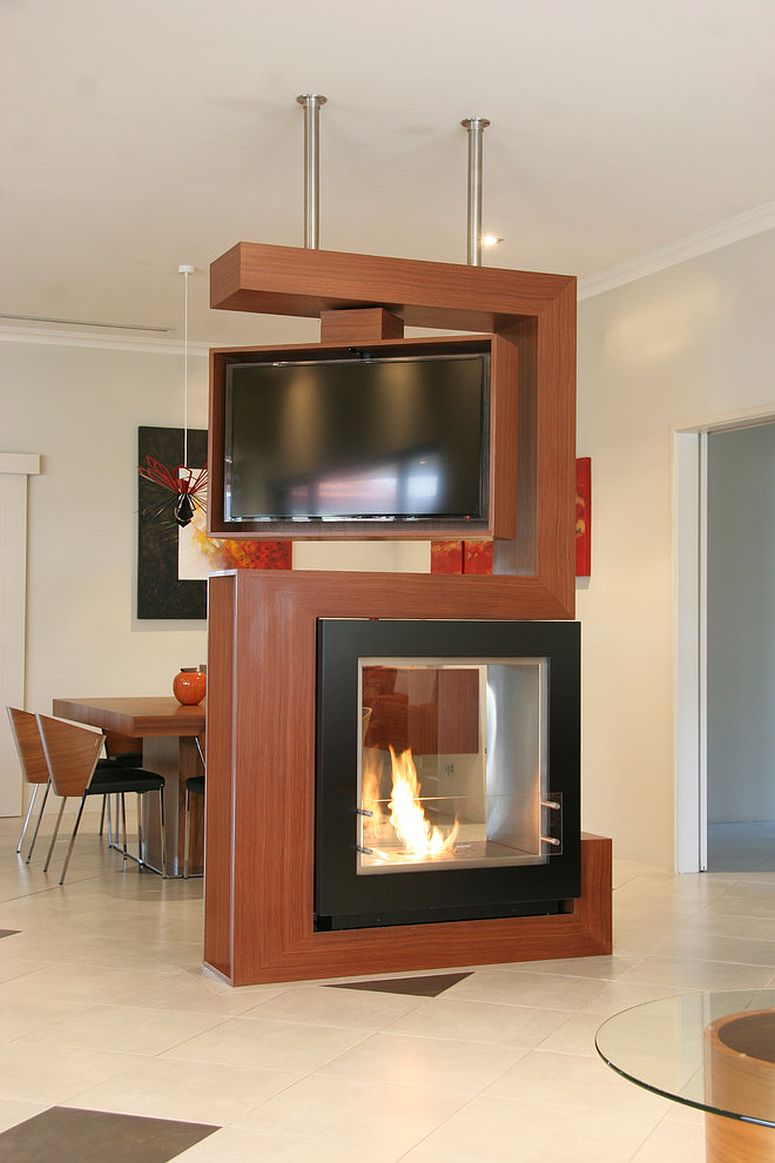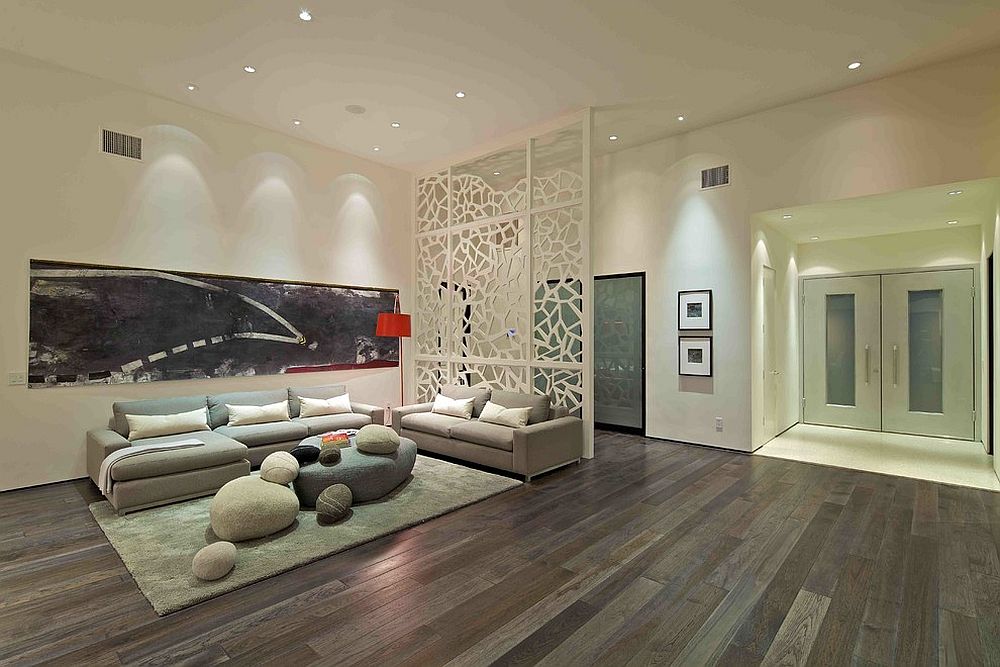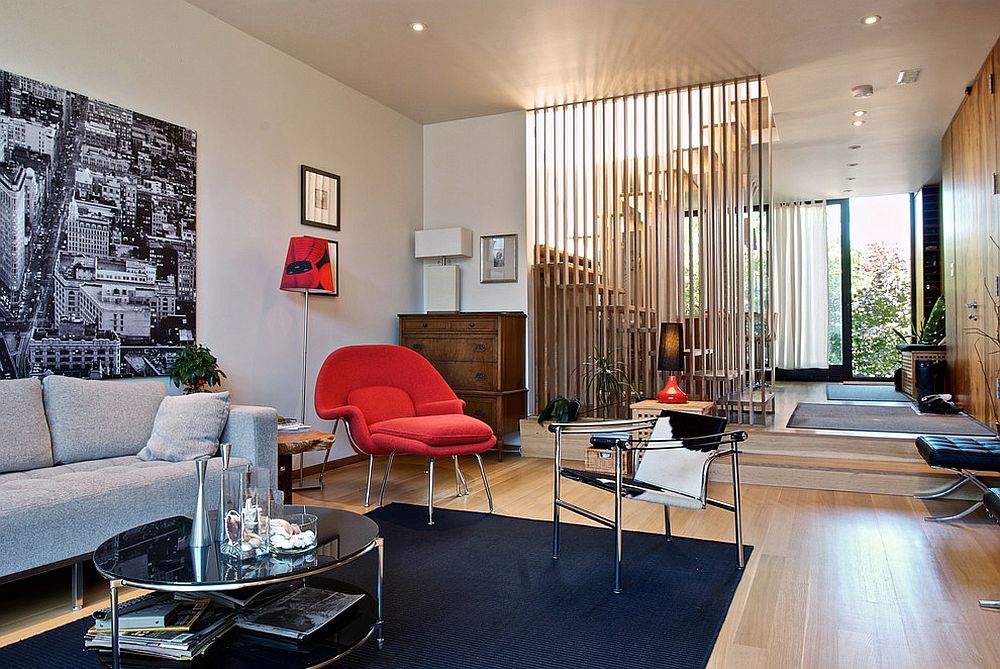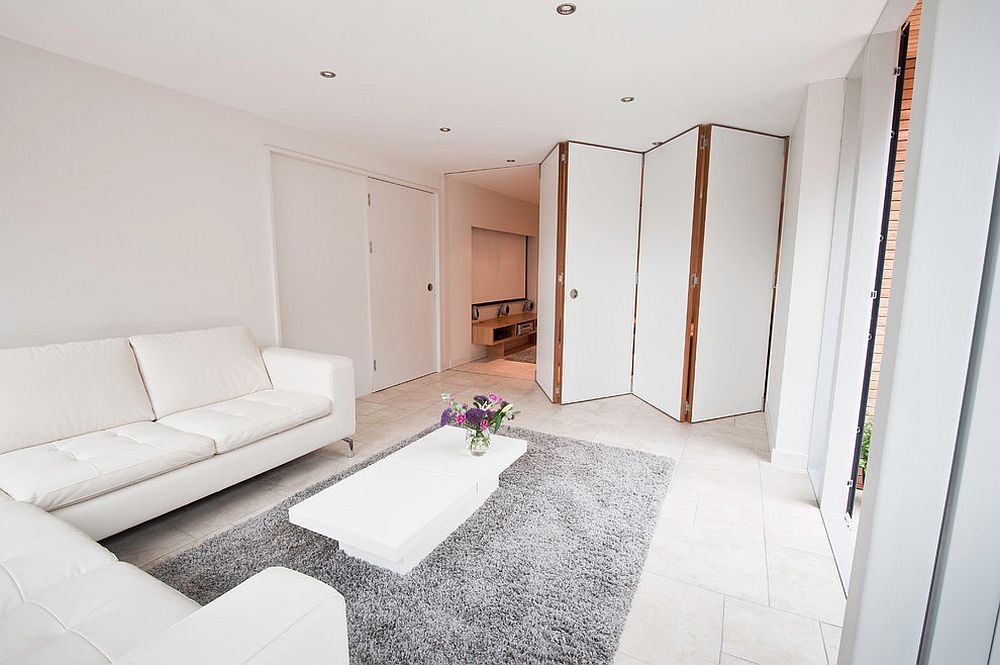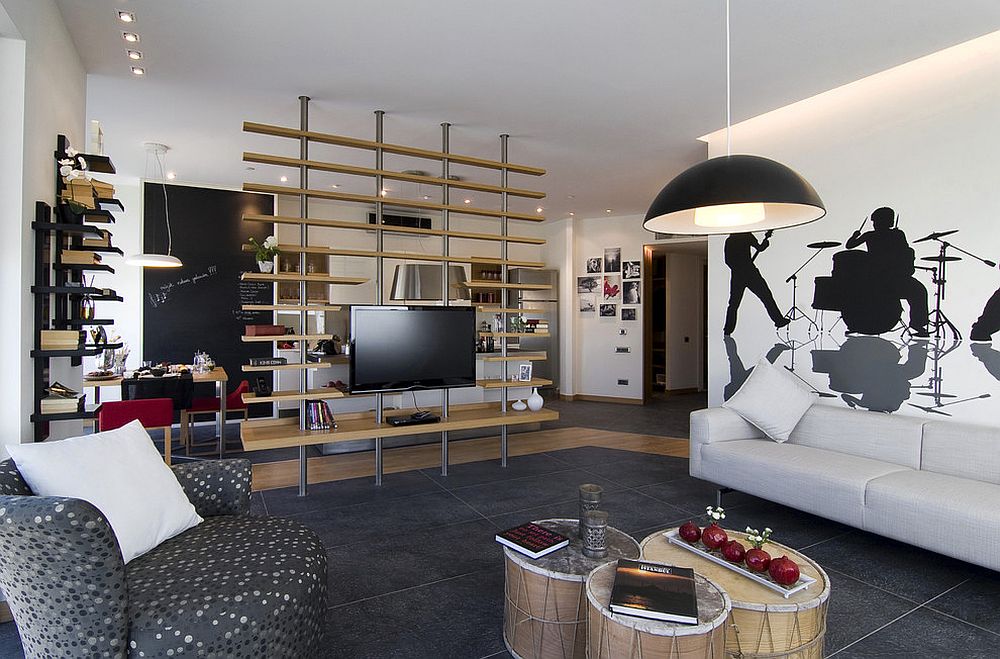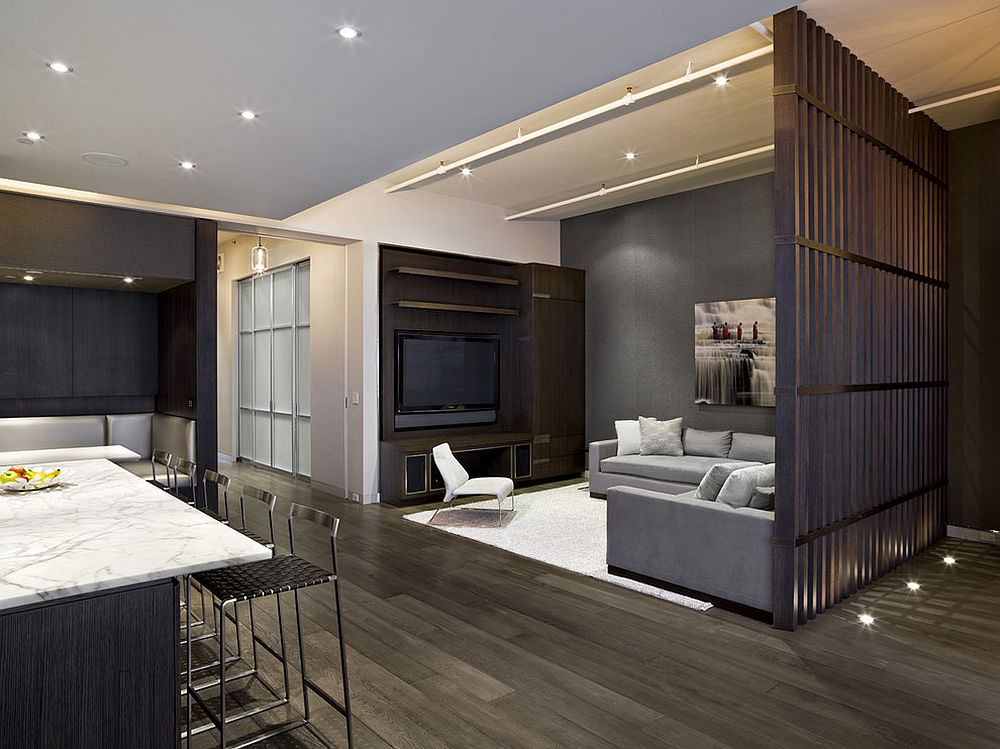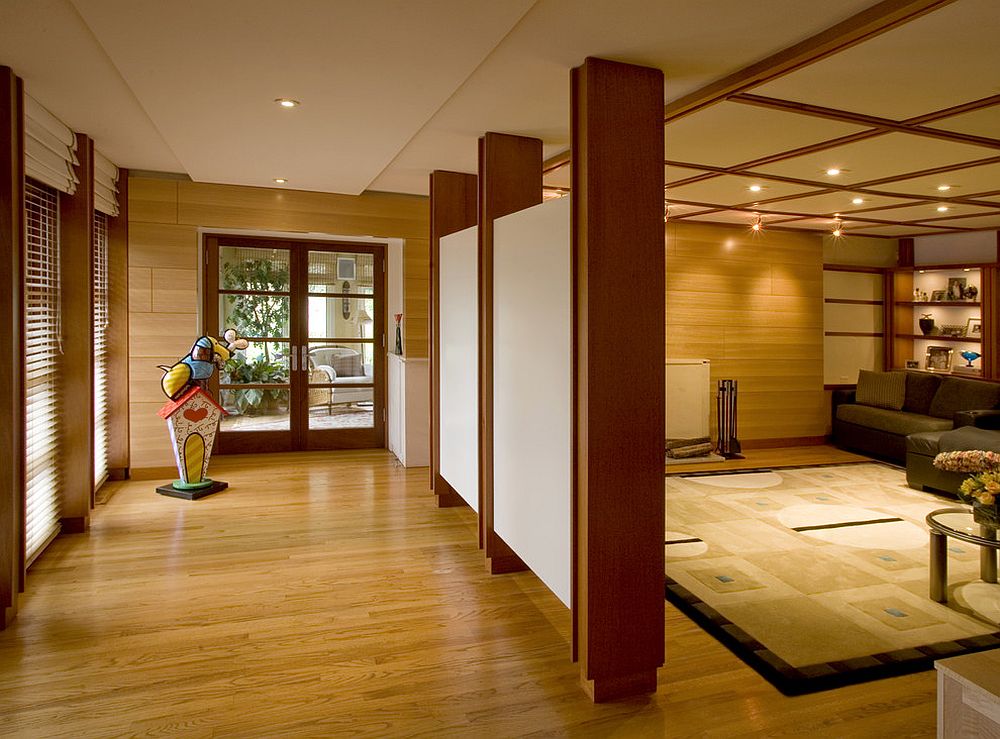 Sours: https://www.decoist.com/room-dividers-living-space/
Cabinet living room for divider
Is your small home cramping your style? There are many ways to maximize your space and spatially define rooms, but one of the best is the humble, yet hardworking, room divider. Be it a wood-slatted partition, an upholstered screen, or a frosted glass wall, a room divider can create a sense of intimacy, provide privacy, hide unsightly household items, or liven up a lonely corner. Open floor plans are all the rage these days, but unfortunately, they can waste space in the home and be difficult to decorate. A simple room divider has the power to transform your studio apartment into a one-bedroom or create a cozy living room reading nook—all without any major construction. Done right, a room divider will define new areas while still maintaining a sense of flow and easy movement from one section to another.
Room dividers can also be used for more ornamental purposes, adding texture, color, and personality to your space. Get crafty by using a glamorous folding screen as a unique headboard for your bed, or employing a floor-to-ceiling bookshelf to display all of your favorite art pieces and indoor plants. For creative and budget-friendly options, check out our roundup of the best DIY room dividers that will help redefine your living space.
Sours: https://www.countryliving.com/home-design/decorating-ideas/g30755770/room-divider-ideas/
Modern Partition Wall Design Ideas For Home - Living Room Dining Kitchen Room Divider Wall Design
With the movements of my fingers, I helped Ellochka achieve a strong orgasm, the most powerful in all our love affair. Ella lay with her head hanging. For a while and in the barely discernible darkness watched what our fellow traveler was doing to me, then she removed her hand from her vagina, gently stretched out my fingers.
And while I was thinking about what she decided to do, the girl sat down on the edge of the shelf, put her.
You will also be interested:
And Zaur was just God. She took off his shirt. Then he sat down on his knees. And she began to take his shoes off. Sneakers first.
1277
1278
1279
1280
1281