The holiday season is in full swing—and if you're anything like us, you're most likely ordering presents online for your loved ones already (or expecting your own presents in the mail from faraway relatives). Sadly, it's easy nowadays for packages to go missing when left on a porch unattended—it's even happened to our family! I left a present on my nephew's front porch for him, but when he got home it was gone (and he lost other packages the same way that year). My neighbors like to call these present thieves "porch pirates."
I didn't want my nephew—or anyone else—to go through that again, so I came up with a solution to secure packages delivered to any front door. Today, we're building a package drop box with a locking mechanism to keep your packages safe for the holidays. It's customizable to however much space you have available on your porch, and you can even add a sign for your delivery person to flip after they drop something off. The holiday season is always busy, so check "worrying about your packages" off of that to-do list.
Step 1: Design and determine needed measurements (or use ours)
To start, decide where you'll keep your package drop box. Measure the space, then determine the dimensions of your box accordingly. The size of our package drop box is suited to handle envelopes and several sizes of boxes easily, but if you want your box to allow for even more packages, increase the dimensions in height.
Our box was made for a specific spot and measures 23 3/4" wide by 35" tall by 21" deep.
Step 2: Cut lumber and plywood
Once you've determined your dimensions, cut your lumber and plywood to size. For our dimensions, follow our handy cutting guide.
Step 3: Assemble box frame
Next, assemble the box frame using 3" screws. Our box frame will be 34 1/4" tall. You'll be putting more than one screw into each joint, so offset them and—before you sink another screw into that joint—check it and offset it in a different direction so the screws don't hit each other. Use four 34" two-by-twos as the uprights. Use four 17" two-by-twos for the sides. Assemble two rectangles, then connect them with three 19 1/4" two-by-two pieces and one 19 1/4" one-by-two. The one-by-two will be at the top and laid flat to act as the top front edge of the package drop box.
Step 4: Add door divider to package drop box
The package drop box will have two doors: one smaller door at the top and a larger one below. For this step, you'll use your remaining 19 1/4" two-by-twos and the one-by-two of the same length. Mount the one-by-two parallel to the two-by-two, but offset them by 3/4". Screw these two joined pieces in place at a point 7 1/4" down from the crosspiece above, using two screws at each end to make it secure. The one-by-two will be stepped down and hang below the two-by-two on the back side. This will divide the front, so there's an opening above that's 7 1/4" high and an opening below about 25" high.
Step 5: Add middle section to package drop box
Mount two 17" two-by-two pieces front-to-back so the tops of these pieces are 16" below the top of the box frame. Connect these pieces with a cross brace and position it 7" from the inside of the front upright. Drive screws into each end of the cross brace, centering the screw so the cross brace turns on the screws as if they were an axle.
Step 6: Build internal slide shelf
Now you're going to build a ramp for packages to slide down once they're placed inside the small door opening. Using the piece of plywood that measures 13" x 19" and 1" screws, mount the plywood to the one-by-two of the door divider piece in the step above and to the crosspiece near the middle of the box frame—but first make sure to tilt the crosspiece to an angle that matches the slope of the shelf.
Step 7: Screw on plywood sides and mount top piece
Using 1 1/4" screws, screw the sides of the box in place so the top edges line up with the top of the box frame. To mount the top piece in place, screw the top into the box frame, but make sure to leave enough overhang in the back to cover the thickness of the plywood you're using.
Step 8: Mount upper door
Position the pull for the upper door, mark the position, drill for the mounting screws, and screw it into place. Mount two cabinet hinges to the one-by-two crosspiece at the top of the box frame, positioning them as high up as possible. Now, attach the upper door to the other side of both hinges.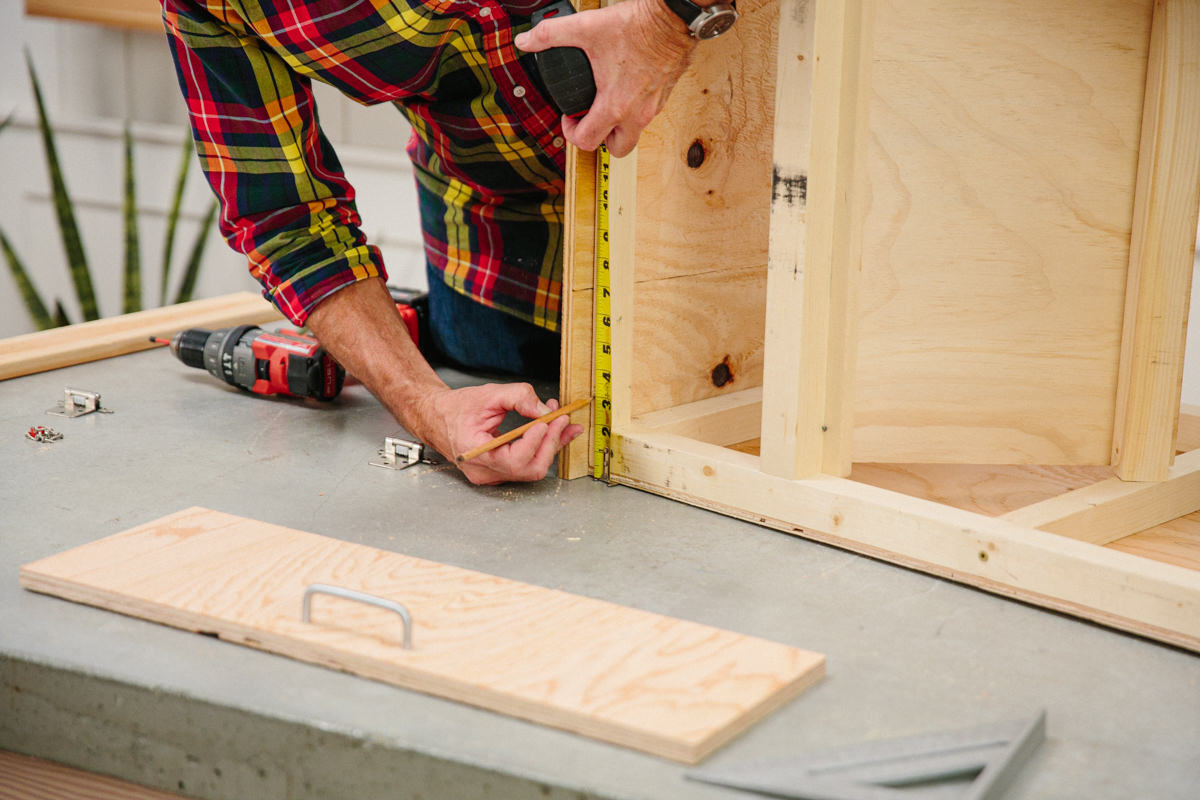 Step 9: Mount lower, swinging door
Measure the height of the lower door, subtract an inch or two, and cut a continuous hinge to that length. Use two screws to mount one side of the hinge to the outside edge of the box frame. Hold the door in place, mark the spot, and secure with two screws. Take a moment to stop, check the alignment of the swinging door, and adjust if necessary. Once you have it properly in place, sink the rest of the screws through the hinge wings into the box frame and door.
Step 10: Install catches
To lock your package drop box, you can use a hasp and padlock, a keyed cabinet lock, or a variety of other locks. We chose a magnetic child-safety cabinet lock, so we have no visible way to open the bottom door and no handle to try to yank open. The lock requires a magnetic "key" to release the latch. You just hold the "key" in the right spot on the door, and it will release and allow the door to swing open.
Step 11: Install bottom mounting plates
You can attach your package drop box to either wood or concrete, and depending on which method you use, you may want to prep the mounting plates before you secure them to the box frame. To secure the mounting plates made from the two-by-four, use two screws at both ends of each board and fasten the two two-by-fours into place crossways between the bottom framing of the box frame.
Depending on what material your porch is, here are some options for how best to attach your package drop box:
(1) Attaching to wood: Screw a lag screw through the top of the mounting plate into wood below.
(2) Attaching to concrete: Drive a concrete anchor into a drilled hole in the concrete. Drill a hole in the mounting place to accept the threaded bolt end that will stick up out of the concrete, and fasten with a washer and nut.
(3) Attaching to wood or concrete: Use a construction adhesive to glue the mounting plates to your deck, porch, steps, etc.
Step 12: Attach the back
Finally, screw the back piece of plywood into place with the top edge tucked up under the overhanging lid.
Step 13: Paint or stain your drop box
We painted our drop box to match the siding of its new home. If you want, you can add a two-sided "vacant" and "occupied" sign to the top of the package drop box, so your delivery driver can let you know when they've dropped a package for you.
And there you have it! Enjoy your new, one-of-a-kind package drop box that will keep your packages safe and dry this holiday season and throughout the year ahead. Spruce up the rest of your porch with a fresh coat of paint on your front door, some DIY wooden lanterns, or start hanging up those Christmas lights.
Sours: https://diy.dunnlumber.com/projects/how-to-make-a-diy-package-drop-box
I couldn't tell you how much I needed this build in my life. I was tired of either rushing home to greet a delivered package or see that it was scooped up by a porch pirate. Trust me, if you have a secured box to protect your deliveries you'll wonder how you ever went without it!
Side note- I had questioned the large size of this build during the construction. However, I am thankful for the size in the long run because on the rare days I get more than one box or a larger shaped one, it'll still fit!
Materials list
16- 1 x 5.5 @ 6 ft cedar pickets
2 - 2 x 2 x 8 pine
16 ft corner molding ( optional )
1 - 1 x 6 x 12
Cut list for outer box
4 - 2 x 2 @ 38.5 (inside frame)
14 - 6" cedar pickets @ 24" (font and back)
13 - 6" cedar pickets @ 18" (sides and bottom)
2 - 2.75" @ 23" cedar pickets ( door framing )
Building the box
I built the box by using the 2x2s as a frame to attach the cedar cuts to by screwing them directly into the 2 x 2s.
The photo shows the front and back of the build. These are the 24" pieces, 7 to each side.
The right side of the box has 18" cedar pieces for the siding.
The 18" pieces are met on the remaining side of the 2 x 2s. One side will have 7 full planks, while the opposite will accommodate a side door.
The opposite side will have three 18" pieces as shown.
Next, I took a 23" piece of the cedar and cut it down the middle (2.75") to finish framing out where the door will be and cover the exposed 2 x 2s.
Lastly, I added the remaining three 18" pieces to the bottom with pocket holes evenly spaced.
Easy enough, right? The outer shell for the box is done (besides the side door, dont add that till last), next we will add the inside piece for the drop box.
The shelf is awesome. It allows your item to be placed in the box and slide down once the top door is closed. Not only that, but when the top door is open it deters thieves from having the ability to simply reach down and grab your items.
For this part, I used a small chain I picked up at my hardware store. They are typically sold by the foot. Be on the safe side and grab 4 feet of chain. 4 eye screws are also required. (you could also use a rope for this part as opposed to chain).
The Shelf will sit 3" down from the top between the 2 x 2 frame. The inside shelf is 20" x 15". I happened to have a scrap piece that worked well for this. Ply wood would also work for the shelf as well.
I added two large hinges underneath to attach this shelf in place to the front wall.
The top is 19" x 26". I assembled this by using 1x10 pieces and attaching them with pocket hole screws and scrap wood support pieces underneath as shown.
I used decorative tee hinges to attach the top.
Attaching the chain. This was definitely the trickiest part. You want to have the shelf at a 90 degree angle when the door is open. It helps to have an extra set of hands when doing this. I attached my eye screws on the top 3" down and 2" in.
Screw attachment for the top
Screw attachment for the shelf
Each side of the chain was 18". Attach the chain to the opposite sides while the shelf is at the 90 degrees AND the top is lifted open as if a package were to be placed. the chain should not have any slack.
Lastly, I added the side door. The door was attached with small hinges on the outside. It doesn't hurt to give yourself a little wiggle room with the door, you dont want it to be SO snug you cant get it open and closed. My photos have one solid piece but by using some cedar attached together in the same manner as the top, would work as well. The door size is 12.5" x 22".
I trimmed out my box with a contrasting color and scrap wood pieces to cover exposed ends. Dont forget to add a lock to the bottom door!
Customize and make your own!
As always, please feel free to reach out to me with any questions. Dont forget to tag me on your finished project, I LOVE to reshare them!


HAPPY BUILDING, FRIENDS!
Sours: https://www.shesthecarpenter.com/post/package-drop-box
DIY Package Drop Box
If your house is anything like ours at Christmastime, there is a steady stream of packages arriving during the weeks before and they are often piled up on the porch when we arrive home. Not only does this invite theft, but it can also easily spoil Christmas morning surprises when that hard to find, must-have toy of the year arrives in its original box for everyone to see! We decided to create a package drop box for weather protection, to remove the temptation for theft, and to keep all of the arriving presents hidden away. This is a simple DIY that anyone can follow the plan for and recreate. Using a circular saw, drill, and jig saw, I completed a 3-tool DIY package drop box that made our Christmas season mail delivery a success!
You Will Need:
Deck screws
Drill bits
Lumber (2x4 and 5½ inch wide fence boards)
3 tools (circular saw, drill, jig saw)
Tar Sheet
Paint
Gate latch and hinges
Step 1: Make Miter Cuts to Build Base
I used a speed square to keep the circular saw perpendicular to where I wanted to make my cuts and cut my 2x4 to make the base of the drop box. I cut 5½" fence boards and then attached them to three cuts from the 2x4s with 1⅝" deck screws. One board will overhang the back so just trim that with the circular saw after screwing it down.
Step 2: Create Package Drop Box Structure
I used my speed square to ensure everything was perpendicular and cut 2x4s for the structure of the parcel drop box. I staged and built the drop box frame and screwed it together with 2½ inch deck screws and then repeated the process for the opposite side. Once the two sides were done, I joined them together with a cross brace piece and screwed the whole thing down to the base.
Step 3: Build Top Shelf
Before adding the siding, I built the top shelf. I cut and screwed fence board pieces across the top of the structure to create the shelf.
Step 4: Add Siding Pieces
Using 1⅝" deck screws I added the siding pieces to the sides of the structure. I used a straight fence board to measure my line and trimmed the overhang piece from the structure with the circular saw set to the correct depth. Save all of the trimmed pieces to use for the door.
Step 5: Build the Door
I built the door frame with 2½ inch deck screws toe nailed together and inset into the front of the structure and then added 5½ inch wide fence board siding on the front. I cut all of the siding pieces down to length and used the trimmed pieces to finish the front of the door.
Step 6: Cover 2x4s to Create Flush Hardware Mount
I cut pieces of fence board to create a flush mount for the hinges and lock mechanism on the front of the door. I used a straight fence board to make a straight cut and repositioned the board as I cut to cover the front 2x4s.
Step 7: Install Hardware
I installed black 4-inch hinges from the home improvement store to the door frame. I made my door frame smaller than the opening so that the door can open and close without interference. I added a gate latch to the door but you could use whatever hardware or locking mechanism you choose.
Step 8: Create Rooftop Trusses
I marked and cut 39 degree angles on the ends of two 2x4 pieces with my circular saw to make the peak of the trusses of the drop box roof. I used my jigsaw to cut a section out of the lower end of the 2x4 where the trusses would sit on the house, joined the two pieces, and then attached the finished trusses to create the roof structure. I repeated this process to create two trusses.
Step 9: Add Fence Boards to Roof
To add structure to the roof, I again used fence boards screwed in place with deck screws and trimmed away the overhang with the circular saw.
Step 10: Create Back Wall
I cut fence boards to form the back wall of the drop box that went all the way to the roof and covered the cubby at the top. I used a circular saw and a previously cut board as a guide to cut all of the boards when they were screwed in place.
Step 11: Add Tar Sheet Trim to Roof
I cut red tar sheet to trim the roof of the parcel drop box using a utility knife and screwed it into place with matching red screws. The fence boards will cover the roof securely but the tar sheet adds a really nice finished look for the drop box.
Step 12: Paint Parcel Drop Box
Once the roof was finished, we added a couple of coats of exterior grade paint in shades to match our house and when it was dry, placed the drop box in the driveway to begin collecting our Christmas mail. Choose a color that matches your home or trim and decorate your drop box in your favorite style
We are so happy with our DIY package drop box and I'm glad to share this simple but useful project that can be completed using only three tools. Anyone can follow the plan for the parcel drop box and customize it to the size and style they want. Take the worry out of the Christmas package delivery season and rest easy knowing that all of your gifts will be safe fromthe weather, theft, or eyes that aren't meant to see them!
Have you created a DIY solution for collecting your holiday mail or packages? Share your project photos and tips or find inspiration for more simple building projects like this one on Hometalk!
Any price and availability information displayed on [relevant Amazon Site(s), as applicable] at the time of purchase will apply to the purchase of this product.
Hometalk may collect a small share of sales from the links on this page.More info
Sours: https://www.hometalk.com
Stopping porch pirates: Man invents box to protect packages from thieves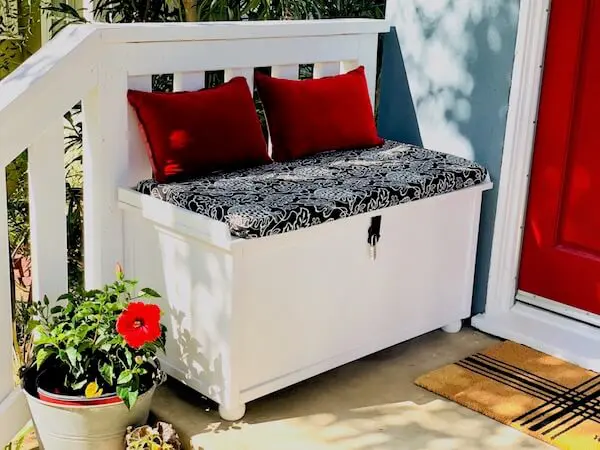 Who knew a DIY'd box bench could be so cute AND functional!?!
This is a sponsored post and contains affiliate links.
This past week, I took the English proverb, "Necessity is the mother of invention" to heart when I custom built my very first box bench and, at the same time, christened my new Kreg Jig R3 as part of the Kreg's holiday campaign. For years, I've wanted to install a bench on our front porch, but never got around to it.
Watch How To DIY a Porch Packages Lock Box Bench!
Now that the holidays have passed, I thought it would be prudent to get crack'n on this box-with-a-lock bench.
We're gonna be one step ahead of you, Porch Pirates!
Admittedly, I'm a newbie to jigs, but not to DIYing. Still, I wanted to create something special for y'all, so I asked my handy-with-tools Cousin Tom to join in on the fun. We both had a blast using my new Kreg toy creating several no-you-can't-see-any-screw-head pocket holes and ended up adding some finishings that resulted in a beautiful porch packages lock box bench. It was fun to make and now even more fun to use.
Give this project a try! You'll love the comfy added seating, as well as a little peace of mind that you've built yourself a little "porch packages" security.
Supplies:
(1) 4'x8' sheet of exterior sanded plywood
(1) 6'x1 ¼" corner moulding
(2) 7'x 1 ¼" flat moulding (trim)
(1) 7'x ¼" pine screen moulding
(1) 9'x ¾" x 1 ¼" pine board
(2) 4" gate hinges
(4) heavy duty top leg plates
(4) 2 ½" x 1 ½" round bun, wooden foot table legs
(1) safety hasp
(4) eye straps
(1) 36" nylon cording
(4) ⅝" wooden beads
• ¾" , 1" and 1 ¼" brad nails
• P60 and P120 sandpaper
• wood glue
• pocket hole screws
• exterior paint and primer
• exterior polyurethane
• exterior lock
Tools:
• hand sander
• Kreg Jig R3
• drill
• clamps
• brad nailer
• miter saw
• paint sprayer
Instructions:
For FULL how-to instructions, including CUT LIST, tips and photos, visit our Porch Packages Lock Box Bench plans on Kreg's buildsomething.com.
Watch the video tutorial!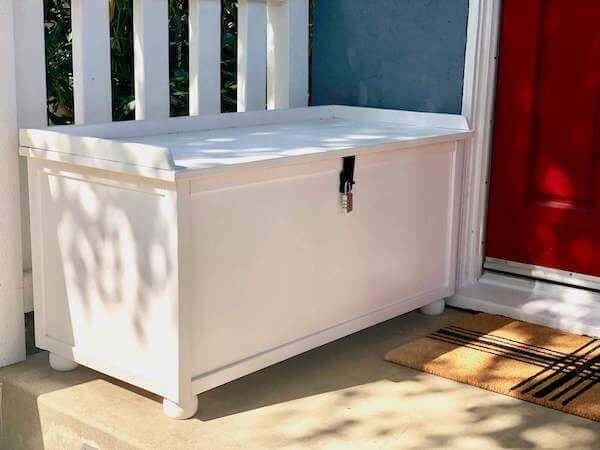 Finished box with no cushion.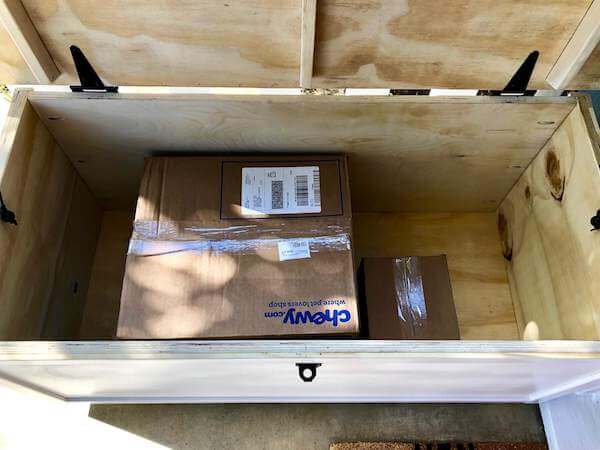 Lock boxes in box.
Delivery Lock Box Request!
You can now request that your delivery person leave packages inside your box, then lock them in!
Note:this box was designed to help keep amateur porch pirates from stealing your stuff. Nevertheless, this smart and somewhat lofty effort is no guarantee. Still, it's better than nothing at all, right?
BE SURE to SECURE your box bench via wire cable or screw into the side of a railing.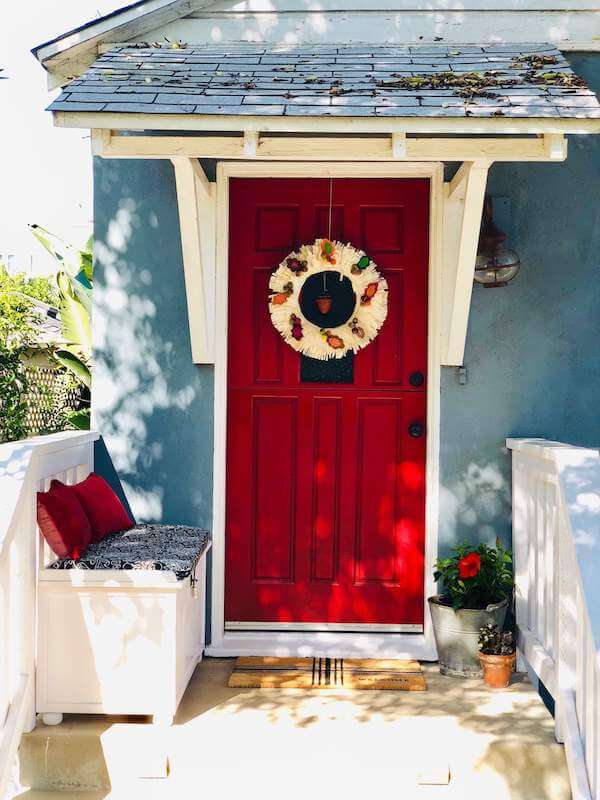 What a cozy place to sit and watch the neighborhood!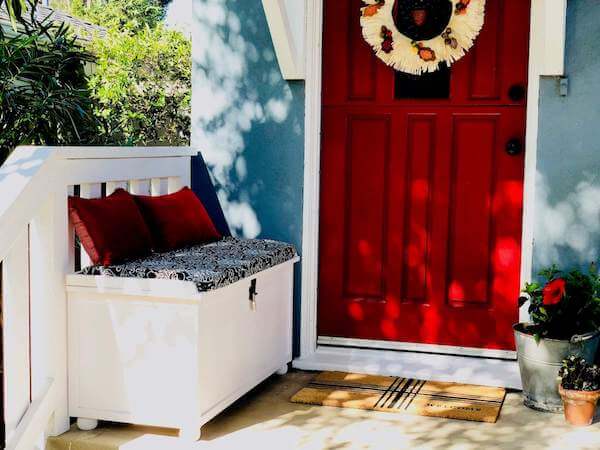 This porch packages lock box bench is begging to be sat on!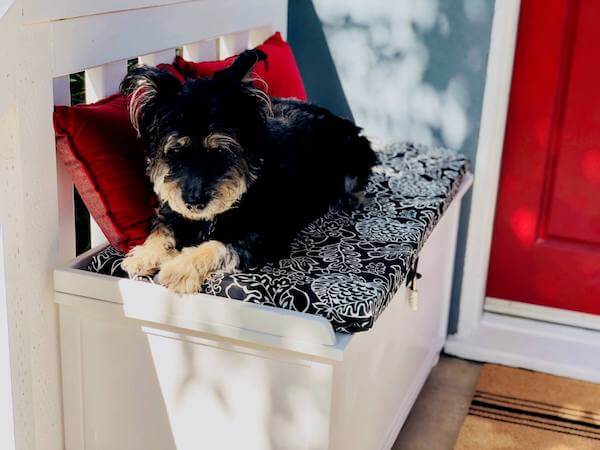 Bear-bear laying on his new favorite spot.
PIN IT!
If you love this project and would like to save it to DIY now or later, pin it to your board!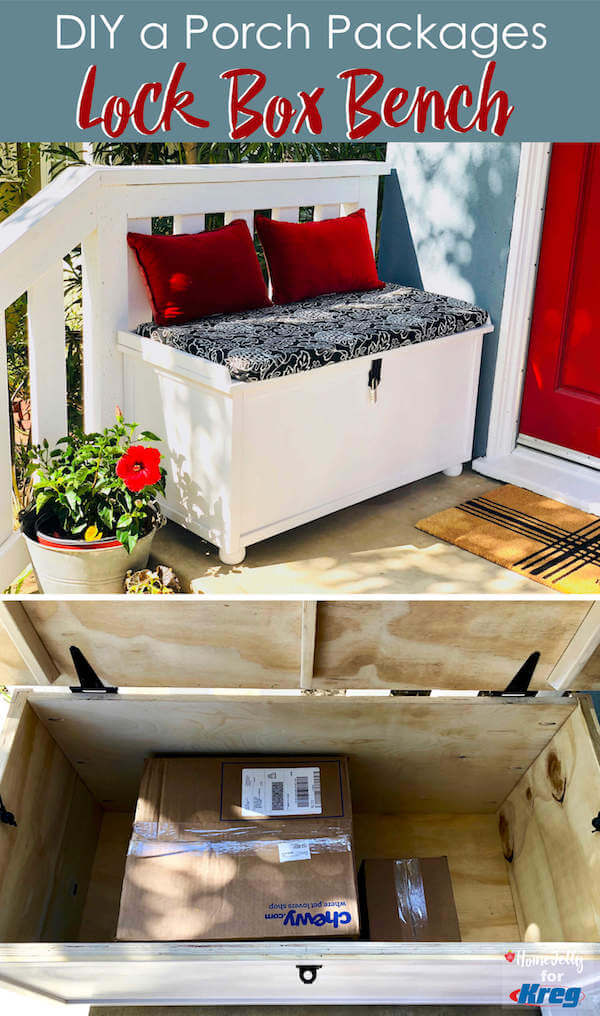 This post was sponsored by
We've teamed up with Kreg Tool to create this fun how-to for their buildsomething.com site. We also received compensation and a Kreg Tool product sample to use in this post and have included affiliate links to the tools and supplies I used in this project which helps fund these free posts and projects. My personal opinions are completely my own based on my experience. I wouldn't have it any other way!
Print This Project
---
Sours: https://www.homejelly.com/how-to-diy-porch-packages-lock-box-bench/
Porch diy package box front
I knitted my brows and tried to push him away again, but he didn't move an inch. Instead, it slid over my body and ended up at the bottom of my belly. He shifted his gaze to my hips and let out a groan. - Come on, open up to me.
DIY Locking Storage Bench for Package Deliveries - Porch Pirates
I honestly answered that I found on Mamba, their statuses were very different and my expenses came down to renting an apartment, buying food and drinks, bringing in and taking away. But not paying for sex. porn stories At first, Vika ardently objected that she could not imagine how it was - without initial communication and personal acquaintance with a.
You will also like:
He went up to her, unlaced the ties of the bag. And pulled it off. She lay with her eyes closed and did not move. He slipped the strap through her bound arms and hooked it to the headboard of the bed.
1265
1266
1267
1268
1269