20 Free Printable Heart Templates, Patterns & Stencils
Last updated: May 13, 2021
Looking for heart templates and shapes to cut out or color in? You'll find a huge range of heart patterns in all shapes and sizes on this page.
There are so many of ways to use our printable heart templates: Cut out the heart patterns to use as stencils for craft projects, give them to your kids as coloring pages, make Valentine cards and decorations, write heart-shaped love notes... the possibilities are endless! We even have a template for you to make paper heart chains.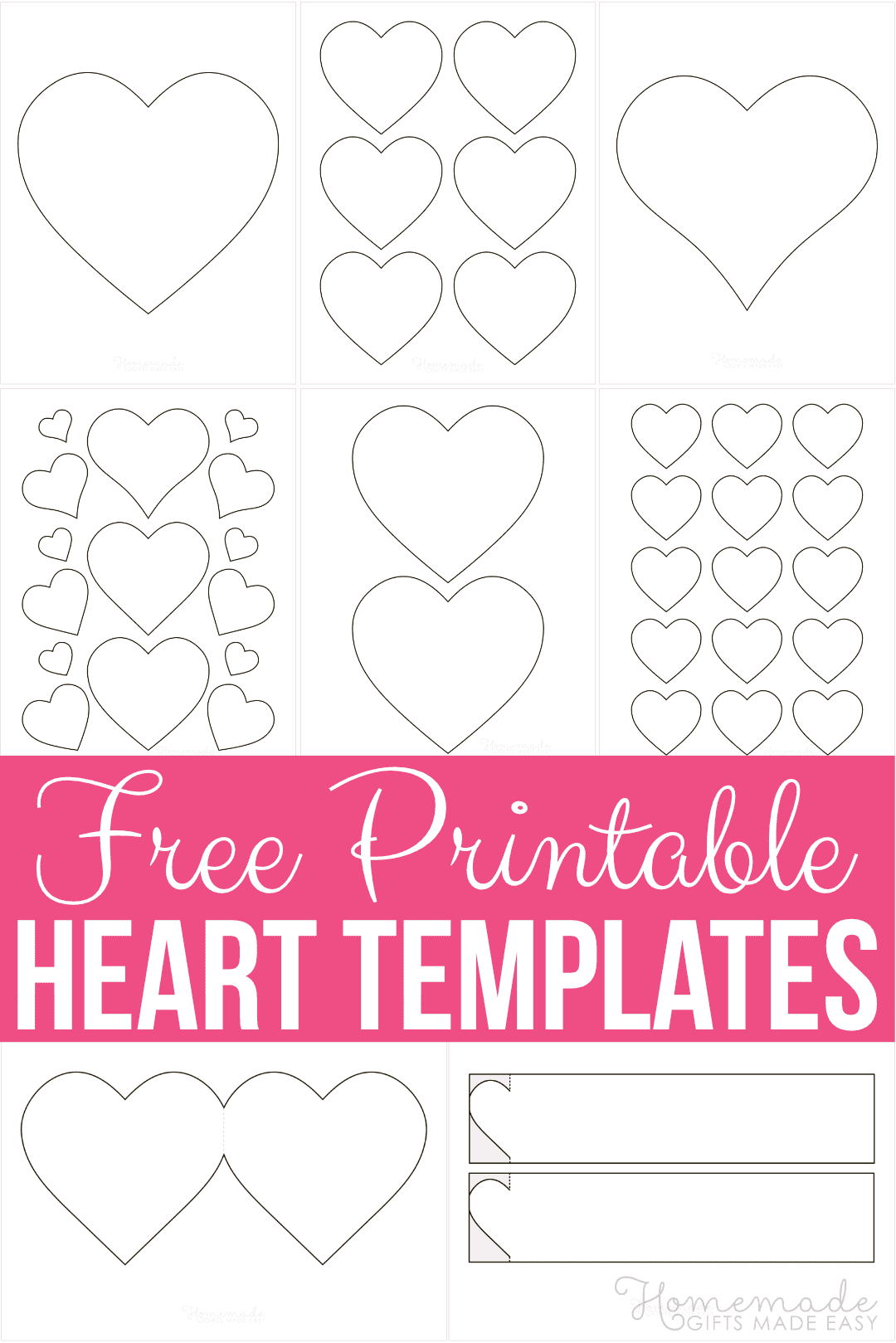 Scroll down the page to see all our heart templates or click a link below to jump to a section.
Simple Heart templates
Our heart templates come in all shapes and sizes so you can choose what works best for your project.
The three shapes are: classic heart, tapered heart, and rounded heart. The shapes are 1 per page, 2 per page, 6 per page, and 15 per page. There's also a page of mixed shapes and sizes from large to mini hearts.
Heart Card Templates
Make your own Valentine's Day cards using our heart-shaped folding card template!
Choose from a template where the card folds at the top or one where the card folds at the side. Also, there are smaller version of each template with two cards per page, in case you'd like to make mini-cards or save on paper.
Lined Heart Templates
Want to write a note on heart-shaped paper, either for yourself or for a kids' activity? Our lined heart templates are just the thing. Each heart has lines for writing, and you can choose from large or small versions of the template.
Paper Heart Chain Template
Making a heart chain is a super fun craft to do with the kids. Here's how to make a paper heart chain with our heart template. All you need is a printer and some scissors.
Step 1: Download & print the template
Step 2: Cut out the template
Cut out around one of the rectangles.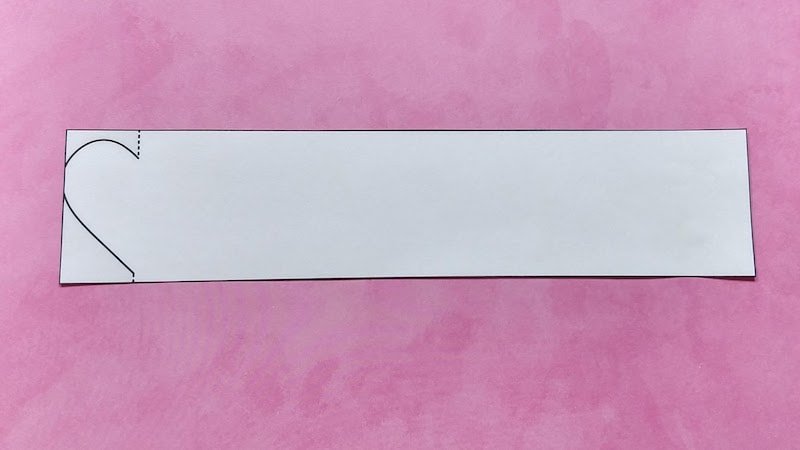 Step 3: Fold back and forth
Fold back along the dashed line.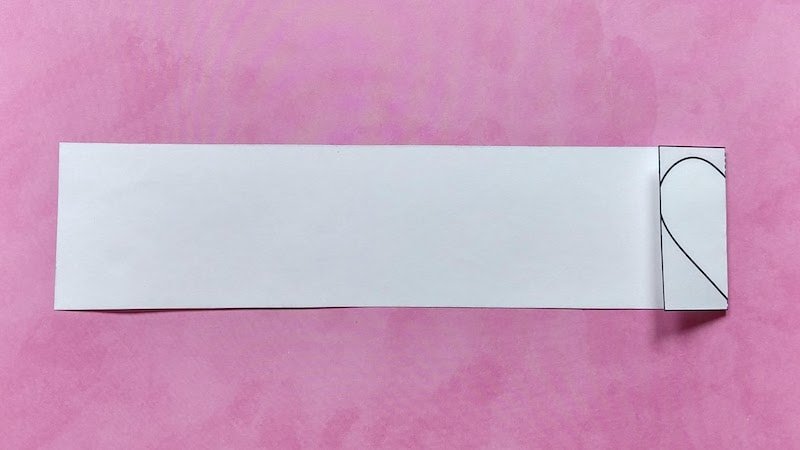 Continue folding back and forth like an accordion all the way to the end of the paper.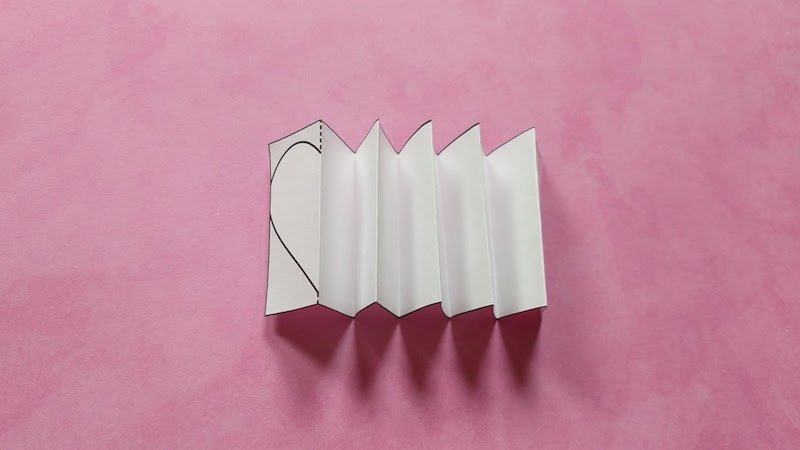 Step 4: Cut around the heart shape
Squash the "accordion" flat and cut away the gray area.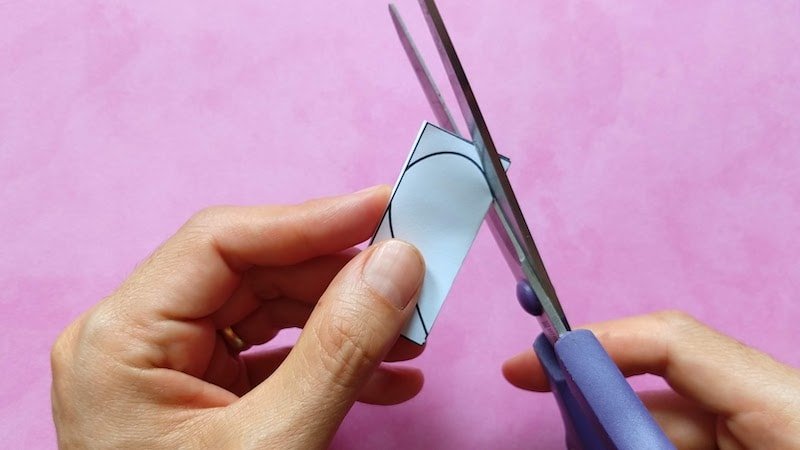 Step 5: Unfold to see your heart chain
Unfold the paper to reveal your paper heart chain! If you'd like to make an extra-long paper heart chain, then tape two or more chains together. Put the tape at the back where you can't see it.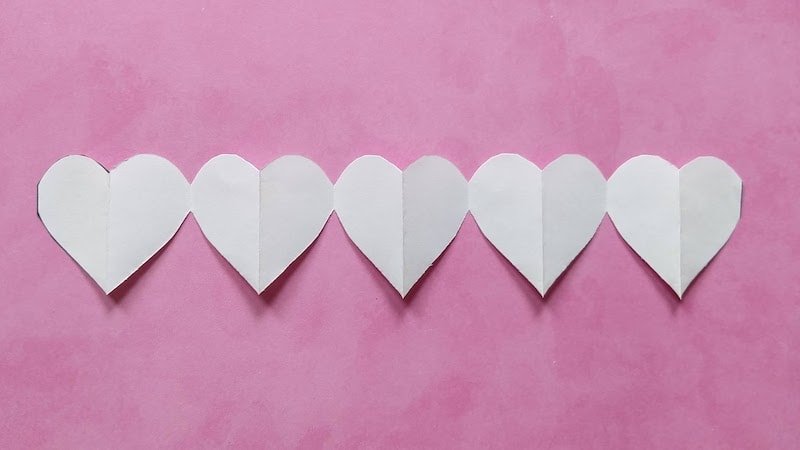 Heart Coloring Pages
Looking for heart coloring pages for Valentine's day, anniversary crafts, or just because they're sweet? On this page you'll find a huge range of free printable pictures to download and color in, from simple heart outlines, to detailed drawings for older children and adults.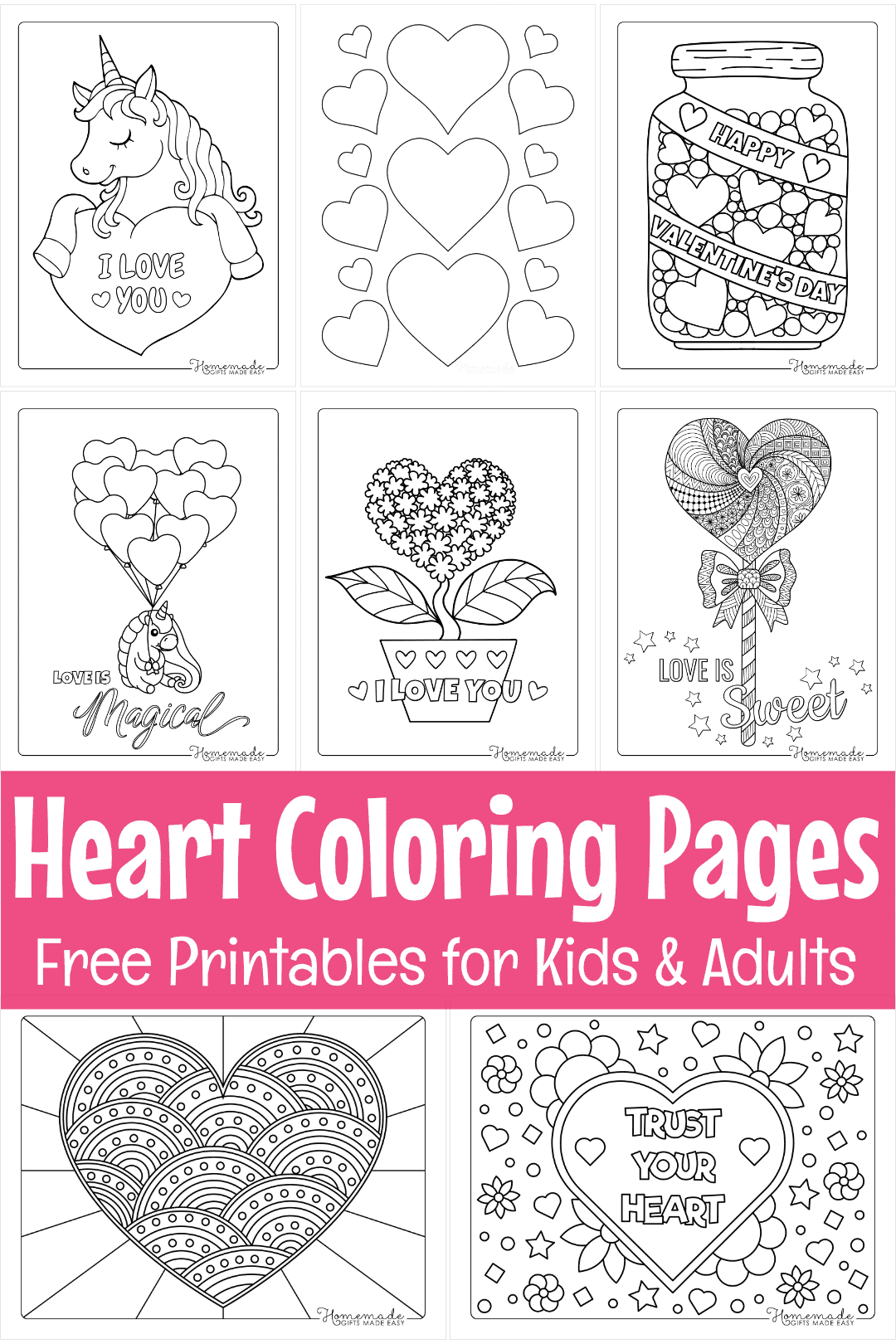 Valentine's Day Coloring Pages
A collection of Valentine's Day coloring pages, from sweet Valentines and love heart designs to intricate patterns for older kids and adults to color in too!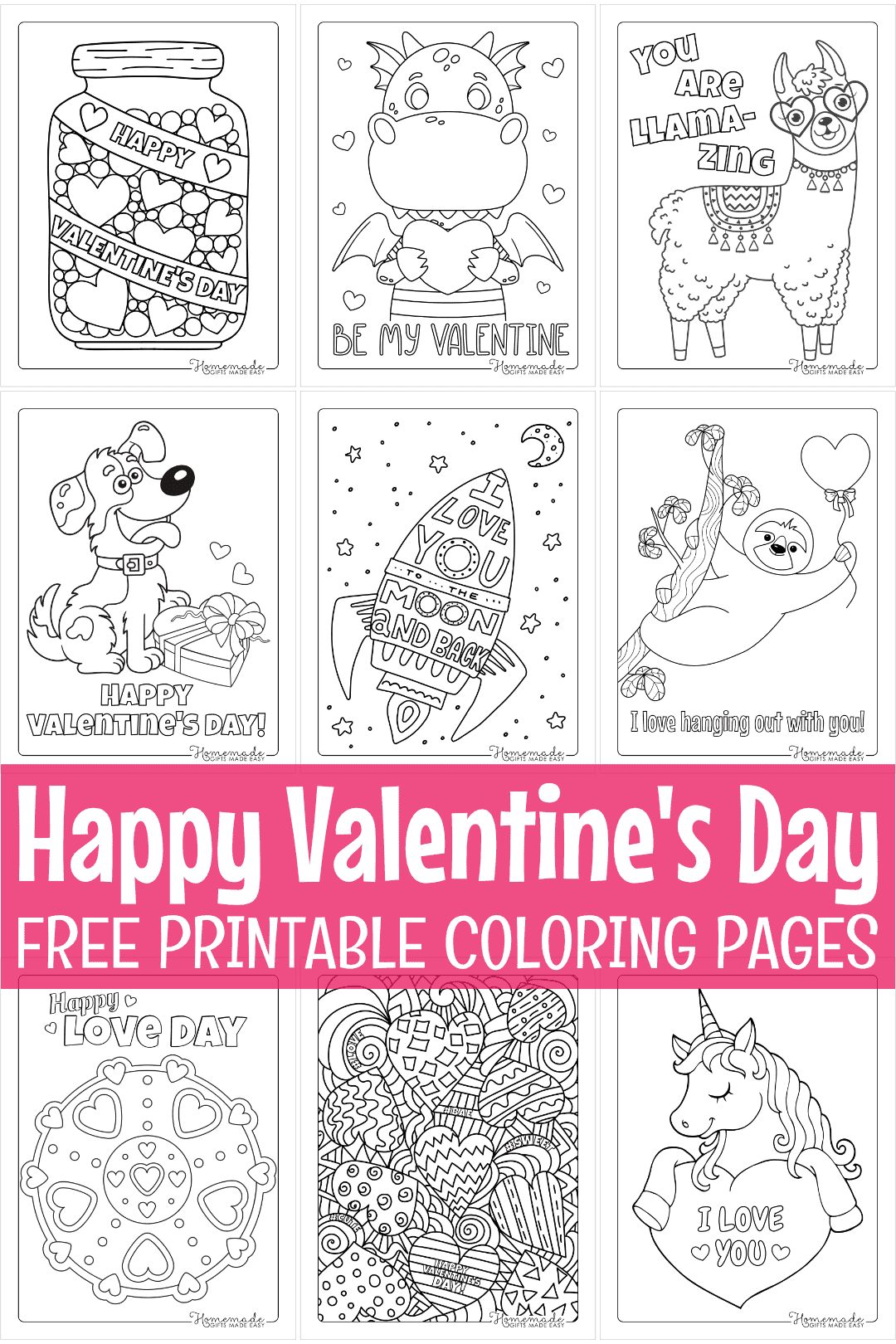 More Project Ideas
If you liked our free printable heart templates you might also enjoy these pages:
Sign Up for More Free Coloring Pages!
Get my monthly email with new free coloring pages.
100% Free
No spam
Unsubscribe at any time
Hurray!
Check your inbox to confirm your email subscription
Sours: https://www.homemade-gifts-made-easy.com/heart-template.html
15+ Heart Template Printables – Free Heart Stencils and Patterns
Grab these free printable heart templates and stencils in sizes from one inch up to ten inches!
Over the years countless people have found this heart bookmark tutorial and these heart-shaped hand warmers while searching for free heart template printables. Since those post only have a couple small heart patterns and people have asked for a greater variety of heart patterns, today I decided to share a whole lot of heart template printables!
In this post you'll find free printable templates for extra large hearts, heart writing paper, red heart printables, a fold and cut heart, small heart templates, heart envelopes, and more!
I hope you enjoy and please let me know if there's a size or shape of heart I've missed that you want to see.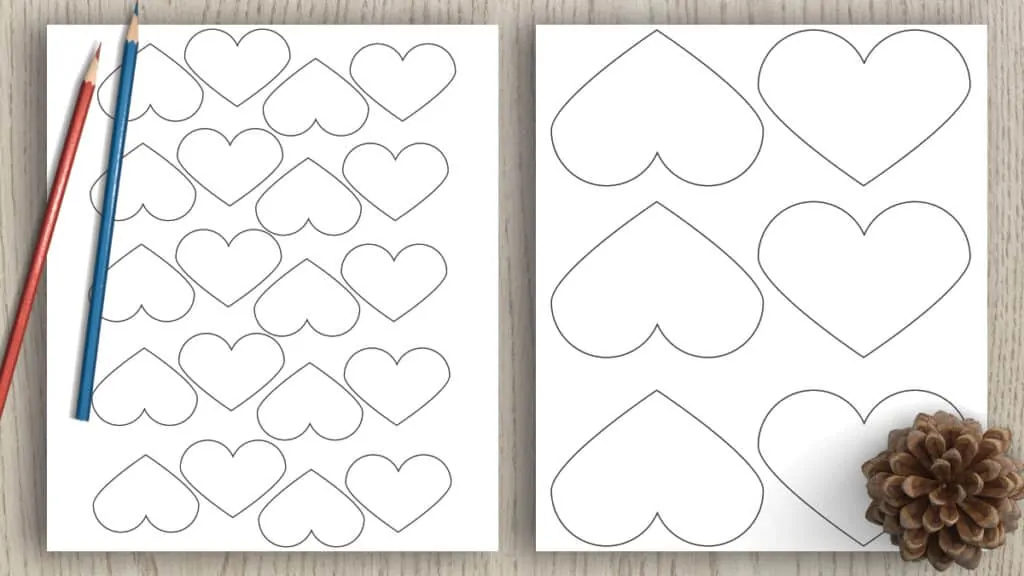 This post may include affiliate links, which means I may make a commission on purchases made through these links at no additional cost to you.
Free heart template printables
All of these templates are available free for you to download.
However, please note that these heart stencils are available for your personal and classroom use only. Please do not redistribute the digital files or printed copies to others. Just send your friends, family, and coworkers to this post so they can download their own copies!
The images are low resolution previews – they will look terrible if printed. Please use the download links for the high resolution PDF files. Many of the PDFs are compressed into .zip format so you will not see a preview, but you can unzip the file after downloading it.
The download links are highlighted with a grey background to make them easier to find. Look below each preview image for the corresponding download link.
You're a busy person – save valuable time and download all 16 heart templates with one easy click when you buy the package for just $1!
If you want to put more miles on your mouse and download all the files one at a time, just keep scrolling a tiny bit more.
Large printable heart shapes
First, here's an extra large heart template printable!
This heart shape is a huge 10″ tall and takes 2 sheets of paper. Print the template twice and cut each out. Flip one pattern piece so the printing faces away from you. Hold the pieces up to a window so you can easily align the two parts of the pattern and tape them together. Voila, huge heart template!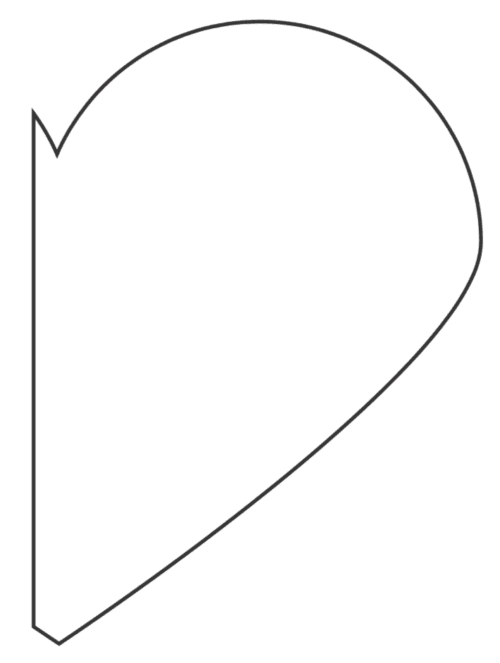 Download the extra large heart template here
The next heart is the largest heart shape that fits on a single page. It's perfect for larger craft projects, like making "stained glass" decorations for your windows or for creating handmade Valentines.
>> Download the large heart template here <<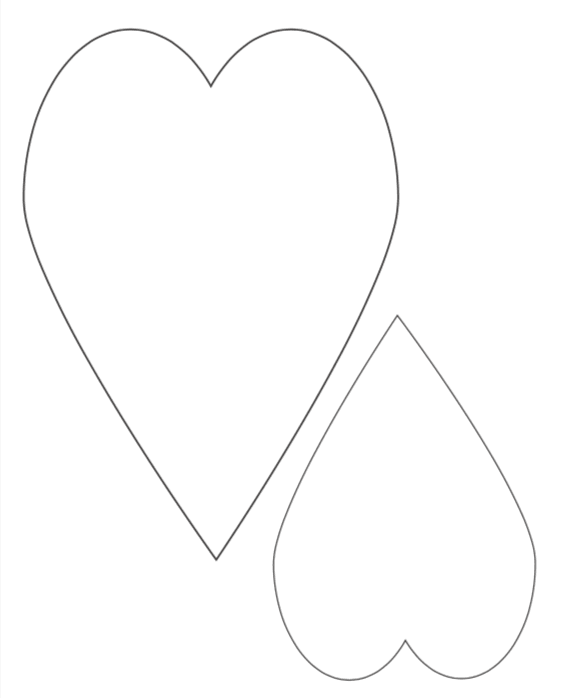 Download the 8″ tall, skinny heart and 5.5″ skinny hearts here
Medium printable heart outlines
These rounded heart within a heart shapes are so cute! They remind me of thumbprint cookies. Each one measures 4″ across.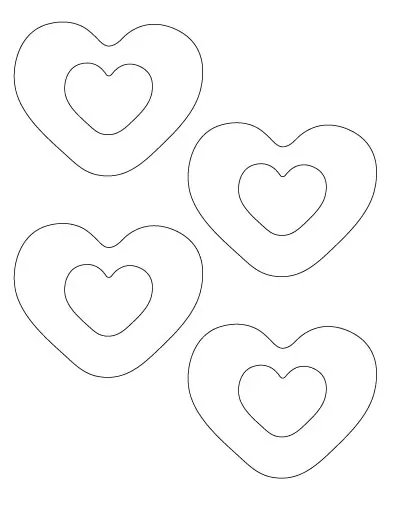 The medium heart shapes are perfect for crafting projects like making a heart bee or a four leaf clover! Pick from a taller, narrower heart or a classic wide heart shape.
>> Download the heart within a heart shapes here <<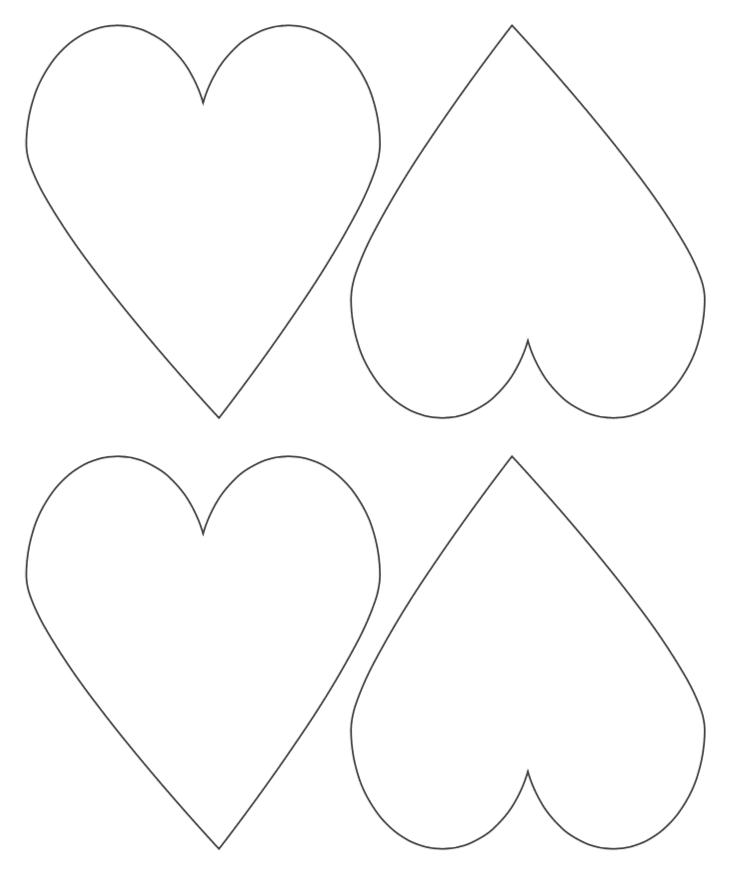 >> Download four medium hearts on one page here <<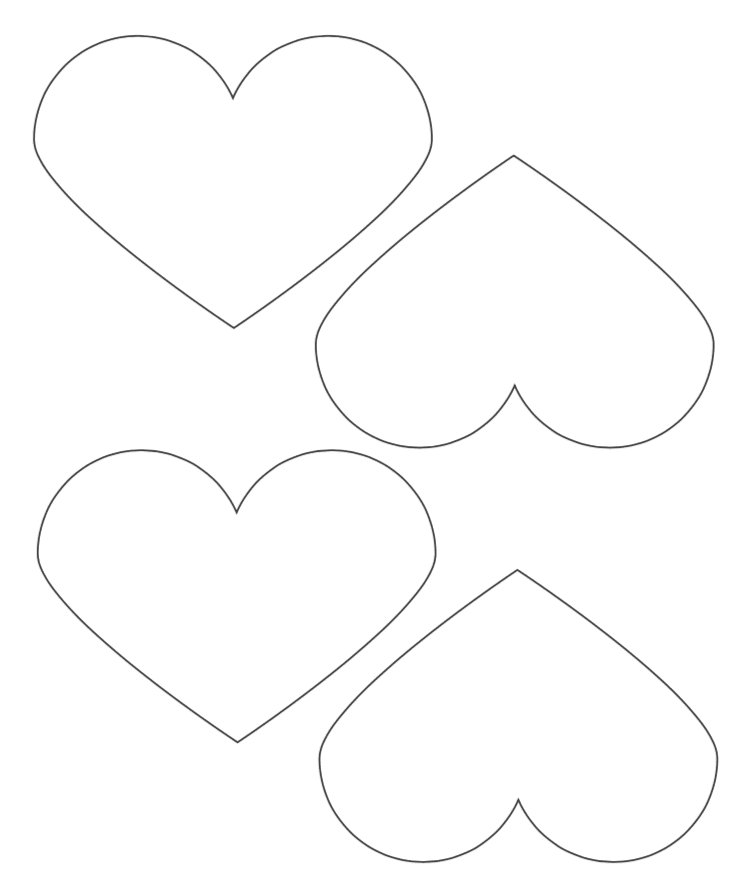 Download the medium (4.5″) hearts here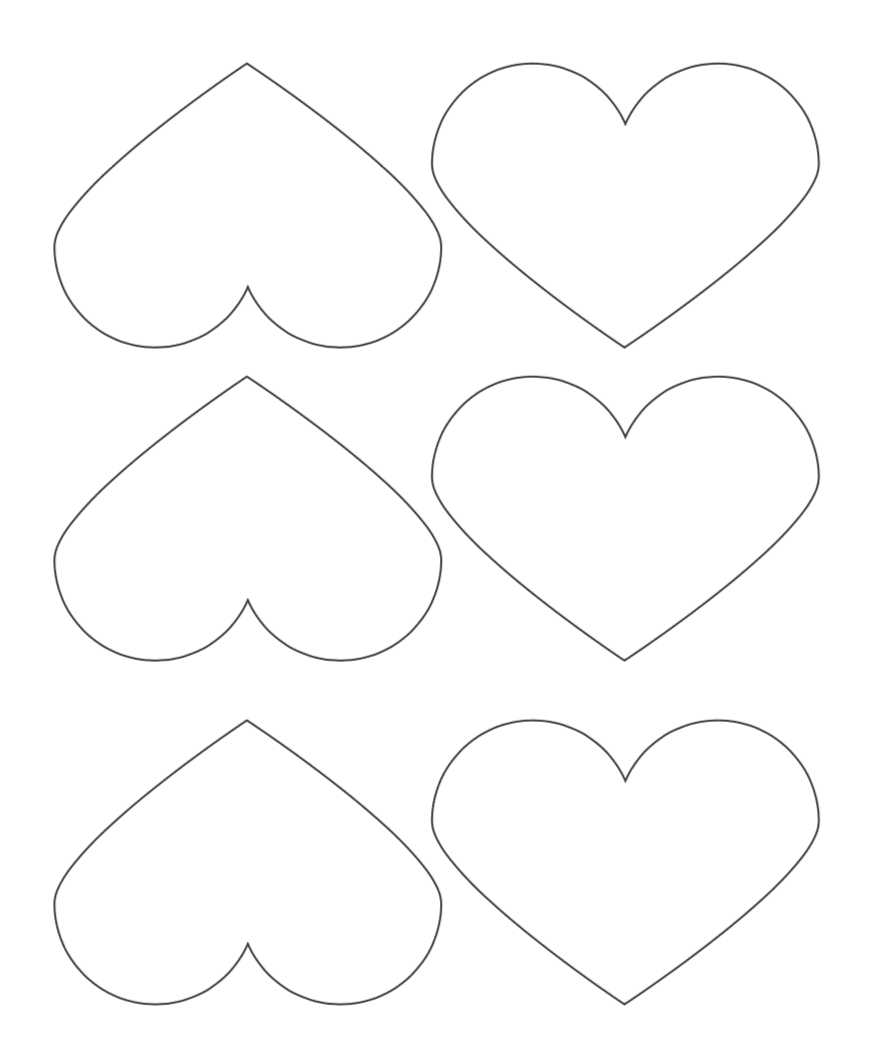 >> Download 6 medium/small 2.5″ wide hearts on one page here <<
Red heart templates
All out of red paper? No problem! Just print these medium red heart templates and cut them out!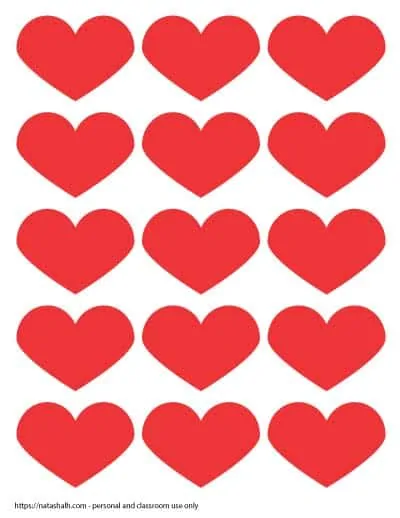 >> Download the red heart printables here <<
Small hearts to print out
You can use these small heart templates in a variety of ways. You don't even have to cut them out! You can use them as coloring pages, for example, or for color recognition practice for your children or students. Have them color each heart a different shade or count and number each one.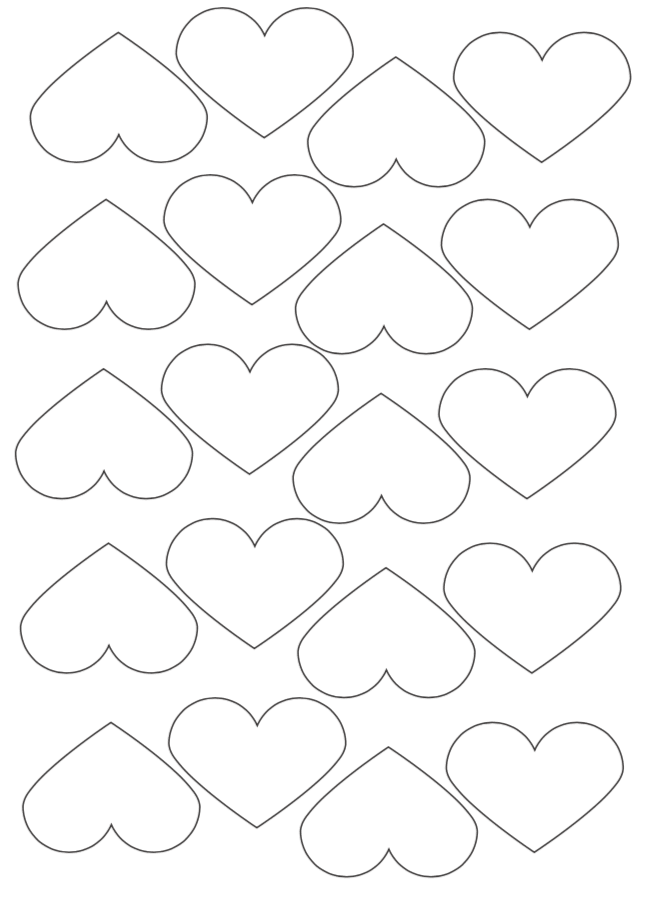 20 small hearts to print (2″x1.5″)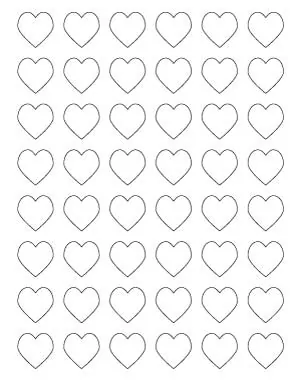 Download the extra small heart temples here (1″x1″)
Cutting a lot of small hearts by hand is very tedious, so consider getting a heart shaped hole punch if you need a bunch of little heart shapes!
Heart writing paper printable
This heart writing paper printable is perfect for Valentine's Day writing activities for your little ones! The lines are spaced .4″ apart so there's plenty of room for little hands who are still working on their letters.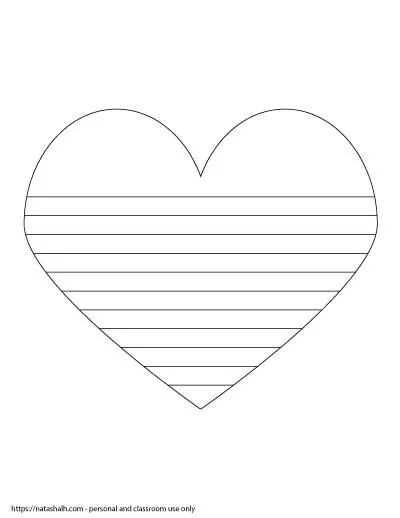 >> Download the heart writing paper here <<
Related: Free printable Valentine's Day bingo
Fold and cut heart (half heart template)
This fold and cut heart template is also perfect for younger children. Have them fold the paper in half along the dotted line, then use the printed half heart as a guide to cut a full heart. Make sure to use a pair of child sized blunt scissors!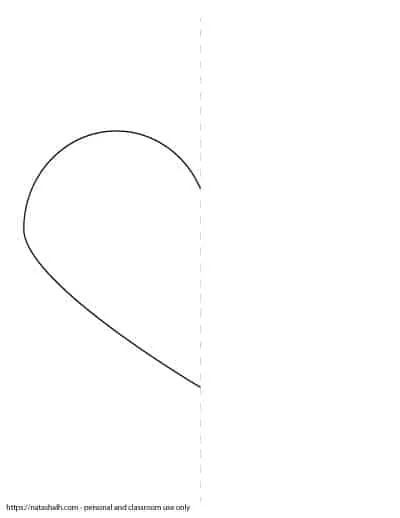 Download the half heart template here
Double hearts
This double heart shape printable is so cute and perfect for Valentines!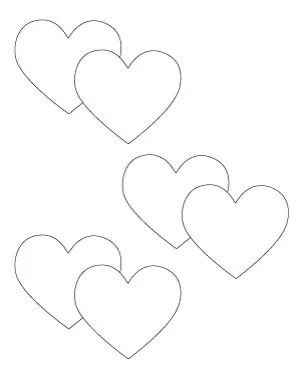 Download the double heart template here
Printable Valentine with Arrow
This one is a heart & arrow valentine. Cut out the heart and arrow, then cut slits in the heart for the arrow! You can use this as a pattern or just color the print out.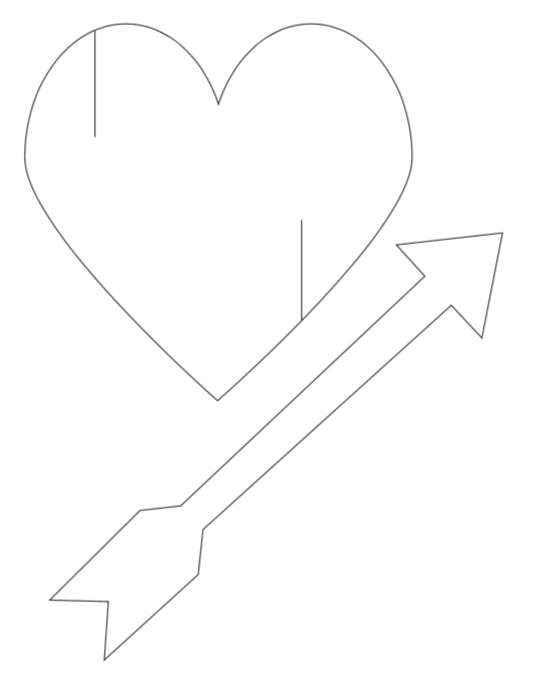 Download the heart and arrow printable Valentine here
Printable heart envelopes
Cut out the heart shape, then fold the left side towards the center along the dashed line and the right side towards the center (also along the dashed line). Fold along the dashed line from the bottom down, then finish the envelope by folding along the bottom line up! Seal it in place with a sticker or some cute washi tape.
Here's a large heart envelope: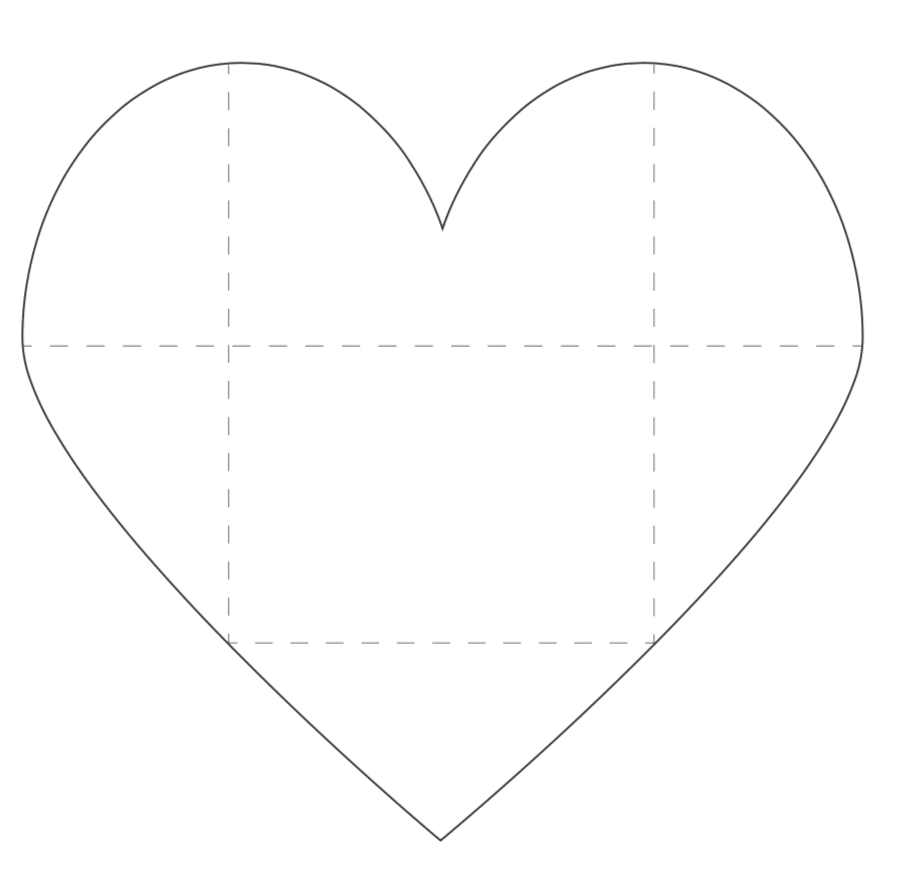 Download the large heart envelope here
And two smaller heart envelopes: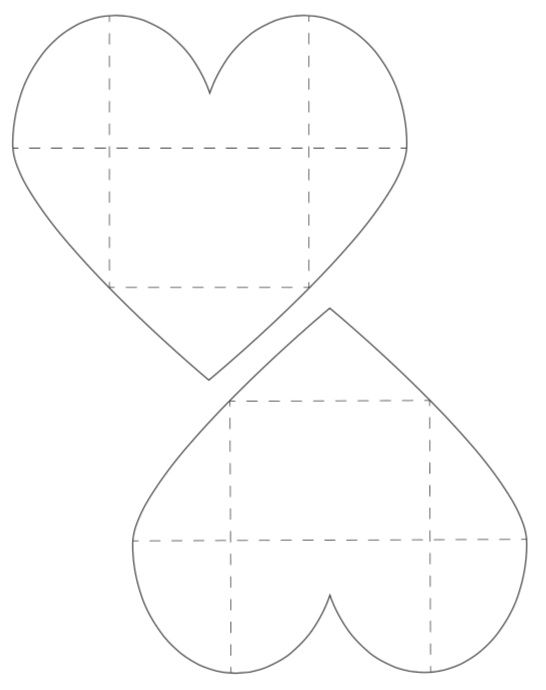 Download the small heart envelop printables here
DIY heart craft ideas
Cut out the hearts and use them as a pattern for felt, fabric, or paper.

Use felt hearts to make fairy wands, hand warmers, or ornaments.
Use paper hearts to make bookmarks.
Use small hearts to decorate straws for a party or baby shower.

Cut the central portion out to make a stencil.

Use your stencil for projects like toothbrush painting or with color mists to decorate a shirt or for scrapbooking, card making, etc.
Stencils are also great for making stained glass projects with oiled paper or tissue paper!

Make homemade Valentine's cards.
Print medium or large hearts oncardstock and string them into twine to make a banner.
Make super easy garland by printing the hearts to cardstock and using clothespins to clip them to twine!
Print small hearts and sew them together into garland.
Color the hearts.
Use the hearts as fine motor practice with scissors for your kiddos.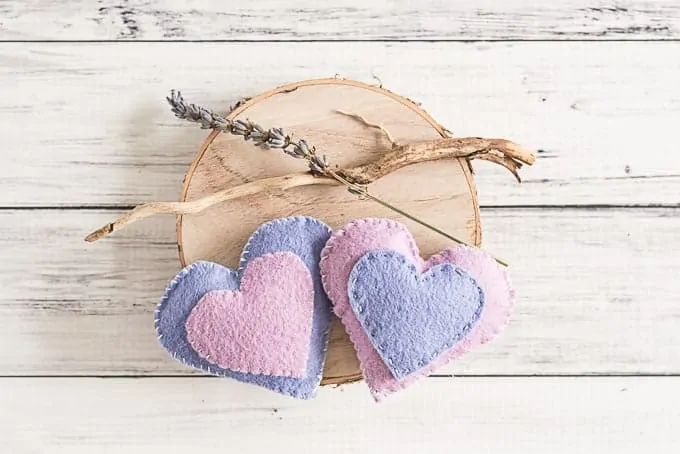 Don't lose track of these heart templates for later! Pin them now!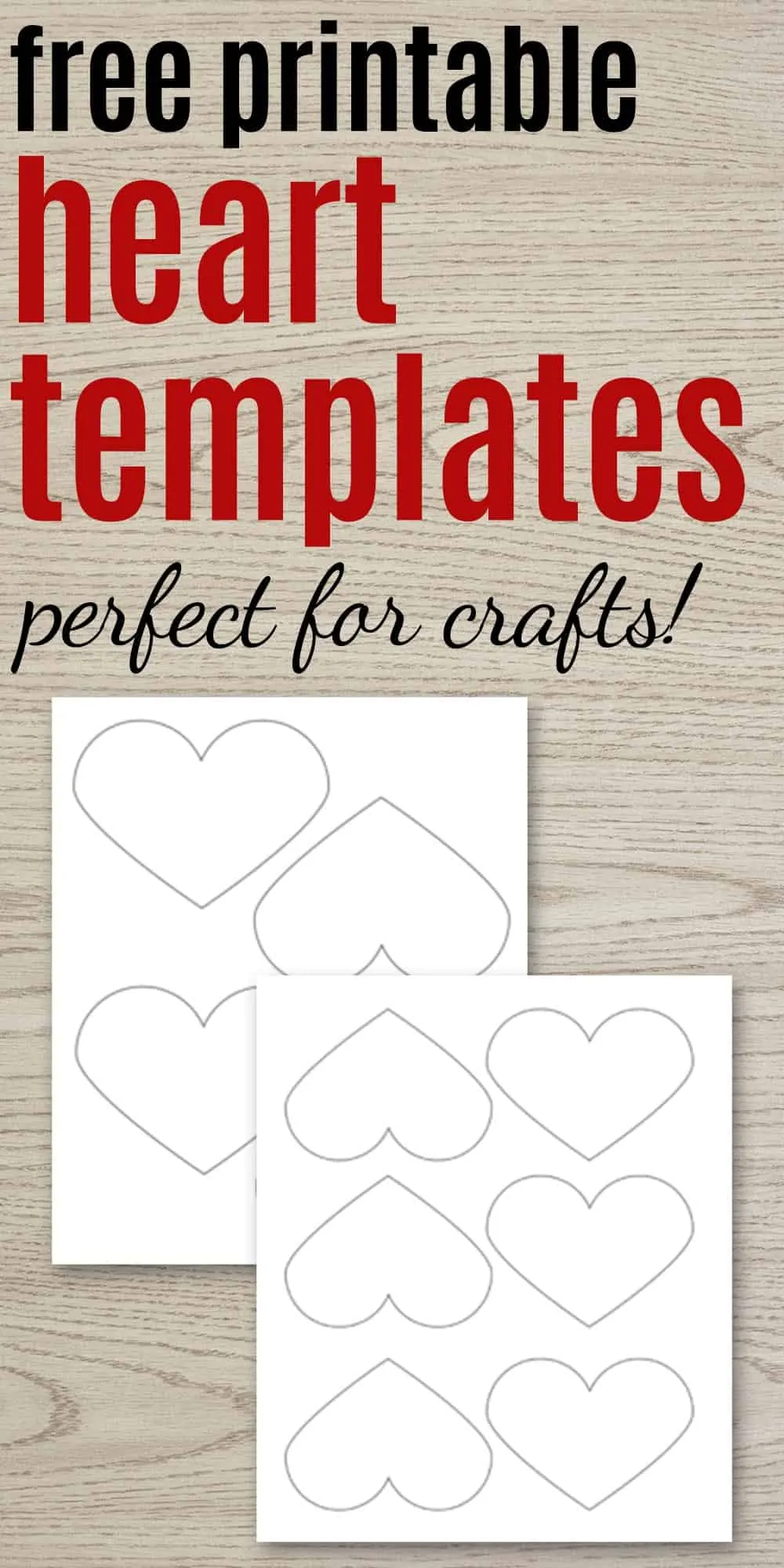 I really hope you enjoy these heart template printables! Again, please let me know if there are any sizes of heart you'd like to see added!
Stop scrolling Pinterest for Valentine's Day printables and crafts - check out these Valentine's posts right here on The Artisan Life!
These free printable ladybugs make super cute homemade Valentines! They're also fun as toddler and preschool coloring pages.
Challenge your children and develop their attention to detail with these free printable Valentine cherub bingo game!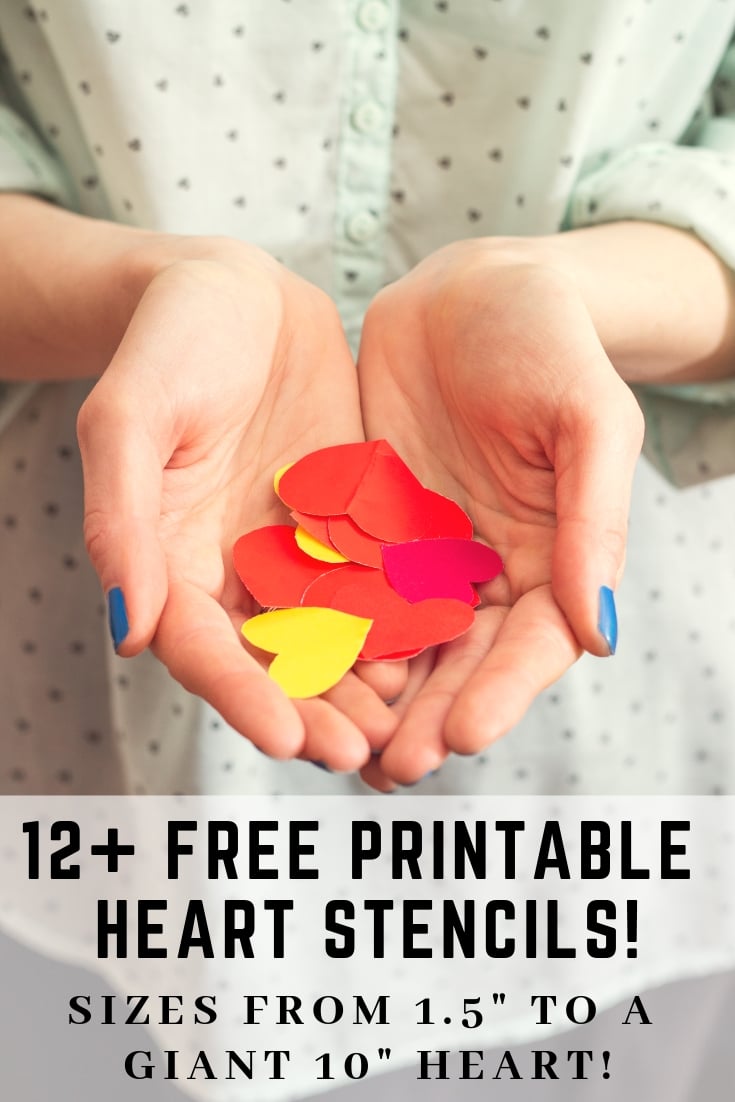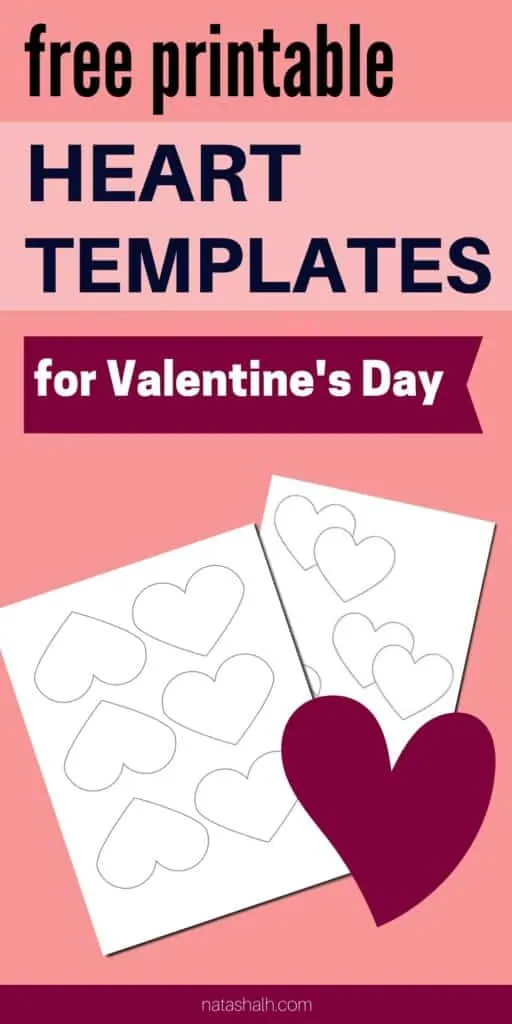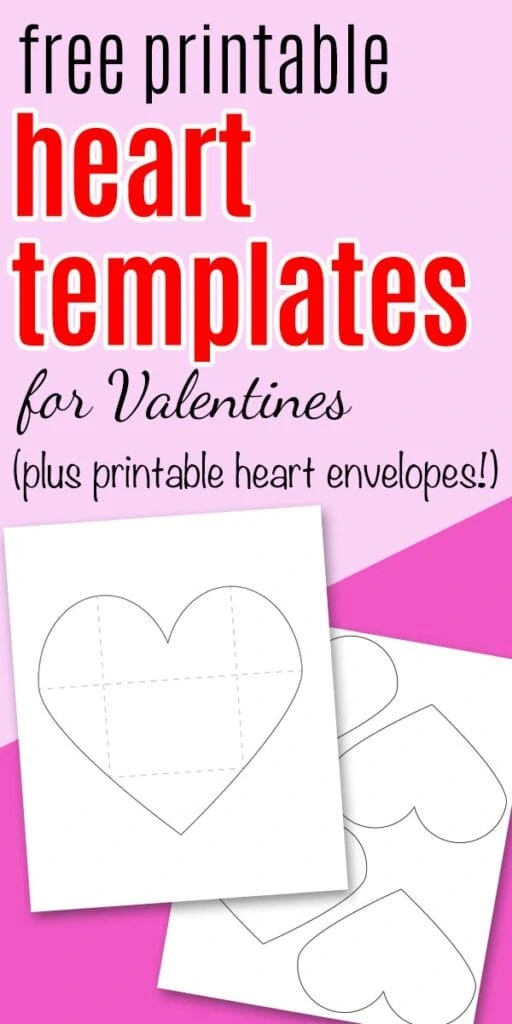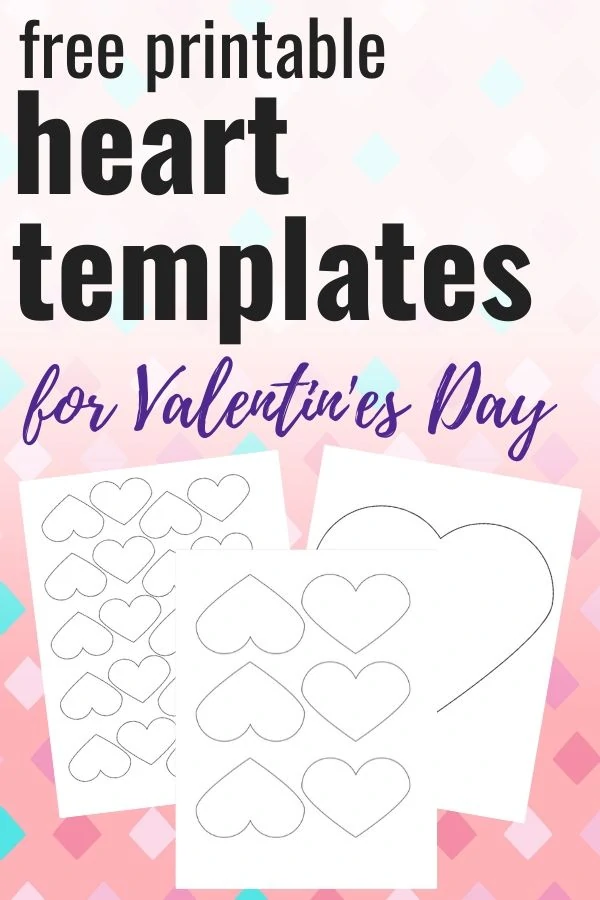 Filed Under: Printable, Shape Templates
Sours: https://natashalh.com/heart-template-printables/
Free Printable Large Heart Shape Templates
Sharing is caring!
Heart has long been recognized as a symbol of love and passion. I always tell my children that a world full of love is a better place. Hence, we decided to create these free printable heart outline templates.
This easy printable heart template is the ideal activity if you want to keep your kids busy.
Allow your toddler or preschooler to scribble colors through these printable hearts. 
Cutting through the lines of the heart stencil printable helps kids in kindergarten practice their scissor skills.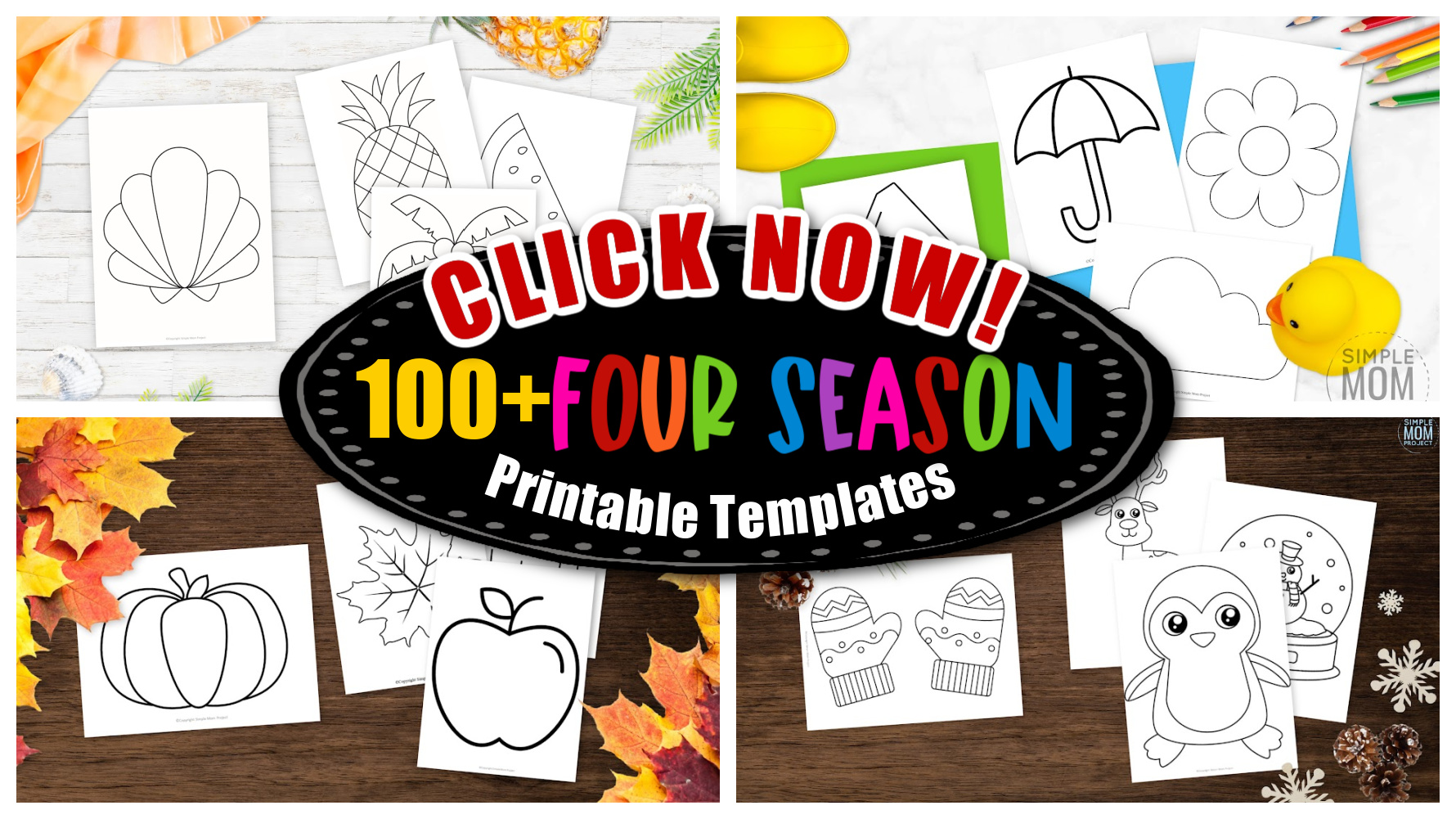 While early elementary kids can just have fun making different heart shaped classroom or bulletin board decorations.
What's special about our heart template printable? We created 10 different designs of heart shapes to print for kids!
You can cut out the free heart template and use it for coloring, crafts, stencils and more.
However, you and your little one choose to put these large heart stencil templates to use, we want you to have a great time and be as creative as you can be. Click download and get all these heart templates to print now!
Need more ideas about how to get crafty with hearts? Check out our small heart templates and our collection of heart animals!
*By the way, this post may contain affiliate links which means I may receive a small commission at no additional cost to you if an item is purchase through that link. For more information, click here.*
Materials Needed: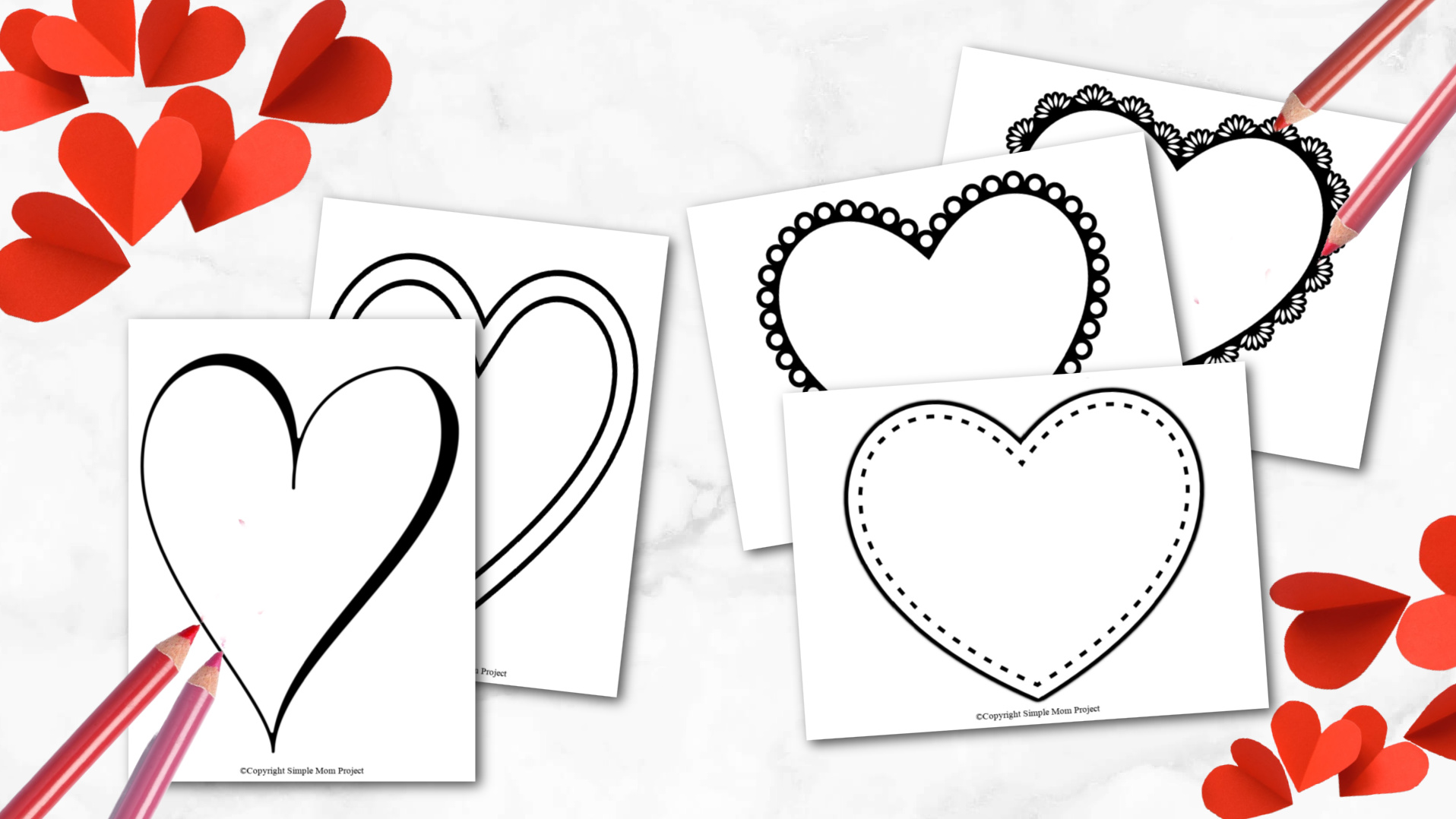 Ideas for Large Heart Templates
We came up with some of the adorable ideas on how to incorporate this free printable heart template in your children's daily life.
1. Heart Style Invitation Card
Are you planning to hold an event this month?
Make a DIY invitation card out of this printable heart template and other decorative items.
Let your children join the fun by allowing them to fill up this heart stencil printable with the most amazing colors!
Fold a colored paper in half, glue the cut out printable heart template on the front page of the paper.
Using a black pen, write all the party details. You can add as many hearts as you want until you feel satisfied.
Distribute it to your friends and family for a memorable party.


2. Lovely Heart Books for Kids
It's important to encourage our children to read at such a young age. If your child is having a great time making this heart template free craft, it's the perfect time to pair it with one of these amazing books about hearts!
3. Simple Heart Crafts
If your children enjoy making easy crafts, they will surely love all these simple heart shape crafts we created!
Once your child is done coloring this free printable heart template, punch holes on the top corner of each heart shape printable.
Insert the string to connect the heart outline template from one another. Hang this heart shaped garland to decorate your child's room or classroom.
Use this cut out printable heart template as tracing stencil if you want to decorate the bulletin board background.
You may also want to create a bookmark heart template free craft for your kindergarten.
Simply, trace the heart shape template on cardboard, cut out and punch a hold on the upper right corner to insert the ribbon.
Add decorative items such as glitters, sequins, beads or write a cute message.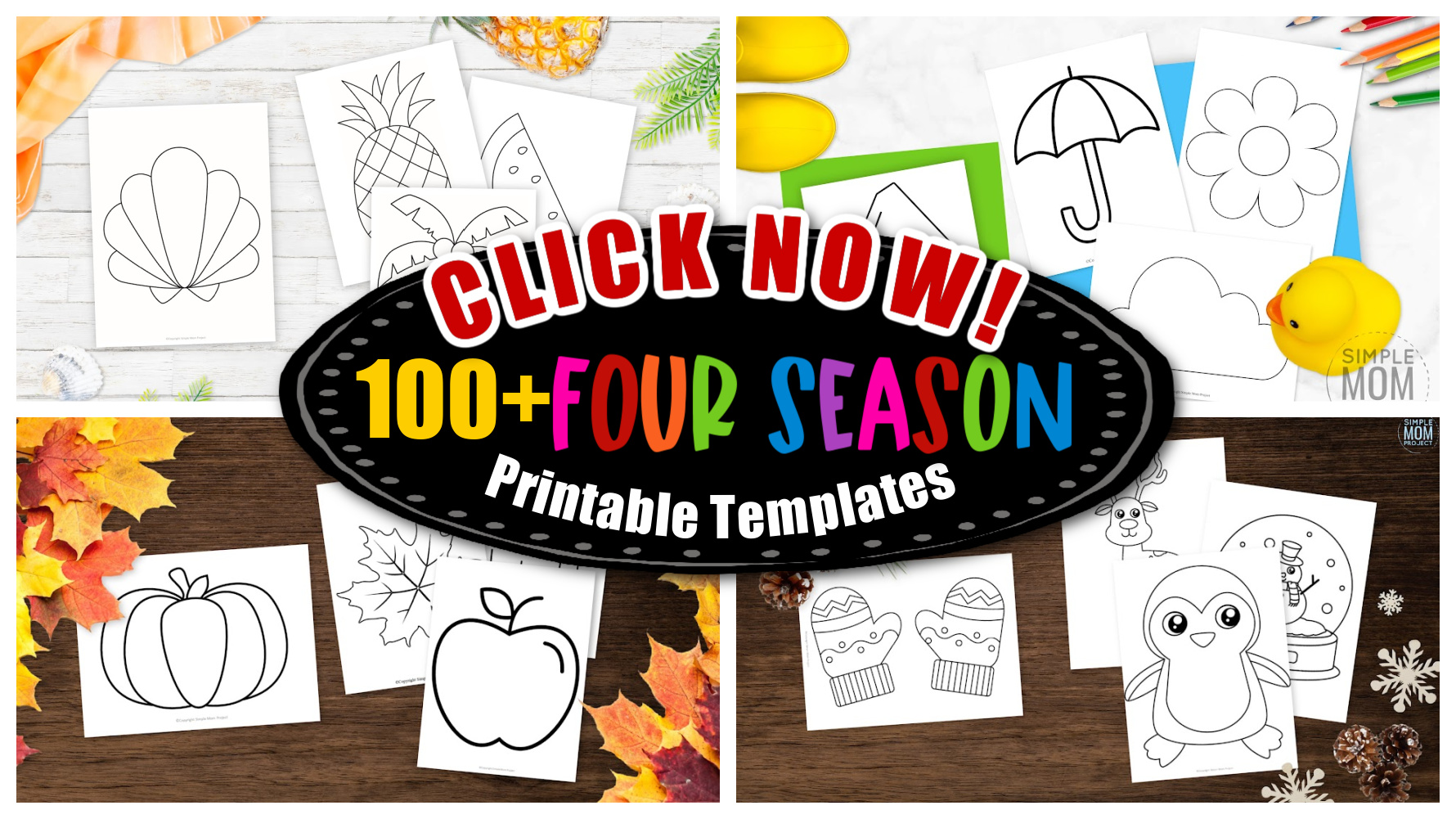 4. Color Recognition
If you're planning to teach your little one to identify the basic colors, be sure to include our large heart printable templates.
Take out all the coloring materials and ask your preschooler to pick which heart template to print.
Since we included a variety of heart stencil styles here, you can add labels or legends on each side of the heart print out.
This activity will help your little learner to be familiar with the colors while they are having fun.
We hope you like some of our fun heart shape printable ideas, use it to spend quality time with your toddler, preschooler or kindergartener.
Free Printable Large Heart Template Outlines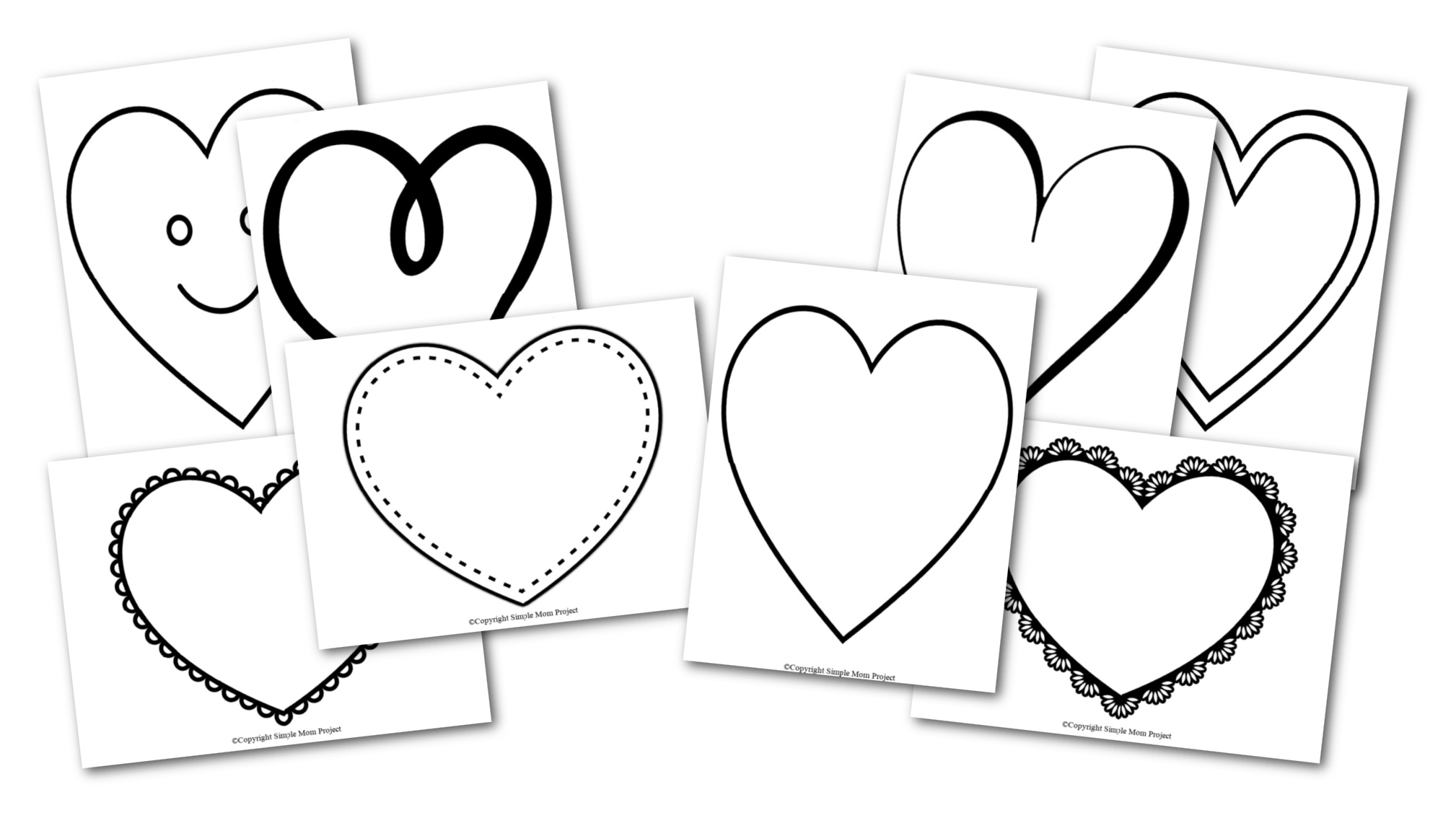 This simple heart shape printable is one of the most productive and exciting things your child can do during the rainy days.
Not one but ten different heart shape template designs for your toddler or preschooler to keep their little hands busy while you're doing other chores.
We can't wait to see how you decide to put your large heart templates to use!
We would love to see the results on how this cut out printable heart template benefits you and your little one, so feel free to share your experiences in the comment section.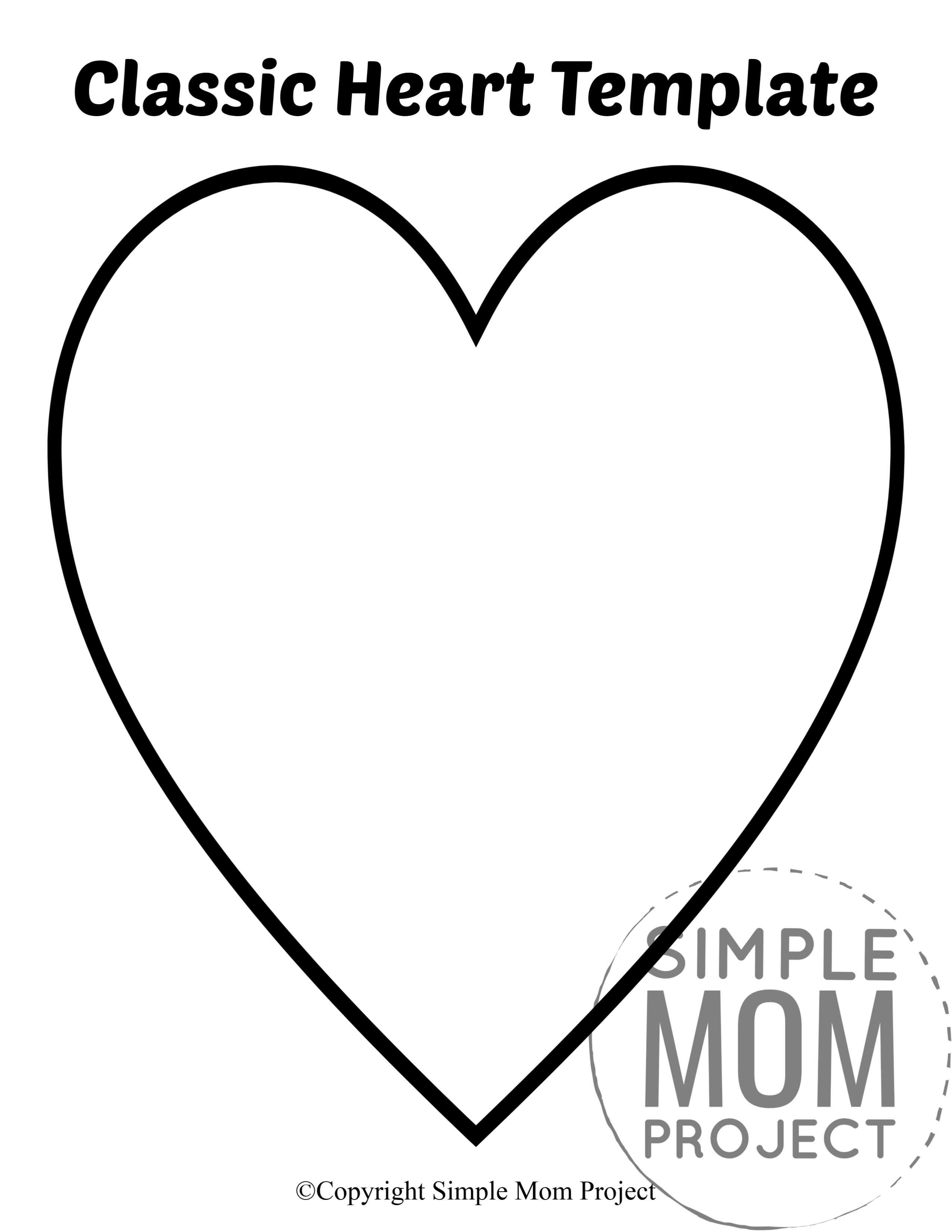 Classic Large Heart Shape Template
Curly Large Heart Shape Template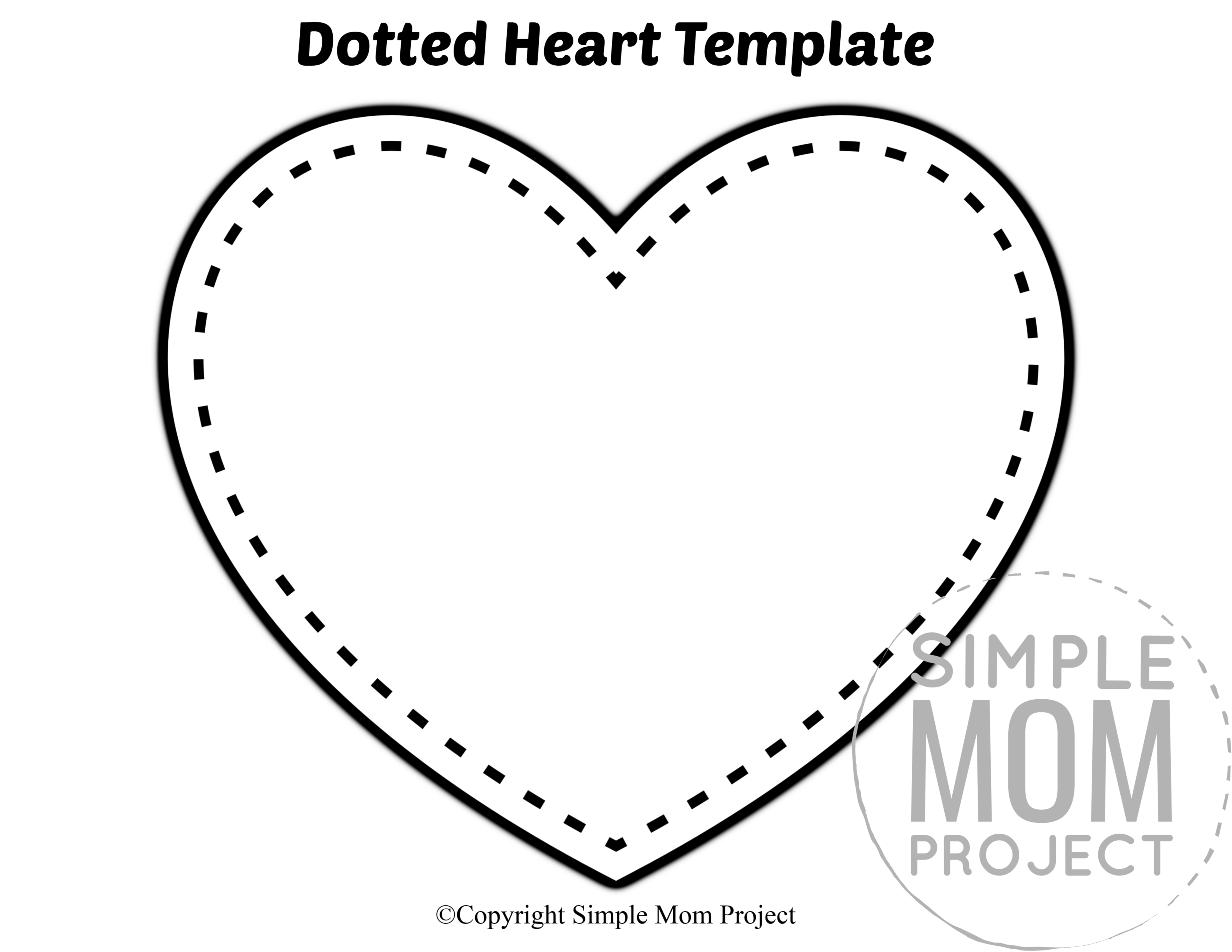 Dotted Full Page Heart Template
Encircled Large Heart Shape Pattern
Festive Heart Shape Stencil
Fringed Large Heart Template
Full Page Inset Heart Outline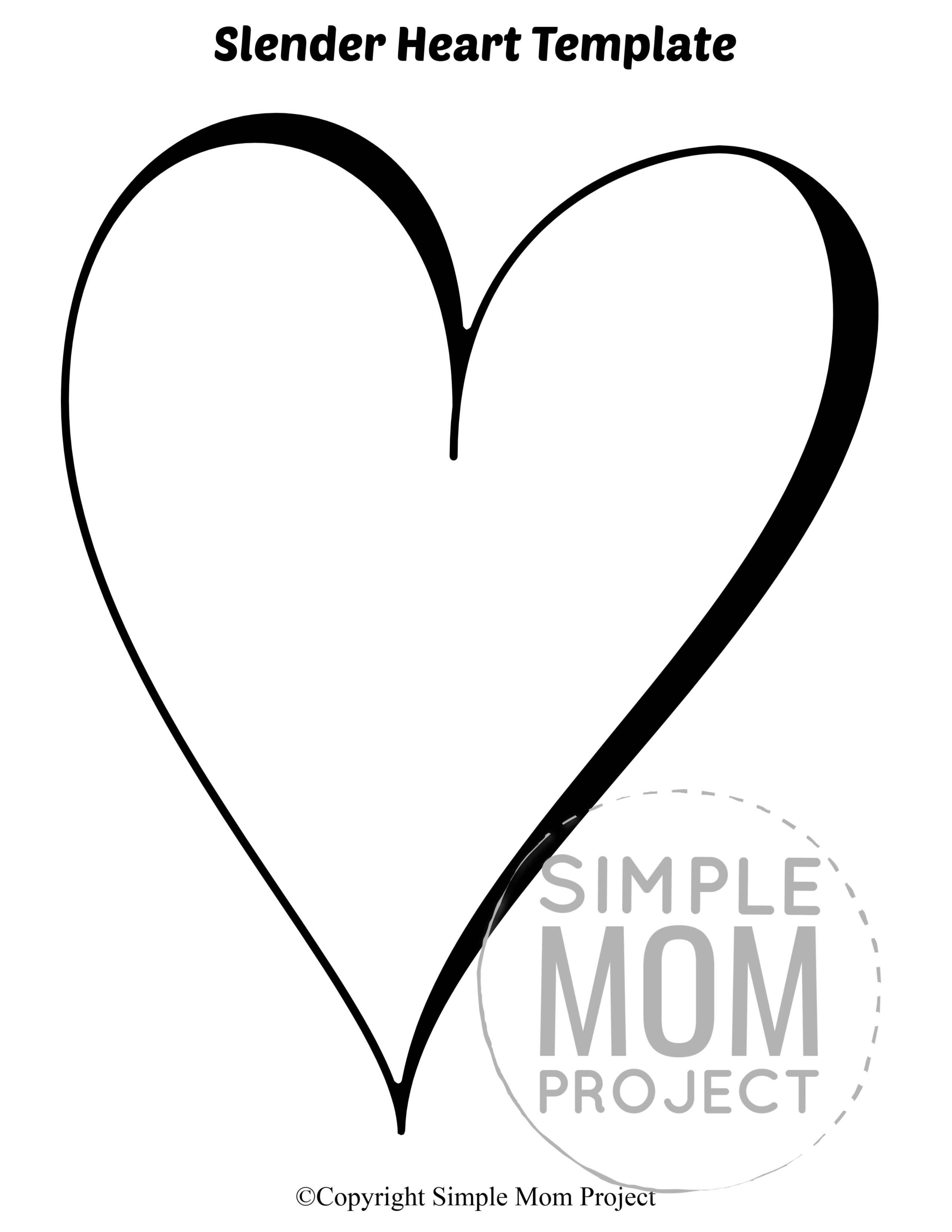 Slender Large Heart Template
Smiley Large Heart Cutout
When you have finished, be sure to share your creation on Simple Mom Project's Facebook Page and follow me on Pinterest!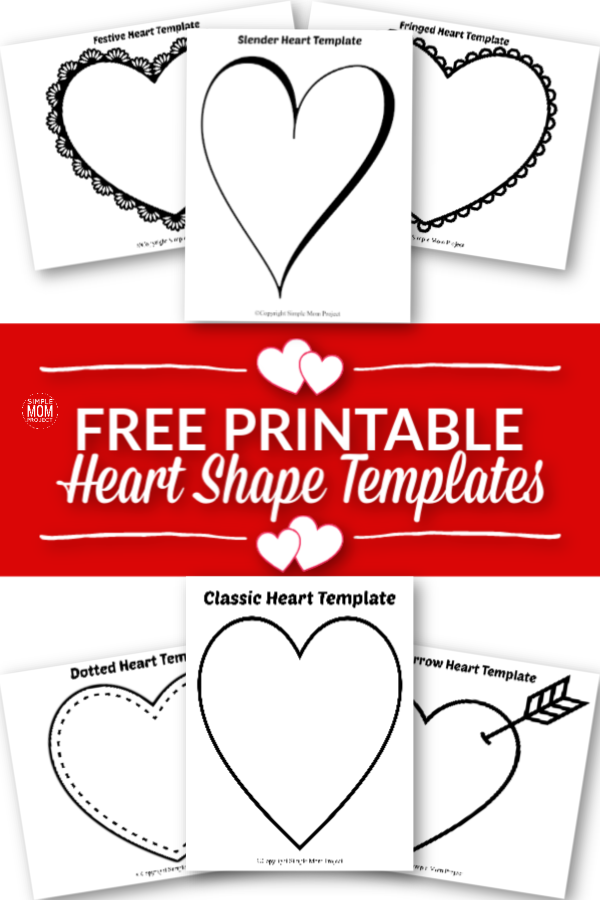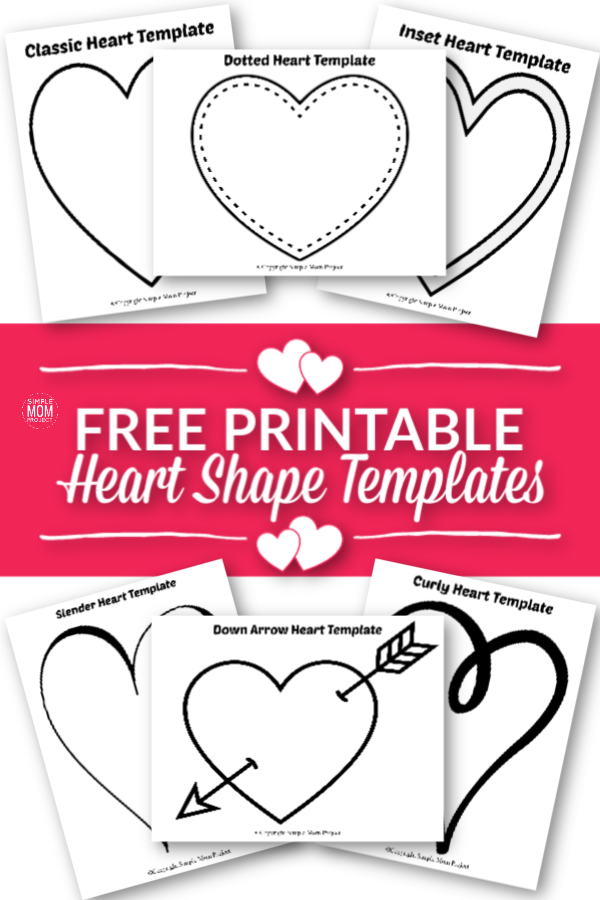 Kaitlen D.
Simple Mom Project
More Fun Heart Craft Templates: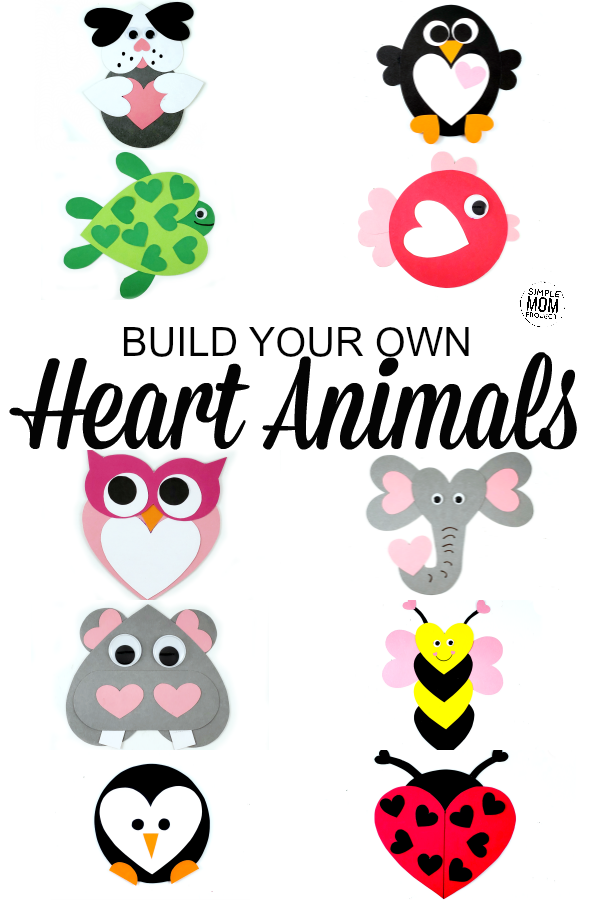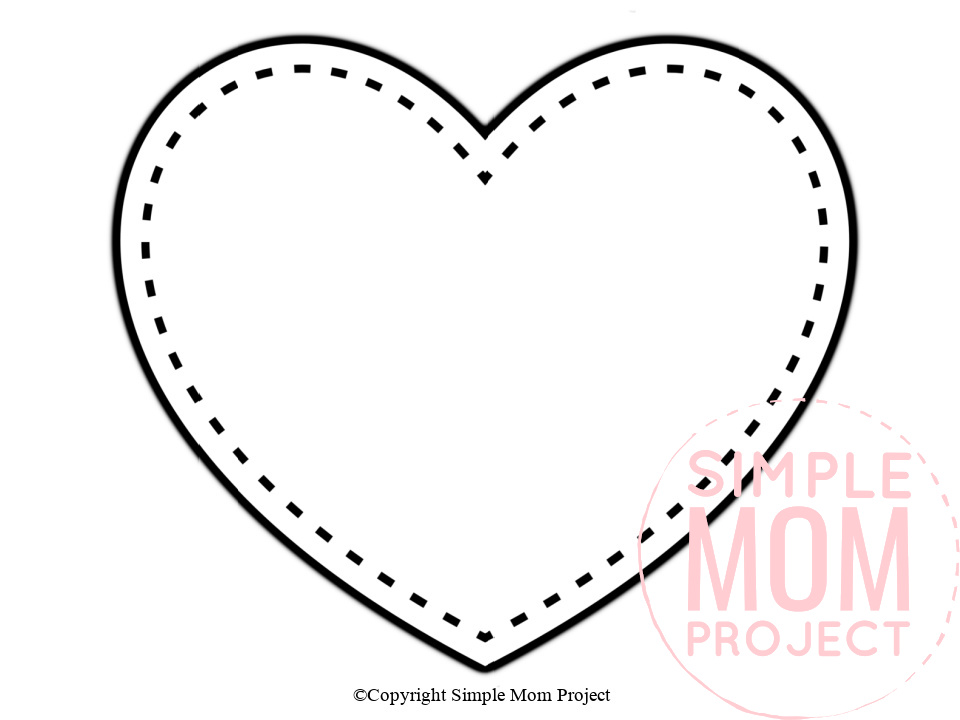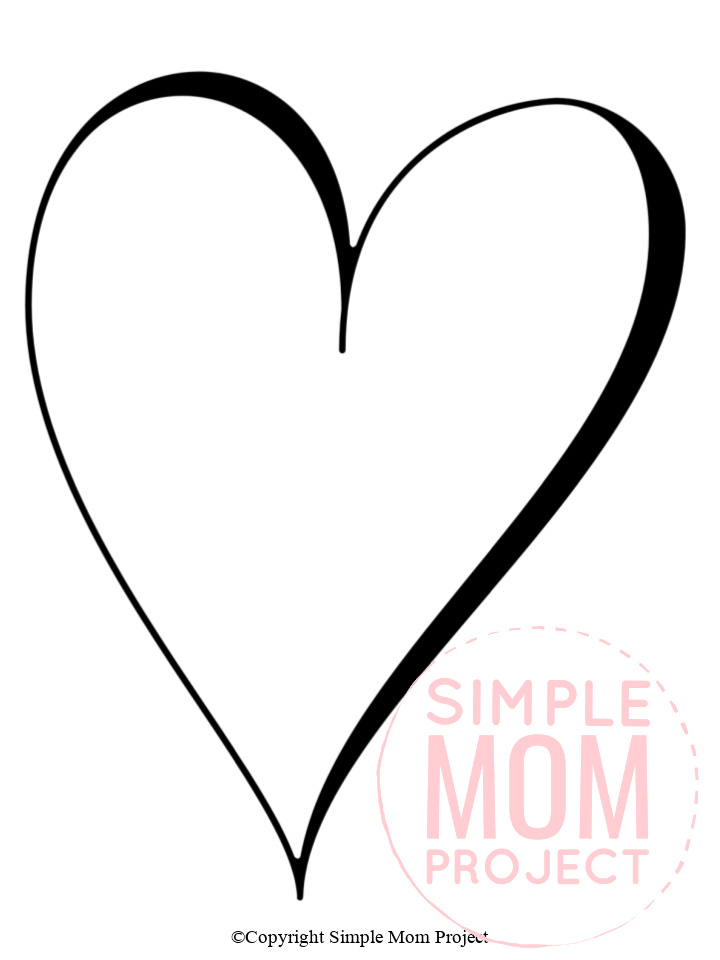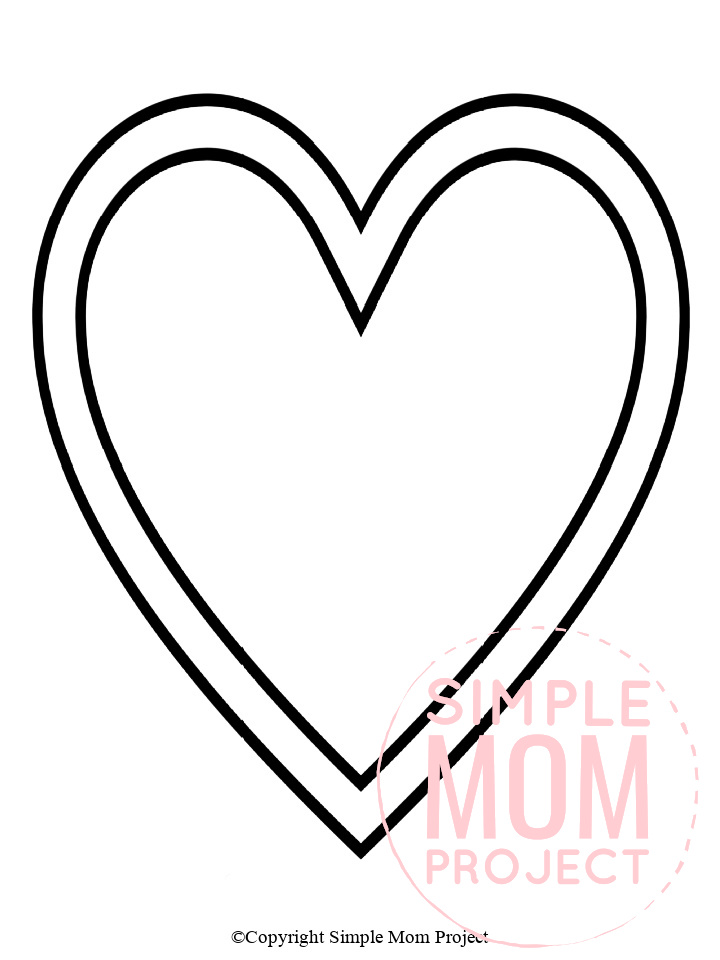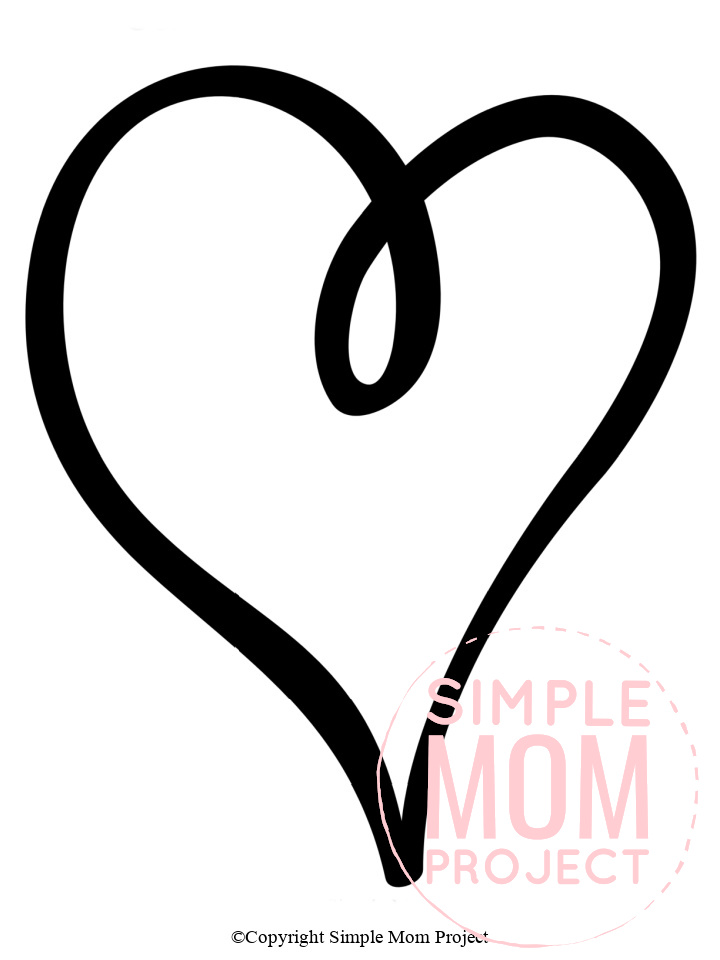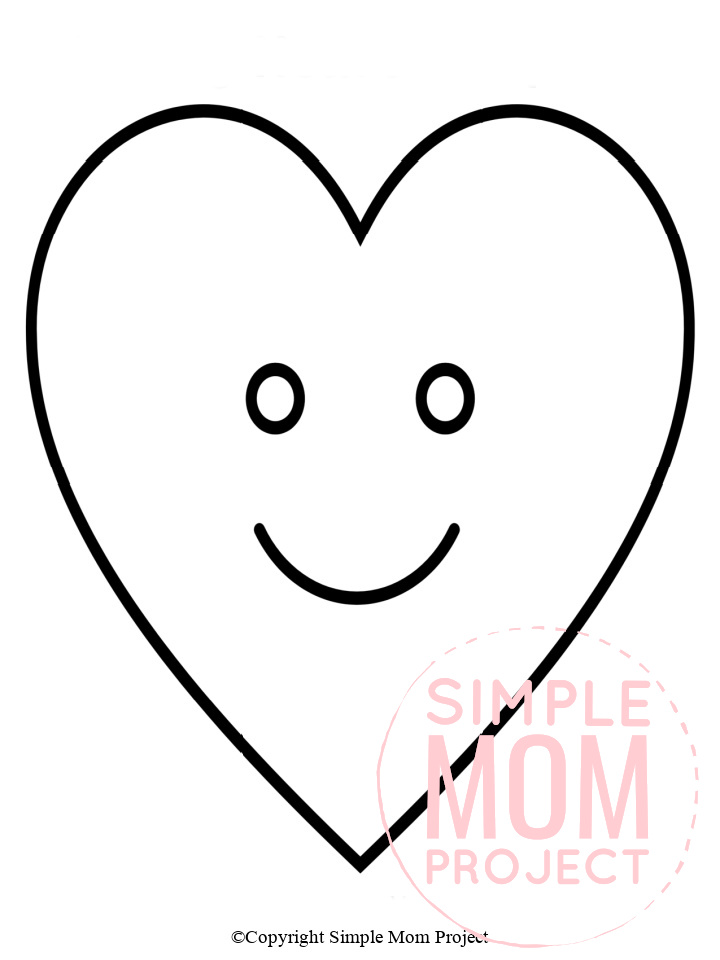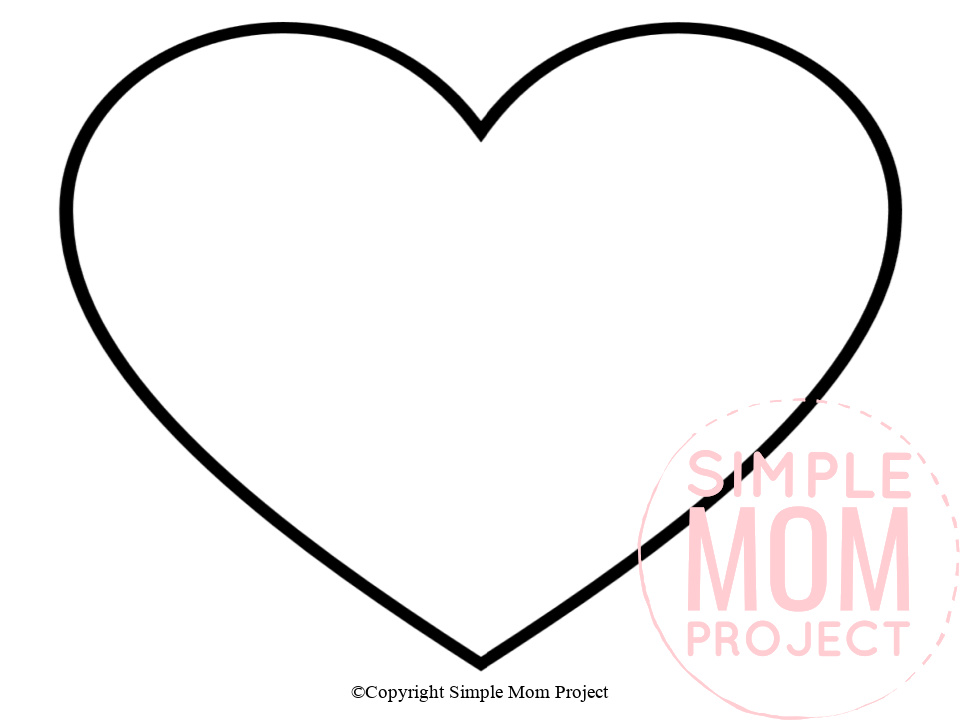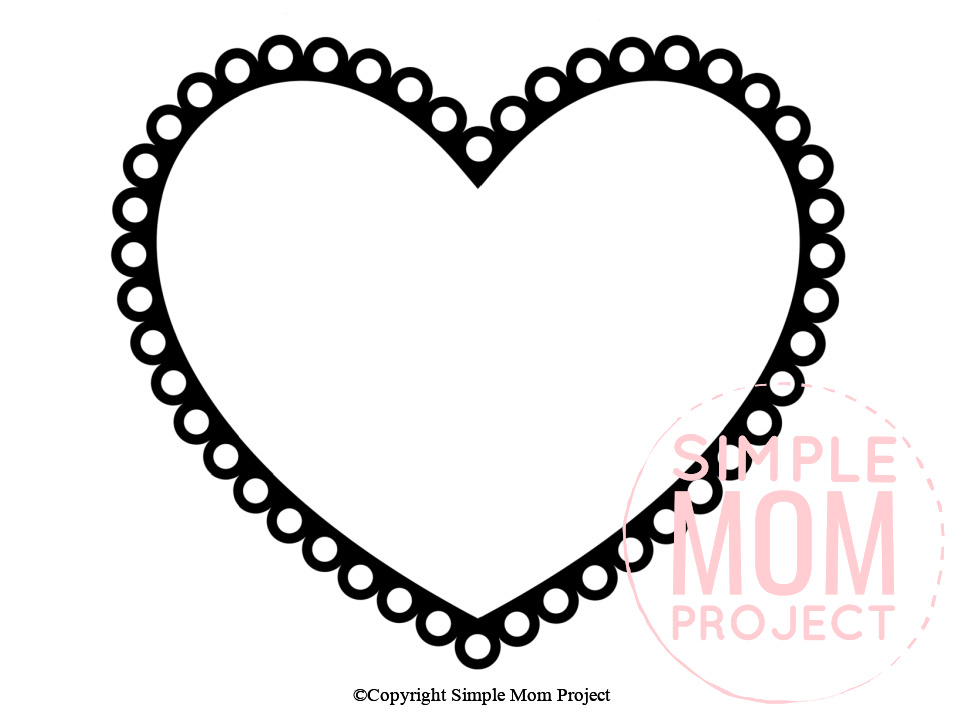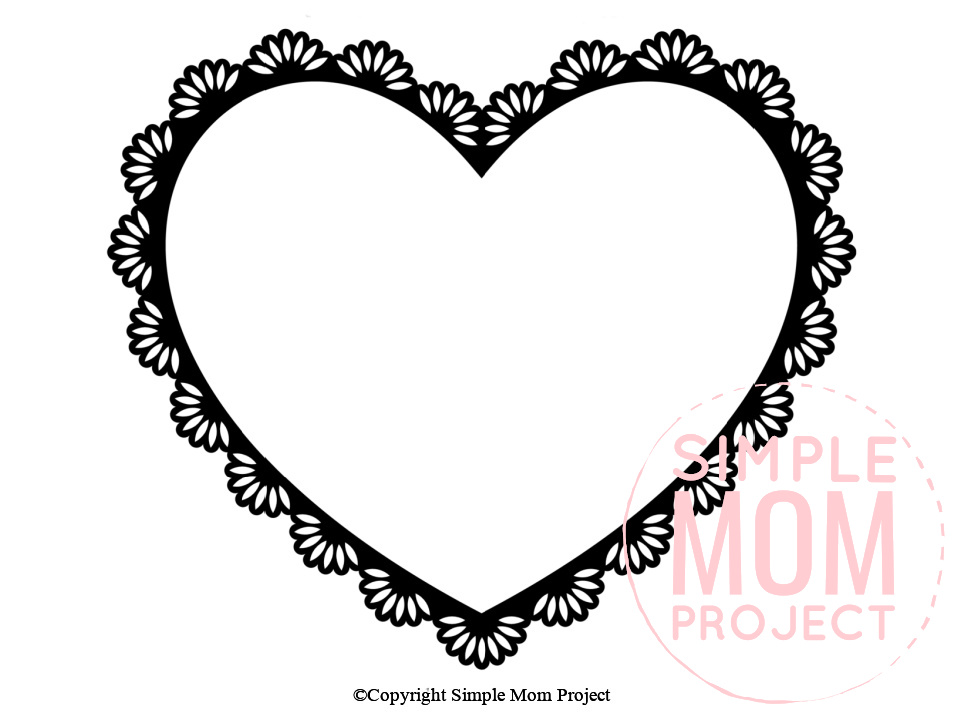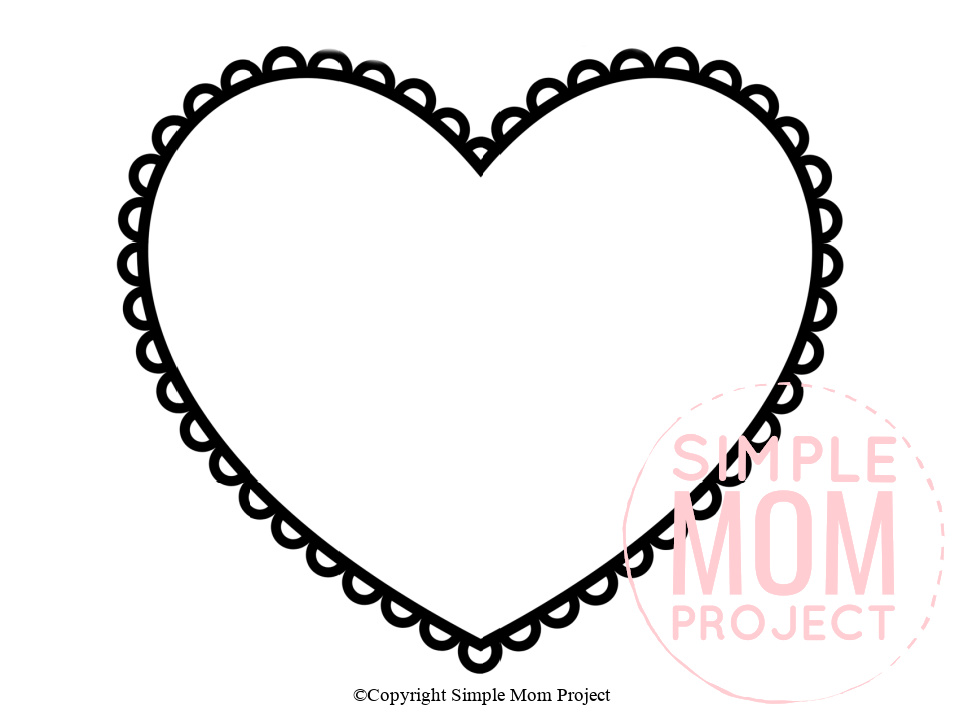 Sours: https://simplemomproject.com/large-heart-templates/
Heart Easel Template Craft Download
Looking for a heart template or heart outline for a craft, sewing or DIY project? In this post, I'm sharing a bunch of FREE heart templates for all of your crafting needs.
Sometimes, you need a simple heart outline for a project and don't want to make it yourself.
My hand-drawn hearts always tend to end up wonky and misshapen. Maybe yours do, too?
So whenever I need a heart template, I almost always turn to the web to search for one.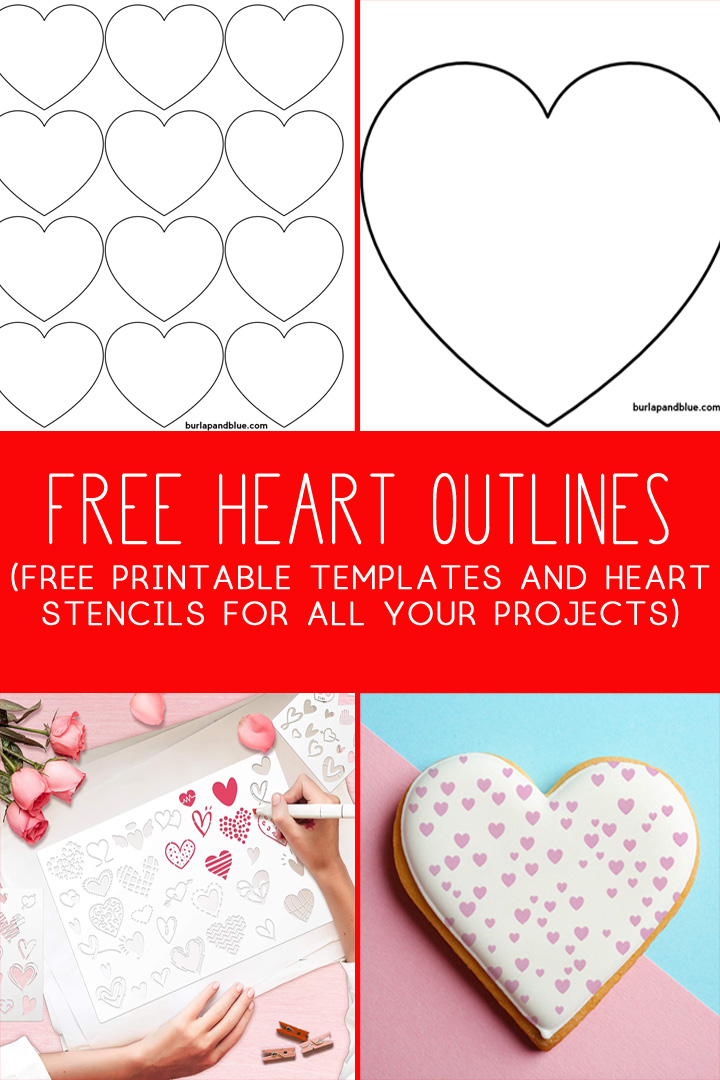 You can use these simple heart templates for heart art projects, handmade cards, art projects, sewing projects, or DIY crafts. The possibilities are limitless!
But first, if you're looking for free heart SVG for a cutting machine, we have an entire post devoted to the best places to find heart SVG files!
We also have arrow SVG files, and free Christmas SVG files to help you with all your Cricut and Silhouette crafting needs.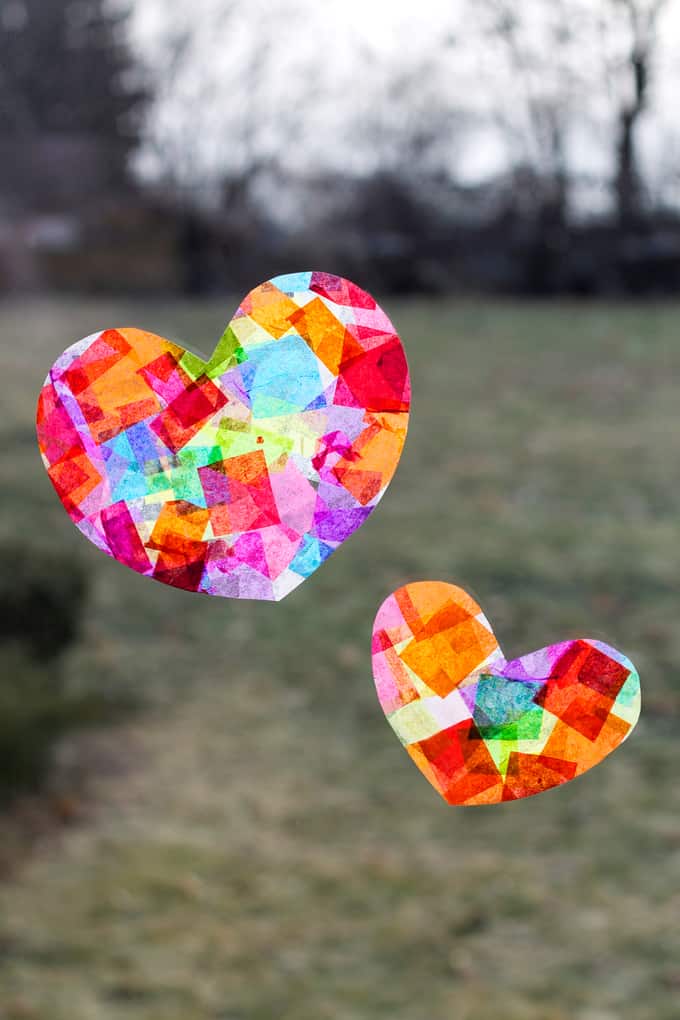 Heart Templates and Outlines
Let's get to it!
First, I'm going to share a large, full-size heart template, and a sheet of smaller hearts.
Large Heart Template Printable
To print these heart outlines, click to be taken to each Google Drive file.
Download file to your computer, then open and print out! You can also open and edit and resize in any photo processing program you'd like.
You can print on regular printer paper or cardstock, depending on your project.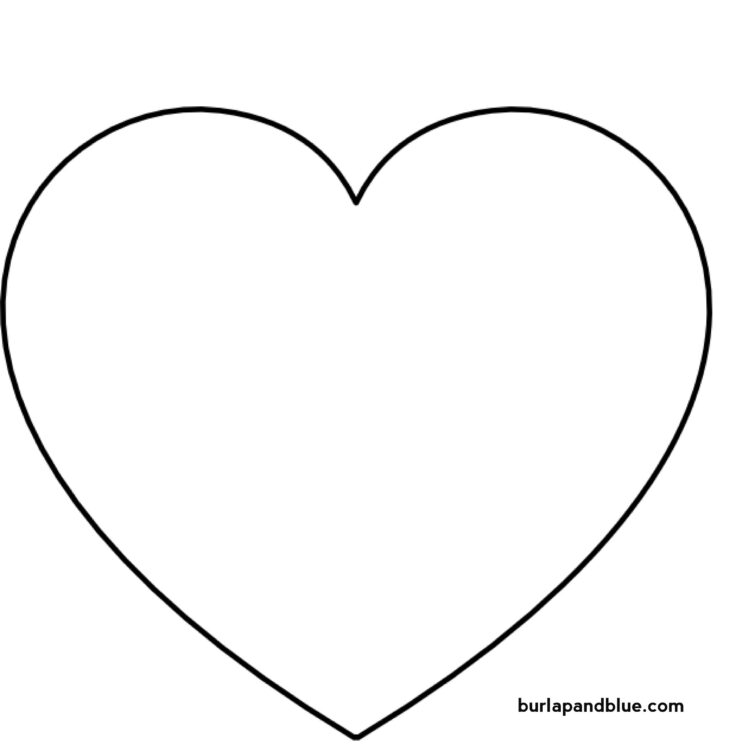 Print out large heart outline here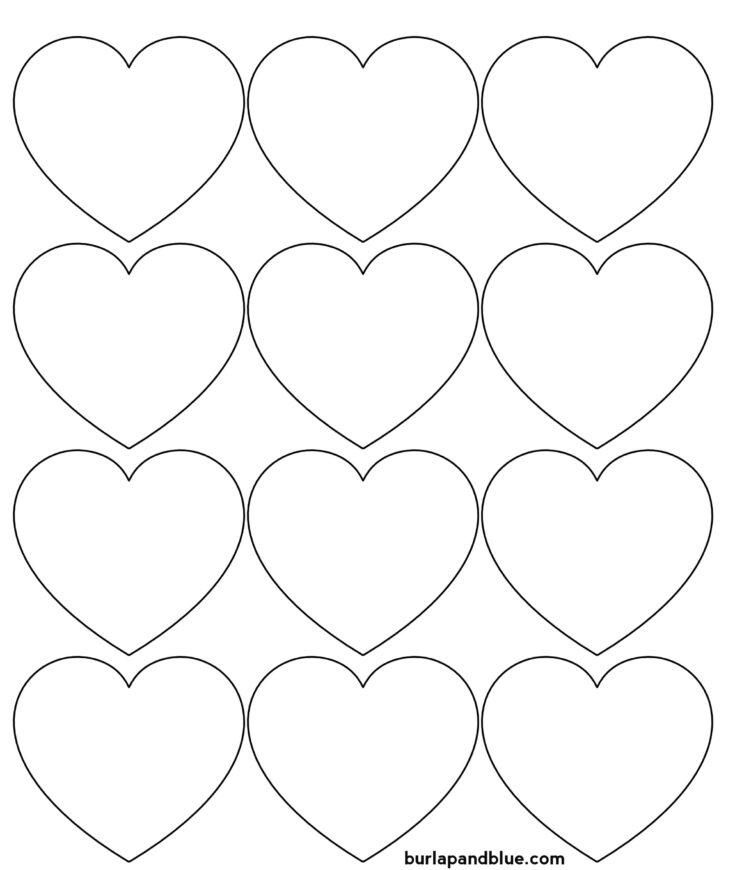 Print out small heart templates here
(these will print out 12 to a page)
In case those didn't fit your needs, here are some other printable heart templates to consider…
Looking for some simple heart coloring pages for a project?
Tiara Tribe is sharing several with you! Choose your design, download, print, and pull out the markers or crayons for a fun activity for kids.
Original Mom is sharing a bunch of free printable heart templates!
Included here are red hearts template, 2 inch templates, 5 inch templates, 8 inch templates, and a layered, "rainbow" heart printable template.
Sometimes, instead of a puffy, full heart, you want a longer heart.
Pattern Universe to the rescue! They're sharing this free, printable long heart pattern.
Easy to download and perfect for all your projects!
Heart Stencils
Maybe instead of a printable template, you are looking for some heart stencils. If so, I've rounded up some of my favorites.
These stencils have many uses, but my favorites are card making, art projects, and scrapbooking!
Let's take a look at some inexpensive heart stencils…
Inexpensive Heart Stencil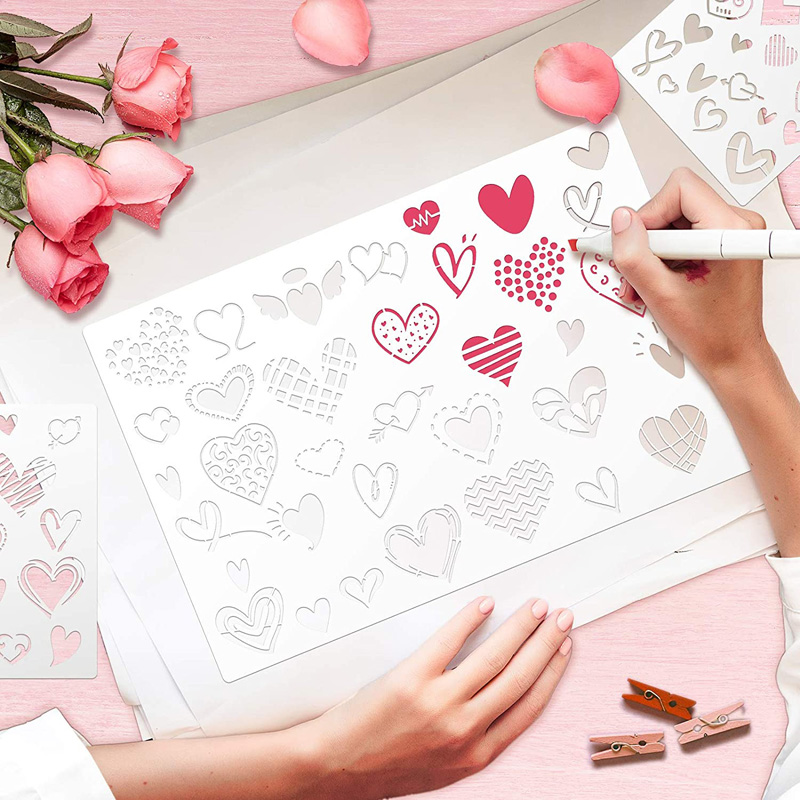 Coming in at under $10, this set of heart stencils features three different sheets of various designs and sizes of hearts.
Use for gift wrap and card making for Valentines Day or any day of the year!
These would also be great for kids arts and crafts activities.
Heart Stencils for Crafts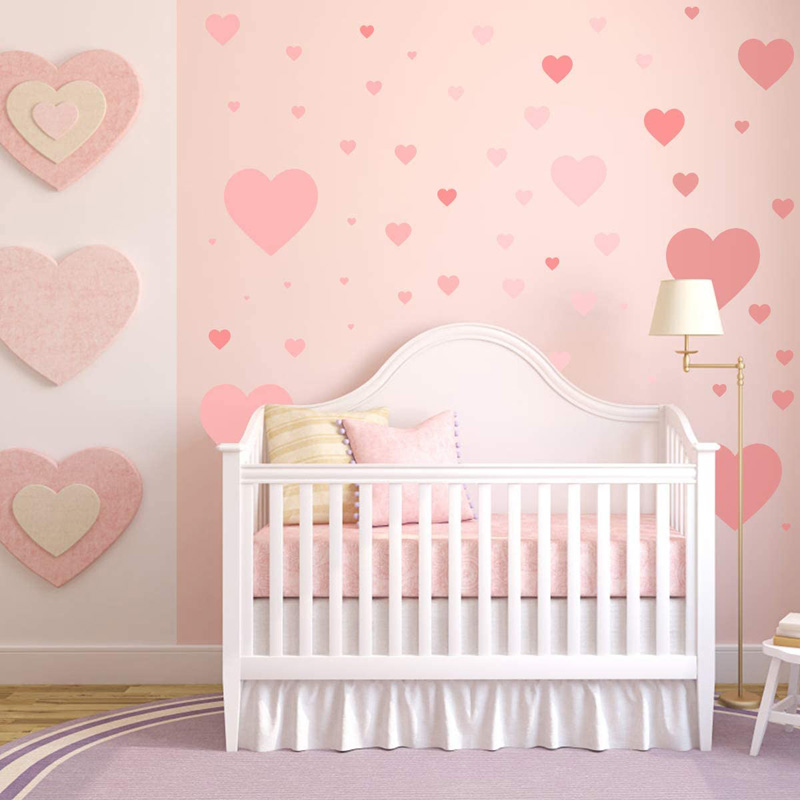 Perfect for DIY projects, home decor, and wall art, this set of stencils is a great basic set to have on hand.
If you're not into hearts, you can purchase various other shapes from this listing, including circle stencils, hot air balloon templates, paw prints and star stencils, to name a few!
I think any of these stencils would be great for a painted border in a kids room, playroom or nursery!
Cookie Stencils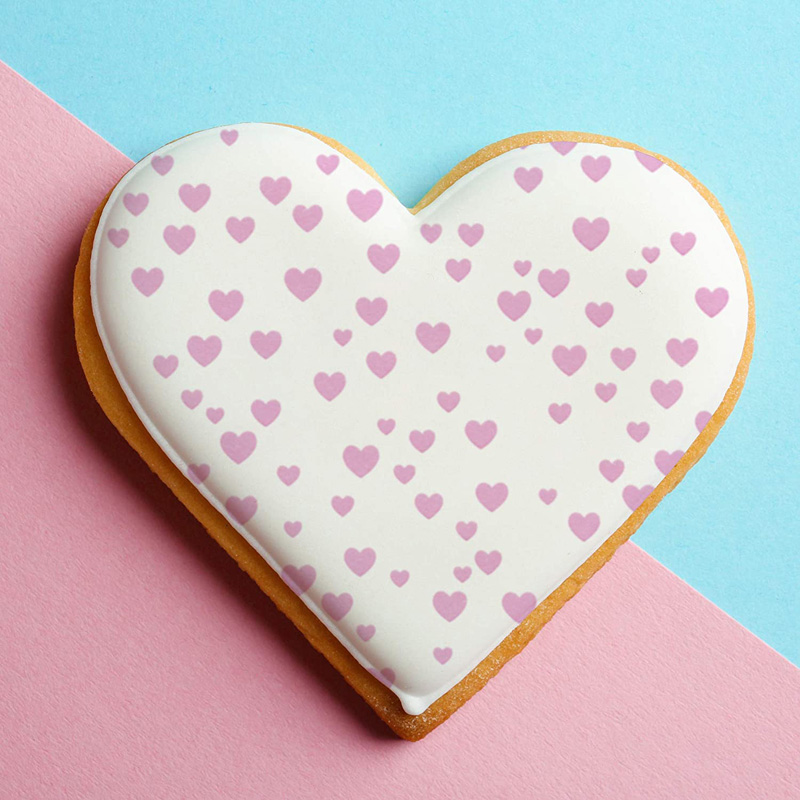 This shop offers two packs of various stencils for crafting projects and cookie decorating!
This set offers a mini heart design as well as a quatrefoil design.
Dust with powdered sugar for a fun raised pattern, or use icing, airbrush food coloring or sprinkles for other design ideas.
Did you find a heart template or heart stencil for your next project?
I hope so!
Thanks so much for reading all about our favorite Heart Template and Heart Outlines (Free Printable Templates for Sewing and Crafts).
Have a crafty day!
Sours: https://www.burlapandblue.com/heart-template-heart-outline/
Stencil large printable heart
Printable heart templates are very useful for home and school projects. They just never go out of style. And sometimes we need hearts in different sizes. On this page, you will find free printable large heart templates. You can use these templates as heart coloring pages, for heart string art, or cut them out for craft projects. Also, the large heart shape can be used to cut out the fabric, make a heart garland, or heart Valentine's Day card. Be creative and have fun with this free large heart template.
This post may contain affiliate links, which means we may receive a small commission, at no cost to you, if you make a purchase through a link. As an Amazon Associate, I earn from qualifying purchases.Read the full disclosure.
Printable Large Heart Template
To download this Printable Large Heart Template, just click on the link below.
♥ Printable Large Heart Template ♥
---
---
Other Extra Large Printable Heart Templates
We have other extra-large printable heart stencils. The above heart has a slightly rounded shape, and this one has a classic heart shape. It is also a large size heart and can be print out on a single sheet of paper. To download, click on the link.
♥ Classic Heart Shape ♥
Red Large Size Heart Printable Template Free
When printing this red large size heart template, do not forget to change your printer settings to color. Click on the link below to print or download this heart shape.
♥ Red Large Size Heart Template ♥
Instructions on how to print and use the free printable heart templates
1. You can open and download any of the printable files you like by clicking the hyperlink next to the image. If you do not have a PDF reader to view these files, you can download it for free here.
2. If you would like to print in color your heart shapes, you need to change the printing settings of your printer. You can also use colored construction paper.
3. If you want to color the Free Printable Heart Templates, use crayons, colored pencils, gel pens, or markers.
4. You can only use our free printables for your own crafts and other activities. All printables on our website are for personal and non-commercial use only. Please, do not republish, upload, or alter the PDF files.
5. Please share any printables by providing a link to the webpage containing the PDF file.
Related Printables
---
Read also Free Printable Heart Templates Stencils To Cut Out: Small, Medium and Large
Sours: https://slimzon.com/supersized-heart-outline-extra-large-printable-templates/
Make a Large Vinyl Wall Decal - How to Cut Larger Than Mat on a Cricut!
It's so cool. I want to appeal to all women. Girls, be sexy, take care of yourself and you are guaranteed male attention. After reading this story, someone will probably consider me an abnormal or sex-obsessed nymphomaniac. I will not argue about this, I just want to tell my story about how I became who I am now, namely a whore.
Similar news:
I started stroking Andrei's cock through his pants, which was quickly filling with blood. She unbuttoned his sherinkas and quickly got into his panties, taking out a big fat penis from there. Oksana knelt in front of the man and began to gently lick the head of his penis.
1181
1182
1183
1184
1185