Ingenious Under Deck Storage Ideas
Wondering what to do with the space under your deck? Put it to good use with these handy storage ideas for under a deck!
Have you ever come across a situation you just know that a brilliant solution is right in front of you but you can't see it? I know I have. Despite the blog name, sometimes that creative solution is elusive, even for me!
Even though we stained and repaired an old deck a few years ago, I'm always looking for good ways to make that space better. I recently went on an extensive search into under deck storage ideas and found plenty of inspiration to share!
5 Tips for Creating Outdoor Storage
Consider your environment. Depending on the weather in your area and what you will be storing, you may need to create protection from insects, small animals, water damage, and mold or fungus.
Wet or Dry Storage. While everything will fare better with more protection, many items like aluminum fencing, firewood, some outdoor furniture, and seasonal decorations made for exterior use are good candidates that only require minimal protection.
Drainage and Slope. As you are designing your storage space, make sure not to impede the natural drainage (or add some). This can cause problems later on with standing water and air flow/moisture problems.
Measure everything. It's always a good idea to take full measurements of a space before starting a project. Length, width, height, plus note any obstructions or depth changes. Make a good visual map and you won't have to question whether something fits. (I carry a tape measure in my purse.)
A little maintenance goes a very long way. Usually in the spring and fall, I give the house a once over checking for any upkeep projects. For the outdoor storage, I clean out any debris, check outdoor plumbing, equipment, look for signs for fungus or rot, and assess the general condition of the area.
Under Deck Storage Ideas
It's time for some good inspiration! A deck should be a minimum of 30″ high generally to be optimally used for storage.
1. Ceiling Rack Storage
Not just for the garage, these ceiling mounted racks are perfect for keeping items off the ground like canoes, water hoses, and waterproof crates. It also make for easy slide out storage on a flat surface. https://amzn.to/3m67Jya https://amzn.to/3snmRZ9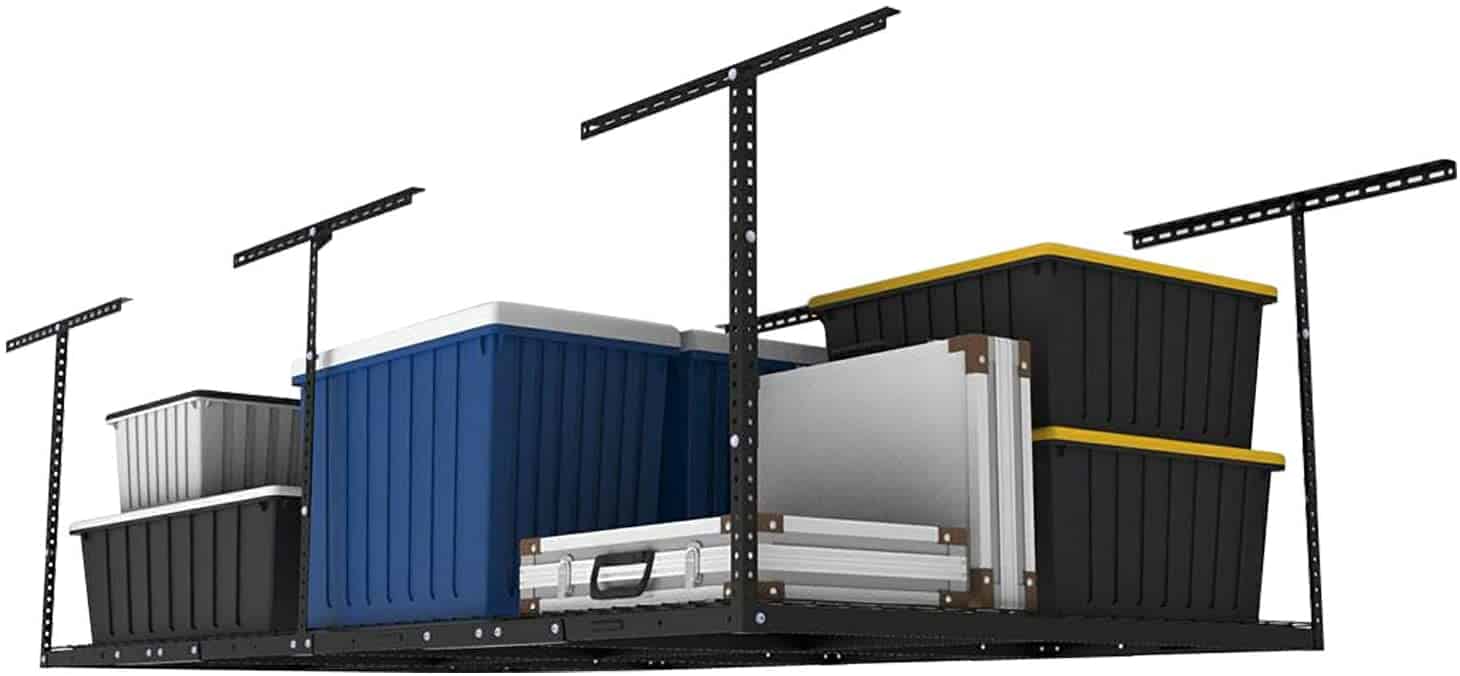 These are well constructed of heavy duty steel, and hold up to 600lbs. One thing to note is that may rust over time if the paint is removed. If going this route, I would recommend changing out the bolts for outdoor rated ones.
2. Build a Waterproof Ceiling
A few years ago we enclosed our raised deck to make it a storage shed for the lawnmower and yard equipment. I show step by step with several variations how to create a create a ceiling under a deck that drains water away in this post.
3. Make Cubbies that slide out
We stained my parents deck last summer (the photo below is before we repaired it) and one of the features I love about their deck is they have these little cubbies on the side. While they were used as dog houses, I thought these would make excellent storage if you put a waterproof bin on a flat dolly with rollers. You could even add doors and hinges for hidden storage. So convenient!
4. Big Storage Systems
If you have a raised deck, it's easy to put items in large waterproof containers similar to sheds. These are a convenient, efficient way for storing items like cushions, large tools, or even bicycles. While most think of a deck box for storage, there are also portable options including a waterproof bicycle tent or a yardstash box like this one.
5. Large sliding drawers
You can finally use effectively the storage space under your deck without comprising the style by adding these deck drawer kits. Made of galvanized steel, you can store items like garden tools, pool accessories, tires, toys and backyard items.
6. Removeable Panel or Skirting
I have a removable panel on our fence to allow the car to drive through, so I know how great and convenient having a removeable panel is for the deck too. Here is a brilliant tutorial to show you how to add a removable panel for access.
You can match any style this way or use traditional lattice skirting for a lightweight removable panel. Fasten the lattice to a square frame made of sturdy outdoor rated boards and add sliding bolts at the corners to keep the panel in place. In this instance, I would recommend using composite boards that won't warp.
7. Easy Access Door
Hinged panels are another way to hide and protect an under-deck storage area. Build a skirting frame using solid panels or siding that matches the house, and install the skirting around the deck. Build a frame for the door using 2x4s. Trim the siding or paneling to fit the door frame. Glue and nail the joints for durability. Install hinges and a latch and hang the door. For added security, use a padlock to keep the door closed and locked.
Grab our free series "Weekend Home Projects that will Transform Your Life"
Sign up below to receive updates including free printables, organization tips, home improvement projects, recipes and more!
Want more inspiration after seeing all these great under deck storage ideas? Check out some of our other projects to get your outdoor choose off the list!
Sours: https://www.cravingsomecreativity.com/creating-storage-under-a-raised-deck-sponsored/
Under Deck Ideas – Brilliant Under Deck Storage You've GOT to See!
Under deck ideas + 19 must-see real-life examples!
Are you wanting a more organized life and realizing that there is space under your decking being underutilized? Yup, same girl, same. Don't worry – I recently went on a deep dive into under deck ideas and found plenty of storage inspiration to share!
*This post contains affiliate links. Please read our full disclosure policy here.*
Today we're talking all about storage – specifically storage for under the deck area. If your under-deck area is anything like mine, it's probably not somewhere you really want yourself—or your things!—to hang out in. Not yet, at least! Let's turn that around and reclaim that valuable space with these under deck ideas.
Psst…did you know that decluttering doesn't have to be a massive time-suck? If your yard items could use some pruning- you've got to check out this helpful guide filled with 5-minute wins!

Expert Tips for Reclaiming the Area Underneath Your Deck or Porch
Measure twice. Pull out the measuring tape and take ALL of the available dimensions that you are working with. We're talking length, width, height, and making notes of any substantial slopes.
Get inspired. You're in the right place to get started! Browse through these curated images to get motivation, then head to your local hardware and home improvement stores to see what kind of equipment would be easily available for purchase. Stores do not all have the same inventory, so check out more than one, and don't forget to look online too!
Consider the elements. Depending on the weather where you live, you will need to take steps to protect the area from water damage, mold damage, and pest damage. You probably don't want to become the talk of the neighborhood forum and provide a comfortable ecosystem for all spectrum of critters and pests. Ick!
Open versus Closed. There are pros and cons to both of these options. Keeping your under the deck storage area open might make a small backyard seem bigger. But closing off the area may secure your belongings better and give your eyes a visual rest from potential clutter. With both options, you'll want to make sure you keep easy access to any outdoor plumbing that is in the area.
Choose your material. If you choose to close in the area under your deck, you'll have one other big choice to make. Do you close it in with a wood product (less upfront money) or do you use a pricier composite option? Over time, the wood options will require maintenance and perhaps replacement. Composite products should stand the test of time (and weather) with minimal or no maintenance.
19 Must-See Under Deck Ideas
These 19 curated images and links were chosen just for you! If you've struggled with how to use the massive, semi-spooky space under your deck, these ideas will give you SO many lightbulb moments! Plus, don't forget to grab a copy of the free 5-minute decluttering wins guide!
1. Hidden Drawer Storage Under Deck | Stash Vault
Right off the bat…genius! This is like those under the bed storage drawers, but for your deck! These have enough cubic space to welcome outdoor seasonal storage, out-of-commission toys, miscellaneous items for the pool, or anything else that needs to be tucked away.
You'll love how the front of the drawer can be tailored to match your deck's style. These drawers are currently available in Australia, but if you live elsewhere share this inspiration with a local contractor for a custom build!
2. Under Deck Storage Ideas with Lattice | HGTV
HGTV has nailed it again! The custom cut of the lattice panel piece underneath the stairs gives this space a tailored-look. Imagine all of the out-of-season recreational toys that you could store here!
Plus, the lattice panels could be a backdrop for hanging some cute weather-resistant vintage signs and outdoor art. Or, you could keep the backdrop plain for a streamlined look.
3. Storage Under a Raised Deck | Craving Some Creativity
Check out what Rachel with Creating Some Creativity did with her under the deck storage area! Because the deck above blocked sunlight, the floor area needed to be an option other than grass.
Pressure-treated wood was used to define to create a border that was then filled in with drainage rocks. At first glance, the clean lines and juxtaposition of colors make me think of a texturized outdoor rug!
4. Using Your Under-Deck Space for Storage | DuraLife
Should you choose to close out the space under the deck, there are many options you can choose from, ranging from lattice to decorative screen panels. I like the horizontal panels in this picture—it definitely gives a more modern vibe than a typical lattice.
5. Lattice with a Gate | Decks R Us
Add this visually appealing layout from Decks R Us to your deck vision board!! Can't you just picture yourself kicking back with a friend in the pair of Adirondack chairs while all of your belongings are neatly (or at least semi-neatly) stored under the deck area?
The built-in "grid" of the lattice will keep air moving in that underground area, so everything stays fresh. We've all smelled the stale smell of a basement area without air circulation – no bueno!
6. Deck Storage Drawer | Aussie Deck Drawers
Another brilliant drawer photo to file away and show your general contractor! My inner organizing self is geeking out over all the items that could be neatly stored in this massive drawer.
7. Garden Shed Under Deck | Breyer Construction
Okay, here's a genius space-hack by Bryer Construction! This is one of those under deck ideas that offers all the benefits of a storage shed, without taking up any of the open yard space. You could even build something similar like this and add some personality with outdoor wall art or imitation shutters.
However you style it, the utility of this space is dead-on!
8. Under Porch Storage for Sloped Yards | Builder Questions
Ever wanted an outdoor walk-in closet? I didn't know I needed one until I saw this picture! Those with a sloped yard will especially appreciate how precise measurements and some saw-skills can accommodate and overcome any obstacle.
9. Under Deck Storage Ideas | Atlanta Decking
Okay, this is one of the best under deck ideas yet! I included two photos so you could see how smartly this space is used. On the surface, landscaping, including a wall of built-in rocks and some potted plants make the area look neat and tidy.
As you'll see in the second photo, however, there is actually a storage compartment built-in right above the rocks…the perfect hideaway for rafting tubes! Remember, make your storage work for you and your hobbies.
10. Under Deck Storage with Removable Fence Panel |The Handyman's Daughter
The Handyman's Daughter creates an adorable "under the stairs" storage area! The typically inefficient space under the stairs is transformed into hidden outdoor storage. I love the use of varying widths of wood. It gives it a custom look – and allows for ventilation. Plus, she opted to install a removable fence panel (instead of a door or gate), which adds to the upscale look.
11. @ccc_construction
Here's an idea that gives off a slight modern industrial vibe. Once again, we see the horizontal use of wood to keep things clean and updated. The storage area under the desk has two points of access, and the drainage rocks around the perimeter will keep moisture from finding a new home.
12. @atlanta_decking1
This post has captured my heart! I love the green color! Using a color from nature's spectrum makes this feel a bit like a fancy walk-in tree-house! The barnhouse-style doors bookended with the outdoor lanterns transform what could be a 'blah' entrance into a backdrop for some pretty cute photos. Seriously, they are probably fending off local photographers.
13. @masterdeckbuilders
Here is some inspiration on how to maximize the vertical space under a second-story outdoor deck. By closing in the area, the homeowners can now use the entire vertical space for storage, rather than just the floor space. Just think of all the shelving opportunities! Bonus: if you are tall in stature, you won't have to duck when going in to get your lawn mower. 😉
14. Firewood Storage Nook | HGTV
Keep it simple by adding a firewood cubby under your deck. I love the aesthetic going on here – so cozy AND practical since the firewood will be safe from the elements!
15. @Legends_Home_Improve
When exiting the deck, feel free to use the stairs…or SLIDE!! Best parents ever!
All of the space under this amazing deck is closed in, giving the family unit a place to store all kinds of treasures underneath. This super fun family probably has all kinds of awesome yard games stored under there! Yes, a few utilitarian things like lawnmowers dwell there too but I imagine there are more toys than tools under there.
16. Under Stairs Storage Shed | Chelsey Knoll Deck and Patio via Houzz
Utilize otherwise unusable space under your deck stairs with a small built-in shed. Great for storing landscaping tools and products.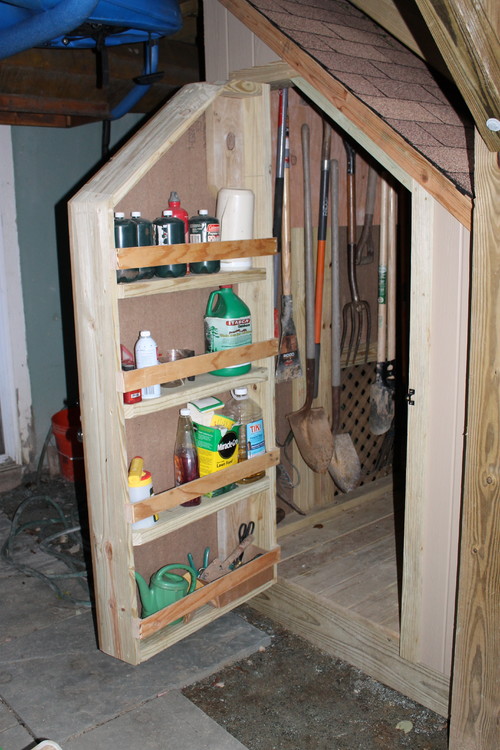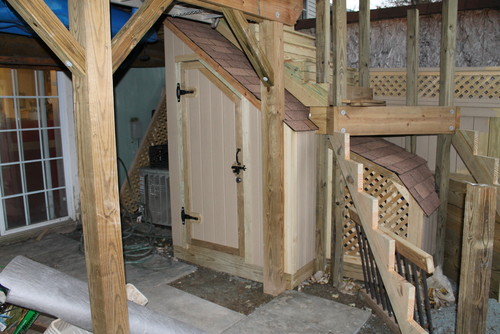 17. Stone Veneer Shed | Stump's Decks & Porches via Houzz
Not the right solution on a tight budget, but this sure is a gorgeous concept to pull the deck area into the house and add another material to the home for a richer look.
Bonus…this approach weatherizes the storage area, which is also helpful if you want to store items like paint and other products that may be adversely effected by wild seasonal temperature swings.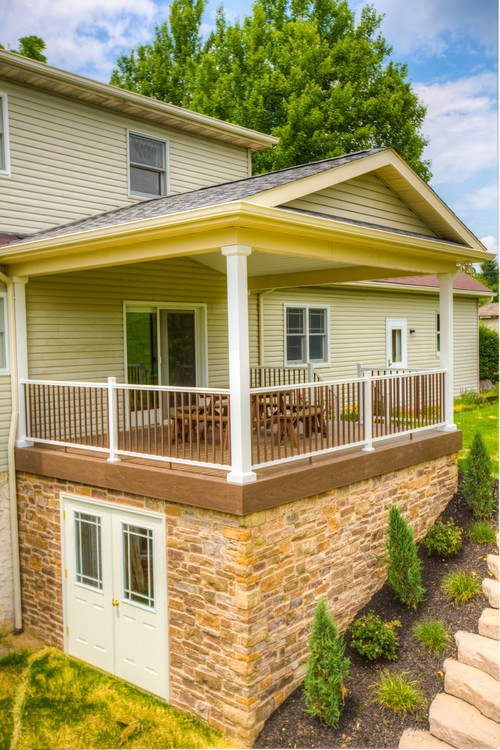 18. Swanky Kitchen-Style Under Deck Storage Drawers | Trex
These outdoor drawers from Trex are next level. Designed to look like an upscale kitchen cabinet system, these outside under deck drawers are lovely. I kind of wonder how water-tight, mildew-resistant they would be in real life, but worth exploring if it's in the budget!
19. Chic Canoe Storage | HGTV
Pretty nice when the items you need to store kind of fit the look of your home, like this sweet cottage and the under deck canoe storage. Could this be any cuter? I doubt it!
Feeling particularly inspired after seeing all these great under deck ideas? Keep decluttering around your home with the help of this free QuickStart list. You can free up space, even with just five-minutes to spare!

Pin this post for later! And if you use any of these under deck storage ideas, leave a comment (or better yet, a photo) on the pin! That helps others know whether they want to try one of these ideas, too!
Sours: https://heatherednest.com/under-deck-storage-ideas/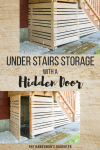 The area under our deck stairs was a total eyesore! I'll show you how I hid it away with a clever removable fence panel to create an under deck storage space.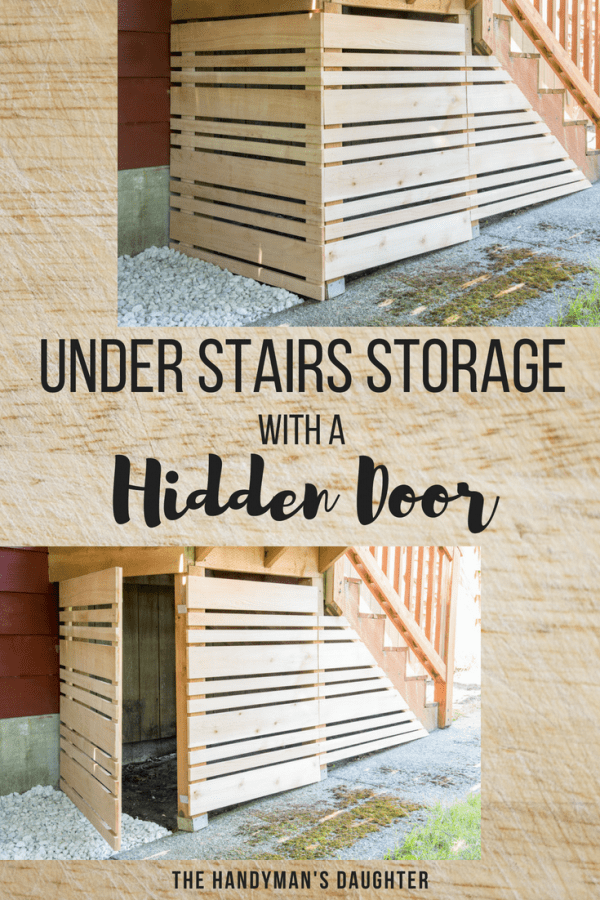 Turn the space under your deck stairs into outdoor storage! This simple project hides all the clutter from view, and the removable fence panel gives you a seamless look with easy access. I wish I had done this project sooner!
We practically live outside in the summer, and our deck is the perfect place to hang out. Because it's so high off the ground, I was able to take advantage of the space underneath to hang a cozy hammock from the joists. But I can't seem to relax in it, because I stare at this eyesore the whole time!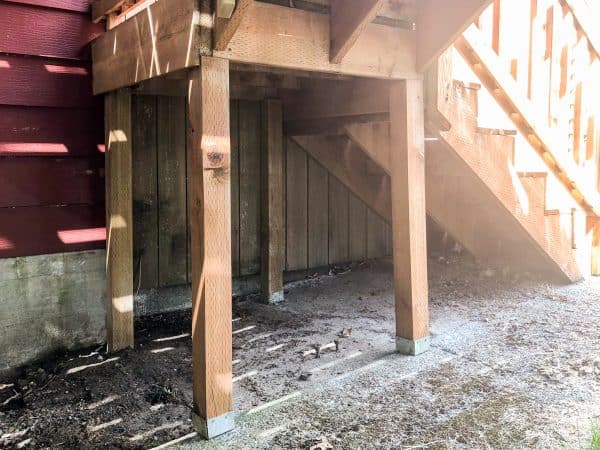 I cleared it out before I took photos, but we usually store an extra trash can, propane tank for the grill, and gardening supplies under there. But it's also a magnet for leaves and weeds, and just looks awful!
Fencing off the area is a pretty easy task. But I didn't want to install a traditional gate with bulky hinges. Instead, I created a removable fence panel with hidden brackets that allow it to blend seamlessly!
Materials Needed for Removable Fence Panel
Don't forget your safety gear when woodworking! Here are my recommendations for safety glasses and ear protection. No excuses!
How to Make a Removable Fence Panel
Measure Your Fence Space
Measure the space that you plan to cover with the removable fence panel, including the posts that are already in place. I cut my upright pieces to match the width of the posts, so they blend together seamlessly when the panel is hung in front of them.
The space under our deck stairs has posts 2 3/4" away from the house, so I added that into my measurements to close the gap.
I also added 5/8" to the other side to account for the thickness of the fence pickets on the opposing corner. This will allow it to fit snugly against the permanent part of the fence when the panel is in place.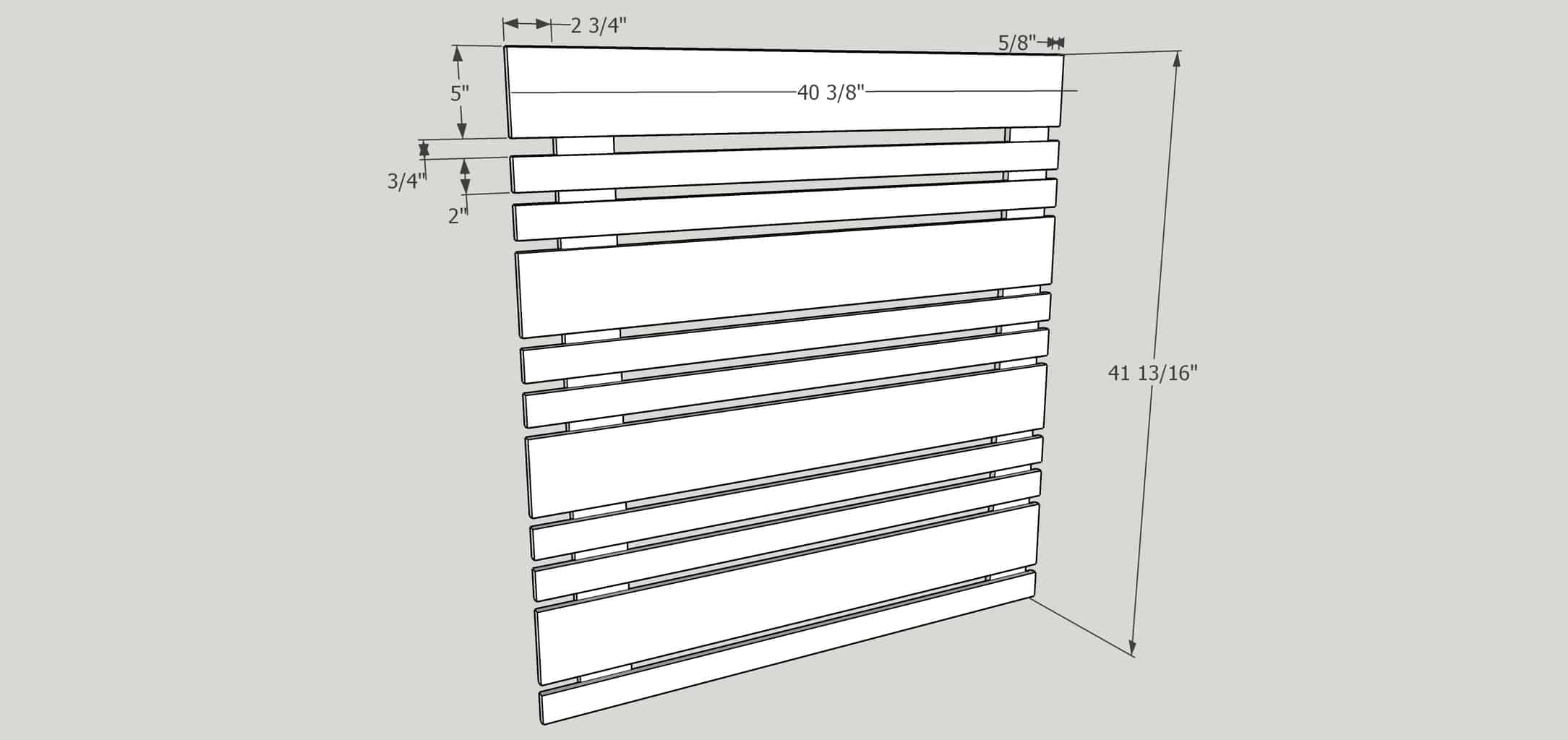 Cut the Fence Pickets
Cedar fence pickets are one of my favorite building materials. They're cheap, they're rot resistant, and they smell amazing when freshly cut!
The hard part is finding decent ones in the giant stack at the home improvement store. Look for pickets without a lot of knots, straight grain, and DRY! The ones at my store always seem to be sopping wet, which makes it more likely that they'll do strange things like warp or twist when they're cut and dry.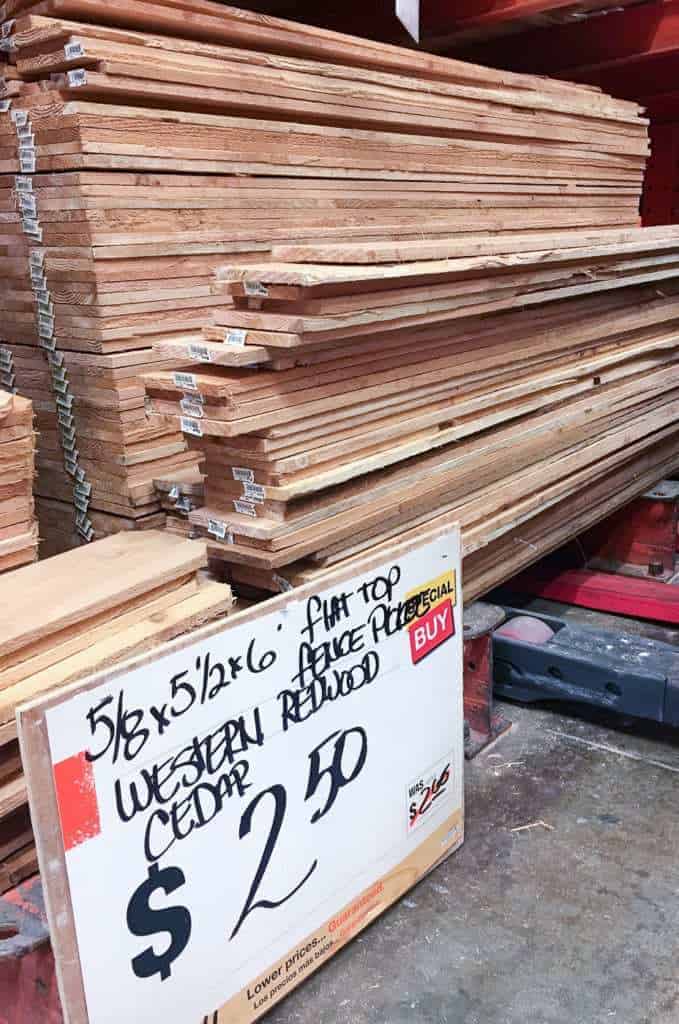 Cut all the pickets to the width of your removable fence panel. If you want to replicate the pattern I used, rip them down on the table saw into 5" wide and 2" wide slats.
Cut two pickets to the height of your fence posts. I also ripped mine down to the same 3 1/2" width as the posts.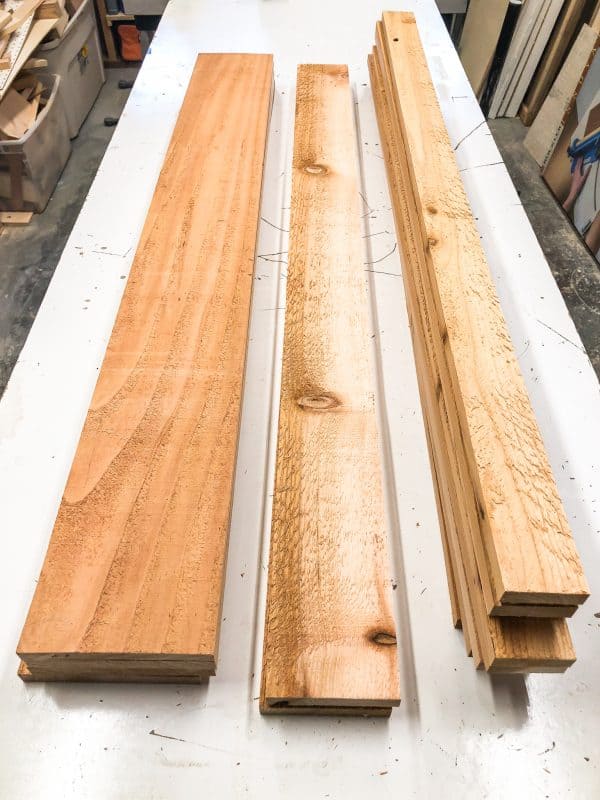 Sand each of the slats to remove splinters and rough spots. Cedar takes on a whole new look when it's been sanded smooth!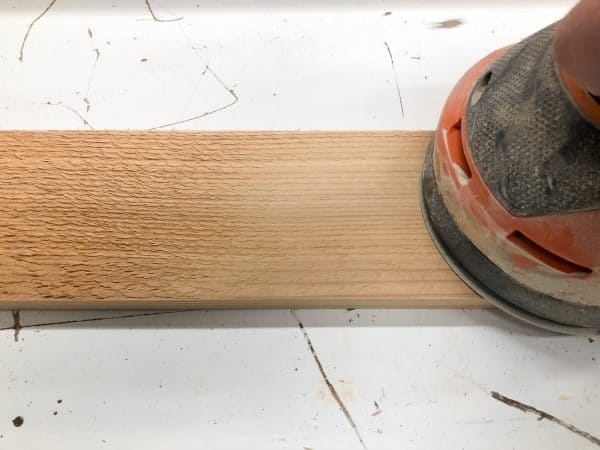 Assemble the Removable Fence Panel
Lining up the first slat correctly will make the rest of the assembly much easier. Mark the placement for the upright supports on both ends of all the slats. Mine are 2 3/4" in on one side, and 5/8" on the other.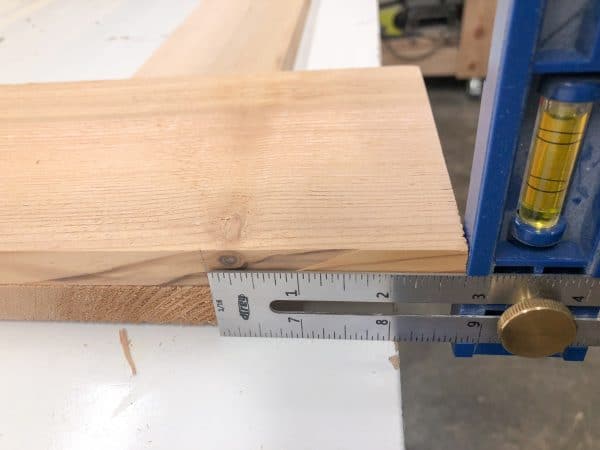 I started with the wider 5" slat at the top. Check that the top slat is square to the uprights, then nail it into place with 1 1/4" brad nails.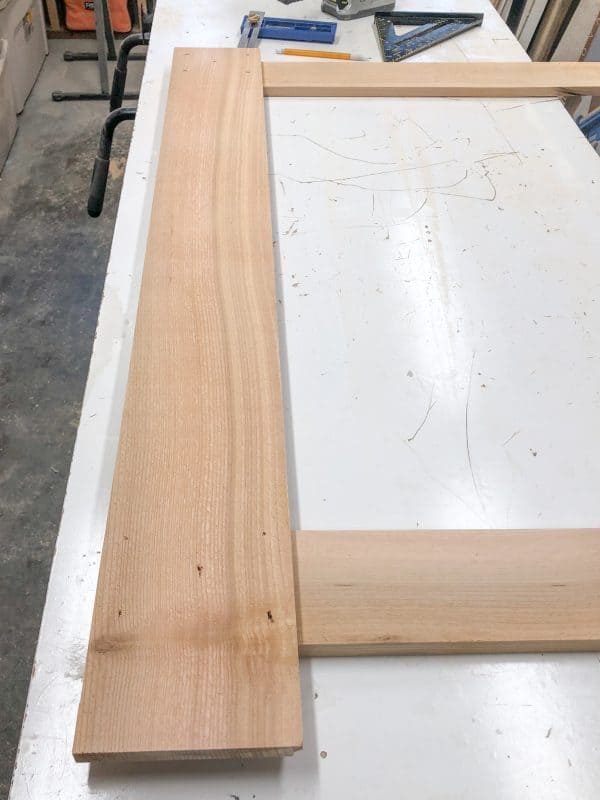 Use a scrap of 3/4" lumber to use as a spacer to keep the distance between slats consistent. It's so much faster and easier than measuring it every time! Place it under the first slat, then line up the marks on the 2" wide slats with the uprights as before. Check for square again, then nail it into place.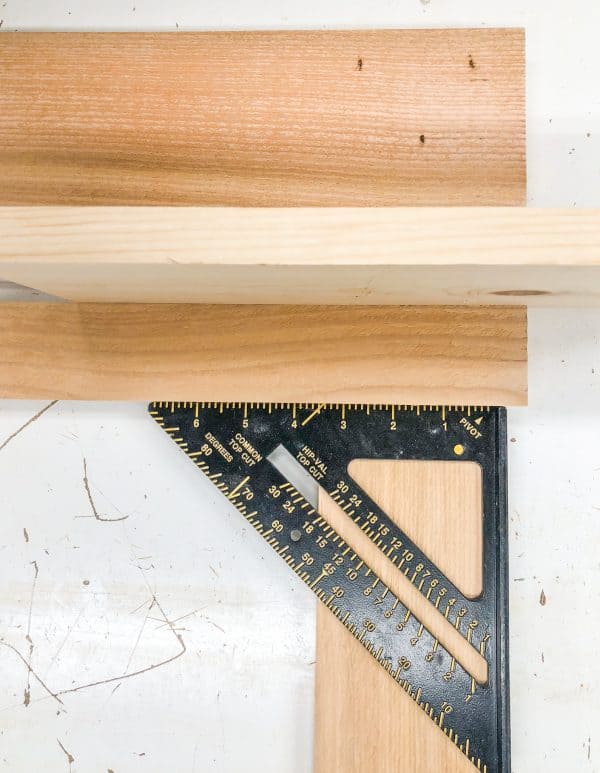 I used a pattern of one 5" slat, followed by two 2" slats, with 3/4" spacing between each slat. You can start to see the pattern taking shape now! Continue until you reach the end of the uprights.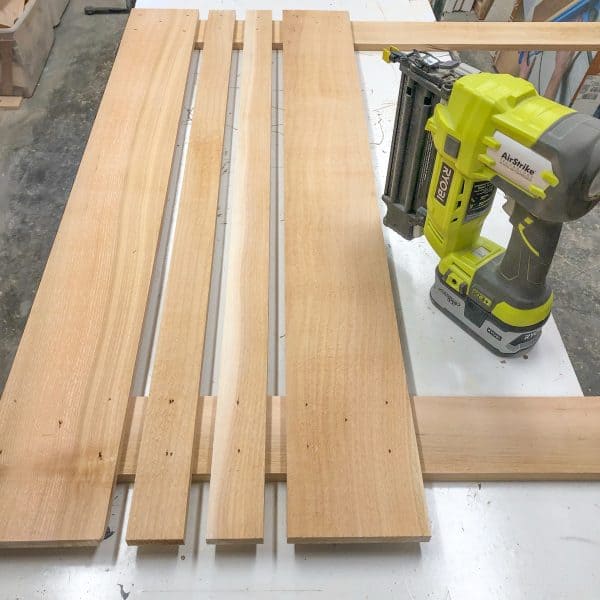 Install the Removable Fence Panel Brackets
These Z clips work just like the French cleat I used to attach my upholstered headboard to the wall. You just screw one side to the back of the removable fence panel, and the other to the fence post.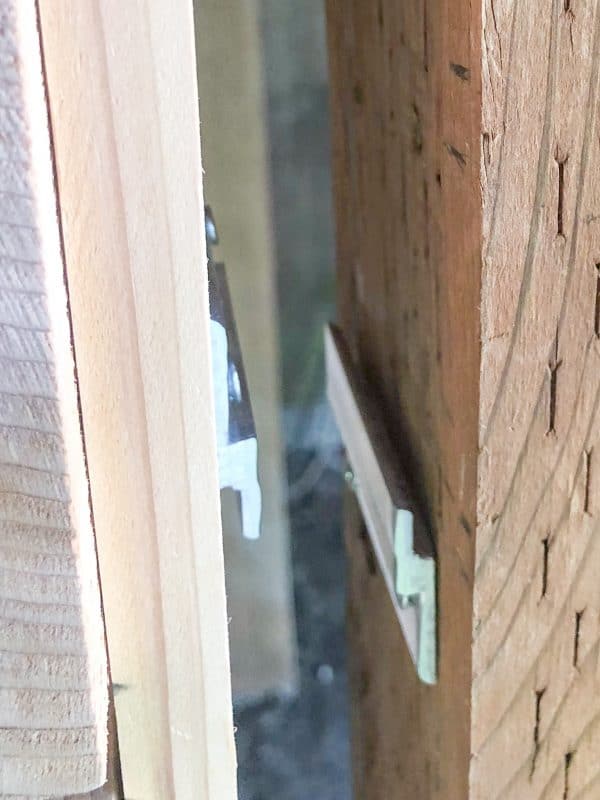 When the two opposing clips slide past each other, they hold the panel straight and secure!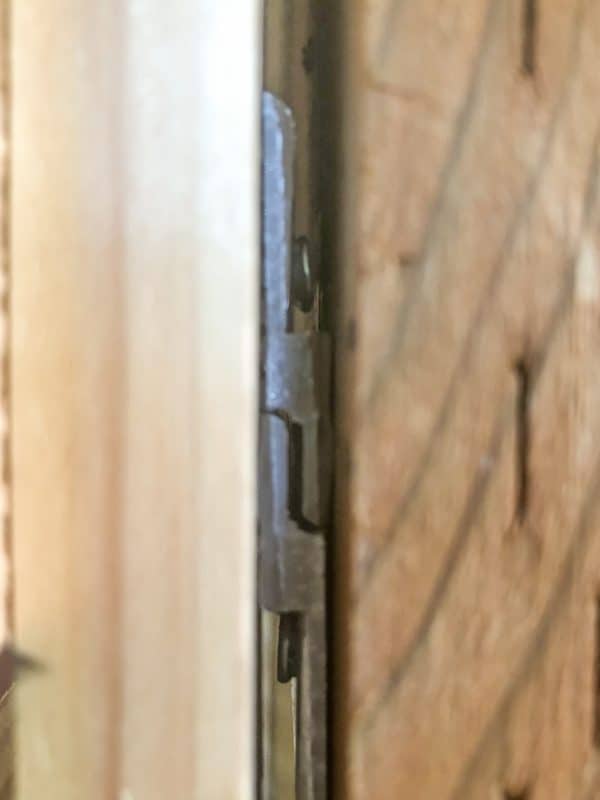 To remove the panel, just lift up slightly!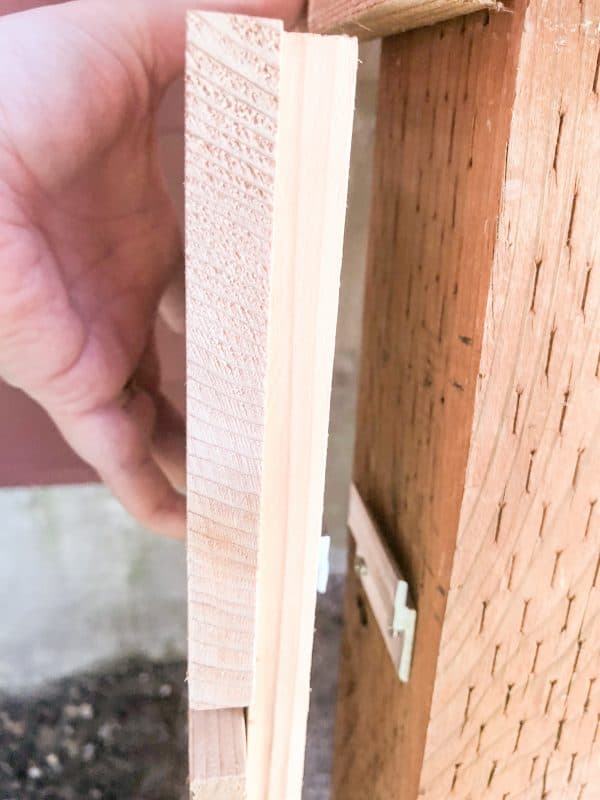 The panel sits just 1/4" away from the posts, so if you're installing this in the middle of a long fence, you'll barely see the gap.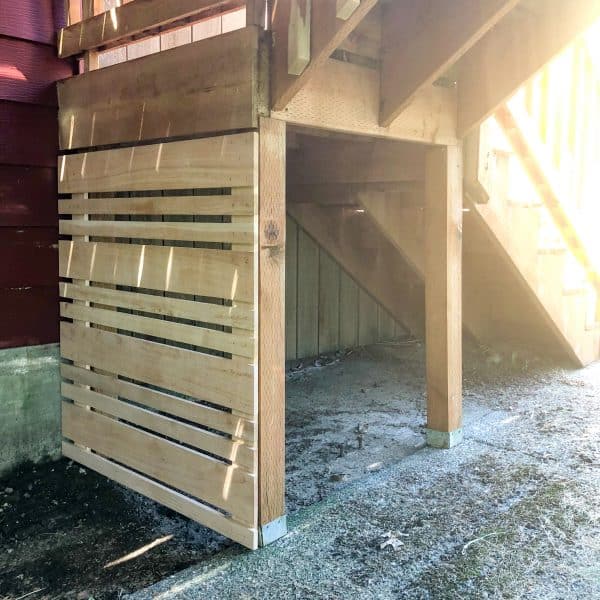 Install the Rest of the Fence
With the removable fence panel in place, I installed the rest of the fence to match. Here you can see why I added 5/8" to the right side of the panel. The slats on the front cover the gap from the brackets and create a nice, continuous line around the corner.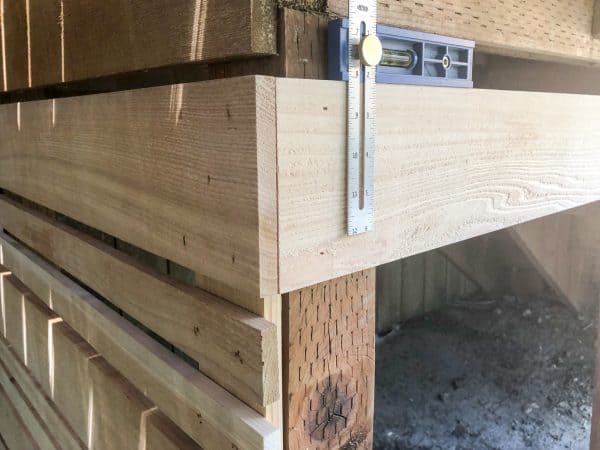 These slats are nailed directly to the deck stair posts. Instead of using the spacer, I matched up the slats with the corresponding one on the removable section, and nailed one nail to hold it in place. Then I used that pivot point to adjust the other end until it was level before nailing it securely.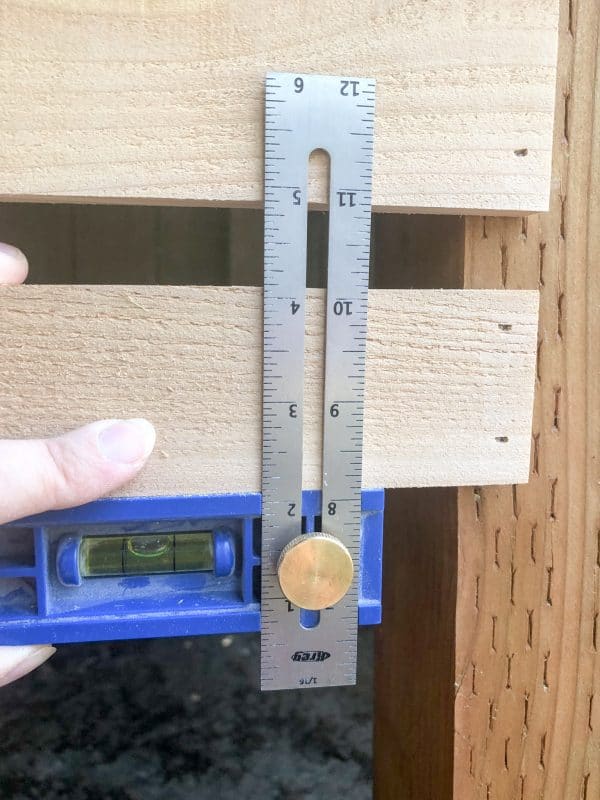 Because of the slope, I left off the bottom slat. I'll put bricks behind the gap to prevent any critters from making a home under the stairs!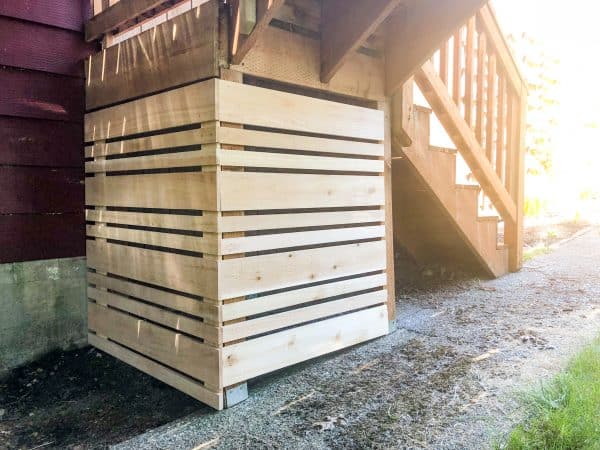 The third section was a little trickier. The stairs are set back about 3/4" from the posts, so I used a piece of 1x2 cedar to bridge the gap.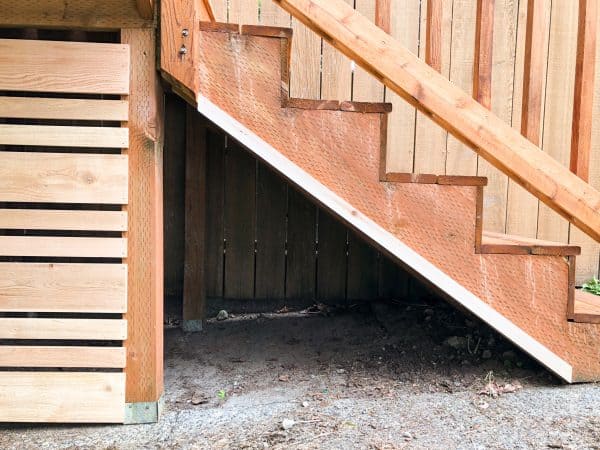 After figuring out the angle with my handy Kreg Multi Mark tool, I cut the ends of the slats to the same angle.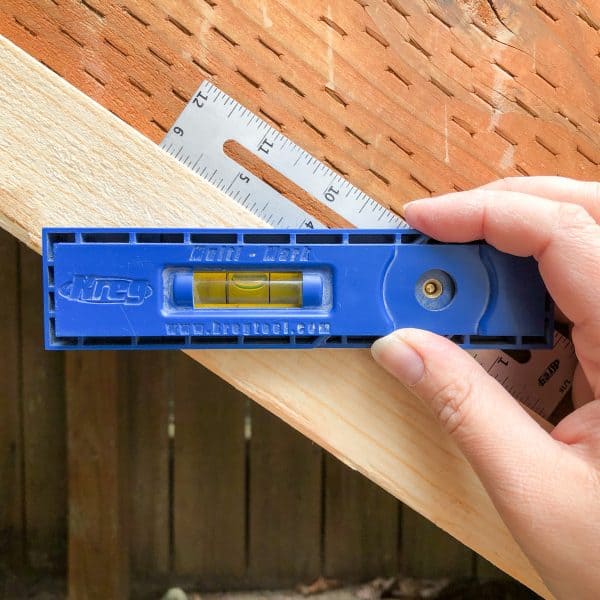 I held the angled end in place on the stairs side and marked the straight cut on the other side. A custom fit every time without breaking out the measuring tape!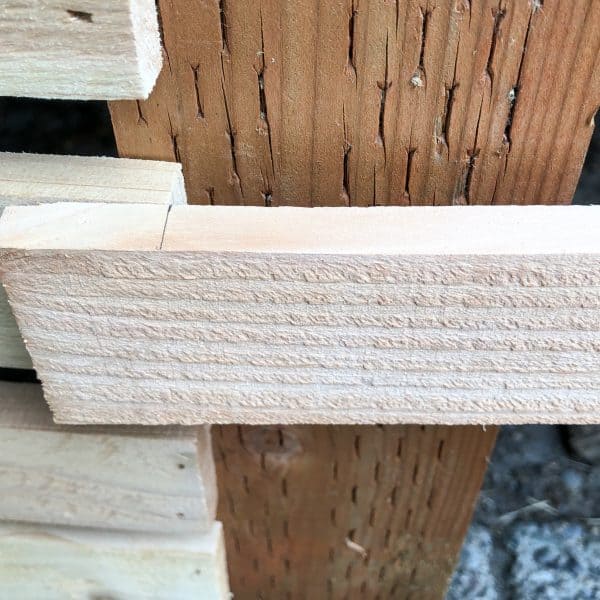 Again, the slope made the bottom slat tricky. I might go back and custom cut a 5" wide piece to match the slope, but I call this good enough for now!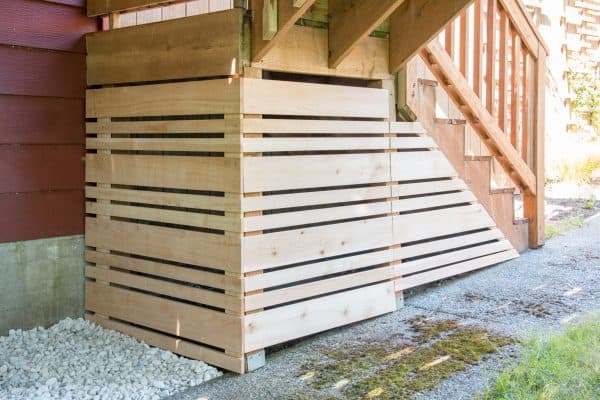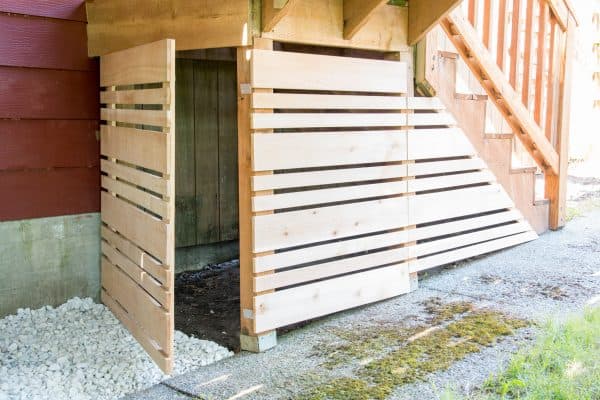 It's so easy to take off the removable fence panel! But if you didn't know it was there, you'd think it was permanent. Check out the video to see it in action!
Now all our outdoor clutter is hidden away, but easily accessible.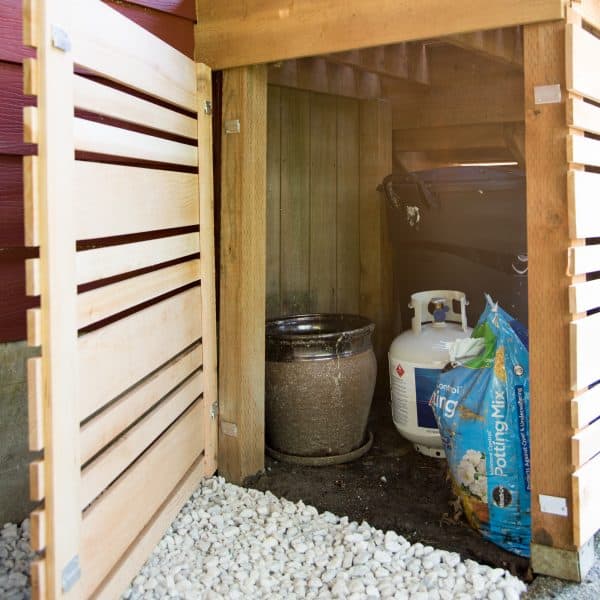 ---
If you would like to keep up to date with my latest posts about DIY projects, woodworking and more, you can follow me on Facebook, Pinterest, or Instagram. You can also sign up for my email list below and get the latest post delivered to your inbox, plus exclusive access to my woodworking plans library!
Want more DIY projects?
Subscribe to get project ideas, home improvement tips, woodworking plans and more delivered straight to your inbox!
Success! Thank you for subscribing!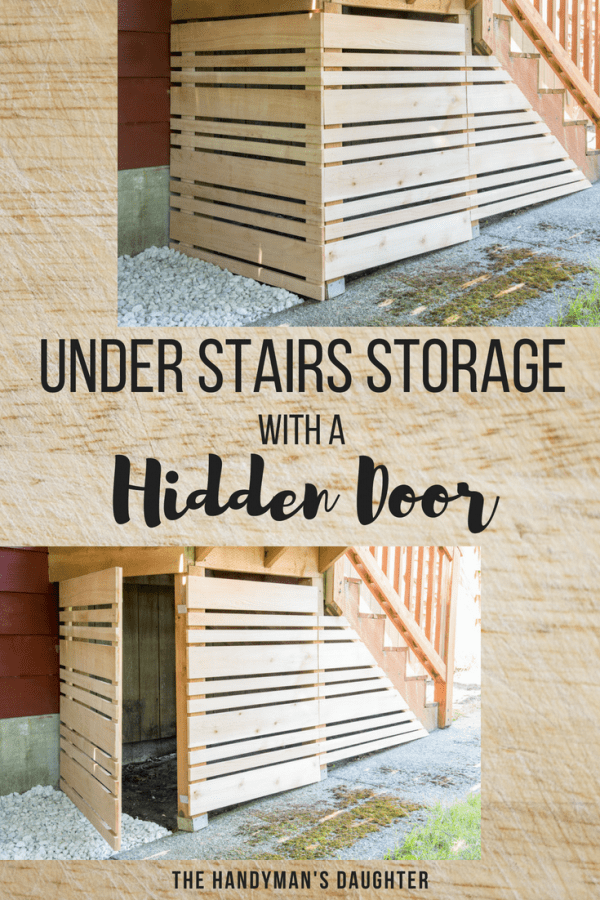 SHARE IT!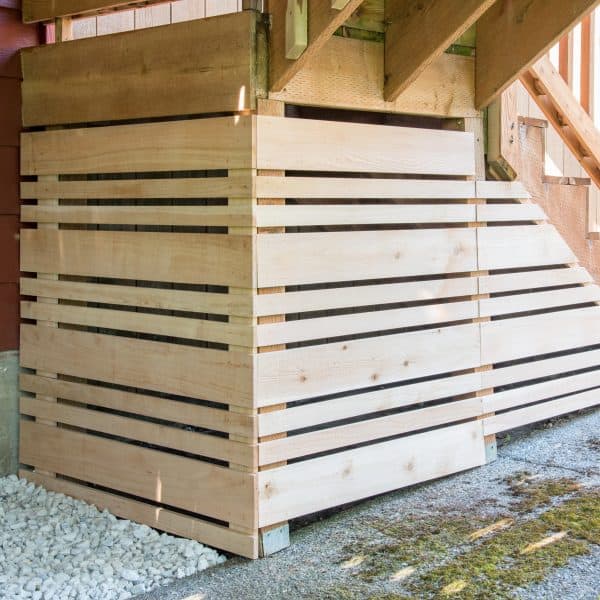 Sours: https://www.thehandymansdaughter.com/removable-fence-panel/
Lifetime 20' x 8' Outdoor Storage Shed - Lifetime Assembly Video
How to Create Storage Underneath Outdoor Stairs
You have a great set of open outdoor stairs and you are looking for some additional storage space for some of your garden tools and other outdoor deck material. The open stairway can be the foundation for a great outdoor storage area. In fact, you can even build the outdoor storage area yourself in a matter of days. Below you will find an outlined project plan to build your convenient and useful outdoor storage solution.
Step 1 - Prepare the Floor
Depending on where your outdoor stairs are located, you may need to first prepare the floor. There may be grass, gravel, stone or other types of uneven surfaces as the floor under the stairs. Clear the ground of any items such as toys or tools that may be laying around.
Step 2 - Add Dirt and Stone
Add a layer of dirt and a layer of stone (fine stones) to your floor. Take a level and level the stone. To create a compact stone bed you will need to bring in a tamper and tamp down the stone so that it starts to settle in place.
Step 3 - Add Pavers to the Floor
Take a trip to your local home improvement center and purchase some simple and inexpensive pavers. Lay the pavers on top of the stone bed. Kneel or walk over the pavers to make sure that they are even with one another. Make sure they do not rock from side to side. If they are not set firmly in place then you may need to reset or reposition the stone.
Step 4 - Close Off the Sides
Close off the sides of the staircase. Take a trip to the home improvement center and purchase 2x4s. Measure from the foot of the staircase to the edge of the house and lay a 2x4 on the ground. Anchor the 2x4 into the ground using anchors. Make sure the 2x4 edge butts up against the flooring you have just installed. Try not to leave any gaps.
Take the remaining wood and create your frame (vertical) from the ground all the way up to the stair tread. On one side of your stairway, keep enough of an opening for a doorway. This will be your entrance into your storage area.
Step 5 - Add Plywood
Attach plywood to your frame using a screw gun and galvanized screws. Cut out the hole for your doorway.
Step 6 - Add Exterior Finish
You will want to finish your storage space with the same exterior material as your home. So, if you have a home that is finished with exterior siding, you will want to cut the siding to the right size and side both areas of your storage space. If your home is finished with exterior stucco, then you will want to apply stucco on both sides.
Step 7 - Add the Door
Add the door to your storage area with a door handle and lock.
Step 8 - Add Shelving
If desired, you can add shelving to the interior space to provide for various types of storage solutions.
Sours: https://www.doityourself.com/stry/how-to-create-storage-underneath-outdoor-stairs
Shed stairs storage outdoor under
Building storage spaces part 1: how to build storage space under building storage spaces part 2 smart under stairs storage solutions. How to build storage under the stairs where to buy garden sheds cheap outdoor storage shed building a wood storage box how to make shide some folks, especially on. Building a shed under deck stairs shed plans | amish built storage sheds in pa storage sheds oklahoma city amish built storage sheds in pa. building a shed under deck.
Sours: http://gardentoolshedplans.blogspot.com/2017/02/how-to-build-shed-under-stairs.html
BRILLIANT! Best House Deck with Storage Underneath Ideas - Amazing Story Decks Design Plans
Loud sounds of sperm falling on the floor announced my ending, but suddenly the elevator doors opened. The man with the dog understood everything, did not enter. But the healthy dog began to sniff the air excitedly and pulled the owner into the booth.
Similar news:
Ahhh. Well, seriously, let him look for where to fuck you. And then today it is serious with one, tomorrow - with another. Have you decided to introduce everyone to Aunt Nina and me. He frankly ran over, getting stronger and stronger.
1049
1050
1051
1052
1053